There was a rare change to the league starting times on matchday 15 to accommodate the England World Cup quarter-final and even with reduced overs matches across the board, it didn't slow the pace of the cricket down. Premiership leaders Hoylandswaine brought down third-placed Shepley to preserve their remarkable unbeaten record and second-placed Honley skipped past Thongsbridge to remain second. In the Championship, Barkisland stayed top after edging out Rastrick and second-bottom Lepton Highlanders won against Lascelles Hall. There was a thrilling top-of-the-table tie in the Conference with first placed Denby equalling third-placed Cumberworth United's first innings score.
Drakes Premiership
A huge 196 run second wicket stand was the difference when first met third with Hoylandswaine maintaining their charge to a second consecutive title following a demolition of the visiting Shepley bowling attack. A century from Alex Lees (104); his third of the season came in 78 balls with 13 fours and 3 sixes. He was supported by 81 from overseas Muhammad Anwar as Hoylandswaine made the most of their 30 overs batting first setting a daunting 240-5. Archie Greaves (4-47) continued his cricketing education in a brief highlight for Shepley who will be hoping for a much improved performance when they meet again at the Sykes Cup semi-final stage in a weeks time. Three wickets each for Adnan Ghani (3-12) and Shakir Muhammad (3-30) extinguished any hope Shepley had and along with Ben Potter (3-25) ran through the Shepley ranks. All aside a lower order 34-ball blast from Ollie Davidson (54) failed to challenge the target and they fell well short on 154ao.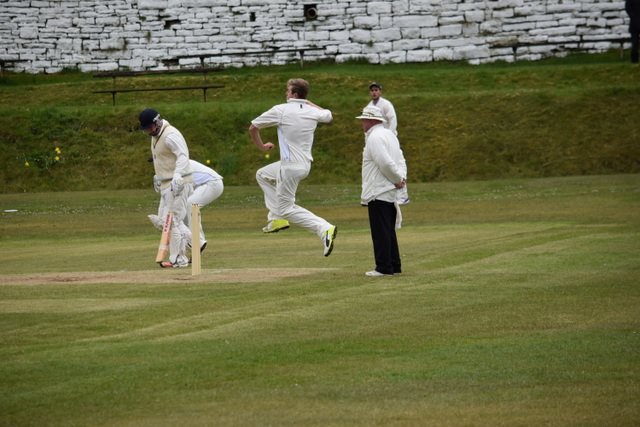 Thongsbridge suffered at Honley for the second time in a week after they lost just two days after losing their T20 Trophy quarter final there. Tight bowling from the home side kept Thongsbridge firmly in their crosshairs with Sam Denton (pictured above) on good form with the ball taking 3-22. Lewis Kenworthy (3-22) mirrored those figures and despite Haydn Slodecki (42) anchoring himself in, Thongsbridge were bowled out for 113. Opener Simon Kelly (32), himself a former Thongsbridge junior and Ryan Robinson (31no) helped Honley on their way to a straightforward win by reaching 116-4 with 7 overs to play.
Cawthorne, rooted to the bottom of the Premiership failed to defend a solid-looking tally away at Kirkburton. The visitors helped themselves to 230ao in their 30 overs with Liam Wiles (66) and Jacob Deavin-Baker (46) at the core of their innings. Kirkburton-skipper Craig Fletcher (4-69) bagged pleasing figures on his return to the side. Fletcher (33) then opened the batting as Kirkburton went on to overhaul Cawthorne's total. 47 from fellow opener Johnny Butterfield and a half-century from Luke Williamson (55) sent Kirkburton on their way and Toby Booth (39no) stayed in to finish the job, winning with 7 balls to spare.
Another large score was piled on at Delph after Graeme Simpson (featured image) hit a crushing 60-ball 112 in Delph & Dobcross' total of 228-5. 51-year old Simpson shows little sign of slowing down and his brutal innings contained 10 fours and 8 sixes as he along with Nathan Jones (66) put on 145 runs for the second wicket. Visitors Scholes had chance to overhaul the total staying up with the rate for much of the innings. However the end came when their Sri-Lankan overseas Ishan Rangana (99) was stumped just a run shy of a century from 73 balls. Lancashire junior Xander Selby (5-40) helped himself to his second five wicket haul of the season in a great bowling spell suffocating the Scholes chase who finished 170ao.
A Colne valley derby between Golcar and Broad Oak at Swallow Lane saw visitors Broad Oak snare the bragging rights. A crucial 117 run stand between captain Jack Hargreaves (66) and Harvey Booth (52) became a telling moment with overseas Sam Mills taking 4-51 for the hosts. Broad Oak made 196ao from their 30 overs. In reply, Abdul Wahid (33) high scored but Golcar suffered from a lack of momentum after four batsmen got themselves into double figures before failing with the bat. The spinners and slow bowlers got the best return for Broad Oak with John Keeling (3-51) returning from holiday, Dan Taylor (2-50) and Jack Hargreaves (2-2) all combining to bring down Golcar on 154ao.
With all teams around them at the bottom losing, Shelley squandered a perfect opportunity to gain ground at home to Moorlands. Chasing 160-5, of which there were two half-centuries for Nathan Rabnott (60) and Michael Rounding (51), Shelley got themselves into a winning position after middle-order batters Mo Bhoola (34) and Ranjith Bandula-Don (40) got Shelley up to 133-5 but bowlers Nicky Smith (4-33) and Darrell Sykes (4-59) retained control with Shelley losing their final five wickets for just 7 runs.
A terrific unbeaten century from Matthew West decided the outcome as Armitage Bridge travelled to Mirfield Parish Cavaliers and returned victorious. West's 123 not out came in 87 balls with 14 fours and 3 sixes as Bridge ran riot on Parish's compact ground. Robin Broom (47) also chipped in as Armitage Bridge made the biggest score of the afternoon; 252-6. Bridge ran out comfortable winners by a 96 run margin after bowlers Tony Treadaway (4-55) and Daniel Moorhouse (4-34) put Parish in a spin as most, aside from openers Tim Orrell (47) and David Bolt (30) struggled to cope with the scoreboard pressure.
Full scores:
*Delph & Dobcross 228-5 (N Jones 66, G Simpson 112; T Brook 3-64)
Scholes 170 (I Rangana 99; X Selby 5-40).
Broad Oak 196 (J Hargreaves 66, H Booth 52; S Mills 4-51)
*Golcar 154 (A Wahid 33; J Keeling 3-51).
Thongsbridge 113 (H Slodecki 35no, R France 26; S Denton 3-22)
*Honley 116-4 (S Kelly 32, R Robinson 31no; J Thompson 3-28).
*Hoylandswaine 240-5 (A Lees 104, S Anwar 81)
Shepley 154 (O Davison 54; B Potter 3-25, G Randhawa 3-12, S Mahmood 3-30).
Cawthorne 230 (L Wiles 66, J Deavin-Baker 46, A Wiles 30; A Scholefield 3-48, C Fletcher 4-69
*Kirkburton 231-6 (J Butterfield 47, C Fletcher 33, L Williamson 55, T Booth 39; J Deavin-Baker 3-79).
Armitage Bridge 252-6 (M West 123no, R Broom 47; D Hope 3-27)
*Mirfield PC 158 (T Orrell 47, D Bolt 30; T Treadway 4-55, D Moorhouse 4-34).
Moorlands 160-5 (N Rabnott 60, M Rounding 51)
*Shelley 140 (H Jones 32, M Bhoola 34, R Bandula-Don 40; D Sykes 4-33, N Smith 4-59).
Jedi Championship
In an ever-changing Championship picture, Almondbury Wesleyans moved into one of the promotion spots with a crushing victory away at local rivals Almondbury. Slow bowler Ben Shufflebotham took a five wicket collection as few Almondbury batsmen were able to develop promising starts with wicketkeeper Chris Buck (22) top scoring in their lowly total of 119-9. Wesleyans celebrated going second with a regulatory reply taking just 19 overs to overhaul the hosts total with 124-3. Tom Binns (44no) guided his side home with plenty of time to spare.
Barkisland had to work hard to keep their good run intact in a derby match down the road on the far side of the M62 at Rastrick. They made 134-9 in a punctuated innings with only Luke Bridges (46no) dropping anchor. In fact a late glut of runs by Matthew Steers (20) at number 10 eventually became the difference as Barkisland remained top of the pile. Asif Afridi (5-14) took his 46th wicket of an excellent season with his fifth five wicket haul for Rastrick. It looked to be a surface where runs were difficult to score as Barkisland had the hosts in trouble with wickets falling at timely intervals with three wickets each for Sam Moyle (3-41), Darren Robinson (3-26) and Bridges (3-23). With no Rastrick batsman able to pass 20 the hosts were eventually bowled out for 118.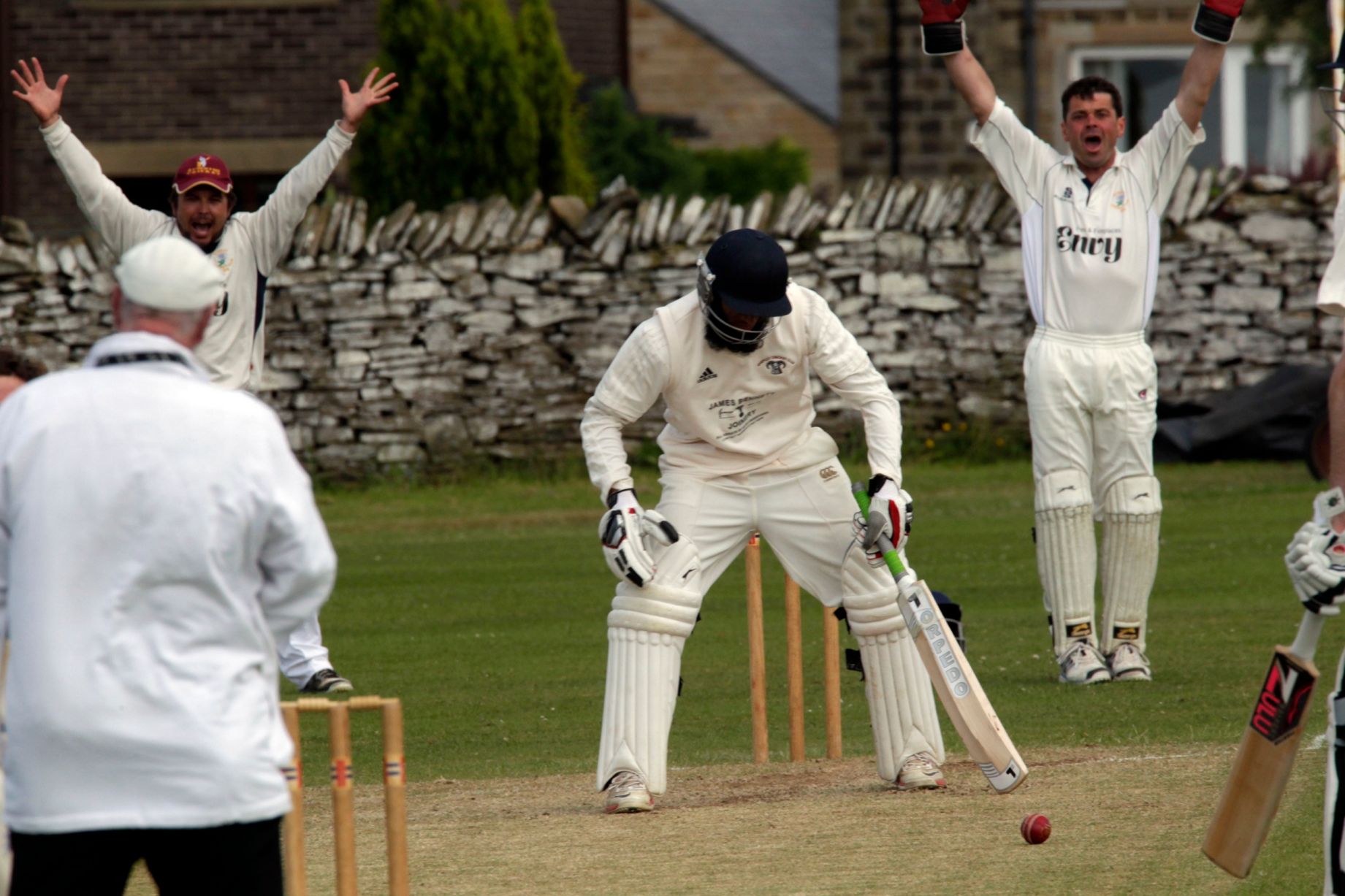 Holmfirth may be in ninth position but their excellent recent form leaves them only 15 points from Barkisland in pole position. Their latest success came at the expense of inconsistent Skelmanthorpe after they reached 179-9 from their 30 overs. Former Skelmanthorpe all-rounder Amar Rashid (64, pictured above) made it a pleasing return to his former stomping ground with keeper / captain Seb Allen (26) providing essential middle-order support and Mike Kitson (4-51) causing a few concerns for the visitors in his first bowling spell. Former players haunted Skelmanthorpe as Rashid (4-47) along with opening bowler Aizaz Khan (5-55) then went on to derail the home side's positive start. They slumped from 71-2 to 75-5 and once the wicket of overseas Asif Hooper (78) was captured the end was inevitable as Shat ran out of steam ten runs short on 169ao.
Two quickfire innings from overseas Phil Tunniclife (86) and Corey Bullock (66) made it an unhappy afternoon for visiting Slaithwaite away at Clayton West. Craig Glover's charges made an imposing 227-9 from their lot with Sohail Butt (5-45) making an impact at least. Aside from a 39 from Wajid Hussain, Slaithwaite suffered their first defeat in three matches once Tunnicliffe (4-55) and Glover (2-33) dismantled the top order. Dan Barber (4-11) then went on to sweep up the tail as Slaithwaite finished 117ao and distinctly second best on this occasion.
Lascelles Hall have hit a mini-crisis after losing top spot the previous week. This time, Lepton Highlanders defied their lowly league position to edge them out with an excellent performance which gives them hope in their relegation battle. Lepton had Asif Hussain (66) to thank for another vital innings enabled them to set up a 153-8 score. Zeeshan Khan (3-35) with the best return in the Lascelles Hall bowlers. In reply, Matthew Simpson (55) looked to have Hall on the path to victory but they reckoned without the bowling prowess of Hussain who took five wickets to bring down the hosts just 4 runs short in a thrilling match on 149-9.
Meltham's search for a first win in a season-to-forget still goes on after Elland were the latest side to defeat them. Elland's 149-7 was ultimately too many with former Linthwaite and Holmfirth man Greg Alexander (55) in good form. Ibrar Hussain took 4-51 but Meltham needed someone else to join him taking the fight to the visitors. Peter Dobson (4-28) and Alex Kennedy (3-22) combined to whittle through the frail batting with just David Bebb (26) and Sagar Sawant (23) reaching double figures in Meltham's 107ao response.
Full scores:
*Almondbury 119-9
Almondbury Wes 124-3
*Clayton West 227-9 (P Tunnicliffe 86, C Bullock 66; S Butt 5-45)
Slaithwaite 117 (W Hussain 39; P Tunnicliffe 4-55, D Barber 4-11).
Lepton Highlanders 153-8 (A Hussain 66; Z Khan 3-35)
*Lascelles Hall 149 (N Simpson 55; A Hussain 5-36).
Elland 149-7 (J Bower 36, G Alexander 55; I Hussain 4-51)
*Meltham 107 (D Bebb 26; T Dobson 4-28, A Kennedy 3-22).
Barkisland 134-9 (L Bridges 46no; A Afridi 5-14)
*Rastrick 118 (S Moyle 3-41, D Robinson 3-26, L Bridges 3-23).
Holmfirth 177-9 (A Rashid 64, S Allen 26; M Kitson 4-51)
*Skelmanthorpe 169 (A Hooper 78; A Khan 5-55, A Rashid 4-47).
Cedar Court Conference
Nothing could separate Denby and Cumberworth United in the Conference match of the day as first met third. Home side Cumberworth will perhaps be the most disappointed following their rousing tie after letting a strong position of 105-4 fritter away. Reid Somani (74) was again amongst the runs but it was number nine batsman Dom Storey (33no) which stopped the rot and pushed Cumberworth up to a stronger position. In reply the leaders looked in command after opener Mark Askham (46) got them off to a solid start. Jack Jones (68) looked to have set up victory with the visitors nicely set on 185-6 but that was until Somani (4-39) took the scalp of Jones. Denby then gradually edged their way towards the target but were stopped by James Bower (2-11) who kept a cool head as last man, skipper Paul Goodman was stumped with the scores level and Denby 197ao.
Another close match saw Kirkheaton defeated by Birkby Rose Hill in a nail-biting encounter with hosts Birkby successfully chasing down Kirkheaton's first innings score of 109-9 with one wicket remaining. Will Smith (6-25) freshened things up for Kirkheaton with some princely figures but it wasn't enough as Birkby held their nerve on 113-9.
Elsewhere, Marsden are now eight games undefeated after a 74-ball century from wicketkeeper Matthew Butters (100no) saw off Linthwaite, despite a ton from opener Saif Rehman (111). Linthwaite's large score of 207-2 comfortably eclipsed by Marsden's 209-2 with 4 overs left. Thurstonland saw off Hall Bower by three wickets thanks to a five wicket scoop by Greg Holmes (5-23). Denby Dale chased down Mirfield's 166-7 thanks to a half century from Mirza Tehseen (51) and 48no from Hywel Senior in a 167-6 reply. Finally Upperthong were undone by Emley Clarence who posted 210-9 with hosts Upperthong 164ao in reply.
Full scores:
Kirkheaton 109-7
*Birkby Rose Hill 113-9.
*Cumberworth 197-7
Denby 197.
Mirfield 166-7
*Denby Dale 167-6.
*Hall Bower 144
Thurstonland 147-7
*Linthwaite 207-6
Marsden 209-2.
Emley Clarence 210-9
*Upperthong 164