They say a player doesn't always make a team, but two Premiership teams on matchday 7 certainly turned things right around with the addition of a single quality player each to their ranks. Kirkburton - and the return of Jack Brooks - made a big impression by taking down Delph & Dobcross and Shelley welcomed their overseas Sikander Raza (featured image) who played a major part in clipping Scholes' wings to help bring home a first win of the season for Shelley. In the Jedi Championship, Almondbury Wesleyans went run crazy over forlorn Lepton Highlanders and in the Cedar Court Conference, Denby continue to sit at the summit following a hard-fought triumph away at Mirfield.
Drakes Premiership
For Kirkburton, who've endured an disjointed start to the campaign so far this season, a trip to Delph & Dobcross is always a tough assignment particularly when Lancashire's Arron Lilley is released to play for Delph. It's also been three years since Delph had failed to chase down a visiting total so the signs looked even more ominous when away skipper Craig Fletcher lost the toss and were asked to bat. Nevertheless Kirkburton were buoyed by the welcome addition of a county player of their own as Jack Brooks received the green light to play by Yorkshire and the express pace bowler became a deciding factor as 'Burton successfully defended a modest total to come away with a memorable 94-run victory. Even more remarkable was the manner in which the visitors took the game to Delph - who have now lost 2 out of the last 3 matches - to go above them in the table. Delph started the game on the front foot and it was their 15-year old spinner Xander Selby (5-29) who took the first innings limelight ahead of stand-in skipper Lilley. He captured five wickets, his first ever haul in the 1XI, with a destructive spell of bowling to eliminate the middle-to-lower order along with half-centuries being squandered by Luke Williamson (48) and Toby Booth (47) as Kirkburton had to settle on 198ao. It proved to be enough as Brooks (3-7), bowling menacing, rapid deliveries down the hill made short work of Delph's most destructive batsmen. Alex Scholefield (6-54) at the other end constantly wore down Delph with his nagging seam bowling and between them reduced Delph to 34-7 and with that it was virtually game over. Umer Yaqoob (25) and Wasim Qasim (32) attempted to lift things with militant displays but the damage had long been done and Delph succumbed to 104ao in less than 20 overs.
Shelley have found themselves up against it ever since their return to the Premiership following a one season hiatus following relegation in 2016. They welcomed Zimbabwean international Sikander Raza as their overseas for his first match and it proved just the tonic as his 99-ball century was enough to hold off Scholes at home. A reshuffle of the top order saw Raza slot in at four and was ably supported by Joe Sykes (61) as Shelley put on 249-9 despite 3-fers from Tom Chadwick (3-83) and Louis Brook (3-54). He proved a dab hand with the ball too taking 2-57 during Scholes' reply which hit the buffers at 203ao. The evergreen Sri Lankan Ranjith Bandula-Don (3-35) and spinner Mo Bhoola (3-48) kept chipping away at the visitors reply who's best performer came from all-rounder Tom Brook (40). Once he was gone; caught and bowled by Raza so were any chances of a Scholes win.
The question on most people's lips at the moment is who's going to stop Hoylandswaine? The table toppers are progressing in juggernaut style and ruthlessly dispatched visiting Armitage Bridge. Andrew Gledhill's team were strangled in the first innings after they were reduced to 11-4 early on batting first - three wickets apiece for opening bowlers Shakir Muhammad (3-40) and Usman Arshad (3-57). They did regroup and managed to bat out the fifty overs reaching 150-9 with patient offerings by wicketkeeper Jaycub Curtling (38) and Faheem Hussain (35). Patience is one thing Hoylandswaine displayed as they sauntered their way to victory by reaching 152-4 in reply with Gharib Nawaz (39) and Alex Lees (45) leading the way.
Another five scalps for spinner Jacob Deavin-Baker ensured Cawthorne edged out Golcar in an intriguing bottom-of-the-table clash at Swallow Road. A half-century by Adam Wiles (58) was the cornerstone of Cawthorne's 206ao with Iqbal Khan (46) uncharacteristically letting his typically steely concentration slip for a half-ton. Overseas Sam Mills (5-50) inflicting the damage for Golcar with the ball. Another dissipated chance of a collection occurred to Jacob Mulhall (49) who put in the balls and restraint to get him there only to be caught and bowled by Liam Wiles just a run away. With regular captain Steve Whitwam absent, responsibility fell to James Howson but he couldn't quite guide his team to a welcome win after they threw away a winnable position with Golcar eventually finishing 13 runs shy on 193-8. A couple of batting points being a small consolation.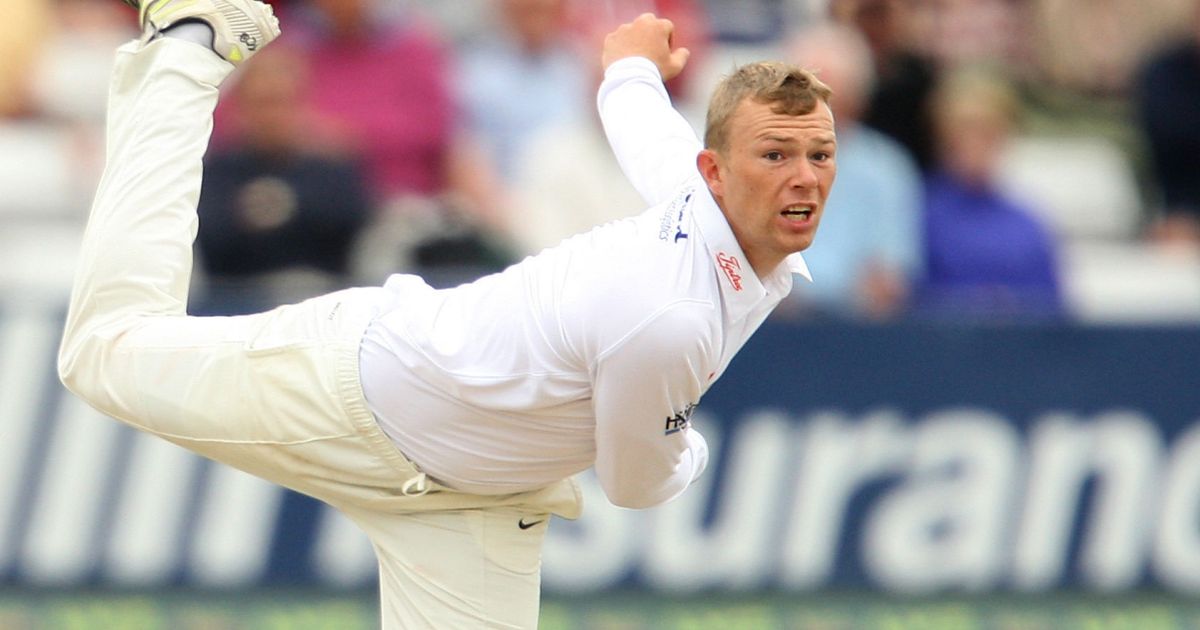 Mirfield Parish Cavaliers may regret surrendering an enterprising start away at high-flying Honley as they capitulated from 82-3 to 116ao inside 42 overs. Captain Tim Orrell (30) and stumper Muhammad Ali (33) combined well enough at 1 and 3, but they reckoned without former Essex spinner Tom Craddock (5-23, pictured above) who stopped them firmly in their tracks with a fine spell of bowling. Lewis Kenworthy (3-22) then helped finish the job as the Parish were made to ponder on a below-par score at Far End Lane. Simon Kelly (53) scored a half century to get his side halfway there with Timmy Taylor and Ryan Robinson (both 24no) left to pass the meagre total in a quickfire 22 overs.
Dan Wood (92no) guided Shepley back to winning ways following a double-loss the previous weekend as they took care of business away at Moorlands. Home skipper Andrew Fortis won the toss and batted first but his team couldn't manage to reach a total to put enough pressure on Shepley as they were 191ao in 48 overs. In fact had it not been for a 88-run recovery partnership between Dave Winn (38) and Micky Padgett (39) it'd have been a far simpler run chase for Greg Wood's team as they were worked over by a miserly display by Nasir Jamal (3-31). As it was Shepley took little risk with Wood facing 118 balls with 14 fours and 2 sixes to take them home inside 40 overs. Wood himself also carried his bat for a well worked 67no as Shepley made 192-2 in reply.
Thongsbridge displayed no ill-effects following their record-breaking defeat to Hoylandswaine last Sunday by recording their second victory over Broad Oak in the season, after their First Round Sykes Cup win earlier in the month. Oak made their way to 234ao in precisely 50 overs but it wasn't enough. Sean Mee (73) continued his good season and was helped in the middle order by overseas Kyron Dill (42) as they put on a hundred partnership in the middle of the innings. Unfortunately the lower order couldn't make a decisive contribution as opening bowlers Ben Balmforth (3-75) and Zafar Iqbal (3-36) made their mark on the match and mopped up the tail. Australian Haydn Slodecki (80) is also enjoying a successful maiden season at Thongsbridge and his patience along with a more brisk knock by Jack Cassidy (63) saw Thongsbridge home with four overs remaining.

Full scores:

Kirkburton 198 (L Williamson 48, T Booth 47; W Maqsood 3-68, X Selby 5-29)
*Delph & Dobcross 104 (U Yaqoob 25, W Qasim 32; J Brook 3-7, A Scholefield 6-54).
Cawthorne 206 (I Khan 46, I Latif 26, A Wiles 58; S Mills 5-50, W Hinchliffe 3-61)
*Golcar 193-8 (J Mulhall 49, S Mills 38, J Lockwood 25; J Deavin-Baker 5-60).
Mirfield PC 116 (T Orrell 30, M Ali 33, D Broadbent 25; T Craddock 5-23, L Kenworthy 3-22)
*Honley 117-2 (S Kelly 53).
Armitage Bridge 150-9 (J Curtling 38, F Hussain 35; S Muhammad 3-40, U Arshad 3-57)
*Hoylandswaine 152-4 (G Navaz 39, A Lees 45; D Moorhouse 3-43).
*Moorlands 191 (D Winn 38, M Padgett 39; N Jamal 3-31)
Shepley 192-2 (D Wood 92no, G Wood 67no).
*Shelley 249-9 (J Sykes 61, S Raza 105, R Bandula Don 42; L Brook 3-54, T Chadwick 3-83)
Scholes 203 (A Clegg 39, Y Imtiaz 27, T Brookn 40; R Bandula Don 3-35, M Bhoola 3-48).
Broad Oak 234 (S Mee 73, K Dill 42, T McCreadie 33; Z Iqbal 3-36, B Balmforth 3-75)
*Thongsbridge 235-3 (B Raven-Hill 25; R Marshall 51, H Slodecki 80no, J Cassidy 63).

Jedi Championship
A blustery century by Matthew Henshaw (102) enabled Almondbury Wesleyans to pile on the days biggest 1XI tally as they reached 337-6 batting first at home to Lepton Highlanders. The joint leaders didn't have it all their own way though as they needed to convalesce on 26-4 after a turbulent start. A 180-run collaboration between Henshaw and Tom Binns (93) steadied the ship for Wesleyans which allowed Fred Walker (80no) room to express himself as he pummelled 85 off 60 balls with 9 fours and 4 sixes. Lepton will still have taken heart after a huge personal score by Asif Hussain (153no in 155 balls) saw them mount a spirited response helped by Matthew Marsh (44) as Lepton finished up with 276-7 on a happy day for the home team groundsman.
Almondbury pulled off a coup with a nervy single wicket win home at home to previously unbeaten Skelmanthorpe. No scorecard details were available at the time of writing but batting first Skelmanthorpe were bowled out for 132 and Almondbury battled their way to 133-9 in reply.
A kiwi at Clayton West put in a match-winning all-round performance to dispose of Elland at home. West shrugged off the absence of first team captain Craig Glover when Phil Tunnicliffe (4-58) started with intent with the ball despite the efforts of Paul Winrow (72) and Jack Hendy (52no) as Elland made 225-9. Tunnicliffe then went on to complete a 109-ball innings of 128no containing 9 fours and 10 sixes as he flayed the Elland bowling attack to all parts of the ground. Clayton West moving past the Elland total with 229-6 just outside 40 overs.
Rastrick prolonged Holmfirth's miserable start to the season who stay inside the bottom two following this wretched trip to Hill Top. The joint table-toppers (with Almondbury Wesleyans) put them to the sword after Jack Pearson (3-37) becoming the pick of the Rastrick bowlers. Well-travelled all-rounder Amar Rashid (37no) not being able to do enough to shepherd his sides tail on this occasion in this one-sided fixture. Rastrick didn't mess about in the reply either with openers Ovais Hussain (35) and Majid Khan (37) getting them off to a good start and Rastrick easily completed the win by reaching 122-3 in 18 overs.
Sheheryar Hassan was the scurge of winless Meltham as his five-fer condemned the visitors to another defeat on the road. Hassan (5-44) found his range and rhythm as he ran through Meltham with only Ibrar Hussain (46) to provide any kind of defiance as they ended 136ao. Meltham displayed a little combativeness which gave them a flicker of hope in their fight this season as Hussain (5-47) then tested Lascelles Hall with the ball. They were perhaps left to rue not putting enough on the board first innings as Hall worked their way to 137-7 with Hassan (27) himself one of the main contributors for the hosts along with Zahed Ahmed (28) as Hall closed in on a 3 wicket win.
There was an exciting match in Calderdale as Barkisland prevented visiting Slaithwaite from taking the spoils after the visitors let slip a stable position chasing Barkisland's total. Earlier, captain Darren Robinson (41) and an unbeaten half-century by Sam Moyle (50no) enabled the hosts to reach 205-7 with Slaithwaite skipper Alex Walker (3-30) keeping them in check from his 15 overs. Barkisland then put the squeeze on after Slaithwaite got off to a solid start with opener Hasnat Yousaf (75). Robinson (7-52) put in a superb man of the match performance with the ball as Slaithwaite were strangled in the chase finishing seven runs short of an excellent match. They pick two bonus points put for getting close whilst Barkisland make it back-to-back wins and move up to mid-table.
Full scores:
Skelmanthorpe 132
*Almondbury 133-9
*Almondbury Wes 337-6 (M Henshaw 102, T Binns 93, F Walker 85no; I Khan 3-65)
Lepton Highlanders 276-7 (J Mulhall 153no, M Marsh 44; J Atkinson 4-86).
*Barkisland 205-7 (J Summerscales 27, D Robinson 41, P Ackroyd 31no, S Moyle 50no; A Walker 3-30)
Slaithwaite 198-9 (H Yousaf 75, C Coleman 30; D Robinson 7-52).
Elland 225-9 (P Winrow 72, T Gledhill 30, J Hendy 52no; P Tunnicliffe 4-38)
*Clayton West 229-6 (P Tunnicliffe 128no, C Bullock 27, A Rank 27).
Meltham 136 (I Hussain 46; S Hassan 5-44)
*Lascelles Hall 137-7 (Z Ahmed 28, S Hassan 27, W Simpson 26; I Hussain 5-47)
Holmfirth 118 (A Rashid 37no; J Pearson 3-37)
*Rastrick 122-3 (O Hussain 35, M Khan 37).
Cedar Court Conference
It's an enthralling, evenly-matched Conference this year and leaders Denby had some hard graft to ensure they maintained their unbeaten record and preserved their four point lead at the top over Cumberworth United. Their visit to Mirfield saw them put in exemplary execution with the ball by skittling the hosts for 121 thanks to a six-wicket blast by Zafar Jadoon (6-32). Mirfield's Adam Goldthorpe (69) showed his team how to bat but none of his comrades could match his lead as Denby controlled the match. Mirfield then had Denby in a sport of early bother after Ajmal Zarif (3-42) took out two dangerous batsmen but Farhan Hussain (39no) displayed textbook application in a patient 118-ball knock which won the match for Denby; 122-8 in reply.
It was a low-scoring day all-round as Marsden top-scored in their 106-run win away at Thurstonland. They made 194-7 with Thurstonland suffering in a comprehensive defeat as they were bowled out for 88. Elsewhere Russell Evans (82) top scored for Hall Bower as they ran out easy victors at home to Emley Clarence and second-placed Cumberworth United had a short day by bowling out hapless Birkby Rose Hill for 33 with a fiver-fer from Josh Kilner (5-14) before taking only 27 balls to knock off the scant target.
Linthwaite prop up the table as they still struggle to come to terms with relegation following their latest tribulation at home to improving Kirkheaton. They were 144ao with thanks to a five-wicket plunder by opening bowler Haydn Charlton (5-61). Kirkheaton didn't break too much sweat at 145-2 in reply, led by two inspiring unbeaten knocks from Philip Senior (44no) and Paolo Girardi (46no). Denby Dale are also still in search for a first win as they lost in a 3-wicket defeat at home to Upperthong whose Will Oakley (70no) helped them recover from a perilous position to take 6 points back with them as they reached 187-7 in reply to Dale's 185ao.
Full scores:
Birkby Rose Hill 33 (J Kilner 5-14, G Parkes 4-11)
*Cumberworth Utd 35-0.
*Denby Dale 185 (H Rose 40, I Hussain 25, M Tehseen 28; H Frankland 3-46, T Charlesworth 3-50, G Oakley 3-20)
Upperthong 187-7 (T Willans 28, W Oakley 70no; F Stower 4-36).
*Hall Bower 186-9 (R Evans 82, F Siddiq 29; C Clarke 5-31)
Emley Clarence 118 (A Taylor 34; F Siddiq 3-38, T Baxter 3-25).
*Linthwaite 144 (S Rehman 26, Q Rashid 35; H Charlton 5-61)
Kirkheaton 145-2 (S Sarwar 39, P Senior 44no, P Garardi 46no).
*Mirfield 121 (A Goldthorpe 69; Z Jadoon 6-32)
Denby 122-8 (F Hussain 39no; A Zarif 3-42).
Marsden 194-7 (S Ali 38no, J Smith 34, I Malik 30; J England 3-39)
*Thurstonland 88 (R Hunter 35; D Clee 4-17)