Thundery showers punctuated a compelling afternoon's cricket in which Hoylandswaine strengthened their steely grip at the top by extending their lead following a rare defeat for chasing Honley. Kirkburton took advantage of Shepley's abandonment to move into fourth place and there was a welcome win for Delph & Dobcross who were the only side in the bottom half to register a win. In the Championship, Lascelles Hall furthered their promotion ambitions following a tough win against third placed Clayton West to move clear at the congested summit as Almondbury Wesleyans were made to settle for 2 points following a biblical downpour. Denby were another side to gain an upper hand as they regained top spot after Cumberworth United suffered a shock defeat to slip to third which allowed Marsden into second spot following their latest win.
Drakes Premiership
A magnificent innings from opening batsman Dominic Finn (84, featured image) felled Honley as they faltered in their relentless pursuit of runaway leaders Hoylandswaine. Earlier Honley had battled their way to 184-7 as they were probed by some economical bowling by the hosts. It was down to New Zealander Brett Randell (59) who's enjoying a stellar second season with Timmy Taylor's title challengers to pull them out of a batting rut with another enterprising showing with the bat and he was supported by a useful contribution from Tom Craddock (37no). Broad Oak prove to be a tough nut to crack on their home turf and it again proved to be the case after they recovered from 4-2 very early in the second innings after bowler Sam Denton (4-36) accounted for Harvey Booth and Charlie Roebuck in the opening exchanges. Once Finn dropped anchor though, Broad Oak dragged themselves back into the contest as he enjoyed partnerships with Sean Mee (20) and Kyran Dill (40) to move themselves closer to the target. By the time Honley had their man Finn, caught off the bowling of ITV's Love Island winner and former Durham cricketer Max Morley (3-34), it was too late to salvage the win and Broad Oak eased home with two wickets to spare.
Hoylandswaine enjoyed a much more routine affair after they took care of business at Mirfield Parish Cavaliers. The match survived the swathe of heavy showers that swept across the region after they bowled out their hosts for 132. Gurman Randhawa (4-19) wrapped things up after good work by the opening bowlers Shakir Muhammad (2-26) and Adnan Ghani (3-17) as Parish struggled to get to grips with Muhammad Ali (41) and Terence James (40) unable to convert promising opportunities. With overs lost during the interval, the teams were able to retake the field and Hoylandswaine chased down a revised total as opener Gharib Nawaz (29) and Chris Holliday (29no) made efficient work of the reply to assert a five point cushion at the top.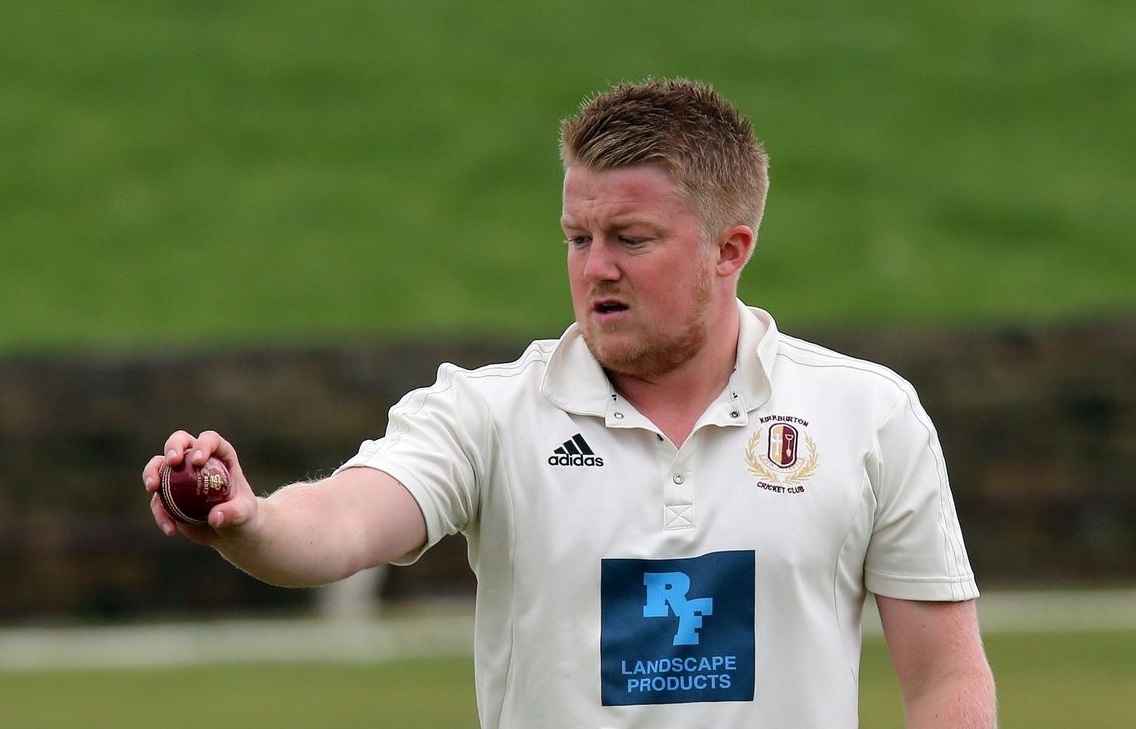 Kirkburton's latest win in what is turning out to be an enjoyable season for the Riley Lane club came at the expense of neighbours Shelley but they had to show character in the face of adversity along the way. Visiting Shelley had Kirkburton in trouble as they recovered from 92-6 to post a testing 227ao after several batsmen got starts but lost their way at crucial times. Skipper Craig Fletcher (94), who seems to be flourishing with the bat after relinquishing his opening bowling spot, put in an eye-chatching show with an 80-ball knock that ultimately took the game away from Shelley. Fletcher (pictured above), flayed 16 fours and 1 six but fell slightly short of a superb ton, however it was enough to switch the pressure back to Shelley. They themselves recovered from 9-2 early on in the reply but once the partnership between opener Louise Sykes (23) and overseas Sikandar Raza (34) was broken a procession of wickets fell with bowlers Javaid Ahmad (4-49) and Will Reeves (4-42) profiting. Typically belligerent batting from bowler Martin Sykes (35) offered some entertainment although it was to be in vain as Shelley simmered on 141ao in a comprehensive 86-run defeat.
Delph & Dobcross put a wretched run of form behind them to register their first win in a month in some style at home to Golcar who remain at the foot of the table. Delph's 8-wicket victory came after their in-form Pakistan overseas quick bowler Waqas Maqsood (7-52) blitzed Golcar whose patient start was wrecked, quickly collapsing from 31-0 to 52-8. The shell-shocked visitors weren't able to mount a salvage operation and impressive Lancashire junior Xander Selby (2-3) performed the coup de grâce as Golcar finished 89ao. They may have been saved by the weather however, but after a vicious thunderstorm left a small amount of carnage in its wake, a mop-up mission rescued the match and Delph were left with a modest revised target of 66 to overhaul. Nathan Jones (35no) led the way as Delph took just 12 overs to reach 70-2 and reel in a much-needed win which gives them confidence ahead of their quarter final Sykes Cup contest at home to Moorlands.
Moorlands successfully negotiated a tricky assignment at Armitage Bridge to record back-to-back victories ahead of their crunch Sykes Cup quarter final away to Delph. Opener Jared Maxwell (93) put in a good shift as Moorlands made a robust 242-5 batting first. Maxwell's 119-ball innings contained 13 fours and a single six before he made way and David Winn (32no) and Michael Rounding (37no) enjoyed an unbeaten 72-run partnership once Bridge's bowling ran awry in an off-day for the hosts. Eight overs were lost to the elements over tea but Armitage Bridge put in a spirited response thanks to wicketkeeper Jaycub Curtling (55). Eight bowlers were utilised by Andrew Fortis, assumably to provide some Sykes Cup practice, after Bridge were under their control at 99-8 with Nicky Smith (3-32) proving most successful. The hosts recovered a batting point after Curtling found some lower-order company in Jack Hinchliffe (20) but finished comfortably short of the 204 revised target on 175-9.
Thongsbridge made it a glum afternoon for Cawthorne after they secured a win away at Dark Lane. Cawthorne, who of course are in their final season in the Huddersfield League, were well off the pace as Thongsbridge worked their way up to a 246-9 first innings total with cogent middle-order contributions by Tom Raven-Hill (43) and Rory France (63) putting together a 106-run partnership at a key point of the innings. Cawthorne skipper Chris Walmsley (5-85) was the standout performer with the ball. Batting proved to be a challenge for the hosts following a long rain delay after tea as Cawthorne lost wickets at regular intervals with Walmsley (23) himself top scoring. They eventually finished on 110-7 in the 20 overs left after the rain.
It was a frustrating afternoon at Chapelgate after a thoroughly absorbing contest was abruptly ruined by the thundery showers which blighted the area. Hosts Scholes recovered from 4-2 to eventually post 252-8 at home to Shepley following a good team performance. A 75-run stand between Tom Chadwick (61) and Brad Birkhead (41) concreted the recovery which was embellished with good knocks from Tom Brook (35), Eden Pearson (22) and Louis Brook (20). The consistent Nasir Jamal took 4-48 for Shepley, but with the game delicately poised, sadly no more play was possible and both sides had to settle for two points each.
Full scores:
Moorlands 242-5 (J Maxwell 93, A Fortis 29, D Winn 34no, M Rounding 37no)
*Armitage Bridge 175-9 (J Curtling 55; N Smith 3-32).
Honley 184-7 (B Randell 59, T Craddock 37no)
*Broad Oak 187-8.
Thongsbridge 246-9 (T Raven-Hill 43, R France 63; C Walmsley 5-85)
*Cawthorne 110-7 (T Raven-Hill 4-39).
Golcar 89 (W Maqsood 7-52)
*Delph & Dobcross 70-2 (won revised total) (N Jones 35no).
*Kirkburton 227 (A Scholefield 25, C Fletcher 94; R Bandula-Don 3-54, M Sykes 4-53)
Shelley 141 (S Butt 34, M Sykes 35; J Ahmad 4-49, W Reeves 4-42).
*Mirfield PC 132 (M Ali 41, T James 40; A Ghani 3-17, G Randhawa 4-19)
Hoylandswaine 96-2 (won revised target) (G Nawaz 29, C Holliday 29no).
*Scholes 252-8 (T Brook 35, T Chadwick 61, B Birkhead 41; N Jamal 4-48)
Shepley (abandoned)
Jedi Championship
Lascelles Hall took charge in the Championship after they edged home in an exciting low-scoring affair at home to in-form Clayton West inflicting a first defeat on them since May 5th. Craig Glover's team couldn't get to grips batting first as Luke Jackson (4-16) and Hardeep Singh (3-10) ran through them, with Singh claiming the decisive scalp of destructive overseas Phil Tunnicliffe. However Clayton West struck back and had the leaders in trouble at 50-5 with Tunnicliffe (4-40) and Glover (3-33) wrestling back control of the match. Lascelles Hall held their nerve though and surpassed the revised 88-run target, reaching 89-7 to go clear at the top.
It was a hugely frustrating turn of events for title chasers Almondbury Wesleyans at lowly Meltham after they looked to be on course for a routine victory. Meltham were bowled out for 106 following a five-wicket haul for Fred Walker (5-27), supported at the other end by Ben Shufflebotham (4-35). With Wesleyans in striking distance at 63-2 the heavens opened and after an unprecedented downpour the game concluded.
Skelmanthorpe's Asif Hooper put the skids under visitors Rastrick with an excellent all-round performance which arrested a 5-match losing streak in all competitions for the Lidgett Lane side. Hooper (45) helped dig Skelmanthorpe out of a spot of bother and along with Adam Rammell (39) put on 86 runs for the fourth wicket as the hosts made 207-7 batting first. Opening bowlers Jack Hepworth (2-27) and skipper James Crossland (2-22) decisively put Rastrick behind the eight ball by removing key batters Ovais Hussain and Asif Afridi (28) but it was Hooper (4-37) whose spell turned the match firmly in the home sides favour as Rastrick stuttered to 121ao.
Barkisland are a side on the up and their latest win came at the expense of Elland in a local derby at Hullen Edge. Elland were made to rue fielding mistakes as Barkisland reached 179-9 inside their 50 overs with a half-century from Jake Finch (51) and Dave Weston (36) making the most impact. Peter Dobson (4-42) did his upmost to keep Barkisland in check with the ball. Elland slumped to back-to-back defeats as they were bowled out for 125 in reply with Liam Fletcher (48) frustratingly falling two runs short of a half-century. Spinner Matthew Steers (3-23) and captain Darren Robinson (3-25) helped make it five wins from five as they climb the table.
It was the Amar Rashid show at Holmfirth and they overcame Slaithwaite. Holmfirth made 238-5 after being asked to bat with Rashid (79) hitting 14 fours and a six with support from Aizaz Khan (36). Rashid then went on to torment Slaithwaite with the ball as several batsmen made starts before falling under the spell of the Holmfirth spinner. Rashid (5-34) recording a season's best figures as Slaithwaite subsided to 143ao.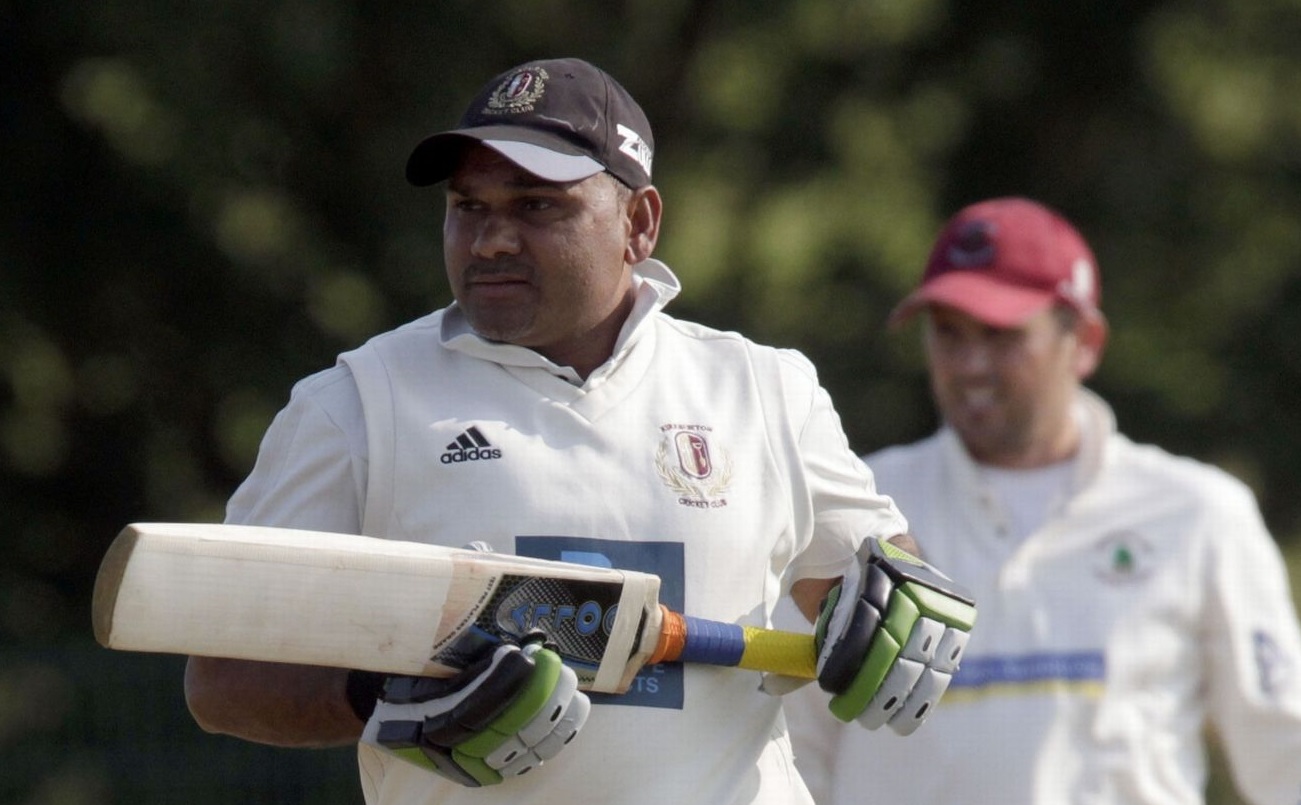 Lepton Highlanders emerged winners following a crunch "12-pointer" at home to Almondbury who in-turn are sucked into a relegation dogfight following a 85-run defeat. Former Kirkburton batsman, Asif Hussain (164no, pictured above) smashed a huge century and Danny Mulhall (51) chipped in with a half-century as Lepton made the Almondbury bowlers suffer making 303-5 batting first. They were relieved to escape the full brunt of the regions rainstorms and were able to complete a win despite a brave response from Almondbury who reached 218-8 in reply. Another centurian, Atif Kamran (114no) made a dent for Almondbury but the rest were kept in check by the returning Jon Wareing (3-83) and Lepton ran out worthy winners.
Full scores:
Barkisland 179-9 (D Weston 36, J Finch 51; P Dobson 4-42)
*Elland 125 (L Fletcher 48; M Steers 3-23, D Robinson 3-25).
*Holmfirth 238-5 (A Rashid 79)
Slaithwaite 147 (A Rashid 5-34).
Clayton West 104 (D Swan 26; L Jackson 4-16, H Singh 3-10)
*Lascelles Hall 89-7 (won revised total) (P Tunnicliffe 4-40, C Glover 3-33).
*Lepton Highlanders 303-5 (S Bashir 34, A Hussain 164no, D Mulhall 51)
Almondbury 218-8 (A Kamran 114; J Waring 3-83).
*Meltham 106 (F Walker 5-25, B Shufflebotham 4-35)
Almondbury Wes 63-2 (abandoned)
*Skelmanthorpe 207-7 (S Alderson 25, A Hooper 45, A Rammell 39)
Rastrick 115-9 (A Afridi 28, J Waterson 33; A Hooper 4-36)
Cedar Court Conference
Denby bounced back to winning ways and regained top spot in the process as they overcame a close derby tussle at home to Denby Dale by 13 runs. An imposing 296ao score was laid on by the high-flying hosts as Farhad Hussain (70) and Tom Sanders (63) let fly with the bat despite a five wicket return from Denby Dale bowler Fred Stower (5-84). The visitors positively went about their task following a destructive rain shower and if two batsmen could've converted chances to get beyond half-centuries the result may have been different. Tom Clarke (44), Hayden Rose (44) both surrendered good opportunities whilst Stower (41) himself ran out of partners as a valiant Denby Dale surge fell narrowly short in an entertaining match.
Cumberworth United slipped to a surprise defeat at home to improving Linthwaite. Tahseen Suleman (75) starred for the visitors as they had to settle for 175ao after being handily placed at 142-2. George Parkes (6-53) and Reid Somani (4-38) both in fine fettle for the hosts. However, the runs were enough for Linthwaite as the well-travelled Qaiser Rashid (3-20) and Omar Shaffique (2-36) asserted control, bowling out the hosts for 125 in reply.
Max Berry (84no) helped Marsden chalk up another win as they start to gain momentum with their latest win coming at the expense of Emley Clarence. A spirited half-century from number 9, skipper Simon Sykes (50) was the only bright part of a gloomy afternoon as Emley were bowled out for 181. Berry, along with Matty Butters (43) made short work as they registered an 8-wicket win to continue an improving season.
Elsewhere, Upperthong were thwarted by the weather although they were delicately poised at 27-4 chasing Hall Bower's 107ao by the time the rain ended proceedings. Kirkheaton put Thurstonland to the sword by bowling out the visitors for 89 and knocking off a revised target of 69 for the loss off five wickets. A fine ton for Rehan Khan (116) was enough for Birkby Rose Hill (238-9) to see off visitors Mirfield (141ao).
Full scores:
*Birkby Rose Hill 238-9
Mirfield 141
Linthwaite 175
*Cumberworth Utd 125
*Denby 296
Denby Dale 215
*Emley Clarence 181
Meltham 183-2
Hall Bower 107
*Upperthong 27-4 (abandoned)