On a rain hampered afternoon, several great comebacks transformed teams as Shelley, Delph & Dobcross and Broad Oak all rescued themselves from uncertain positions to register Premiership victories. It was business as usual for unbeaten Hoylandswaine whilst Shepley and Moorlands had to share the points when rain curtailed play. Holmfirth's rise up the Championship table showed no sign of slowing after they came out on top in a key match at home to Rastrick with first placed Barkisland involved in a riveting tie at Slaithwaite. With the top two of the Conference; Denby and Marsden both winning, third-placed Cumberworth United won at Birkby Rose Hill to keep tabs on the leaders.
Drakes Premiership
Honley kept their fading hopes of a first Byrom Shield Shield success since 2011 with a dominating performance away at Mirfield Parish Cavaliers who slumped to the bottom. A fine bowling performance by Honley's Lewis Kenworthy (5-50) helped restrict their hosts to 197-9 batting first with Parish batsmen able to assert their authority over their second-placed visitors. David Bolt (28) and Bradley Drake (28) both top scored for a side starting to suffer badly from the unfortunate loss of overseas Nazir Hussain, out for the season due to injury. The hosts may have enviously looked on the performance of experienced Honley opener Simon Kelly (81) who's punishing 59-ball innings firmly propelled Honley on the way to victory after he and 15 year old Ben Harris (26) put on 119 for the first wicket. Batting brawn down the order by Ryan Robinson (60) ensured Honley wrapped up a sprightly victory within 30 overs with only Jamie Hardcastle (3-35) starring in a permeable Parish bowling attack.
The picture at the bottom changed once more as Golcar, bottom at the start of play bagged back-to-back morale-boosting wins to lift them out of trouble for the time being. They registered an emphatic victory away at Cawthorne with a solid team performance; a positive sign if they are to escape relegation this season. Openers Steve Whitwam (46) and Abdul Wahid (32) set the tone as Golcar benefitted from the value of a firm opening partnership and their score was further swelled with a pair of half-centuries from Jake Lockwood (51) and Sam Mills (50). Liam Wiles (115, featured image) followed up his 3-60 with the ball with an elegant century as Cawthorne recovered from 7-2. However their season has been blighted with frail batting and the same demons were at play here with no-one able to follow Wiles' lead as Will Hinchliffe (4-41) and skipper Whitwam (3-70) snuffed out the hosts chances before Cawthorne were bowled out for 212.
A big opening partnership between Gharib Nawaz (92) and Alex Lees (57) sent free-scoring Hoylandswaine to another landslide success away at Armitage Bridge. The hosts came back into the game a little after the opening pair and number 3 Saeed Anwar (39) were removed but critical damage was already inflicted by then despite a spirited bowling performance from Aiden Jump (4-55) with the visitors setting 266-8. Armitage Bridge were already suffering from the loss of opening batsman Matthew West from a broken thumb and they were harassed by Adnan Ghani (5-39) who enjoyed another impressive performance running through the middle-order. Armitage Bridge finished well short of any batting points as they were dismissed for 94 in 26 overs.
Delph & Dobcross are enjoying an encouraging sequence of wins ahead of their Sykes Cup final appearance as they made light work of Kirkburton at Riley Lane. Delph batting first had to revive themselves from the early blow of losing leading run-scorer Mosun Hussain on the first ball of the match after he snicked off for a golden duck. Lancashire over 50's player Graeme Simpson (43) led the convalescence with opener Nathan Jones (17) in a patient 60-run partnership. Chris Tipper (72) added impetus to the innings and the Kirkburton bowlers were ruthlessly taken apart in the last ten overs as Wasim Qasim (51) and Umer Yaqoob (39no) punished the hosts. Kirkburton, hampered by the absence of the regular openers Andrew Smith and Johnny Butterfield were put through the ringer by a rampant Yaqoob (6-33) who cleaned bowled five of his victims in a stunning seam-bowling showing where he was denied a hattrick on two different occasions. Fellow opening bowler Qasim (3-39) also chipped in as Kirkburton collapsed meekly on 93ao.
Another fine recovery secured a vital win for basement dwelling Shelley away at Scholes in a rain-affected match which saw them emerge victorious by just 4 runs in a revised chase for the hosts. Shelley slumped to 24-4 batting first but a half-century in the middle-order by Joe Sykes (51) along with Josh Scott (37) settled the ship before last man Martin Sykes smashed an unbeaten 47 in only 18 balls to push Shelley on to a defendable score of 213-9; revised to 150 after a downpour at tea. Scholes appeared on course to secure a home victory after openers Alex Clegg (57) and Tom Chadwick (40) laid on 94 for the first wicket but Shelley rallied once again and put the squeeze on. The hosts finished agonisingly short on 146-5 as scoreboard pressure told with overseas Sikandar Raza (2-28) taking charge from his ten overs.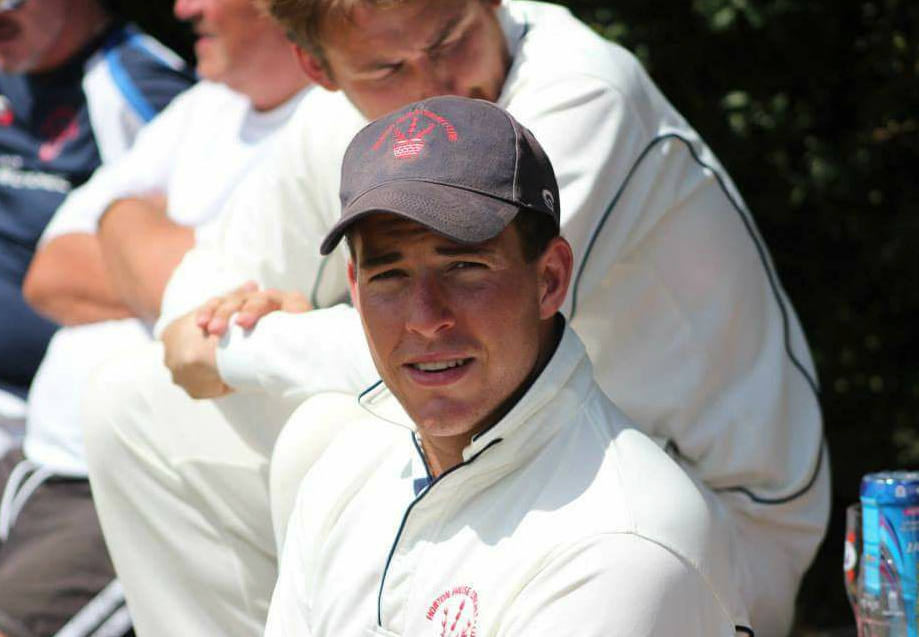 Broad Oak completed a remarkable revival to edge out visiting Thongsbridge in their fourth meeting this season. Ben Raven-Hill's side had Oak in dire straits at 73-7 as Tom Raven-Hill (4-44) and Zafar Iqbal (3-31) piled on the pressure after losing the toss. A remarkable improvement occurred after overseas Kyran Dill (76) dropped anchor and he was joined by Daniel Rushworth (67) putting in a season's best first team performance to turn things around as Broad Oak settled for 213ao. Thongsbridge were left rueing dropped catches as they fell 32 runs short in reply despite a brilliant century from overseas Haydn Slodecki (102, pictured above). They lost openers Ben Raven-Hill and Richard Marshall but stabilised themselves with Jack Cassidy (37) putting on 66 runs for the third wicket. Oak then started to chip away as Harvey Booth (5-42) took five wickets and victory was finally secured when Slodecki eventually succumbed for the last wicket with Thongsbridge all out for 181.
The only match to fall victim to the weather was at Shepley as they equally shared the points with Moorlands after the teatime deluge meant too much time was lost. Moorlands got off to a flyer through openers Dave Winn (25) and Andrew Fortis (23) but their progress was tempered when Shepley grew back into the contest. Moorlands regrouped as first Eddie Walmsley (29) resisted and later Nicky Smith (40) down the order carried the visitors to a competitive total. Nadim Hussain (4-42) carried on his good form with the ball. A big mopping up operation following tea saw a revised target of 135 in 28 overs. Shepley were well set as they reached 64-1 in 12 overs before bad light put paid to the match and both teams had to settle for a draw.
Full scores:
Hoylandswaine 266-8 (G Nawaz 92, A Lees 57, M Anwar 39; A Jump 4-55)
*Armitage Bridge 94 (W Swift 31; A Ghani 5-39).
*Broad Oak 213 (C Woodruff 33, K Dill 76, D Rushworth 67no; Z Iqbal 3-31, T Raven-Hiill 4-44)
Thongsbridge 181 (H Slodecki 102, J Cassidy 37; H Booth 5-42)
Golcar 255-6 (S Whitwam 46, A Wahid 32, J Lockwood 51, S Mills 50; L Wiles 3-60)
*Cawthorne 212 (L Wiles 115, L Robinson 25; W Hinchliffe 4-41, S Whitwam 3-70).
Delph & Dobcross 265-7 (G Simpson 43, C Tipper 72, W Qasim 51, U Yaqoob 39no)
*Kirkburton 93 (W Qasim 3-39, U Yaqoob 6-33).
*Mirfield PC 197-9 (D Bolt 28, A Hawkesworth 25, B Drake 28, C Rowlands 26no; S Denton 3-58, L Kenworthy 5-50)
Honley 203-4 (S Kelly 81, B Harris 26, R Robinson 60no; J Hardcastle 3-35).
Shelley 213-9 [Rev 150] (J Sykes 51, M Sykes 47no; T Chadwick 3-80, L Brook 4-31)
*Scholes 146-5 (A Clegg 57, T Chadwick 40).
Moorlands 201 [Rev 135] (D Winn 25, E Walmsley 29, N Smith 40; N Hussain 4-42)
*Shepley 64-1 (abandoned)
Jedi Championship
Two teams that couldn't be separated were Slaithwaite and leaders Barkisland who played out a pulsating tie at Hill Top. Barkisland were asked to bat first and reached 218-8 with Luke Bridges (85) resurrecting the visitors innings from a precarious 31-3. Alex Kaye (38) returning from a hiatus and Matthew Steers (32) added runs down the order with Josh Chojnowski (4-58) having his say with the ball for Slaithwaite. The home spectators were treated to a thrilling match as Hasnat Yousaf (38) got them off to a decent start but it was middle-order Harrison Quarmby (71) that lifted them once a clatter of middle order wickets fell. He put on 83 runs with Australian Jackson Mace (32) to get Slaithwaite within 11 runs of the victory but with balls running out two run outs cost the home team who tied the scores in dramatic fashion.
Peter Dobson boosted Elland's timely promotion bid with a fine six wicket haul at home to fellow promotion chasers Clayton West in a rain-affected match at Hullen Edge. Dobson (6-40) put Clayton West in trouble who only had Alex Rank (46) to provide any reasonable resistance in a troublesome afternoon which saw them succumb to their second impairing consecutive defeat. Alec Hodgson (2-22) also added more woe as West were bundled up for 122ao. The precipitation revised the chase to a modest 78 which Elland achieved with little fuss for the loss of three wickets with Ciaran O'Malley (33) top scoring.
Holmfirth meteoric rise has been nothing short of spectacular and their latest success has thrust them right into the promotion frame with a big win at home to Rastrick. Matthew Gummerson (61) and Aizaz Khan (78) got Holmfirth into a commanding position with a competitive 249-7. Wasim Javed took 3-71 for the visitors. Rastrick were slightly hindered by the rain second innings and even though the potent Asif Afridi (78) kept them in the contest, bowlers Khan (3-66) and Amar Rashid (3-71) ensured it was a difficult ask as they stuttered on 205-8 in reply.
What a difference a fortnight makes for Meltham. They turned around their whole season with their third win on the bounce at home to faltering Lascelles Hall who themselves have suffered a crushing reverse of fortunes dropping from first place to ninth in a matter of weeks. Meltham's 204-9 had three half-centuries with David Bebb (60), Dan Robinson (56) and Kamran Muhammad (59) all starting to click with the bat with Tom Wightman (3-41) and Hardeep Singh (3-41) returning good figures with the ball. Lascelles Hall's revised target of 181 was still too much as they frittered away a concrete-looking platform while chasing. Zahed Ahmed (38) and Sheheryar Hassan (47) got them into a good position but a disastrous collapse to 169ao was instigated by Sagar Sawant (4-67) and Ibrar Hussain (3-36) as Lascelles Hall had to make do with two points from their 12 run defeat.
Second-placed Almondbury Wesleyans came out on top in a high-scoring match away at Lepton Highlanders. Wesleyans put on 290-6 from their first innings effort with Tom Addy scoring a diligent 77 and all-rounder Matt Henshaw (88) piling on a quickfire 54-ball glut containing 6 fours and 6 sixes. Lepton could take solace in competing with such an imposing target and were well in the game once Mohammed Ihsan (46) and Sajid Bashir (60) gave them a solid start. The well-travelled Qaiser Rashid (51) and Asif Hussain (35) helped get Lepton to 250-6 but bowling changes did the trick for visiting captain Will Binns who had Ben Shufflebotham (6-46) to thank who triggered off a collapse, removing Danny Mulhall (21) before the last five Lepton wickets fell for just eight runs.
Skelmanthorpe put their previous weeks tribulations behind them with a triumph at home to Almondbury. Josh Megson (84) batting at seven turned around an insecure start as the bowling triumvirate of Sharaz Ali (3-68), Nasir Ayub (3-49) and Jamil Ahmed (3-58) had Skelmanthorpe worried. Megson along with number ten Bradley Geldart (37no) added crucial late runs to take the game away from their relegation-threatened visitors by reaching 257-9. Almondbury's revised target of 205 was ultimately too many and captain Michael Kitson (6-41) nailed his fourth six-wicket return to blow the top order apart. Wicketkeeper Atif Kamran (45) rallied but Kitson and overseas Asif Hooper (3-40) snuffed out any hope as the gloom set in with Almondbury 64 runs adfrift on 141ao.
Full scores:
Clayton West 122 [rev 76] (A Rank 46; P Dobson 6-40)
*Elland 78-3 (C O'Malley 33).
*Holmfirth 249-7 [Rev 238] (A Khan 78)
Rastrick 205-8 (A Afridi 78).
Almondbury Wes 290-6 (A Taylor 29, T Addy 77, F Walker 66, M Henshaw 88; I Khan 3-69)
*Lepton Highlanders 255 (H Ihsan 46, S Bashir 60, Q Rashid 51, A Hussain 35; F Walker 3-43, B Shufflebotham 6-46).
*Meltham 204-9 [Rev 180]
Lascelles Hall 169
*Skelmanthorpe 257-9 [Rev 205] (A Greenwood 28, D Morgan 41, J Megson 84, B Geldart 37; S Ali 3-68, N Ayub 3-49, J Ahmed 3-58)
Almondbury 141 (M Kitson 6-41)
Barkisland 218-8 (L Bridges 85, A Kaye 38, M Steers 32no; J Chojnowski 4-58)
*Slaithwaite 218-8 (H Yousaf 38, H Quarmby 71no, J Mace 32) Tie.
Cedar Court Conference
Denby chased down a tough revised target at home to Mirfield to deny the visitors a memorable win after a standout century by Mirfield's Sher Khanagha (123) pushed them up to 247-9 batting first. Captain Adam Goldthorpe (84) also heavily contributed to test the Conference joint leaders with Zafar Jadoon (6-62) in the wickets for Denby. The revised total of 155 off 25 overs looked a big ask but the leaders made the task look plain sailing and thanks to half centuries from Jack Jones (52) and Farhan Hussain (52no) they reached 157-3 with 21 balls remaining.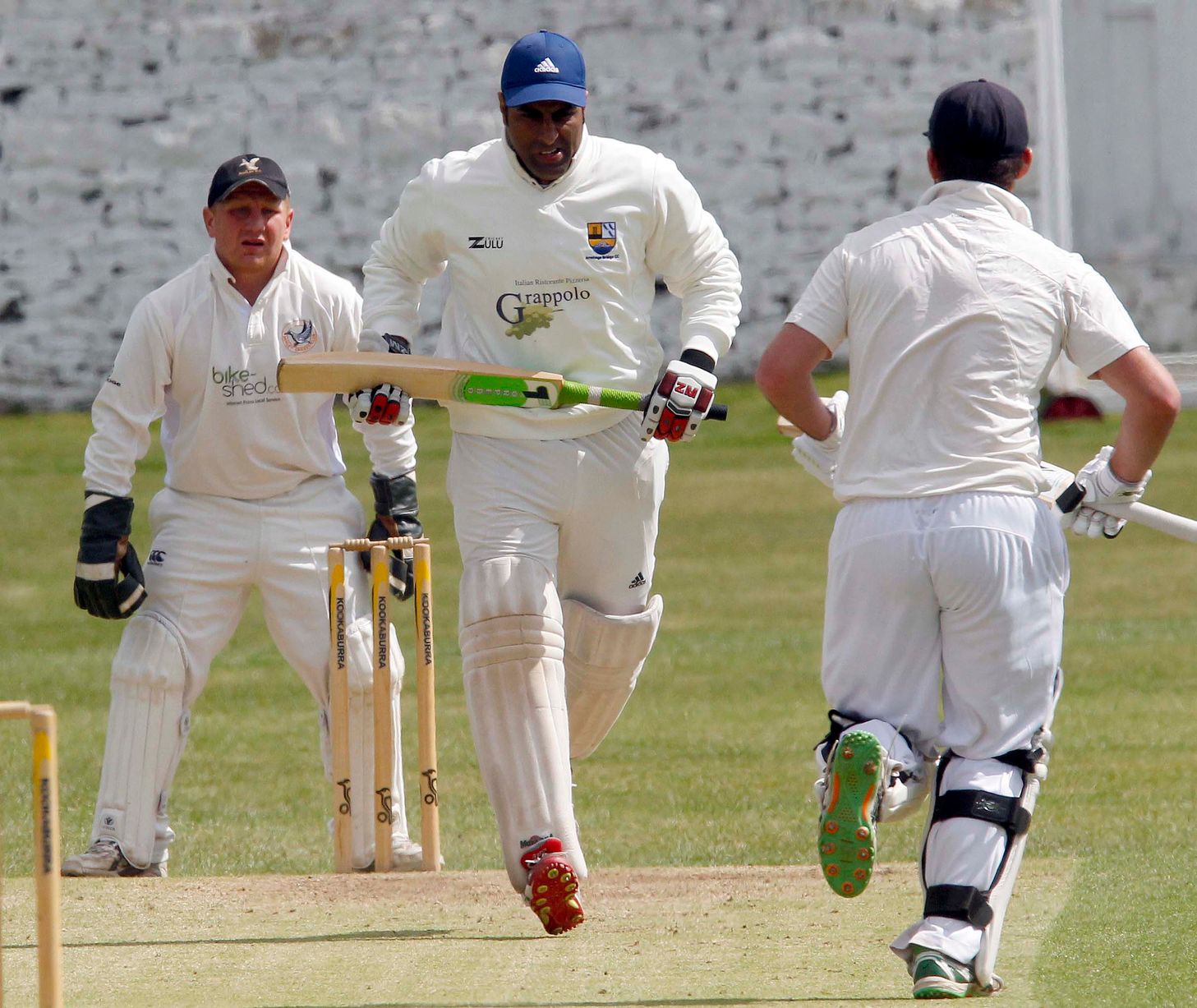 Marsden put Thurstonland to the sword to stay tethered together at the summit with Denby. Visitors Thurstonland were perhaps regretting the decision to insert their hosts as Matty Butters (45), Imran Malik (97, pictured above) and Jack McNamara (74) piled on the runs as Marsden made 293ao. A five wicket return for Kaleel Ahmed (5-92) was scant consolation for the visitors who fell 155 runs short in the reply. Danny Clee (4-46) led the way for Marsden with two wickets apiece for McNamara (2-18) and Sajid Ali (2-37). Captain Russell Mottram (43) hung around but was powerless to stop his team falling to a one-sidedd defeat ending on 138ao.
Elsewhere, Denby Dale routed Upperthong on their travels with Dale bowling their hosts out for 71 with a five wicket collection for Mirza Tehseen (5-19) the difference. Denby Dale scored 72-2 and moved up to sixth. Kirkheaton stopped the rot and five straight defeats by winning handsomely at home to troubled Linthwaite. They chased down Linthwaite's 209-9 with two key middle-order offerings from Dane Winterbottom (43) and Will Smith (41no) as Kirkheaton made 210-7. Cumberworth United kept ground on the leaders with a crushing win away to struggling Birkby Rose Hill. Half centuries from Reid Somani (56) and wicketkeeper Ashley Littlewood (73) got Cumberworth up to 240-7 and Birkby were never in the hunt as three wickets each for Josh Kilner (3-29) and George Smith (3-8) made it an unhappy afternoon for the hosts as they could only make 65ao.
The only match not to see it through to a close was at Emley Clarence as Hall Bower were bowled out for 122 with a five wicket booty for Adam Taylor but frustratingly for Emley the downpour at tea saw the end of proceedings.
Full scores:
Cumberworth Utd 240-7
*Birkby Rose Hill 65-9.
Mirfield 247 [rev 155]
*Denby 157-3.
Hall Bower 122
*Emley Clarence (abandoned).
Linthwaite 209-9
*Kirkheaton 210-7
*Marsden 293
Thurstonland 138.
*Upperthong 71
Denby Dale 73-2.