The runs flowed generously with five teams breaking the 300+ runs mark. Moorlands pulled off the performance of the day after they successfully chased down Broad Oak's lofty first innings total. Delph & Dobcross and Honley both forced their opponents to chase leather with leaders Hoylandswaine cruising to a comfortable win over near neighbours Cawthorne. The Championship is hotting up to thermonuclear levels with leaders Barkisland increasing their lead at the top with a hard-fought win and Holmfirth reinforced their promotion credentials with victory over second-placed Almondbury Wesleyans. The Conference were not short of drama either as Denby boosted their title hopes when second-placed Marsden unexpectedly slipped up away at Denby Dale.
Drakes Premiership
Simon Kelly (featured image) not only blasted Honley to a huge victory against visitors Shepley, he also passed another personal milestone in 15,000 career runs for Honley in over a decade of opening the batting at Far End Lane. Kelly (141) obliterated the normally miserly Shepley bowling attack with a sublime near run-a-ball performance which contained 18 fours and 3 sixes. The punishment didn't stop there either with captain Timmy Taylor (66) and Ryan Robinson (51) making the Shepley bowlers suffer further following the seasoned Kelly's century as Honley made 305-5. Shepley, who will be revisiting Far End Lane in eight days for the Sykes Cup Final were out of the reckoning once opening bowler Sam Denton (5-36) caused maximum harm by taking out the top four Shepley batsmen on his way to a five wicket plunder. Timmy Taylor (4-52) also got stuck in and despite a lengthy stand between Archie Greaves (41) and Ollie Davidson (46), even a batting point was out of their reach as they could only muster 142ao in reply.
Charlie Roebuck (157) slammed a simply breathtaking century inside just 15 overs for Broad Oak yet somehow managed to end up on the losing side. Oak journeyed to Moorlands hoping to strengthen their hold on third place and were buoyant after Roebuck's remarkable start in a flammable 87-ball innings which kept the scorers on their toes containing 20 fours and 7 sixes. The opening partnership of 220 was brought up before the halfway point of the innings with Conor Woodruff - promoted from the second team - also clattering 6 fours and 3 sixes. However Broad Oak didn't capitalise on this unique position and hosts Moorlands began to make inroads when their eighth bowler Siraj Sajid (5-32) asserted his control on the remaining batsmen with only the dependable Sean Mee (44) able to play his way out of single figures. Oak's total of 306ao was always likely to severely test the home side who shook off the loss of opener Dave Winn in the first over. Overseas Nathan Rabnott (116) held the reply together with a splendid 121-ball knock containing 13 fours and 4 sixes. He was joined by great contributions from Michael Rounding (63) and a run-a-ball 46 from Sajid. Oak perhaps could have needed the nous from regular opener Adam France, sidelined with a hamstring injury, but Moorlands paced the chase with acute precision and reached 310-7 with just two balls left to emerge victorious in an astonishing match.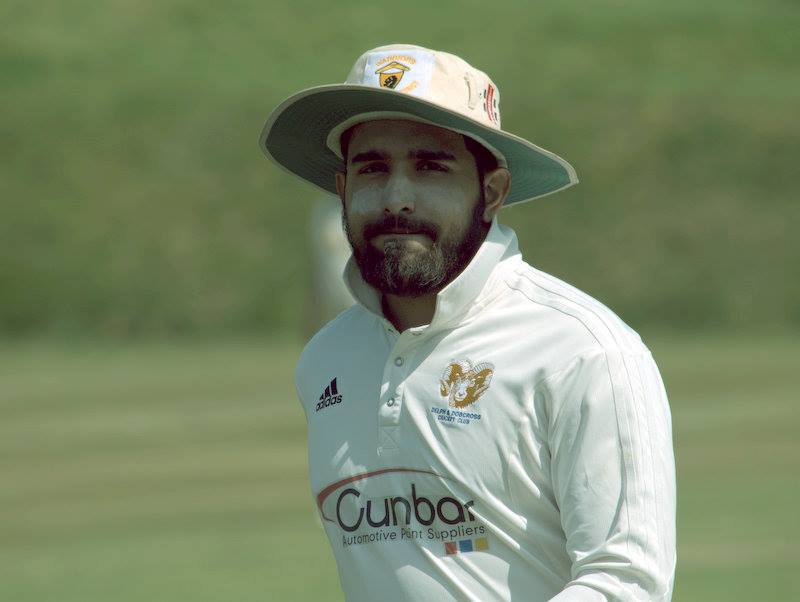 Two centuries for Delph & Dobcross made it an unhappy afternoon for bottom-placed Mirfield Parish Cavaliers on their first ever league visit into Lancashire. Opener Mosun Hussain (116, pictured above) scored his first century of the season as he notched 15 fours and 2 sixes in a classy 113-ball innings. Conversely, Graeme Simpson (124) achieved his with more unorthodox, yet equally destructive means off 89 balls with 13 fours and 8 sixes peppering the surroundings just off the A62. With Delph poised at 279-1 and with 20 overs left, the signs looked ominous for the visitors but spinner Connor Rowlands (4-67) began to limit the havoc by first removing both Hussain and Simpson before taking out Lancashire all-rounder Arron Lilley for a second-ball duck. Luke Hargreaves is always well capable of inflicting abrasive blows and he pummelled 54 late runs in 33 balls to take Delph to 391-9 at the interval. Delph are enjoying their best run of form of the season despite the previous week's blip away at Thongsbridge and they showed an equally ruthless side to them with the ball using only the opening two bowlers with Umer Yaqoob (6-39) taking his fifth 5+ wicket booty of the season and Wasim Qasim (4-43) chipping in to wrap up the game after only 19 overs with Parish well beaten on 85ao. A comprehensive 306 run win.
Hoylandswaine shrugged off the previous weekend's defeat at Honley by following it up with a crushing one-sided win at home to near-neighbours Cawthorne. The two South Yorkshire sides met for the final time in the Huddersfield League with the visitors enjoying a solid opening stand between Lewis Skelly (27) and the vastly experienced Iqbal Khan (34). A bowling reshuffle got things moving for the reigning champions and the introduction of Usman Arshad (3-27) and leading wicket taker Gurman Randhawa (3-39) dislodged the openers and exposed Cawthorne's batting weaknesses. The wickets then fell at an alarming rate and Cawthorne's 149ao was well below a level to put the Swaine batting attack under pressure. Swaine rode the early losses of Gharib Nawaz (29) and captain Sarjinder Pal Singh (13) with a match-winning partnership by overseas Saeed Anwar (32) and Chris Holliday (70no) and the hosts ran out easy winners on 150-3 in 18 overs.
Thongsbridge made it back-to-back wins as they triumphed over Scholes who themselves extended their winless run to five matches. Visitors Scholes made the short journey down the valley and enjoyed a dominant bowling performance to restrict the high-scoring hosts to 189ao. Captain Ben Raven-Hill (79) was key to his sides win with a dogged display with the bat soaking up 113 balls. Alex Kemp (40) also stuck it in there as normally prolific batsmen Richard Marshall, Haydn Slodecki and Jack Cassidy all failed to ignite proceedings. Scholes skipper, Josh Brook (5-15) returned after missing the previous two matches whereas Tom Chadwick (2-57) and Josh Ankers (2-21) both played roles to regulate the Thongsbridge scoring. Zafar Iqbal (5-49) took his personal tally for the season to over 40 wickets as Scholes fell away after a promising start. Chadwick (38) and Sri-Lankan Ishan Rangana (53) got Scholes to 106-4 but once they were removed by Tom Raven-Hill (2-55) and James Thompson (2-25) the tide of the match swung dramatically. Scholes had little to offer down the order with Brook (17) and Alex Clegg (19) providing a modicum of resistance although they rescued a couple of batting points finishing 172ao and 17 runs shy of the target.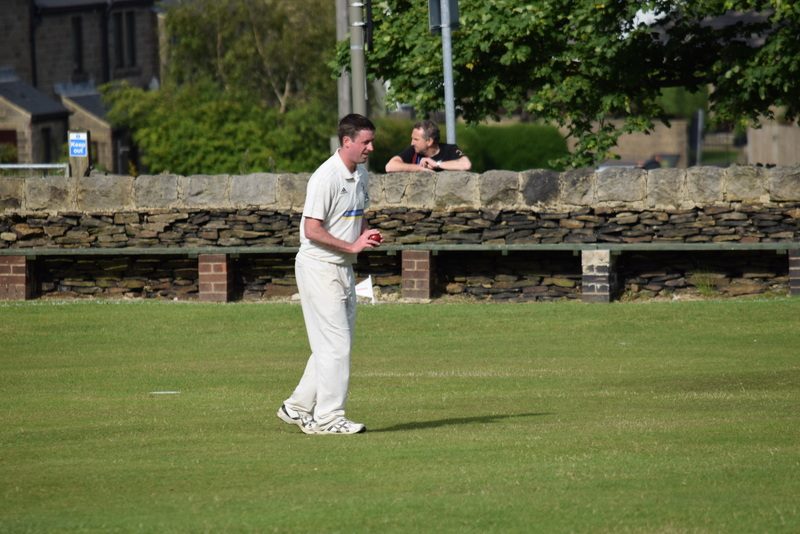 Golcar were overwhelmed at home to Kirkburton in a match which ebbed and flowed at Swallow Lane. Visitors Kirkburton were rocked by losing opener Andy Smith in the first over which was followed up soon after with the other opening bat Jonny Butterworth also out to the dangerous Sam Mills (4-58). Steely stands from Luke Williamson (33), Toby Booth (67) and Rohan Randhawa (54) put Kirkburton into a stronger position as they went on to make 211-8 from their 50 overs. Golcar's reply was put in severe jeopardy as Alex Scholefield (4-18, pictured above) removed the top three for minimal damage. A careful rebuilding by Irfan Amjad (30) and Mills (32) got the hosts back into the contest but Jav Ahmad (2-49) and Will Reeves (2-51) grasped control once again. A spirited knock from number 10 Liam Rothery (29no) was in vain as he ran out of partners and 'Burton ran out winners by bowling Golcar out for 172 with five overs left.
Shelley couldn't take advantage of Golcar's loss as they slumped to defeat at home to Armitage Bridge. The visitors racked up 268-8 batting first with solid contributions throughout the order notably from Tony Treadaway (85), Robin Broom (42) and Jack Hinchliffe (35) as Shelley's bowling deficiencies were exposed once again. Martin Sykes (3-62) performed best on an afternoon when most of the Shelley bowlers went for over five runs an over. Shelley were unable to truly recover from an early blow as Treadaway (3-42) and Hinchliffe (2-23) dismissed the opening three batters for just 23 runs. Sikandar Raza (60) showed his obvious quality but the end was inevitable once he was removed. Joe Sykes (25), Mo Bhoola (25) and Josh Scott (20) all added a gloss to the reply but Shelley were 65 runs short on 203ao with Bridge spinner Daniel Moorhouse (5-61) taking his third five wicket haul of the season.
Full scores:
*Delph & Dobcross 391-9 (M Hussain 116, N Jones 26, G Simpson 124, L Hargreaves 54; C Rowlands 4-67)
Mirfield PC 85 (J Hardcastle 39; W Qasim 4-43, U Yaqoob 6-39).
Kirkburton 211-8 (L Williamson 33, T Booth 67, R Randhawa 54; S Mills 4-58)
*Golcar 172 (I Amjad 30, S Mills 32, L Rothery 29no; A Scholefield 4-18).
*Honley 305-5 (S Kelly 141, T Taylor 66, R Robinson 41, B Randell 26no)
Shepley 142 (A Greaves 41, O Davidson 46; S Denton 5-36, T Taylor 4-52).
Cawthorne 149 (L Skelly 27, I Khan 34; U Arshad 3-27, G Randhawa 3-39, C Jackson 3-20)
*Hoylandswaine 150-3 (G Nawaz 39, M Anwar 32, C Holliday 70no).
Broad Oak 306 (C Roebuck 157, C Woodruff 60, S Mee 44; N Smith 3-51, S Sajid 5-32)
*Moorlands 310-7 (A Fortis 31, M Rabnott 116, M Rounding 63, S Sajid 46no).
Armitage Bridge 268-8 (T Treadway 85, R Broom 42, J Hinchliffe 35; M Sykes 3-52)
*Shelley 203 (S Butt 60, J Sykes 25, M Bhoola 25; T Treadway 3-42, D Moorhouse 5-61).
*Thongsbridge 189 (B Raven-Hill 79, A Kemp 40; J Brook 5-15)
Scholes 172 (T Chadwick 38, I Rangana 53; Z Iqbal 5-49).
Jedi Championship
Rastrick secured bragging rights on home soil in a seven wicket drubbing of nearby Elland. Elland gave themselves far too much to do after collapsing to 98ao with Osama Ahmad (4-43) inflicting terminal damage and dangerous all-rounder Asif Afridi (3-28) taking his 56th wicket of the season. Paul Winrow (24) carved out the only score of note as Elland lamented inconsistencies once again. Ovais Hussain (49no) batted all the way through the reply and he was joined by Afridi (35no) who helped him finish the job well before 4:00pm. Rastrick reached 101-2 and in the process rose above Elland into third place of a congested top half.
A most enthralling tussle took place at Kaye Lane where Almondbury Wesleyans came unstuck against Seb Allen's rising Holmfirth side who are happily riding the crest of a wave. Wesleyans were left to rue six opportunities for batsmen not converting good starts into match-winning knocks; an area they'll have to improve on if they are successful in securing promotion this season. Alex Taylor (32) and Will Binns (32) enjoyed a good opening partnership but were both dismissed when well-placed. Australian overseas Freddy Walker (38) was another to squander a potential half-century and further down there were twenties for Matt Henshaw (25) and Chris Stott (23) as Amar Rashid (7-70) professionally disrupted any momentum Wesleyans could muster. The hosts total of 238ao was well matched by Holmfirth who have emerged as a serious threat to Wesleyans' promotion hopes. After Aizaz Khan (47) made the perfect start for Holmfirth, Sami Ur-Rehman (64no) showed the home side what was missing and his unbeaten 101-run partnership with Josh Sedgewick (59no) took Holmfirth to victory (239-5) with 4 overs remaining.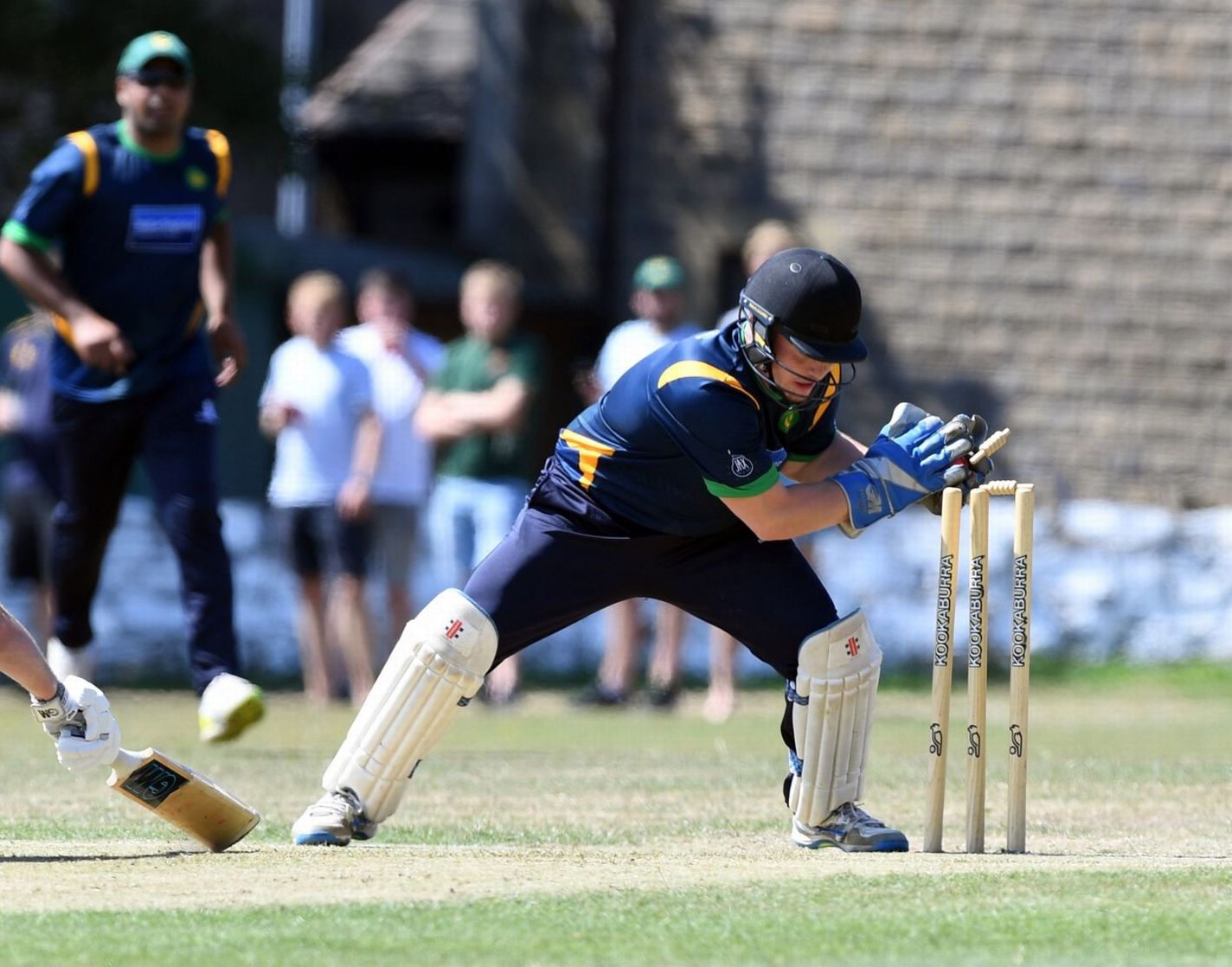 Slaithwaite are another side hitting their groove at the right end of the season and they warmed up nicely for their T20 Shield Final with a sound thrashing of Almondbury. Visitors Slaithwaite elected to bat first and had Jackson Mace (88) to thank for a key contribution in the away side's beefy first innings total of 306-7. Excellent young prospect Harrison Quarmby (72no) joined in and big-hitting Lewis Bradley (64, pictured above) pumped 6 fours and 5 sixes as the struggling Almondbury bowlers tired. Imran Muhammad (3-88) fared the best out of the five bowlers utilised by the bottom-placed club. Slaithwaite completed a clinical mission as Alex Walker (3-17) and Sohail Butt (3-45) dismantled the Almondbury challenge with captain Mirza Mobeen (56) hitting a season's best in the reply which hit the buffers early at 160ao.
Barkisland were made to work hard by Lepton Highlanders who are fighting hard down at the bottom of the table. Lepton's 174ao total probably felt slightly under par as they struggled to maintain forward motion. Qaiser Rashid (45) top scored with Barkisland stalwarts Matthew Steers (4-38) and Darren Robinson (4-47) sharing the scalps for the hosts. Lepton were right in the game as they had the league leaders in an early pickle at 66-5 with Imran Khan (3-54) and Jack Mulhall (3-41) skittling through the upper order. Barkisland captain Robinson (58) is made of sterner stuff and he turned the ship around with a diligent partnership with Harry Finch (31no) and took the game away from the visitors clutches and they were left to regret sloppiness with the ball, conceding a massive 45 runs in extras from Barkisland's 176-7 reply.
A blistering 62 from Meltham's Sagar Sawant heaped more discomfort on Clayton West who have plummeted down the table as they made it four matches without a win to put a hole in their promotion bid. Meltham, unrecognisable from the side that sat rooted to the bottom less than a month ago, put in a fine bowling performance to restrict the hosts to 192ao with Malik Muhammad (4-59) removing the Clayton West top three in a dominant display. Sam Clegg (40) and Jack Moulson (70no) enjoyed an 89-run second wicket partnership but it was Sawant that swiftly brought them the win with a blistering 49-ball knock with 11 fours and a six. Meltham scored 193-2 with eight overs remaining to make it four straight wins.
Tom Wightman (5-28) and Gavin Smith (3-18) helped turn around Lascelles Hall's fortunes in an easy win over Skelmanthorpe. The opening bowlers put visiting Skelmanthorpe to the sword as they were skittled out for 84. George Sommerville (31) and Sheheryar (32no) made sure Skelmanthorpe wouldn't mount an unlikely comeback as they replied with 86-2 in a trunctuated match which meant Lascelles Hall moved above them and kept their hopes of promotion alive.
Full scores:
Slaithwaite 306-7
*Almondbury 160
*Almondbury Wes 238 (A Taylor 32, W Binns 32, F Walker 38, M Henshaw 25; A Rashid 7-79)
Holmfirth 239-5 (A Khan 47, S Rehman 64no, B Hamid 59no).
Lepton Highlanders 174 (S Bashir 28, Q Rashid 45; M Steers 4-38, D Robinson 4-47)
*Barkisland 176-7 (D Robinson 58, H Finch 31no; I Khan 3-54, J Mulhall 3-41).
*Clayton West 192 (A Clegg 38, C Bullock 26; M Muhammad 4-59)
Meltham 193-2 (S Clegg 40, J Moulson 70no, S Savant 62no).
Skelmanthorpe 84 (T Wightman 5-28)
*Lascelles Hall 86-2 (G Sommerville 31, S Hassan 32no).
Elland 98 (O Ahmad 4-43, A Afridi 3-28)
*Rastrick 101-2 (O Hussain 49, A Afridi 35no).
Cedar Court Conference
Linthwaite eased their woes with a terrific 2 run win at home to visiting Birkby Rose Hill. Avais Khan (55) and Usman Yusaf (44) were instrumental in the Linthwaite innings of 224ao as Muhammad Imran took 5-47 for Birkby. A trio of Linthwaite bowlers chipped away at the Birkby Rose Hill reply with Raheel Akhtar (3-38), Saif Rehman (3-50) and Tahseen Suleman (4-88) just about doing enough with the ball. Birkby were worn down and despite captain Rashid Naza's (54) half century they fell agonisingly short on 222ao with 6 overs left.
Marsden fell to defeat at Denby Dale after failing to defend their 247ao total. Imran Malik (52) scored another half-ton for Marsden with Matthew Rammell taking 3-44 for the Dale. Two fifties from Paul Hale (51) and Ibrar Hussain (50) stole the show as Denby Dale reached 248-7 on the penultimate ball of the match.
Elsewhere Denby increased their cushion at the top with a big rout away at Thurstonland. Mark Askham (108) with a hundred with half-centuries from Jack Jones (51) and Farhan Hussain (56) got Denby to 299-6. Thurstonland could only reply with 159-9 in reply. Five wickets from Naseer Saudagar (5-60) were in vain as Emley ran out winners over second-bottom Mirfield. They scored 207ao and then Mohammed Nabeel (5-36) ran through the Mirfield order as they subsided to 92ao. Hall Bower lost a close match to improving Kirkheaton who overhauled the home side's total of 198ao thanks to an unbeaten fifty from Haydn Charlton (59no).
Finally, a unique coincidence occurred with Upperthong who made a 50-run last wicket partnership during their 1XI defeat away at Cumberworth United. This was amazingly topped by a 152-run last wicket partnership by Upperthong 2XI during a win at home to Flockton 2XI. Will Kilner seemingly shrugged aside a six week layoff from a broken finger to score an unbeaten 123no off 112 balls containing 17 fours and 4 sixes as his side went from 97-9 to 249ao.
Full scores:
*Cumberworth Utd 226-7
Upperthong 124,
Marsden 247
*Denby Dale 248-7.
*Hall Bower 198
Kirkheaton 201-8.
*Linthwaite 224
Birkby Rose Hill 222.
Emley Clarkence 207
*Mirfield 92.
Denby 299-6
*Thurstonland 159-9.