It became crushingly predictable that following weeks of baking sunshine during the lockdown (and cricketless) period, the inaugural T30 weekend would begin in unseasonable mirk and gloom. Nonetheless, several impressive performances lit up the new, temporary format including vibrant centuries by opposing captains Bradley Birkhead and Harvey Booth and two substantial contributions by consistent run-scorers Simon Kelly and Ben Raven-Hill.
Group Orange
Scholes supporters revelled in a blistering match at Chapelgate as the home side nudged home after a spirited performance from Broad Oak. Harvey Booth (102) proved his captain's credentials beyond any reasonable doubt with a marvellous 75-ball century to hand a stiff test to new Scholes skipper Brad Birkhead. Daniel Rushworth (40) supported his leader admirably as Oak made hay with 192-8 whilst Birkhead wasn't able to fully rely on his trusted three-pronged Brook bowling attack (experienced all-rounder Tom was unavailable). Scholes survived a tumultuous start to the reply when the visitors opening salvo threatened to sink Birkhead's new-look side leaving them stunned on 26-4. An inspired performance with the bat by Birkhead (124no) frustrated Oak as he slammed 8 fours and 11 maximums in a 71-ball masterclass. Louis Brook (39) gave a solid account lower down the order to support his skipper and Scholes got themselves over the line with a ball to spare in a tremendous opening match.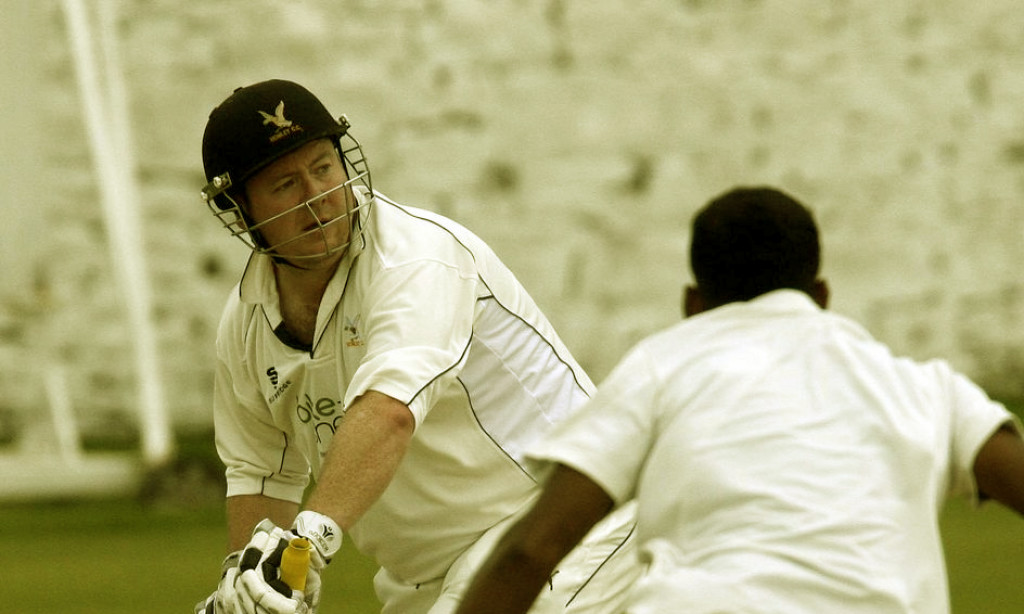 Simon Kelly has spent nearly 20 years at Honley scoring over 15,000 runs. He added another big total to send his team to a winning start in the T30.
The T30 format is sure to bring up some high-scoring entertainment if the action at Miry Lane had anything to go by. Near neighbours Honley came away with a full collection of points despite a spirited comeback by Thongsbridge after Simon Kelly thumped a big score against the club he cut his teeth with as a young cricketer. Kelly (93 off 63 balls) sent 14 fours past the ropes boosted by a further three sixes as he proved the immovable object as he so often does. Several encouraging supporting scores were also added by Timmy Taylor (27), Ben Harris (22) and Archie Greaves (33). It wasn't a day to reflect fondly on by the bowlers; Will Reeves (2-37) and Ben Howitt (2-15) returned the best figures but few came in conceding less than seven runs an over as Honley made a meaty 218-6 after 25 overs batting first. Ben Raven-Hill (94) outdid his opposite opening batting number but it was to no avail as scoreboard pressure told in the end for Thongsbridge. Alex Kemp's team were well on course to meet Honley's total at 128-2 until Greaves (2-22), Taylor (2-42) and Kelly (2-32) repeated their impact with the ball and left the hosts short-changed on 206-8.
Armitage Bridge were dealt a bloody nose by Moorlands who romped to an easy win away from home. Captain Jaycub Curtling (23) and opener Chris Dennison (25) were the only players to resist for Armitage Bridge who played a relatively inexperienced side for their opening match. Moorlands' roster of canny bowlers proved the difference with Siraj Sajid (4-8) proving decisive putting in an impressive all-round performance as Moorlands bowled out the opposition for 99. Sajid (51no) followed that up with an excellent 41-ball half century and Moorlands returned home as comfortable victors on 100-4 (19 overs).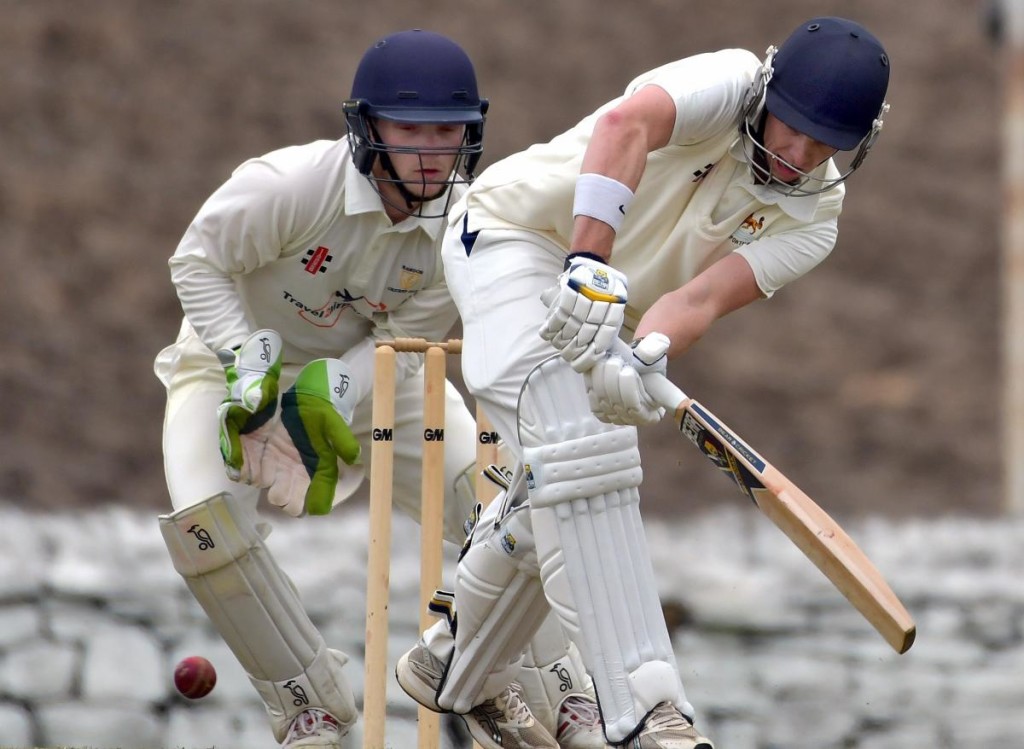 New signing Ben Heritage captained Barkisland to a win on his debut as they enjoyed a win away at Golcar.
Barkisland are a club thriving on a buoyant junior policy with new skipper Ben Heritage - a former player for Undercliffe - getting a first win under his belt on debut for his new young side. They overcame hosts Golcar who struggled to get out of the traps with a lethargic performance. Picking up wickets was a struggle at Swallow Lane as five Barkisland batsmen reached scores into the twenties; Heritage (27) himself was top scorer opening the batting as his side set 141-4 from a reduced 20 overs. Luke Bridges (5-16) flexed his ever-improving all-round muscles with a five wicket take to derail Golcar. League record run-scorer Steve Whitwam (21) was as usual leading the way but despite a promising opening partnership with Craig Ruscoe (19) the hosts meekly fell away when they were removed. Golcar battled gamely but finished 30 runs short of their target.
A mouthwatering match was in progress at Shepley before it was curtailed by the weather just 20 balls before a result could be attained. Greg Wood put his new Shepley signings through their paces with Luke Patel and Ben Potter making debuts in a strong-looking side. However visitors Delph; with several youngsters in their ranks proved they weren't there to be rolled over. The threat of seasoned wickettaker Nasir Jamal (1-7) was seen off by the visitors; and young protege 15-year old George Booth (1-24) took the prized wicket of Mosun Hussain (21). But Delph rallied as Nathan Jones (26) and Adam Hayes (29) rattled through the gears before a fightback by Patel (3-9) closed the visitors' innings on 119ao. When Emley Tower disappears from view at Marsh Lane the signs are ominous and sadly persistent drizzle put an end to the match just as it was tantalisingly poised. Delph bowlers Umer Yaqoob (3-29) and Xander Selby (1-6) had professionally drawn the sting from Shepley's powerful upper order but they were forced off as the drizzle worsened with Shepley on 40-4 after 11 overs. The match was quickly abandoned shortly after leaving them sharing two points each but how this match would have panned out is anyone's guess.
Group Yellow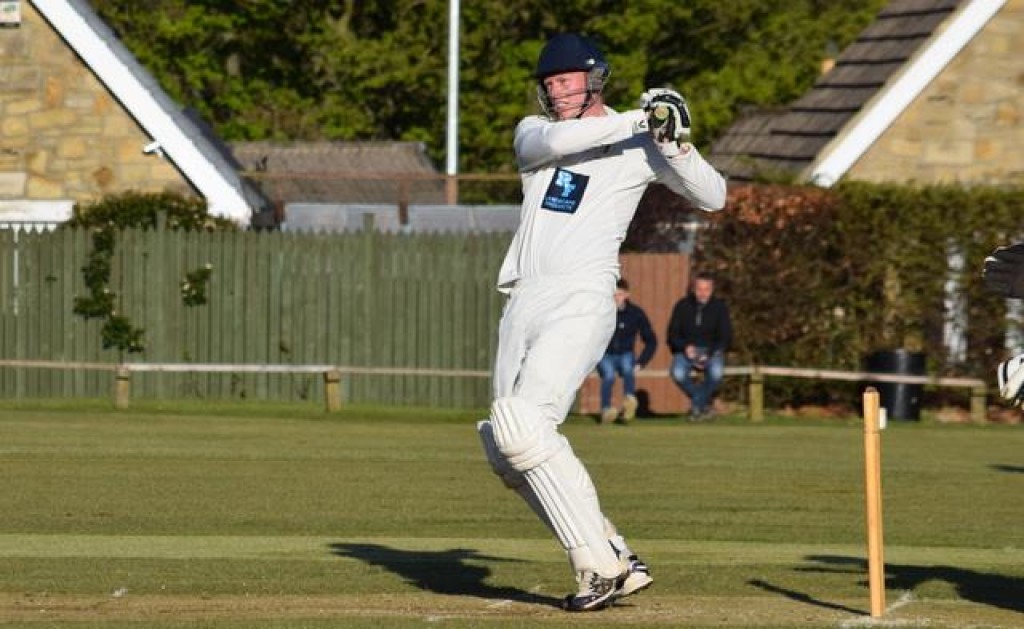 Jonny Butterfield top scored on the first match in his eight season with Kirkburton as his side edged out neighbours Shelley
Kirkburton achieved local bragging rights at home to Shelley by running out 20 run winners. Jonny Butterfield (84) with the bat and Aaron Moore (3-43) with the ball was enough for the Riley Laners. Thurstonland's 2019 promotion saw them ranked highly for inclusion in the Yellow group but a stiff sharp shock was delivered in a rampant Elland performance at Hullen Edge. three wickets each for Rohan Randhawa (3-20) and Jacob Bower (3-11) kept the visitors to 64ao which was knocked off for the loss of two wickets in reply.
Elsewhere; no play was possible at Marsden v Meltham and Slaithwaite were bowled out for 139 away at Lascelles Hall before the weather ended proceedings at the interval. William Simpson (4-39) returning best figures for Hall.
Group Red
Two low scoring matches beat the weather in Group Red; a home for teams that were submitting one team into the new T30 format. Almondbury came a cropper at home to Denby Dale. Noah Wood (3-17) was the best of Dale's seven bowlers utilised as the hosts were dismissed for 86. A Liam Greig (52) half-century shored up the reply as Denby Dale responded with 91-1. Rastrick's Jack Pearson (4-5) wrapped up an opening win away at Holmfirth whose team were shorn of the usual 1XI faces from the last couple of seasons. Tom Barrett hit an unbeaten 38 in the second innings as Rastrick made heavy work losing seven wickets in their victory chasing down Holmfirth's 70ao.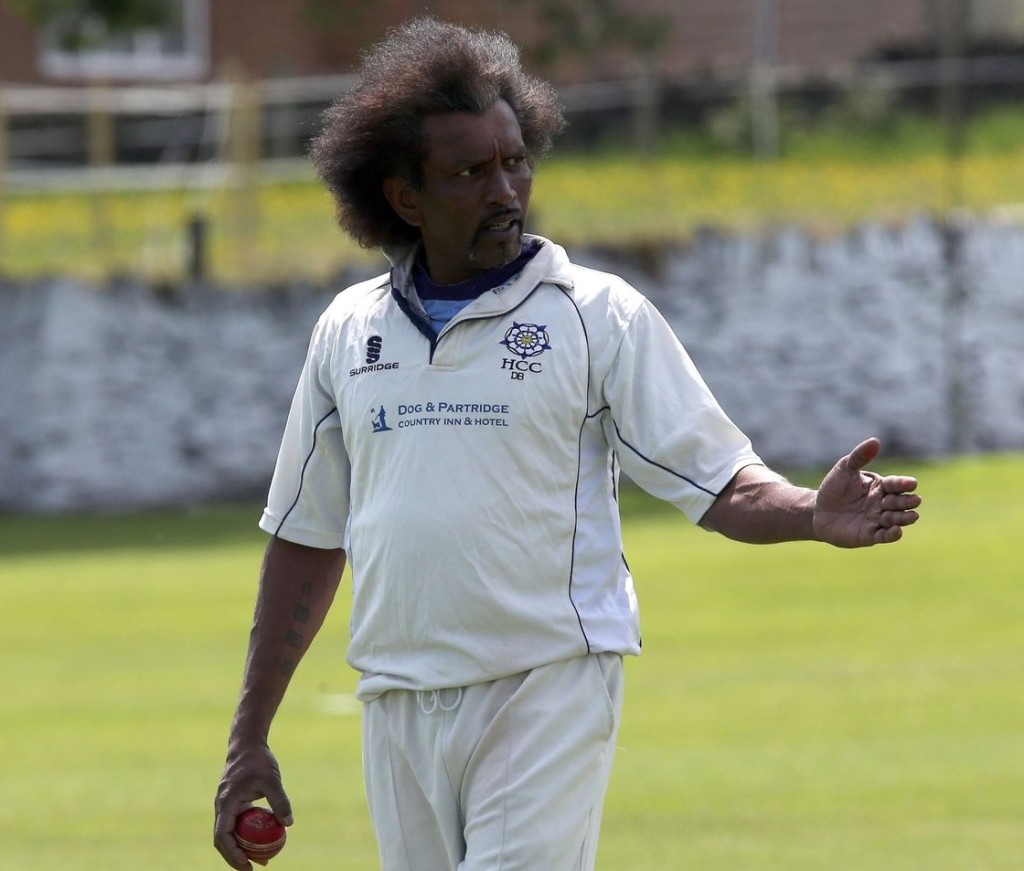 With nearly 350 wickets taken playing for three clubs Ranjith Bandula-Don made a fruitless debut returning for Hoylandswaine at Lepton.
Veteran Ranjith Bandula-Don returned to Hoylandswaine for a second spell where he picked up 168 wickets in three successful seasons between 2011 and 2013. He was unable to add to his tally away at Lepton Highlanders who set 100-4 to chase with skipper Jacob Mulhall (52no) shepherding the hosts until the elements terminated the second innings. Emley Clarence were dismissed for 78 at Almondbury Wesleyans with four apiece for Matt Henshaw (4-21) and Dan Payne (4-15). No further play was possible after that. Skelmanthorpe were frustratingly denied victory with Paul Cummins enjoying a triumphant return. He took 50 wickets and scored 679 runs in 2014 and took a further six wickets to restrict Denby to 143ao despite opener Jimmy Gumpert's half century. Shat were poised at 68-1 when the weather ruined things just four overs from when a conclusion could have been made.
Group Green
Only one match survived in Group Green with Birkby Rose Hill leading the way at the top of the group by virtue of their narrow 10 run win away at Kirkheaton. Zain Awan (53) and Waheed Hanif (46) helped set 159ao from their 30 overs. Hanif (3-20) held his nerve in the reply with the ball as the visitors triumphed.
Three 2XI teams were denied the chance to test their talented youngsters in a 1XI environment with no play at Delph & Dobcross 2XI or Barkisland 2XI. Cumberworth United reached 132-5 at Honley 2XI with opening bowlers Ben Lindley (3-24) and Eddie Kaye (3-20) sharing six wickets between them but that was as far as it got.
Only 16 overs was possible at Upperthong as Mirfield made 115-3 ahead of interruption. Adam Goldthorpe (46no) was on course for a half century as he'd have most likely told anyone before persistent mizzle denied any further progress.