The tables were turned on its head in a dramatic afternoon of Drakes Huddersfield Cricket League action when the top two of the Premiership crashed to surprising defeats to previously struggling opponents. Harvey Booth's century disrupted Moorlands' plans to return to the Premiership summit while Honley's bowling stepped up a gear away at Hoylandswaine to inflict a second league defeat of the season on the champions. The Championship promotion race was shaken up when leaders Rastrick were displaced from the top spot by losing a nail biting, blood & thunder local derby to Elland allowing Marsden to replace them after a four-run win at home to Holmfirth. Meltham added another victory in the Conference to rise up the table with top two denby Dale and Thurstonland both enjoying comfortable wins.
Drakes Premiership
A recent slump in form and a cluster of abandoned fixtures have left those at Broad Oak incredibly frustrated to say the least. However, a sublime century from Harvey Booth help turn around their fortunes at home to second-placed Moorlands, who missed a glorious opportunity to return to the top of the table. Oak showed good character to recover from 11-2 after losing valuable openers Charlie Roebuck and Dominic Finn in the early exchanges. Booth (113) repaired that damage with a 64-run partnership with Sven Burluraux (17) before then putting on a further 125 runs in a fruitful combination with his skipper, Jack Hargreaves (62). Moorlands strike bowler Nicky Smith (5-70) wrestled back control after dismissing the two batsmen with Oak managing to add just a handful more runs in their first innings total of 248-9. Moorlands have shown an occasional soft underbelly themselves and some brittleness crept into their performance in the reply. The opening Oak bowlers did a reasonable job in checking the visitors' progress but when first change bowler Booth (3-16) was introduced it sparked a slippery period for the title chasers. Hargreaves (4-8) also struck with Moorlands on the back foot and aside from the belligerence of Siraj Sajid (46), they meekly fell apart on 111ao with 14 overs left to play.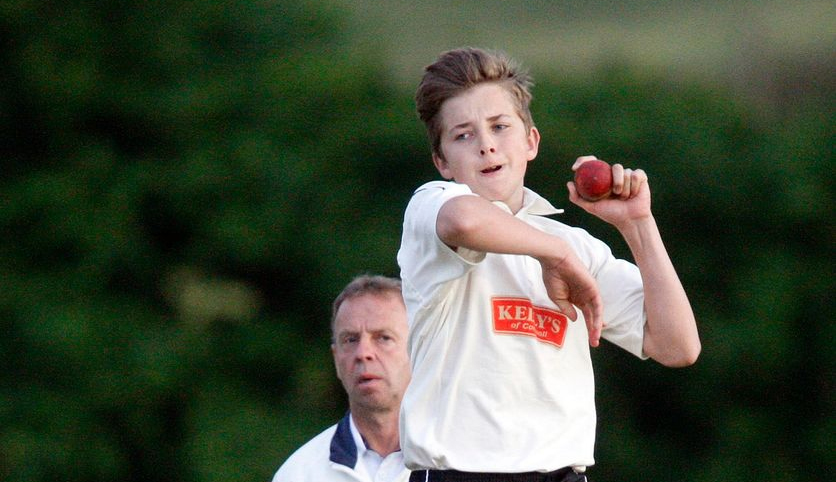 Lewis Kenworthy (Honley) pulled off a superb bowling performance to derail Hoylandswaine and rejuvinate his side's recent form.
Max Morley added a touch of sparkle to Honley's performance away at Hoylandswaine where they rocked the reigning champions by inflicting a second defeat of the season upon them. Former Durham County cricketer Morley turns out when needed at Honley and his presence inspired his teammates to a hugely morale-boosting victory by putting the skids under Swaine with an impressing seam-bowling performance. Honley were handed the unenviable task of having to defend a fairly modest 209-9 total which saw them pegged back by a strong five-wicket showing from overseas opening bowler Waqas Maqsood (5-48). The visitors were indebted to several persevering performances with the bat which allowed them something to bowl at, notably Simon Kelly (44), Eddie Wilson (45), returning skipper Timmy Taylor (26) and loyal club man Danny Howard (26). All of Hoylandswaine's County recruits - which included another new signing in Durham's Ned Eckersley - disappointingly failed to ignite with Lewis Kenworthy (3-68) in fine form for Honley. This left the stage open for Morley (4-39) who obliterated the middle order as Swaine faltered from 60-3 to 116-8. The gulf then was far too gaping to bridge and despite a noble effort from Gurman Randhawa (25no), Honley ran out worthy victors bowling their hosts out for 151 to reinvigorate their season.
Shelley are still searching for their first win in a most challenging campaign but they found some crumbs of comfort from a spirited middle-order partnership in defeat at home to neighbours Shepley. Nasir Jamal (2-12) and Danny Glover (2-25) had put Shelley in an awkward position after ruthlessly exposing their vulnerability by melting through the upper order to leave them floundering on 9-5. A pair of half-centuries from bright young prospect Kirin Green (50) and hardened campaigner Martin Sykes (52) put on 96 runs to help drag Shelley back onto a more even keel before Abbas Ahmed (2-50) and Max Joice (2-14) snuffed out any further progress to bowl them out for 152. Opening batsman Dan Wood (45) batted sensibly during the reply until he was dislodged by grizzled former Shepley veteran Ranjith Bandula-Don (3-31). Uncertainty crept into the visitors' game plan as they slumped further to 100-6 until long-serving Shepley doyens Tom Denton (34no) and Glover (30no) ensured there would be no shock on the cards to see the job home. Shepley reached 155-6 with just over 12 overs remaining.
Inconsistency is blighting Golcar's season who are enjoying a successful Sykes Cup run on one front where they have reached the semi-final, even though their league campaign has varied from eyebrow-raising wins to crushing defeats. It was a case for the latter on this occasion as Almondbury Wesleyans continued to make their presence felt in their debut Premiership season. Wickets fell with alarming regularity for travelling Golcar as Freddie Walker (3-36) led a three-pronged bowling attack that the visitors never got to grips with. Jack Atkinson (2-11) and Matt Henshaw (2-8) proved effective as Golcar found themselves all out for 90 just after the half-way point of the innings. The chase was anything but straightforward for Wesleyans as Steve Whitwam (3-20) threatened to give the hosts a fright but Musa Ahmed (34no) kept a cool head to steer them home on 93-5.
A classy performance with bat and ball by Yaasar Imtiaz caused Kirkburton's undoing away at Scholes at Chapelgate. Wasim Javed (2-33) stepped up to cover for the banned Tom Brook in opening the bowling and succeeded in softening up Kirkburton until in-form overseas Roscoe Tahttil (71) steadied the ship alongside skipper Toby Booth (31) against his former club. Disaster struck when Imtiaz (4-41) and Josh Brook (3-40) hit a rich vein of form with the ball sparking an alarming collapse from 116-3 to 153ao. Imtiaz was instrumental in the win by racking up his 400th run of the season with a fine run-a-ball 87no, ably supported by Joe Carter (38) in Scholes' comprehensive victory. The home side finished on 155-2 with just short of 20 overs left.
Armitage Bridge registered a long-awaited victory against Delph & Dobcross on home soil. The Lancashire-based side have dominated this fixture in league and Sykes Cup matches over the two decades since Delph entered the league but Bridge were well worth their first win in 14 attempts. Batting first, Andy Gledhill's robust side overcame a turbulent opening to dish out a tough lesson in applying yourself with an excellent workmanlike performance. At 10-2 they needed to dig-in against a dangerous Delph bowling attack who often go for the jugular whenever they scent blood. However Jaycob Curtling (78) anchored his side's innings to frustrate Delph who were particularly wasteful with the extras as Bridge steadily accumulated their way to 196ao on the penultimate ball of the innings. Delph's reply stuttered in the early stages under the constant questions asked of them by bowlers Marco Van Biljon (2-20) and Jack Hinchliffe (2-36). The tide fundamentally changed once spinners Curtling (4-17) and Danny Moorhouse (2-19) were sent in to action with Delph's reply delicately balanced on 71-4. A calamitous collapse proceeded with the final six wickets falling for just 26 runs to end the visitors' recent good run of form in a memorable victory for Armitage Bridge.
Barkisland aren't afraid to blood youngsters in the ruthless arena of first team cricket and it handsomely paid off once again after a fine performance from Yorkshire junior prospect Max Didgiunaitis helped overcome fifth-placed Thongsbridge. Didgiunaitis (3-23) captured the key wicket of Haydn Slodecki (63), trapping him LBW to turn control of the match in his team's favour with visiting Thongsbridge then labouring to 184ao. The hosts rounded off a satisfying professional display with a half-century from George Hampshire (51) which set them on their way. Another talented young gun, Matthew Weston (30) added a useful contribution and it was left to Luke Bridges (61no) to see Barkisland home reaching 187-3 with 11 overs to play.
Jedi Championship
A hard-earned four-run victory at home to Holmfirth was enough for Marsden to return to the top of the table as their first season 'bounce' after promotion from the Conference shows now sign of slowing. A half century from Chris Coleman (51) provided the bedrock of the first innings for the Cuckoos who ground their way to 194ao with Alex Lategan (34) and Matty Butters (32) both chipping in with important additions. Holmfirth's overseas Maaiz Khan (4-47) was also in good form with the ball to keep the visitors in the match, one you could barely take your eyes off in the second innings. Holmfirth may lament a disappointing start after Marsden opening bowler Sajid Ali (3-45) helped reduce Seb Allen's side to 54-4, before all-rounder Amar Rashid diligently stuck around. Spinner Rijnier Coetzer (4-72) was able to dislodge key wicket Rashid (30) with still just under 100 runs to reach sparking a rearguard action from Josh Sedgewick (33) who nudged them closer to the target. Allen (38) nobly shepherded the tail in a final stand as they ate up 25 more runs before the skipper was dramatically bowled by returning opening bowler Alex Lategan (2-36) going for the win with 3 balls remaining.
Six runs was the difference in a humdinger at Round Hill as Elland edged out neighbours Rastrick. Visitors Elland put on a challenging total of 214ao batting first with overseas Josh Ramdoo (48) out agonisingly short of a half-century. Greg Alexander (39) also provided a useful contribution with Rastrick's main bowling threats coming from Osama Ahmad (5-42) and Asif Afridi (3-73). Division leaders Rastrick, who have chased promotion in each of the last three seasons were left to ponder how they had managed to throw away a crucial victory from such a promising position. Opener Majid Khan (105no) scored an incredible unbeaten century off 134 balls but he eventually ran out of partners. In fact at 126-3 Rastrick were clear favourites to go on and win but it seemed Elland's Keiran Rogers had other ideas with an excellent five-wicket haul. Rogers (5-66) made a dent in the upper order and was the main instigator of a Rastrick collapse as they stumbled at 171-5 to finish 208ao in a nervy conclusion.
Mirfield Parish kept a close watch on the leaders to remain in contention after a rout of Skelmanthorpe. The recent bad weather has made surfaces challenging to bat on and Parish had to rely on several of their batsmen to help build a 240ao first innings score. Top three Tim Orrell (37), Dave Bolt (48) and Dan Broadent (43) all heavily contributed to laying down a good foundation with others down the order chipping in with modest, but useful scores. Blair Buchanan (5-63) achieved the most success with the ball for Skelmanthorpe but the fragile start to the reply was interrupted when Jordan Greaves was out in the third over. A three wicket collapse started by Broadbent (3-34) was key to Parish's fortunes which thrust Skelmanthorpe behind the eight-ball as they slumped from 76-3 to 78-6. Haroon Rashid (57) attempted to embed himself in and arrest the slide but to no avail as Parish marched on to victory with Skelmanthorpe finishing 120ao.
Slaithwaite stormed to a win away at Lascelles Hall after four wickets each from Sadaqat Zaman and Alex Walker blasted the home side out of the contest. Evergreen wicketkeeper Shaun Woodhams top scored with 32 but their 70ao score was never likely to test Slaithwaite, who reached the total for no loss.
The warmer waters of mid-table is where Denby currently reside after they saw off the challenge of Lepton Highlanders who remain rooted in trouble at the bottom. Former Scholes man Matthew Smith (65) scored an important half century for Paul Goodman's Denby team who accumulated their way to 215-9 off 50 overs. Danny and Jacob Mulhall both chipped in with three wickets each for Lepton who let a promising start slip in the second innings. Not winning matches like this may prove the undoing of Lepton this season as they cautiously made their way to 76-2 with Jacob Mullhall (31) digging in. Others weren't able to forge a strong enough partnership as Lepton lost four wickets in the space of just 7 runs as they subsided to 83-6. Catastrophic damage had been done by then and Zafar Jadoon (5-37) helped finish the job despite a spirited display down the order from Adeel Ashraf (34) with Lepton all out for 160.
Despite a brave showing with the bat by Almondbury captain Atif Kamran, his side were professionally dismantled by Clayton West. Craig Glover (5-21) was in no mood for messing with the ball as he obliterated the upper order and eventually gained the scalp of Kamran (33). Once he was dismissed, Almondbury melted away to 72ao with no other batsman being able to get into double figures. The meagre target was knocked off in 17 overs with overseas Phil Tunnicliffe (35no) giving his batting average a boost as Clayton West knocked off the total for the loss of two wickets on 73-2, a result which pushed them away from the relegation zone.
Cedar Court Conference
In a congested Conference, Meltham are rising phoenix-like putting a disastrous start to their campaign behind them with their latest success coming in a low-scoring victory away at fading Mirfield. Meltham were under the cosh in the first innings as Beau McGuiness (5-35) set about the visitors with intent and had them virtually down and out at 47-8. Somehow, middle-order batsman Khuram Sajjad (42) inspired his rejuvenated side and collaborated with tail-ender Henry Wise (26) to take the score to 99-9 before adding a further 23 runs before he was out with Meltham posting 122ao. Sajjad was even more irresistible with the ball and pitched in with a six-wicket haul to rock Mirfield. James Broadhead (47) put up some stiff resistance to hang around most of the innings but it was academic once Sajjid (6-38) laid waste to the rest of the batting order as Mirfield crashed to 88ao.
Denby Dale are neck-and-neck with Thurstonland at the top and they dispatched Upperthong with relative ease. Six wickets were shared equally between Mirza Tehseen (3-34) and Fred Stower (3-49) to halt any progress Upperthong could make in their 140ao first innings total. They cruised to victory on 143-3 inside 35 overs with openers Matthew Rammell (65) and Paul Hale (41) doing most of the damage. Their promotion rivals Thurstonland made comfortable work seeing off Linthwaite as a Kaleel Ahmed (61) half century contributed to their 222-7 total batting first. Jack England (4-60) spearheaded the bowling attack to keep Linthwaite under control despite Sajid Bashir's patient half century as the visitors fell some 52 runs short on 170-9.
In the matches played elsewhere, Birkby Rose Hill were left cursing some sloppy bowling after conceding nearly 50 extras in their defeat to Emley Clarence. Kamran Saleem (69) also hit a half-century to boost Emley to a 200ao total and a five wicket collection for Jon Lee (5-33) sealed the win as Birkby were bowled out for 119. Several batsmen made contributions for Hoylandswaine 2XI on their way to 233ao away at Cumberworth United, notably Darren Lockwood (50). Saif-Ur Rehman (5-16) eliminated any hopes the hosts may have had in challenging that by dismissing all three openers with their opponents enduring a miserable afternoon being dismissed for 93. A huge century for Hall Bower's Dan Robinson (146) was paramount to victory over Kirkheaton. Robinson hit 20 fours and 6 sixes in a 127-ball innings as Bower made 277-9, a target that was much too lofty for Kirkheaton who could only manage 159ao in reply after Ibrar Rafiq's (5-61) excellent display with the ball.