Armitage Bridge were hauled out of their recent slump by a magical innings from Chris Dennison as they turned around certain defeat away at Golcar. Almondbury Wesleyans wonder what they have to do to get over the line as they were nipped in the bud by the narrowest of margins in a high-scorer at Honley. Kirkburton's latest win leaves Broad Oak and Delph looking worryingly over their shoulders on the final day. A matter of circumstance saw Mirfield Parish Cavaliers promoted from The Championship after leaders Rastrick were usurped which lines up a mouthwatering final day shootout for promotion against Slaithwaite. Three teams stand a chance of being promoted from the Conference on the final day after Meltham, Denby Dale and Emley Clarence all recorded comfortable wins on the penultimate match day.
Drakes Premiership
Armitage Bridge have endured a sinking feeling in recent weeks with several anaemic displays with the bat threatening to spectacularly unravel their progress from their first half of the season. Their visit to Swallow Lane looked to be following the same path after they made a ham-fisted start to their reply to the Golcar's below-par 135ao. Earlier, Danny Moorhouse (7-26) shone with the ball to put them in a great position for victory in this win-at-all-costs match. Jake Lockwood was the only batsman to turn up as he continued his strong run of form for Golcar. However Armitage Bridge were mesmerised by a faultless bowling performance after the restart from Steve Whitwam (6-42) who decimated the visitors leaving them cut adrift and staring at almost certain defeat on 31-8. Chris Dennison's unassuming appearance at number nine then ignited one of the most remarkable performances of the season, if not in recent years. The hatches battened down, he first saw off lethal talisman Whitwam before proceeding into a 116-ball endurance feat. He had good company from his captain, Andrew Gledhill (25) and together they inched their way to safety. With Gledhill (25) caught behind on 86-9, the match was still firmly in Golcar's grasp but former Copley batsman Dennison (56) had other ideas and was complimented well by the vastly experienced Richard Holmes (8) who nervelessly absorbed 36 balls. Armitage Bridge secured their memorable win on 136-9 with three overs left which lifted them out of the bottom two with a match to play holding their future entirely in their own hands.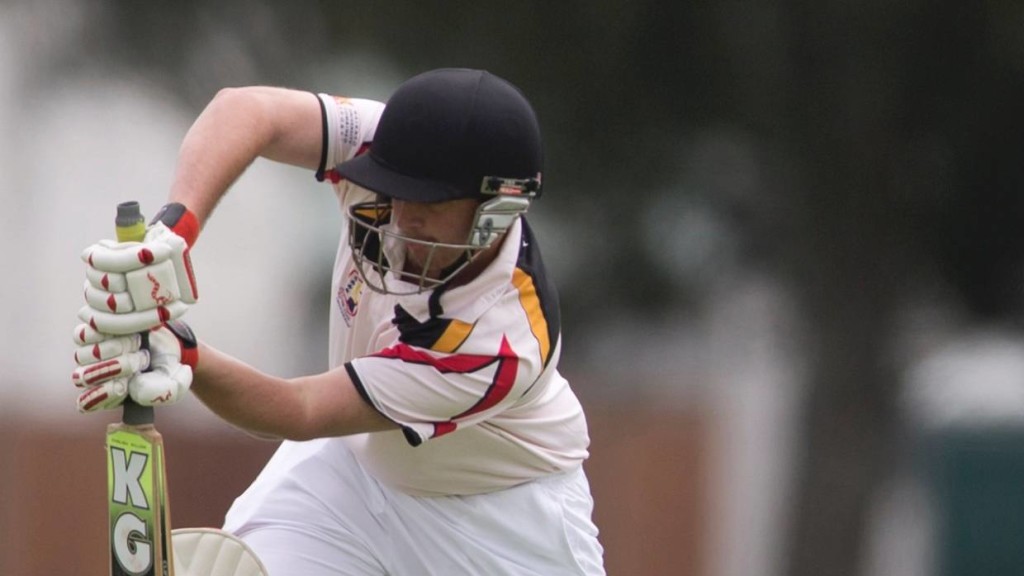 Freddie Walker (above) could do no more for his side Almondbury Wesleyans. He scored 130 runs and still ended up on the losing side in a match that saw a total of 550 runs scored between the two sides.
Almondbury Wesleyans were the unfortunate team to replace Armitage Bridge in the fatal second-bottom position but their incredible effort in a gargantuan chase at Honley earned them two valuable points. Survival is still in their own hands given they face-off at home to Broad Oak in a last-gasp shootout and the efforts at Far End Lane will go a long way if they are to slip out of their noose. Honley welcomed back Yorkshire's Will Fraine but he had little contribution to their lofty score. Instead, another beefy score from captain Timmy Taylor (93) provided the bedrock to the innings, just missing out on a century, with Lewis Kenworthy (44) and Archie Greaves (38) bolstering a substantial total of 276-5. Honley have been fertile opponents to Wesleyans who won their last two matches against the Far End Lane side and an outstanding century from Australian Freddie Walker came within a whisker of making it a hattrick. Walker (130) and Tom Binns (56) shared a 170-run stand which took them to 205-3 with ten overs remaining, with Binns caught off the bowling of Mel Benito. The reintroduction of Lewis Kenworthy (4-56) helped slow down the visitors relentless chase and it was the bowling of Simon Kelly who removed key man, Walker after an epic innings. Had he stayed in, Will Binns' team would surely have been reflecting on an amazing win but Honley just about did enough in the final over to leave them agonisingly short on 274-6.
Kirkburton's nerves were frayed but they produced yet another fighting display to dispose of the form side in the division; Shepley. Another brilliant bowling performance from Andrew Smith (5-30) stunned the hosts as he celebrated his 18th wicket in the last five matches, with Shepley bowled out for 108. The relegation-threatened visitors were cruising at 88-3 until Nasir Jamal (5-23) upped a gear, beginning with removing potent Sri-Lankan Roscoe Tahttil (21), to throw the local derby into the balance. It was left to Kirkburton's youth to hold their nerve which Ben Carrington (5no) and Jonny Smith (1no) did and they reached 110-8. The victory all but cements Kirkburton's safety this season following a brilliant late-season run of form and only an unlikely last round sequence of results can send Toby Booth's side down.
A magnificent start by openers Brayden Clark (89) and Iftikhar Naseer (55) helped champions Hoylandswaine put Broad Oak to the sword who now have one match left to save their season. They put on 87 runs for the opening partnership but Oak began to get a grip with the ball to prevent Hoylandswaine taking the match completely away from them. Spinner John Keeling (6-58) asserted his influence to peg Hoylandswaine back on 238-7 after 50 overs. The loss of Wasim Maqsood - who headed back to his homeland during the week - had no ill effect on the visitors bowling prowess as Adnan Ghani (2-24) and Usman Arshad (3-29) made a mess of the Broad Oak upper order to leave them shellshocked at 25-6. Tom McCreadie (33) and Alastair Finn (30) made a creditable fist of the situation down the order but realistically, a win was well out of their reach by then. Gurman Randhawa (3-12) efficiently mopped up to remove any outside chance of a bonus point as Broad Oak were left empty handed on 103ao from 34 overs.
It was a dire day for Delph & Dobcross who can't seem to escape the brooding magnetic pull of the relegation zone. They suffered their first defeat in four matches at home to Scholes after a searing bowling performance by the visitors landed a blow on Delph's survival hopes. Benji Birkhead (65) and Yaasar Imtiaz (40) started well before they were both bowled by good balls from Delph's Umer Yaqoob. James Noble (53) added a half-century before Yaqoob (6-43) stepped in again to remove him and then polish off the tail to leave Scholes 199ao after 42 overs. Delph fancied the chase but were rocked when Tom Brook (3-30) and Louis Brook (2-48) took out the openers early doors to leave the hosts stunned on 10-2. Key batsmen were cornered without posing a threat as the visitors maintained further control. Nathan Jones (56) was one of the few glimmers of sunlight on a gloomy day at the Lancashire club and he helped secure a point with one wicket remaining before he succumbed immediately to close the match on 150ao after 40 overs. The point could yet come in vital in their final day clash away at Kirkburton.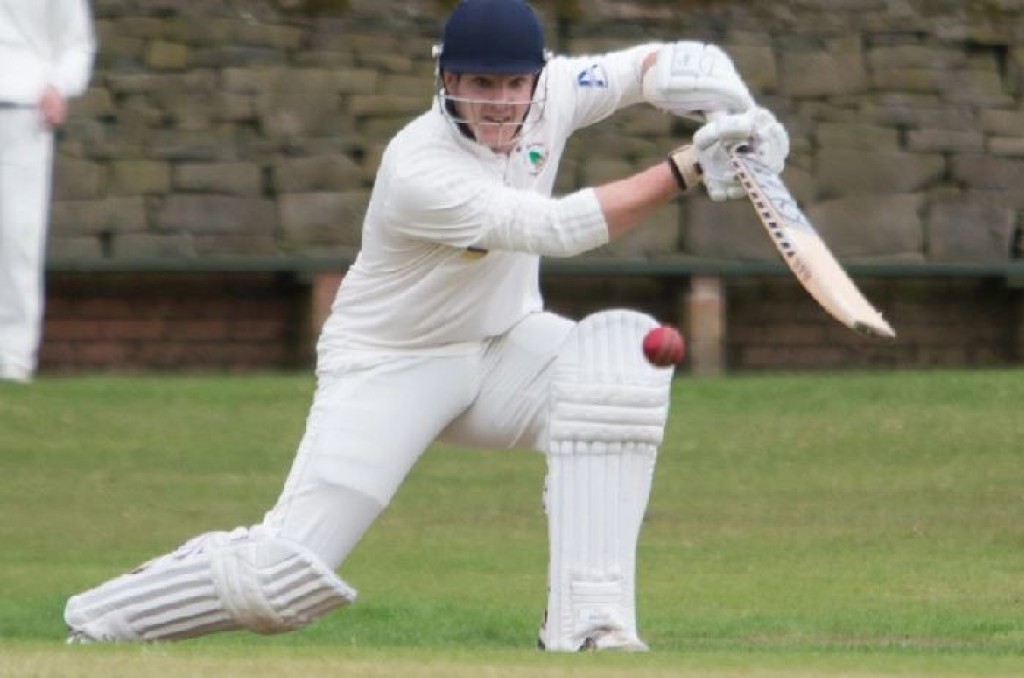 A sublime all-round performance by Luke Bridges (above) helped Barkisland to an easy win away at second-placed Moorlands.
They'll not be wanting the season to end at Barkisland as their late-season resurgence continued at a breakneck pace with an impressive win away at Premiership runners-up, Moorlands. Luke Bridges (93) and in-form overseas Sachin Jayawardena (58) provided the crux of the innings as the visitors posted 215-9 with Darrell Sykes (5-51) chalking up a five-wicket haul. Moorlands, who have made their home a fortress this season simply weren't at the races with the bat and apart from opener Shoukat Ali (41), their reply withered badly. Bridges (6-41) rounded off a perfect afternoon with the ball as Moorlands were swept aside on 96ao (40 overs).
Thongsbridge emerged winners in the only Premiership dead rubber of the day as they saw off Shelley who are already planning for next season's Championship campaign. Martin Sykes (38) teed off with another flamboyant 20-ball blast and George Barden (45) continued his cricketing education with a solid contribution. Shelley weren't able to kick on by finishing their season with a flourish and Will Reeves (4-30) ensured their 166ao first innings total was well within their range. Ben Raven-Hill (51) hit a half century before Alex Kemp (25), Harry Franklin (28no) and Ben Balmforth (26no) helped secure a comfortable five wicket win on 167-5 with 13 overs left.
Jedi Championship
It was all smiles around.Mirfield Parish Cavaliers after they seized on an opportunity to bounce back to the Premiership precisely a year after they exited it. Parish secured promotion, leapfrogging leaders Rastrick by holding off a combative Lepton Highlanders who themselves are fighting to remain in the Championship. Pakistan all-rounder Nazar Hussain who has been a fixture at the club for over five seasons put in a stellar performance with both bat and ball starting with a super century in the first innings. Hussain (111no) scored an almost run-a-ball ton containing 13 fours and 4 maximums in Parish's lofty 278-5 total. Time-served opener Tim Orrell (54) started the ball rolling with a half-century and Michael Padgett (47no) took full advantage towards the end of the innings as the visitors struggled to contain them. To their credit, Lepton rallied admirably after skipper Jacob Mulhall (68) responded with a half-century of his own. Sayed Salman (70) kept their interests alive but Lepton ran out of momentum when Hussain (5-42) was brought back on. The visitors suffered a late collapse to 249ao and will now have to hope both Skelmanthorpe and Almondbury have major slip-ups on the final day if they are to remain in the division.
The spectre of Rastrick's dramatic imploded finale last season loomed again as they were beaten by Clayton West despite a fine century by opener Jacob Waterson (103). The lower order failed to capitalise on the good work of Waterson (103) who dwindled under the spell of Clayton West bowler Sam Tyas (7-51). Rastrick's first innings total of 229ao wasn't adequately defended even though they eliminated dangerman Phil Tunnicliffe (17). A pair of fifties from Ash Thompson (55) and Alex Clegg (50) thrust hosts Clayton West into the box seat in their pursuit and they never relinquished control in this absorbing contest. The home side replied with 232-6 which sent Rastrick down to third place although their destiny will still be in their own hands when they host second-placed Slaithwaite in a winner-takes-all match next weekend.
Adam Rammell led a brilliant team performance for Skelmanthorpe after they defeated relegation rivals Almondbury to move out of the relegation places by a single point. Rammell (5-44) gave a powerful display with the ball to burst Almondbury's balloon who suffered their first defeat in four matches; a run which had dragged them off the foot of the table. Mohammed Sarfraz (52) stuck around with a stubborn 116-ball fifty but others failed to compliment him as Almondbury were bowled out for 149. A 52-run partnership between Brad Geldart (26no) and Rammell (21) recovered Skelmanthorpe from a potentially compromising position as they marched to a crucial victory on 152-6. A win for Skelmanthorpe away at Marsden will be enough to avoid the drop.
Marsden's promotion chances were extinguished by local rivals Slaithwaite who restored parity after their defeat on the season's opening day with a satisfying victory which took them into a promotion place. Steve Butters Jnr (48) top scored for the Cuckoos but their 160ao first innings score was considerably light with Sohail Butt (4-41) reaping a reward with the ball for Slaithwaite. West Indian professional Cosmond Walters (72no) held the hosts reply together with a strong performance and Butt (46no) capped off his fine work in a winning partnership that contained 79 runs. Alex Lategan (3-42) aside, Marsden weren't at the races with the ball and Slaithwaite ran out comfortable winners on 165-6 with Walters slamming his only six for the winning runs.
Holmfirth edged a nail-biter at home to Elland. Bilal Hamid (61) gave a virtuoso middle-order display as the hosts made 168ao with Elland opening bowlers Jack Hendy (4-32) and Kieran Rogers (4-53) sharing eight wickets. The visitors let the match slip from their grasp after being primed for victory on 124-5 with Josh Ramdoo (52) and Rohan Randhawa (57) making half-centuries. Maaiz Khan (3-42) and Amar Rashid (3-53) responded with ideas of their own to remove Randhawa and run through the tail as Elland collapsed to 161ao and lose by 7 runs.
There was little to play for at Denby as they overcame visiting Lascelles Hall in an entertaining match. Matthew Simpson (50) hit a half-century in the away side's 209-9 first innings score with the wickets shared almost equally between four Denby bowlers. Jack Jones (61) scored a fifty of his own in the home side's reply which was paced nicely. Tom Sanders (35) took the game to its cusp and although Denby encountered a clatter of lost wickets in the closing stages, they had enough to get over the line with an over to spare on 211-8.
Cedar Court Conference
Meltham sit proudly in the box seat for promotion after they dampened Thurstonland's promotion celebrations with a thumping victory. The visitors experienced the arch-typical "after the Lord Mayor's Show" after being utterly blown away by Meltham's two pronged bowling attack when Rizwan Malik (5-22) and Khuram Sajjad (5-10) both took five wicket hauls. Only opening batsman Nathan Appleyard (10) made double figures in this humbling defeat as Thurstonland were scuttled for 36 in 16 overs. Predictably, Meltham overcame their meagre target with some ease although they hammoraged four wickets in reaching it thanks to Thomas Broom's 3-10. Meltham reached 40-4 just after the ten over mark to make it an early finish which sets them in good stead to round off a hugely successful season with promotion on the final day.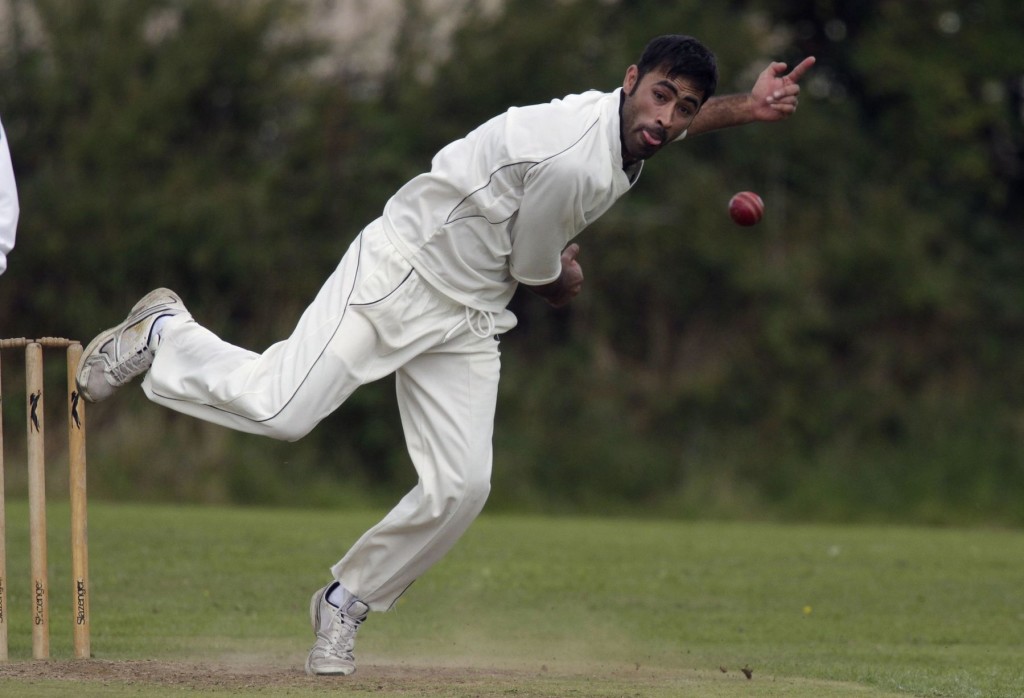 A half-century by Denby Dale's Mirza Tehseen kept his side's promotion flame flickering gently as they saw off bottom side Kirkheaton.
The two challengers to Meltham's promotion aims; Denby Dale and Emley Clarence will face off next week hoping for a Meltham slip-up and they both registered straightforward wins to remain in the hunt. Denby Dale boasted two half-centuries with Ibrar Hussain (69) and Mirza Tehseen (51) setting the visitors a solid first innings score of 256-8 at Kirkheaton. The division's bottom side were not likely to chase that down and were dismissed for 125 with Thomas Berry (4-39) most successful with the ball. Mohammad Nabeel (6-24) showed off his destructive nature as Emley Clarence humbled Cumberworth United who never got out of the traps after being bowled out for 49. Mirza Mobeen (4-15) supported his Emley colleague well and they hardly broke a sweat in the reply when they coasted home by 9 wickets on 53-1 (9 overs).
Elsewhere, Hoylandswaine 2XI moved top of the division although league rules will prevent them from moving up to the Championship. Saif Ur-Rehman (59) and Jack Lockwood (55) helped Swaine 2XI to a towering 281-9 total at home to Upperthong. Openers Ben Migall (31) and Greg Marsh (33) started the reply well but it ran out of momentum quickly after John Ashton (3-27) and Mustafa Bashir (3-25) asserted their control with Upperthong held to 173ao. Hall Bower emerged successful in an absorbing clash away at Mirfield. Bower defended their 182ao by 20 runs thanks to a six-wicket plunder by Hammad Ul Hassan (6-48) led to Mirfield being dismissed for 162. Linthwaite will be glad to see the end of the season after their latest defeat came at the hands of improving Birkby Rose Hill. They were bowled out for a scant 48 after Muhammad Munsaf's brilliant performance of 7-21. Birkby completed a six wicket win by replying with 52-4 in 12 overs.