Elland put a gloss finish to an impeccable campaign after Umar Abbas and Kashif Talib both fired hefty tons in an intoxicating performance away at Clayton West for the Group Yellow winners. Group Orange had an anticlimactic feel after the eagerly-awaited game of the day was abandoned for Covid-19 reasons. Meanwhile Delph's young guns passed another challenge as they finished the season with a home win in conjunction with Armitage Bridge who also picked up a victory on their home patch. Group Green was won by Upperthong as they kept up their momentum with Delph & Dobcross 2XI losing. Hoylandswaine finished as Group Red winners as they eased past a spirited Almondbury with Skelmanthorpe finishing runner-up after seeing off Holmfirth.
Group Yellow
Two of Elland's close season signings clicked with devastating results as Elland romped to a huge away win over Clayton West. Umar Abbas and Kashif Talib (Main image) both chalked up substantial centuries in a 229-run third wicket partnership as the visitors mercilessly crushed Alex Clegg's side, ruthlessly batting them out of the match. Abbas (117) faced 75 balls scoring twenty boundaries (10 fours, 10 sixes) whereas former Batley player Talib (122) slightly overshadowed his teammate in a 71-ball innings with 17 fours and 5 sixes. David Swann (3-52) was the most successful home bowler albeit absorbing some damage during Elland's unassailable 290-7 total. Clayton West skipper Clegg (55) scored a brisk half-century as the opener along with Andrew Bell (25) put on 68 runs for the first wicket but the rot soon set in as wickets fell in dramatic succession. Talib proved to be just as devastating with the ball as he rifled through the hosts batting order taking 7 wickets for just 7 runs in 5 overs as Clayton West folded on 98ao. Some tactile rebuilding may be in order for Clayton West to challenge next season whereas Elland will hope to keep together this successful side and carry on their momentum after the winter.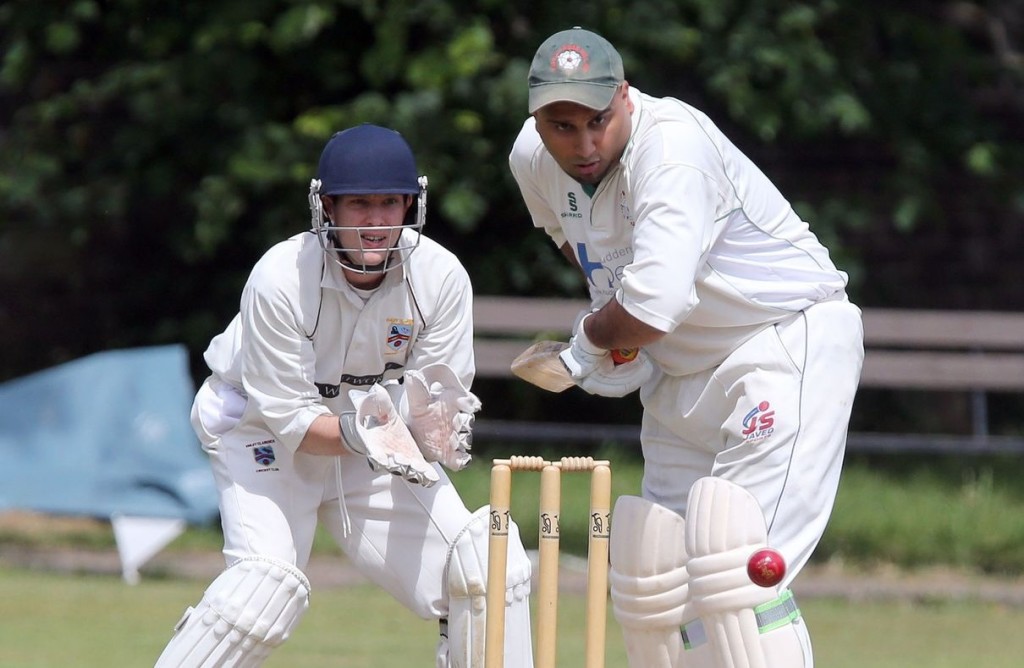 Former Birkby Rose Hill batsman Kamran Muhammad (49) held Meltham's reply firm as they clocked off a successful season with a win at Lascelles Hall.
Another side who enjoyed a successful campaign were newly-promoted Meltham as they signed off with a solid performance away at Lascelles Hall. The visitors set 161-8 batting first, built mainly around a decent understanding between wicketkeeper Sam Clegg (41) and fellow middle-order batsman Kamran Muhammad (49). James Sunderland (27) put in a useful contribution further down with Lascelles Hall's Tom Wightman (2-10) and James Shaw (2-36) both taking two wickets apiece.The match was finely balanced as the hosts shrugged off losing Callum Taylor early on with opener Fez Khan (47) then taking root. The persistence and patience by Meltham bowlers Ibrar Hussain (4-26) and Asif Qayyum (2-16) were factors that turned the tide their way as Lascelles Hall stuttered in their reply, bowled out for 115 with 13 balls left.
Andy Smith put in a sparkling turn for Kirkburton as they routed Slaithwaite at Hill Top. Home skipper Alex Walker (26) top scored but they found the going tough against Smith (3-15), Aaron Moore (2-2) and Sam Carroll (2-18) as they were dismissed for a disappointing 77. The long-serving 'Burtoner then batted through the reply scoring 57no as the visitors completed victory without losing a wicket. Jonny Butterfield (20no) also contributed in Kirkburton's lively 80-0 off 13 overs reply.
Marsden also found run-scoring difficult away at Thurstonland who claimed their second win of the campaign by bowling out their opponents for 70. Opening bowler Jordan Thackray (3-14) and Kaleel Ahmed (3-21) enjoyed a dominating spell as the visitors were dismantled with only the stubborn Chris Coleman (25) grafting his way into double figures. Thurstonland suffered a rocky start by slumping to 7-3 before Ahmed (27no) and captain Russ Mottram (29no) got their act together to help them eventually coast to a seven wicket win with 71-3 inside 19 overs.
Muhammad Ali's half century solidified Mirfield Parish Cavalier's victory away at Shelley. Ali (55) enjoyed a 91-run match-winning partnership with former Shelley and Kirkburton all-rounder Nick Sharp (41) as Parish set 166-9. Faisal Usman (5-7) managed a remarkable five-wicket haul to check Parish's progress but it turned out to be too many on the board ultimately. Shelley endured a disastrous start to the reply after rampant opening bowlers Tom Fretwell (3-18) and Rizwan Malik (5-29) scythed through Shelley's top half to leave them stunned on 18-6. The lower order restored some pride by gamely battling back with Kiran Green (28), Usman (23) and number ten Cameron France (20no) all briefly flashing the willow but they finished well short on 109ao with a ball remaining.
Group Orange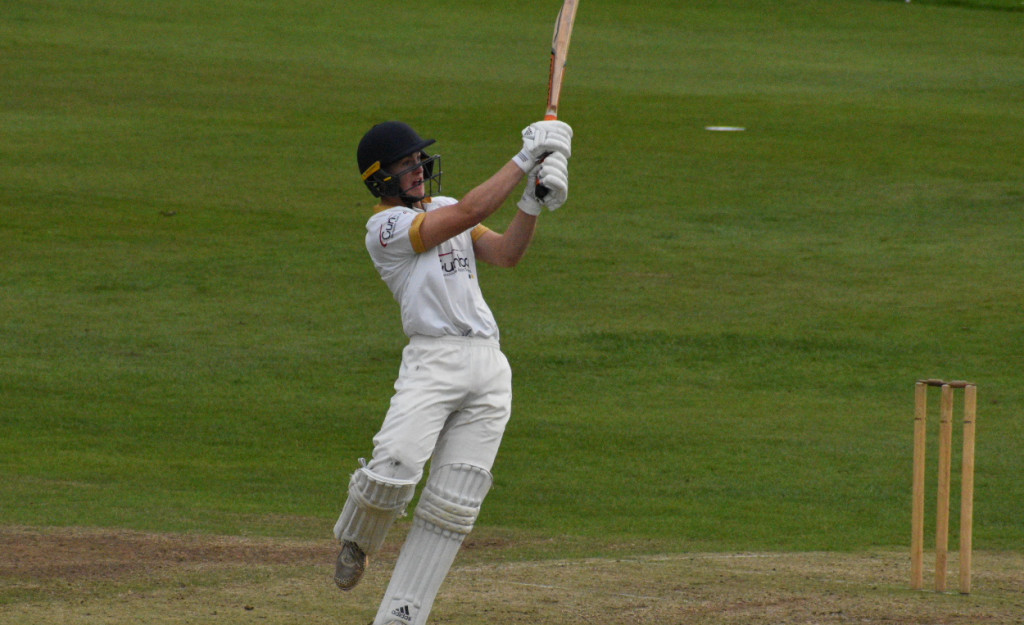 Delph & Dobcross's faith in teenage captain Xander Selby was rewarded in spades as he masterminded victory over Scholes which sent them above their opponents in the final table.
17-year old captain Xander Selby led his Delph & Dobcross team to a second win of the season (the first under his tutelage) to nip above opponents Scholes in the final placings. The hosts had to withstand an aggressive opening after losing the toss with Jake Robshaw (17) smashing two quick maximums. However Selby shuffled his bowling pack intelligently to reap the rewards as Delph fought their way back into the match with Nathan Jones (3-29) enjoying his best return of the season and younger brother Lucas Selby (3-17) continuing his impressive progress. Scholes skipper Bradley Birkhead (76no) saw each one of his teammates depart as he put in another fine performance with the bat and just needed someone to build a partnership with. Repeated failings with the bat meant Scholes' 130ao was always within reach, but it took an inspired partnership to win the match for Delph. Mosun Hussain (24) gave his side a decent enough start but Scholes' Josh Brook (3-16) was a tough advisory accounting for several of the upper order to put the hosts on the back foot. Jack Hague (24) added some momentum in a 66-run partnership with skipper Selby (47no). Wasim Javed (3-19) began to turn the screw by taking out a couple more but the young Lancashire prospect held firm to record his personal best with the bat as Delph slid home on 134-7 with 11 balls remaining.
Armitage Bridge grabbed their second win of the season but it wasn't enough to lift them off bottom place at home to Broad Oak. An industrious performance with contributions throughout the team was crucial to the result with captain Jaycub Curtling (33) top scoring, well supported throughout by Chris Dennison (22) and Jack Hinchliffe (19) amongst others. Tom McCreadie (3-36) who relinquished his gloves and Alex Slack (3-13) had the best dividends out of the eight visiting bowlers who turned their arms as Armitage Bridge settled on 155ao. Slack (55no) showed off his all-round ability with a fine half-century as he dropped anchor from the off. Jamie Hopper (3-27) made early inroads as Oak stumbled but Slack, along with captain Harvey Booth (32) settled the ship with a 75-run stand which put the match into the visitors' favour. Chris Dennison (5-36) made the breakthrough and quickly ran through the last five batsmen to dismiss Broad Oak for 142ao.
In the only other Group Orange match to be played, Thongsbridge put in a dominating display to down Moorlands by dismissing the hosts for 90 before replying with 91-2. As had been earlier reported, due to a reported Covid-19 infection, Barkisland v Shepley and Honley v Golcar were both abandoned and won't be rescheduled.
Group Red
Hoylandswaine are Group Red winners but they were forced to withstand an inquisition by bottom-placed side Almondbury. Matthew Hanson (3-21) made his mark on the match to startle Swaine and they rebuilt from a precarious 84-6. Christian Jackson (44) and Chris Holliday (29no) pushed them up to 179-7 and it turned out to be a good enough cushion as they completed a one-sided win. Jackson (2-9), Shoukat Ali (2-7) and Iftikhar Naseer (3-7) were all in amongst the wickets in a second innings demolition as Almondbury were bowled out for 62.
Matt Smith excelled with bat and ball as the seasoned all-rounder helped Skelmanthorpe to the win which saw them finish second in the group at the end of a quietly successful campaign. Former Denby and Scholes player Smith (5-47) made life hard for visiting Holmfirth with a fantastic five-wicket haul as the visitors staggered their way to 137-9. Joe Simms (37) was the highest scoring Holmfirth batsman as they faced persistently nagging bowling from Smith and Allan Greenwood (2-18) amongst others. It appeared to be game-on as young Yorkshire player Lucy Grice (2-25) and Glyn Brown (2-11) helped put the hosts in an uncomfortable 48-4. However with both bowlers out of overs, Skelmanthorpe sneaked back into it with Charlie Auty (39no) and Ryan Robinson (41no) combining for an unbeaten 91-run partnership as Skelmanthorpe eased home on 139-4 after 26.2 overs.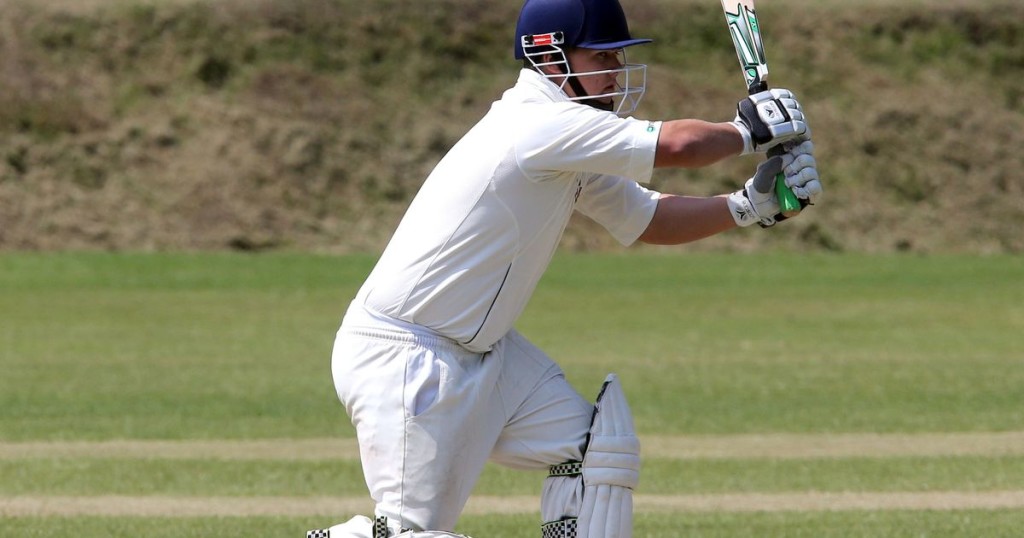 Jacob Mulhall kept a cool head at a vital time after scoring a half-century away at Rastrick. Mulhall then went on to take key wickets, including the winning one on the penultimate ball as the visitors sneaked the closest match of the day by four runs.
Jacob Mulhall held his nerve by leading Lepton Highlanders to a nip-n-tuck victory away at Rastrick on the last ball. Mulhall (54) recorded his second half-century of the season as Lepton built a fairly par 143-6 first innings score with Jon Wareing (26) adding an essential contribution. This appeared to be plenty however, as Rastrick collapsed early under pressure bowling by Muhammad Shah (3-16) and Archie Stokes (2-17) leaving the hosts reeling at 27-5. Rastrick's comeback was built around an excellent innings by Steve Holroyd (62) who single-handedly took the game to the visitors. With Lepton skipper Mulhall reintroduced, he removed Holroyd followed swiftly by Louis Wood (6) to leave the game hung in the balance. Richard Smith (10) slammed a four and a six in quick succession on the last over to leave his side needing five runs to win from the final two balls. However Mulhall then castled last-man Smith on the penultimate ball to complete an absorbing four run Lepton victory.
Almondbury Wesleyans v Denby Dale and Denby v Emley Clarence were both abandoned.
Group Green
Tom Mighall and Tom Charlsworth put in a devastating bowling performance to fire Upperthong to victory over Birkby Rose Hill, although the result was academic after their group challengers Delph & Dobcross 2XI fell to their second defeat at Mirfield. Struggling Birkby had little answer to Mighall (3-10) and Charlesworth (2-9) as they were overwhelmed, bowled out for a lowly 61. Hosts Upperthong let sloppiness creep in when they were quickly reduced from 24-0 to 33-4 following some sharp bowling from Rashid Nazar (2-9). Ben Charlesworth (21no) provided the steady hand needed to patiently play themselves out of trouble and he shepherded 'Thong over the line on 63-4 with just under six overs remaining.
Delph & Dobcross 2XI slumped to a back-to-back defeat away at Mirfield, although there will be plenty of encouraging signs from their youngsters who will surely play a bigger part in years to come. Will Clynes (3-20) and Callum Sykes-Quarmby (2-15) performed well as Delph fought back following a solid 78-run second wicket partnership. Josh Ramsey (68) steered Mirfield sensibly as they made 147-9 batting first and at 65-2 during the reply, Delph looked well-placed to challenge. The departure of Lee Needham (25) proved to be the watershed moment as Mirfield bowling trio George Addy (2-19), Sher Khanagha (2-11) and Tom Edwards (2-10) began to assert control. James Fish (17) battled hard in the middle order but the rest withered as the visitors succumbed comfortably short on 106ao.
Elsewhere in Group Green, Alex Shelton (3-16) and Darren Robinson (3-6) shared six wickets as hosts Linthwaite were heavily defeated by Barkisland 2XI. They were dismissed for 105 to Barkisland's winning reply of 108-5. Kirkheaton's Waheed Hussain (4-7) propelled his side to their only win of the campaign on the final day as they outmuscled Cumberworth United. The hosts were restricted to 104-8 and were undone by a Paulo Girardi (63) half-century in Kirkheaton's 105-5.
Finally, Hall Bower avoided defeat away at Honley 2XI thanks to an attritional second innings performance with the bat. Honley's 106-6 looked to have been enough despite efforts from Tom Baxter (22) and Faisar Siddiq (31). With those men out, Daniel Crines (7no) soaked up the balls (47 in total!) allowing number ten batsman Ibrar Rafiq (20no) to nudge along the score with the Honley total eventually overtaken in the 24th over on 110-8.