A massive Nathan Rabnott (featured image) century saw Moorlands come out on top in a terrific match with Cawthorne. Glorious Golcar hauled themselves out of the Premiership drop-zone following a fine win at second placed Honley. Leaders Hoylandswaine took full advantage of Honley's slip-up with a comprehensive victory over Delph & Dobcross whilst both Scholes and Thongsbridge registered wins against sides higher up the table on an afternoon of high-octane cricket drama. The Championship seems more congested than ever after leaders Lascelles Hall received a hiding at Rastrick and Barkisland leapt into second place with their latest victory at home to rock-bottom Meltham. In the Conference, Denby hit the high notes as they edged out Emley Clarence and Marsden kept up the pace by routing Kirkheaton.
Drakes Premiership
Australian import, Nathan Rabnott (145no) fired a terrific ton to help Moorlands put behind them recent disappointments as they emerged decisive victors in a thrilling run-filled match at home to Cawthorne. Moorlands posted an imposing 305-3 score, batting first against a visiting Cawthorne side without a win in five. Rabnott's innings came in a feisty 96 balls containing 15 fours and 6 sixes, ably supported by opener Jared Maxwell (64). Moorlands skipper Andrew Fortis (49) also got in on the action during Moorlands' big innings as Cawthorne's bowlers toiled. Any assumptions Moorlands may have harboured about batting struggling Cawthorne out of the match were scotched during a frenzied second innings. Ibrar Latif (75) and Liam Wiles (75) got Cawthorne to within 100 runs of their target with 6 wickets remaining. However bowlers Nicky Smith (4-93) and Darrell Sykes (4-20) began to take back control and once Wiles was dismissed with 70 runs remaining the rest of the Cawthorne batsmen quickly collapsed leaving them 38 runs short.
Leaders Hoylandswaine had to draw deep to see off Delph & Dobcross at home, who have endured mixed fortunes this season. Delph's overseas Waqas Maqsood (7-59) was yet again in electrifying form with the ball as he collected another impressive array of scalps in two outstanding bowling spells. Swaine picked themselves up after Delph nullified the Hoylandswaine heavy weaponry in the early exchanges leaving their hosts reeling at 53-4. Captain SP Singh (46) and Gurman Randhawa (54) then began to turn the tide as the two men stubbornly grafted together a 74-run partnership and later Luke Potter (32) added some useful runs down the order to set a first innings total of 220ao; the first time Hoylandswaine had been all out this season. Ominous clouds were stirring in the first over of the reply for Delph after Adnan Ghani brutally dismissed Mosun Hussain and Chris Tipper on consecutive balls. Ghani (4-17) then went on to pick up two more valuable wickets before it was left for Randhawa (3-4) to mop up the tail and seal a fine performance to open up an 11 point gap at the top, leaving Delph nervously looking over their shoulders five points above the relegation places.
Whilst Ghani and co were celebrating their latest success, Golcar turned the table on its head by cantering to an spectacular victory away at Honley. Timmy Taylor's side have suffered the ignominy of being dumped out of the Sykes Cup by Almondbury Wesleyans, lost ground to Hoylandswaine by a defeat at Broad Oak so this latest loss rounded up a glum week at Far End Lane. Visiting Golcar had Abdul Wahid (71) in fine form as he James Howson (24) accumulated together and reached 169-9 with Taylor (5-17) doing the damage for Honley. What looked like a fairly routine chase was anything but and aside from the obstinate determination of Danny Howard (36), Honley were set about by bowlers Sam Mills (5-37) and Steve Whitwam (3-26). Mills was in particularly deadly form accounting for main guns Simon Kelly, Timmy Taylor and Ryan Robinson before Whitwam struck with the iron hot to chalk up an important win in their battle against the drop.
Broad Oak tasted home defeat for the first time this season after Scholes came up trumps in a compelling match. Oak recovered from a perilous 47-5 to set 173ao in a first innings that saw batsmen Kyran Dill (68) and stumper Tom McCreadie (43) make a game of it. Tom Brook (4-38) and Tom Chadwick (3-37) ensured their hosts were kept within range. Scholes themselves were placed in a spot of hot water at 24-3 as Dill (4-40) and former Scholes player Adam France (1-34) forced them under early pressure. Ishan Rangana (43), Tom Brook (37) and Bradley Birkhead (30) all made starts before failing but in the end Scholes were probably thankful there wasn't an extra 30 or 40 runs on the board as the lower order combined and they squeezed home at 175-9.
A tussle at the bottom put Shelley in further trouble following Mirfield Parish Cavaliers' nervy 3-wicket win against their hosts. Shelley were bowled out for 159 with former Pakistan test player Muhammad Ramzan (69) top scoring. It was left to bowlers 5 & 6 Aiden Hawksworth (4-43) and Jamie Hardcastle (3-20) to put the skids under Shelley after they relinquished a solid position at 110-3. Several Parish batsmen helped grind out the vital win as Hawksworth (31) and Dan Broadbent (41) both got starts before being dismissed with Martin Sykes (2-43), Ranjith Bandula-Don (2-20) and Imran Zafar (3-36) turning up the pressure pot. Parish went on to hold their nerve and crucial 34 run partnership between Abdul Qader (23) and Terence James (31) took them over the line on 164-7.
Richard Marshall's stunning century was the difference between sides at Miry Lane as hosts Thongsbridge disposed of Kirkburton with consummate ease. Kirkburton reached 236-7 from their fifty overs which turned out to be well short of what would be required once Marshall had his way. Toby Booth (80no) and Alex Scholefield (45) high scored in the visiting total with Australian Haydn Slodecki (3-55) yielding the best return for the home side. Kirkburton then used nine bowlers as they powerlessly bid to break a devastating 172-run opening partnership between Marshall (132no) and Ben Raven-Hill (74). Marshall then went on to slam 24 fours and 2 sixes in his 120-ball innings as Thongsbridge coasted home for the loss of one wicket with 8 overs to spare.
Shepley made life uncomfortable for visitors Armitage Bridge as the dependable Nasir Jamal (3-47) and stand-in captain Danny Glover (3-34) kept them at bay at Marsh Lane. Bridge were bowled out for 182 with opener Matthew West (48) and Jack Hinchliffe (46) frustratingly squandering opportunities to chalk up half-centuries. In reply, Shepley put on 127 runs for the first wicket between Dan Wood (71) and John Anderson (48). Thankfully they had enough in the tank to get home despite missing the firepower of skipper Greg Wood. Shepley reached 183-4 inside 39 overs.
Full scores:
*Broad Oak 173 (J Hargreaves 27, K Dill 68, T McCreadie 43; T Brook 4-38, T Chadwick 3-37)
Scholes 175-9 (I Rangana 43, B Birkhead 30; K Dill 4-40).
Golcar 169-9 (A Wahid 71; T Taylor 5-17)
*Honley 115 (D Howard 36; S Mills 5-37, S Whitwam 3-26).
*Hoylandswaine 220 (G Nawaz 26, S P Singh 46, G Randhawa 54, L Potter 32; W Maqsood 7-39)
Delph & Dobcross 93 (A Lilley 29; A Ghani 4-17, G Randhawa 3-4).
*Moorlands 305-3 (J Maxwell 64, A Fortis 49, N Rabnott 145no, E Walmsley 35no)
Cawthorne 267 (L Skelly 35, I Latif 75, L Wiles 75; N Smith 4-93, D Sykes 4-20).
*Shelley 159 (L Sykes 38, M Ramzan 69; A Hawkesworth 4-43, J Hardcastle 3-20)
Mirfield PC 164-7 (A Hawkesworth 31, D Broadbent 41, T James 31no).
Armitage Bridge 182 (M West 48, R Broom 37, J Hinchliffe 46; N Jamal 3-47, D Glover 3-34)
*Shepley 183-4 (D Wood 71, J Anderson 48).
Kirkburton 236-7 (A Smith 29, A Scholefield 45, T Booth 80no; H Slodecki 3-55)
*Thongsbridge 237-1 (B Raven-Hill 74, R Marshall 132no).
Jedi Championship
Championship leaders Lascelles Hall suffered a serious shock to the system after they were bombarded by a lively bowling display by Asif Afridi away at Rastrick. The hosts were made to endure some tempestuous bowling themselves as they were bowled out for 171 as Tom Whiteman (3-30) and Sheheryar Hassan (3-35) both made inroads into the Rastrick ranks with Majid Khan (35) top scoring. But Afridi (7-14) was in no generous mood with the ball and he brutally ripped through a perplexed Lascelles Hall batting lineup with ferocious force, wrapping up the reply inside a quick-fire 6.3 overs. Osama Ahmad (3-15) was also of a destructive disposition and he helped close things off as Lascelles Hall were bowled out for just 29.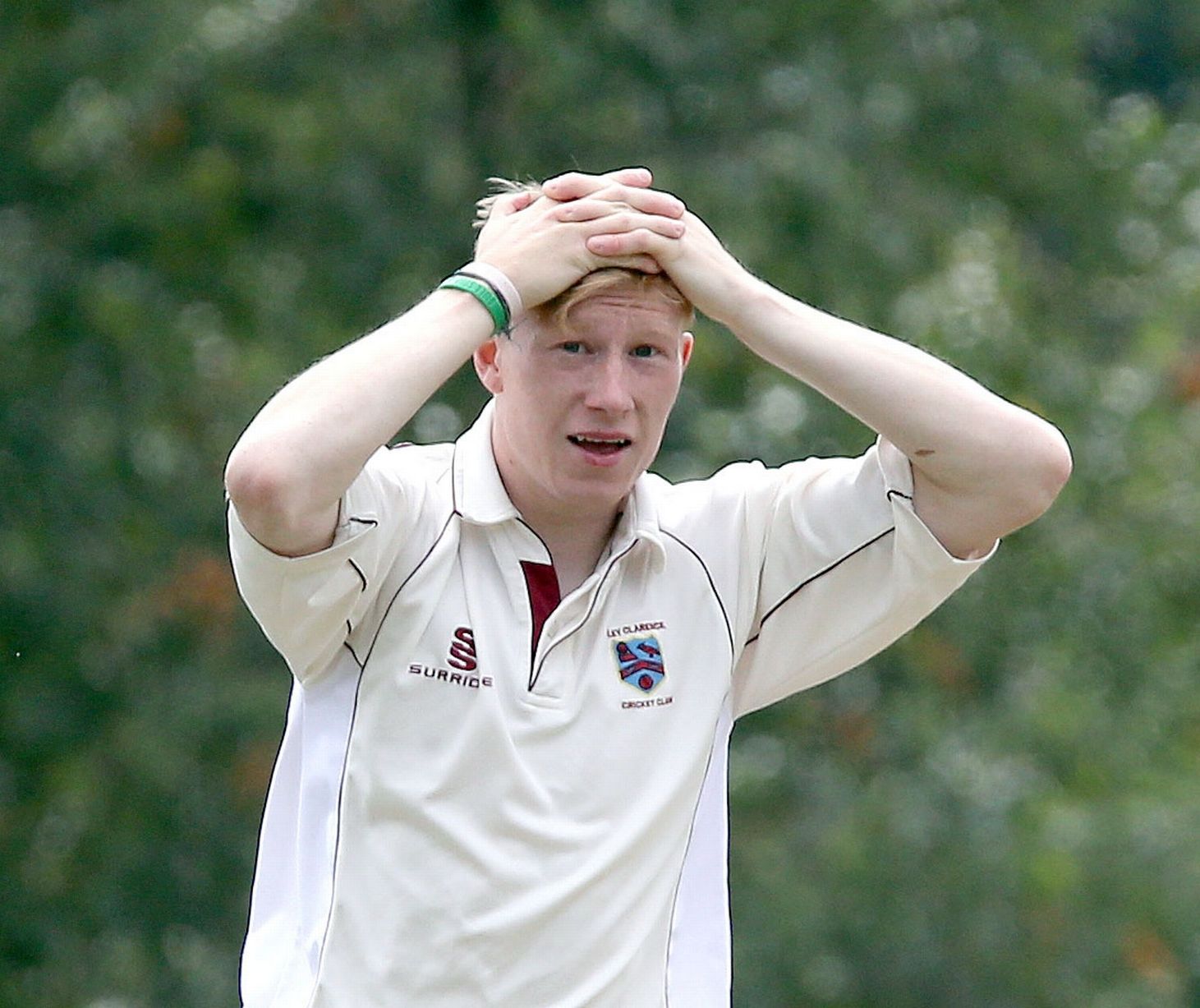 Allan Greenwood (pictured above) smashed an sublime ton for Skelmanthorpe as they overcame promotion-chasing Almondbury Wesleyans who slipped to fourth. Skelmanthorpe welcomed back skipper Mike Kitson after injury and it appeared to inspire his teammates after they worked hard to keep the hosts in sight with James Crossland (3-62) the most successful of Shat's bowlers. Alex Taylor (55) made back-to-back half centuries for Wes with solid lower-order support from Tom Binns (41) but calmness from Greenwood (124no) guided Skelmanthorpe to the win with a measured 128-ball innings containing 18 fours and 2 sixes.
Elland succumbed to a 4 wicket defeat at Slaithwaite in a battle between two sides that are struggling for consistency. After being asked to bat, Elland reached 207-8 with a half-century by Jacob Bower (63) whereas Alec Hodgson (48) himself narrowly squandered a half-ton. Missed opportunities like these eventually became Elland's undoing as Slaithwaite slowly edged towards victory following starts by the whole top four, notibly opening batsman Wajid Hussain (38). Match-winner Harrison Quarmby followed up his bowling figures of 1-24 with a 63no with the bat and Slaithwaite kept a cool head and reaching 208-3 with three balls left during an exciting finish.
Almondbury were involved in a nail-biting win at home to Clayton West to move further away from the relegation zone. They fought their way to 191-7 batting first as Aman Ullah (48) and wicketkeeper Atif Kamran (47) top scored. Sam Tyas (3-25) returning the best figures for visitors Clayton West. Despite a solid start from opening batsman Alex Clegg (55) wickets fell at the right times for Almondbury as Mirza Mobeen (3-64) got stuck in. With wickets regularly falling the visitors slipped behind and were finally bowled out for 185 with four balls left as Almondbury completed a remarkable win.
Meltham are finding themselves marooned in trouble after Barkisland secured another win which sees them break into the top two. A fine 148-ball innings from captain Darren Robinson (136no) containing 19 fours and 5 sixes set the tone for the visitors as Barkisland reached 254-9 batting first against their visitors. David Bebb (49) top scored in Meltham's reply but they were left considerably short as Matthew Steers (3-40) and Luke Bridges (4-19) dominated with the ball in Meltham's total of 127ao.
A Matthew Gummerson half-century boosted Holmfirth in their huge 12-pointer away at Lepton Highlanders. Holmfirth made 220ao thanks to Gummerson (55) and Bilal Hamid (49) whilst Jack Mulhall (4-62) and Imran Khan (6-60) did their best to stem Holmfirth's progress. Amar Rashid followed up 41 with the bat with a five wicket booty taking 5-29 to send Lepton to a damaging defeat which leaves them second bottom at the halfway point in the season.
Full scores:
Clayton West 185ao
*Almondbury 191-7
*Almondbury Wes 232-8 (A Taylor 55, M Henshaw 26, T Binns 41, J Hoyle 35no; J Crossland 3-62)
Skelmanthorpe 233-3 (A Greenwood 124no, S Alderson 27, A Hooper 30, J Megson 29no).
*Barkisland 254-9 (J Summerscales 30, D Robinson 136no, S Moyle 28; I Hussain 3-85)
Meltham 127 (D Bebb 49, I Hussain 26; L Bridges 4-19, M Steers 3-40).
Holmfirth 220 (M Gummerson 55, B Hamid 49, A Rashid 41; J Mulhall 4-62, I Khan 6-60)
*Lepton Highlanders 115 (A Rashid 5-29).
*Rastrick 171 (M Khan 35, O Ahmad 25; T Wightman 3-30, S Hasan 3-35)
Lascelles Hall 29 (A Afridi 7-14, O Ahmad 3-15).
Elland 207-8 (J Bower 63, A Hodgson 48, A Finn 31; J Chojnowski 3-51)
*Slaithwaite 208-6 (W Hussain 38, H Quarmby 63no; P Dobson 4-38).
Cedar Court Conference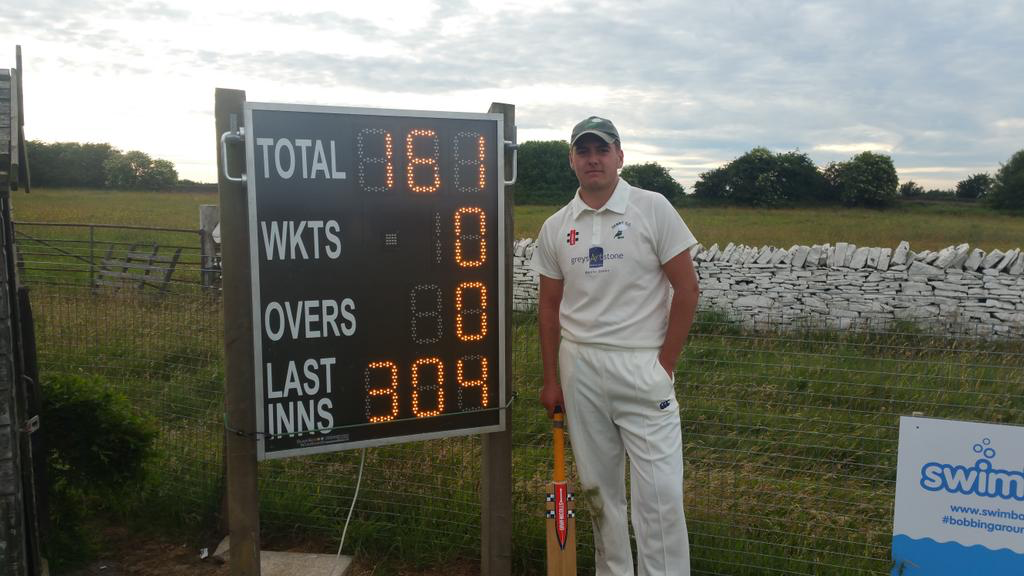 Denby emerged narrow winners in a 578-run tussle with Emley Clarence thanks to a remarkably huge century from Tom Sanders (pictured above). His introduction and consequent 154-run last man partnership with Paul Goodman (41no) changed the complexion of the match with Denby feeling the heat at 110-8. Sanders (161no) took the game to Emley with a barrage of boundaries in his 116-ball innings, walloping 17 fours and 9 sixes as he and Goodman cudgelled Denby to an insurmountable score of 304-9. Nevertheless Emley gave themselves a shot at overhauling the stiff target with contributions right through the order as they made 274ao in reply, losing by a slender margin of 30 runs. Kamran Saleem (67), Mohammad Hassan (41) and Mohammad Nabeel (30) all put a shift in but were kept at bay by Denby bowler Zafar Jadoon (3-58). First innings hero Sanders (2-58) also opened the bowling after his efforts in a remarkable all-round performance.
Marsden lead the chasing pack on Denby's coat tails following a comprehensive victory at home to Kirkheaton thanks to a terrific all-round performance by Jack McNamara. His 116 in the first innings was followed up with 4-4 in the second innings as Kirkheaton were dismissed for 108.
Cumberworth United lost a thriller at Hall Bower by 3 runs. The hosts were 134ao batting first as Reid Somani (4-27) and George Smith (4-40) paired up to inflict damage with the ball. Somani (49) missed out on his half-century which would have been enough but a desperate fightback by Bower bowled out the visitors agonisingly short of their target at 131ao. Iqrar Amjad (5-22) led the resurgence in a memorable win for Hall Bower.
Elsewhere, Upperthong (265-8) held off Mirfield (182ao) thanks to 91 from Chris Swanson. Adam Goldthorpe's 79 in the reply wasn't enough. A six-wicket haul for Jordan Thackray wasn't enough for Thurstonland (150ao) chasing Birkby Rose Hill's first innings score of 199ao. Denby Dale edged a 1-wicket thriller at home to Linthwaite despite the efforts of Omar Shaffique (7-45). Dale (163-9) eventually overhauling Linthwaite's first innings total of 162ao.
Full scores:
*Denby 304-9
Emley Clarence 274.
Linthwaite 162
*Denby Dale 163-9.
*Hall Bower 134
Cumberworth Utd 131
*Marsden 260-0
Kirkheaton 108.
Upperthong 265-8
*Mirfield 182.
Birkby Rose Hill 199
*Thurstonland 150.