An exciting matchday 13 was lit up with runs galore and records being broken. Thongsbridge smashed the Premiership team batting record with a crushing win at Mirfield Parish Cavaliers and Delph & Dobcross dismantled Shelley in a huge match at the bottom of the table. An Alex Lees-inspired Hoylandswaine dominated yet again at Golcar to maintain their lead whilst their nearest rivals Honley squeezed past Scholes. The Jedi Championship have new leaders after Barkisland registered their seventh successive win after Lascelles Hall were put to the sword at Almondbury Wesleyans. The Cedar Court Conference continues to compel as all the top three won to continue their respective promotion charges.
Drakes Premiership
The rate the team scoring records have been broken in the past five seasons, one might expect the elusive 500-run barrier may be the next landmark record to fall at some point in the near future. The explosive power on display, along with wickets that improve year on year have seen par scores go through the proverbial roof and Thongsbridge were the latest club to set a new stand out achievement after they shellacked hosts Mirfield Parish Cavaliers in a match that saw an incredible accumulative 766 runs scored over two innings. Ironically the previous record set by Hoylandswaine was against Thongsbridge only six weeks earlier, but being on the other side of that particular towelling has evidently had no ill effects as the visitors scored heavily without abatement during their fifty overs. Opening bat Ben Raven-Hill (191, featured image) and Haydn Slodecki (140) became the two principal antagonists for the Parish with Raven-Hill scoring his from 138 balls (25 fours and 10 sixes) and Slodecki in 94 balls (14 fours and 8 sixes) in what was surely a record ever second wicket stand of 306 runs. There was still a half-century from opener Richard Marshall (54) as Thongsbridge laid on a new record of 466-3. Yet the fact Mirfield Parish Cavaliers got within 160 runs was a feat within itself as they faced such a remarkable total to chase. The ever dependable Tim Orrell (79) and fellow opener Aiden Hawksworth (57) put on 131 for the first wicket and Muhammad Ali (53) got the score up to 183 before the second wicket had fell. However by this time anything further was simply academic and as the screw turned so did wickets with Zafar Iqbal profiting most with 3-61 in Mirfield Parish's reply of 309ao.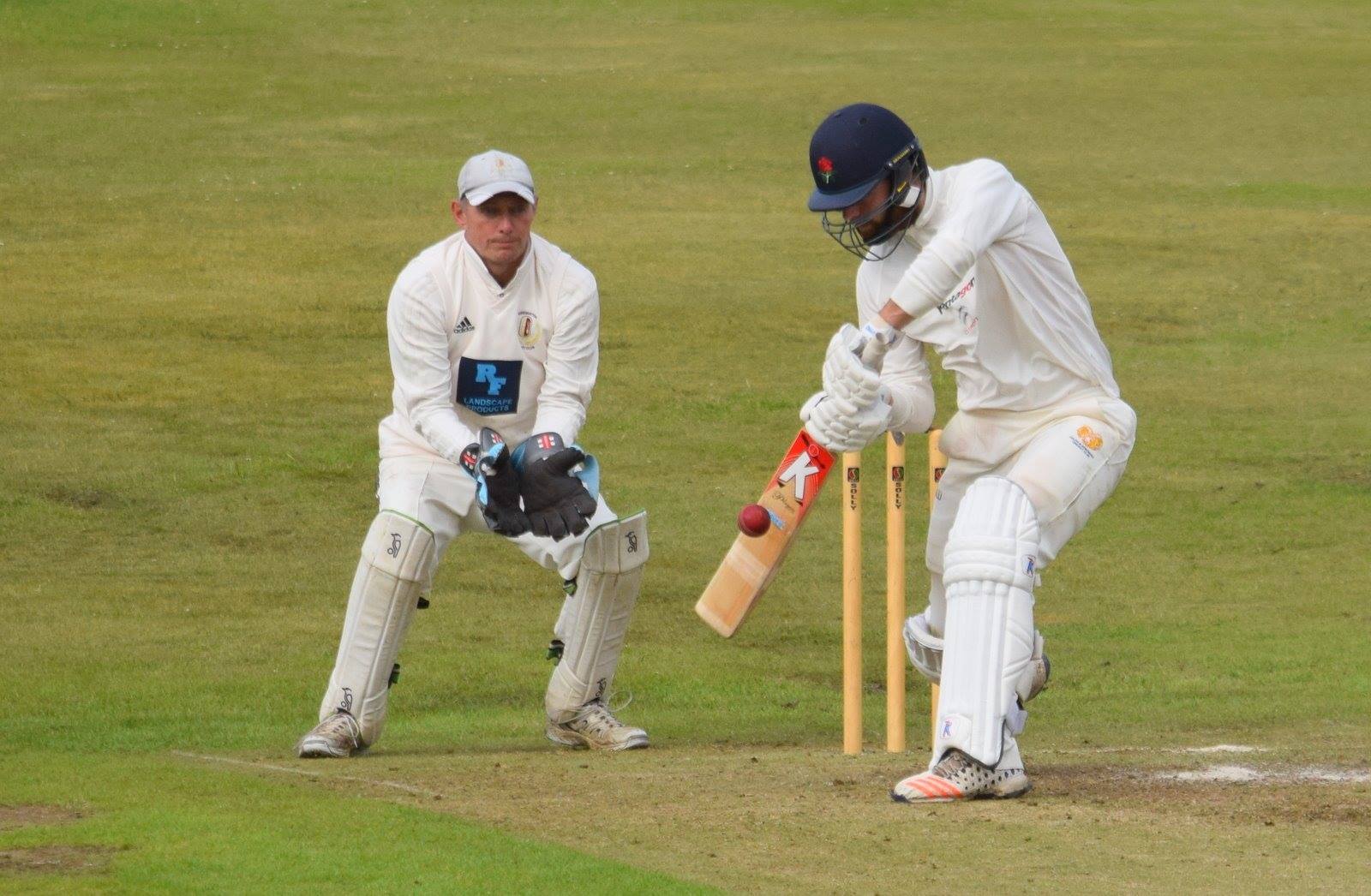 Whilst the pyrotechnics were in full flow over in Mirfield, Lancashire all-rounder Arron Lilley (pictured above) fired his team Delph & Dobcross to their highest ever Huddersfield League total of 437-6 as they demolished Shelley at home. Lilley, captaining the side, scored a rapier-quick 119 off only 47 balls as Shelley toiled in the sultry conditions after losing the toss. Lilley made his way to fifty from 28 balls but the next 69 runs came in only 19 deliveries as the surrounding fields and bowling green were peppered by 12 sixes along with 8 fours. Before Lilley could strut his stuff though, the platform was well laid by opener Mosun Hussain (96) with a season's best tally and the reliable Graeme Simpson (65). Then after Lilley departed this opened the door for overseas Waqas Maqsood who, inspired by the days play, clattered an unbeaten 94 from only 36 balls and was only denied an astonishing century after failing to connect with the last delivery of the innings. Four Shelley batsmen managed to get scores into the forties yet couldn't convert in a pedestrian second innings which had already seen the match reach beyond salvation. Captain Harvey Jones (43), Mo Bhoola (42) and Josh Scott (45) all took the game back to the Delph bowling attack, but special praise was reserved for 14 year old George Bardon (44) who displayed genuine talent, unfazed by the pace of Waqas Maqsood (3-43). Another youngster, Xander Selby (4-94) helped Delph wrap up a very one-sided match as Shelley were bowled out for 254, but one they'll be relieved to win which moves them to a safer 9th place, away from the precarious position they harboured prior to the game.
Nail-biting drama absorbed sunbathing spectators down at Armitage Bridge as the hosts held off third-placed Broad Oak by the fine margin of 8 runs. A sublime 183-run fourth wicket partnership steadied a rocking ship after Armitage Bridge found themselves in early trouble at 22-3 with three of their most potent batters back in the shed thanks to Broad Oak's overseas Kyran Dill (3-64). Jaycob Curtling (122no, pictured above) then scored a fine century in a 151-ball textbook innings which contained 20 fours and a six. He was ably supported by Robin Broom (75) as they recovered well to 261-5 batting first. The depth of Broad Oak's batting lineup has been one of their major strengths this campaign and it was thanks to that they got so close to overhauling such a formidable target. Opener Charlie Roebuck (61) set things off before Harvey Booth (44) chipped in batting at 4. Curtling then started to work his way down the order to complete a man-of-the-match performance taking 6-64 off 15 overs but the real drama was reserved to the very end with Broad Oak requiring 9 to win from the last 6 balls. Jack Hinchliffe coolly held his nerve to bowl a wicket maiden and secure a memorable win.
Two juxtaposing centuries at Chapelgate gave supporters of both sides entertainment in a thrilling encounter between mid-table Scholes and second-placed Honley. It was the title challengers Honley who returned home with the win but only after a stunning ton from Sri-Lankan Ishan Rangana (101) had given the visitors a fright. Honley racked up 283-7 batting first in an innings that was commanded by a century from captain Timmy Taylor (131). His 129-ball innings was embellished with 15 fours and 5 sixes with former Hoylandswaine captain Ryan Robinson supporting with a run-a-ball 68. Hosts Scholes slowly got themselves in a position to win but lost Rangana in full flow with 60 runs left to chase. It was a blow they couldn't recover from as despite a spirited knock from Eden Pearson (23no), Honley clinically closed the match out for a win to keep in touch with the leaders.
Hoylandswaine welcomed back Yorkshire's Alex Lees for their match away at Golcar and despite his tribulations playing for his county he's finding few issues with run-scoring at club level. He carved out a 90-ball knock to overcome Golcar's laboured score of 159ao batting first with Gurman Randhawa (3-36) enjoying another profitable return with the ball. Jake Lockwood (30) top scored for the home side who's worries deepened after this latest loss. Hoylandswaine captain SP Singh (24) combined with Lees to take Swaine to a routine victory inside thirty overs.
Shepley made it back-to-back wins by subduing bottom club Cawthorne at Dark Lane. John Anderson (95) and Greg Wood (45) top scored in a first innings Shepley total of 289-6 batting first. Tom Denton (43) and Shahban Raheem (36) also took advantage of a good wicket in sweltering conditions to heap more misery on Cawthorne who are enduring a testing final season in the Huddersfield League. The hosts fell well short by 70 runs in reply although Jacob Deavin-Baker (88) gave locals something to smile about despite Danny Glover's (5-34) smart return with the ball for Shepley in a win that took them above Broad Oak into third.
Three wickets each for Alex Scholefield (3-45) and Aaron Moore (3-38) gave Kirkburton the upper hand at home to Moorlands. Only a 40 run last wicket stand between Andrew Walker (27) and Darrell Sykes (19no) made a scoreline of 168ao look respectable but given the heavy run totals in and around the area you can't help but think it was a below-par total. It wasn't enough to stop Kirkburton from returning back to winning ways after opener Andrew Smith (71) top scored along with Jonathan Butterfield (43) for a solid opening partnership as Kirkburton reached 172-5 in 42 overs.
Full scores:
*Armitage Bridge 261-5 (J Curtling 122no, R Broom 75; K Dill 3-64)
Broad Oak 253-9 (C Roebuck 61, D Finn 30, H Booth 44, K Dill 26; J Curtling 6-64).
Shepley 289-6 (D Wood 35, J Anderson 95, T Denton 43, G Wood 45, S Raheem 36)
*Cawthorne 219 (I Khan 27, L Wiles 26, J Deavin-Baker 88; D Glover 5-34).
*Delph & Dobcross 437-6 (M Hussain 96, G Simpson 64, A Lilley 119, W Maqsood 94no)
Shelley 254 (H Jones 43, M Bhoola 42, G Barden 44, J Scott 45; W Maqsood 3-43, X Selby 4-94).
*Golcar 159 (J Lockwood 30; G Randhawa 3-36)
Hoylandswaine 160-4 (A Lees 96).
Moorlands 168 (J Maxwell 37, S Sajid 27, A Walker 27; A Scholefield 3-45, A Moore 3-38, A Smith 3-32)
*Kirkburton 172-5 (A Smith 71, J Butterfield 43; D Sykes 3-43).
Thongsbridge 466-3 (B Raven-Hill 191, R Marshall 54, H Slodecki 140, J Cassidy 34no)
*Mirfield PC 309 (T Orrell 79, A Hawkesworth 57, M Ali 53, A Qader 25, M Suleman 26; Z Iqbal 3-61).
Honley 283-6 (T Taylor 136, R Robinson 68, B Randell 33; J Brook 3-71)
*Scholes 262-8 (T Chadwick 43, I Rangana 101; L Kenworthy 4-74).
Jedi Championship
Barkisland seized the opportunity to lead the table for the first time this season after Lascelles Hall slipped up at home to Almondbury Wesleyans. The Sykes Cup semi-finalists put together a total that would severely test George Sommerville's upwardly mobile team by piling on 290-6 batting first. Bryn Jenkins (83) led from the front batting at four while he was well supported with two half-tonners Matthew Henshaw (69) and overseas Frederick Walker (52no). Lascelles Hall toiled in the heat as opening bowlers Tom Wightman (3-70) and Sheheryar Hassan (3-63) shared the wickets between them. In reply, Hall fell behind quickly as Sommerville (0) and Matthew Simpson (8) fell in short succession. Opener Zahed Ahmed (65) held together the innings to a degree but regular wickets then fell as bowlers Jack Atkinson (3-25) and Ben Shufflebotham (3-53) gained the upper hand with Hall 199ao after 45 overs.
This allowed Darren Robinson's in-form Barkisland side the golden opportunity to get their noses in front and they did just that by claiming victory away at Skelmanthorpe; a side relegated from the Premiership with them at the end of 2017. They set the hosts 253-7 batting first with opener Jamie Summerscales (116) scoring a century. Luke Bridges (46) also added important runs with Skelmanthorpe captain Mike Kitson (3-63) and the experienced Richard Wimpenny (3-56) in amongst the wickets. Skelmanthorpe's reply hit the skids almost immediately with opener Sam Moyle (3-52) reducing Shat to 6-2 in the first overs. From there the hosts were fighting an uphill battle and then slipped to 94-7 as Moyle, Jamie Sykes (2-26) and Bridges (2-20) kept a tight grip on the match. Skelmanthorpe's tail wagged but the result was never in doubt with them finishing on 195ao.
A five wicket plunder from Rastrick's intoxicating all-rounder Asif Afridi wasn't enough to swing the result away at fellow promotion-chasers Clayton West. Rastrick may have felt the home side's score of 238ao was an achievable chase after Afridi (5-36) helped restrict Craig Glover's talented side with just opener David Swann (56) being able to get a collection going. However in the second innings, Clayton West hunted in packs and even though Rastrick were probably favourites to win for much of the game, it was credit to the home side for interrupting progress at vital intervals. Afridi (62) mounted a charge and Rastrick were well placed whilst under the studious watch of captain/wicketkeeper Jacob Waterson (60). When Waterson was bowled by skipper Glover though, the tide then turned and Rastrick were cut short at 199ao.
At Mean Lane, Slaithwaite kept their promotion ambitions burning with a hard-fought win away at plucky Meltham, who frustratingly squandered the chance of gaining their first win of the season. They bowled well to limit Slaithwaite to 235ao as Sagar Sawant (3-49) and Ibrar Hussain (3-68) kept Slaithwaite's artillery from firing. A remarkable spell by youngster Alex Avery (4-16) was a vivid highlight for bottom of the table-dwelling Meltham and then a solid opening half to the reply had the hosts poised for victory. Sam Clegg (73) and Jack Moulson (32) were both dismissed and then Meltham's frailties were ruthlessly exposed by opening bowler Josh Chojnowski (5-42). Slaithwaite skipper Alex Walker (3-39) also sensed blood and Meltham were cut down agonisingly short on 211ao.
Improving Holmfirth made it three wins from three by overcoming fellow strugglers Almondbury at home. The visitors were bowled out for 153 as only Kala Khan (45) dug down for a score. Wickets all being shared around for the home side with Amar Rashid again on form with the ball taking 3-29. Aizaz Khan (62no) and Sami Ur-Rehman (31) made light work of chasing down the total leading Holmfirth to 155-3.
At Hullen Edge, Lepton Highlanders came unstuck to remain in trouble second from bottom after inconsistent Elland romped to a 6 wicket win. Paul Winrow (95) and Ciaran O'Malley (58), opening the batting gave the home team a perfect start and Alec Hodgson (93no) completed a hefty first innings score of 299-4. The well-travelled Qaiser Rashid, newly signed from Linthwaite (88) made a good first impression for Lepton after tea, however others were unable to follow his example. Jack Hendy (4-38) was one of the main Elland bowlers responsible for keeping Lepton at arms length as they were bowled out for 196 in reply.
Full scores:
*Clayton West 238-7 (D Swann56, A Rank 37, S Tyas 29no, C Glover 39no; A Afridi 5-36)
Rastrick 199 (A Afridi 62, J Waterson 60, W Javed 27; P Tunnicliffe 3-33, C Glover 3-30).
*Elland 299-4 (C O'Malley 58, P Winrow 95, A Hodgson 93no)
Lepton Highlanders 196 (Q Rashid 88; J Hendy 4-38).
Almondbury 153 (K Khan 45; A Rashid 3-29)
*Holmfirth 155-3 (A Khan 622no, S Rehman 31no).
Almondbury Wes 290-6 (B Jenkins 79, M Henshaw 67)
*Lascelles Hall 199 (Z Ahmed 65; J Atkinson 3-25).
Slaithwaite 235 (W Hussain 48, J Mace 39, J Chojnowski 59, L Bradley 38; S Sawant 3-49, I Hussain 3-68, A Avory 4-16)
*Meltham 211 (S Clegg 73, J Moulson 32; J Chojnowski 5-43, A Walker 3-39).
Barkisland 253-7 (J Summerscales 116, L Bridges 46; M Kitson 3-63)
*Skelmanthorpe 195.
Cedar Court Conference
There was nothing to change the status quo at the top of the Conference with leaders Denby clinically putting Kirkheaton to the sword. The hosts were bowled out for 118 with Zafar Jadoon taking 4-37. Openers Mark Askham (47) and James Gumpert (47no) experienced few worries taking Denby to another win in a so-far successful season.
Marsden were also easy winners as they routed Birkby Rose Hill by totting up 223ao thanks to a strong contribution from Imran Malik (78). Mushtaq Hussain (3-38) taking the most for the home side. Birkby were skittled for 84 with Jack McNamara taking 4-18 for Marsden who remain in second.
In the other matches, Cumberworth United in third brushed aside Mirfield by bowling them out for 153 and knocking it off for the loss of four wickets with half centuries from Jack Maskill (59) and Reid Somani (57no). The closest match came at Upperthong where Thurstonland registered a two-wicket victory. The home side reached 186ao and despite the efforts of bowler Ben Charlesworth (4-38) they were unable to stop Thurstonland nudging over the line at 187-8.
Wins for Denby Dale at Emley Clarence and Hall Bower away at Linthwaite were more routine affairs. Ibrar Hussain (61no) and Mirza Tehseen (52) for Denby Dale chased down a home score of 184ao whilst great knocks from Alex Crane (67no) and Faisar Siddiq (69) were the secrets to Hall Bower's successful total of 195-7 in answer to Linthwaite's 192ao.
Full scores:
Marsden 223
*Birkby Rose Hill 84.
Mirfield 153
*Cumberworth 154-3.
*Emley Clarence 184
Denby Dale 189-3.
*Kirkheaton 118
Denby 119-1
*Linthwaite 192
Hall Bower 195-7.
*Upperthong 186
Thurstonland 187-8.