Hoylandswaine were put through a severe test of their credentials coming through in thrilling fashion and combined with second placed Honley failing away at Kirkburton it meant they took a massive stride towards retaining their Premiership crown. Bottom placed Cawthorne picked up a convincing win to give their season (and league placing) a shot in the arm with all their nearest rivals losing. In a Championship battle royale, Almondbury Wesleyans were too much for leaders Barkisland and went top who themselves dropped to third. Denby continued their fine form with another win and another stride towards promotion with their rivals Cumberworth losing ground on first and third by slipping up at Emley Clarence.
Drakes Premiership
Sometimes the mark of a true champion is being able to snatch a win from the most unlikeliest of scenarios. This was certainly the case as Hoylandswaine protected their 100% record in the most stunning of fashions after an incredible 105 run last wicket partnership plucked a victory from the jaws of certain defeat. A visit to Broad Oak has been the undoing of most sides that have travelled to face Jack Hargreaves' side this season and all the signs were pointing the same way as hosts Oak pushed themselves to a workmanlike 229ao after winning the toss and batting first. A half-century from Harvey Booth (55) got them on their way and following scores throughout the order, particularly from wicketkeeper Tom McCreadie (43) and opener Dominic Finn (32), a par score was earned, with Swaine's quick bowler Adnan Ghani (5-52) helping himself to a five-wicket return. With the entirety of the Hoylandswaine top order getting starts before getting out, pressure was placed on the middle order to perform. It was former Durham CCC all-rounder Usman Arshad (96no, featured image) who stepped up to the plate and expertly shepherded his teams tail. Things looked particularly bleak when spinner Dan Taylor (2-44) dismissed Hoylandswaine no. 10 Shakir Muhammad to leave the visitors in dire trouble and a long way from victory at 125-9. Fortunately, Arshad had a willing partner in Ghani and together they continued to frustrate the Broad Oak bowlers as each of Adam France (2-34), Kyran Dill (2-73) and Charlie Roebuck (2-50) took it in turns to try and prise out that vital last wicket without success. Hoylandswaine reaching a remarkable score of 230-9 to win with 14 balls left of an incredible match.
Hoylandswaine's breathtaking win was given even more gravity after their closest rivals Honley were usurped away at Kirkburton; the scene of a memorable T20 semi-final triumph just 4 days earlier. Kirkburton made full use of the fine batting conditions to put on 276-9 with overseas Luke Williamson (93) and all-rounder Alex Scholefield (72) both in fine form. Opening bowlers Brett Randell (3-73) and Sam Denton (3-45) shared the bowling spoils on a punishing day in the field for Timmy Taylor's men. Honley were at one point cruising nicely with Will Fraine (73) and Simon Kelly (42) putting 99 runs on for the first wicket. Once spinner Will Reeves (7-84) got a grip with the ball the tide quickly turned and a disastrous spell of losing five wickets in 17 runs saw Kirkburton gain control of the match. Dangerous lower order batter Danny Howard (50no) became a concern for 'Burton but his threat was eliminated after captain Craig Fletcher re-introduced opening bowler Andy Smith (3-53) who smartly polished off the tail to leave Howard marooned on a half-century and frustratingly missing out on a batting point which may become crucial in the games to come as Honley finished 241ao.
Cawthorne's season of turmoil took a turn for the better with a morale-boosting win at home to fellow strugglers Mirfield Parish Cavaliers who have now extended their winless run to five matches. The hosts, who have seen captain Chris Walmsley return to former club Penistone, brought in Northamptonshire bowler Nathan Buck in an effort to help guide them off the foot of the table and it seemed to provide the tonic they needed in this one-sided victory. Cawthorne helped themselves to 328-7 batting first with half centuries for opener Ben Simpson (50) and new captain Liam Wiles (58) being overshadowed by a brutal 63-ball century from Nottinghamshire youngster Jacob Deavin-Baker (102no), with 10 fours and 6 sixes being struck. Buck might have been the county star in the Cawthorne bowling attack but it was regular opener Luke Robinson (6-60) who was the stand-out performer as he cut through the Cavalier ranks. A defiant half century from Daniel Broadbent (56) aside, the innings was wrapped up well short of the target with Parish 192ao off 41 overs.
In a humdinger at Armitage Bridge, visitors Delph & Dobcross made their host's three hours in the field a slow grind as several Delph batsmen racked up scores. The visitors put in a ruthless performance after winning the toss with in-form opener Mosun Hussain (74) contributing a chanceless innings which allowed Chris Tipper (40) freedom to express himself. The real impetus of Delph's score of 274-6 came from big-hitting Luke Hargreaves (61) whose season's best knock ultimately took the game away from the hosts in 28 deliveries, devastating the bowlers with 3 fours and 7 sixes. Bridge suffered with a lack of discipline with the ball conceding 23 extras as things went from bad to worse. To their credit, Andrew Gledhill's mid-table side, undaunted by the chase pushed Delph hard and only fell away towards the end of the innings. They received an early blow when opener Matthew West retired hurt, succumbing to a broken hand fielding in the first innings but a valiant 122-ball input from opener Saqib Matlub (88) enabled Bridge to mount an unlikely charge. Tony Treadaway (30) put in a decent contribution but it was a 96 run partnership between Matlub and Jaycub Curtling (54) that became Delph's cause for concern. The challenge started to wane however when scoreboard pressure began to eat away which then meant the hosts turned their sights onto two points with a 56-run partnership between Jack Hinchliffe (23) and Gledhill (31no) as Armitage Bridge secured their bonus points with 247-5.
Golcar slumped to the bottom of the table with another loss, this time at 9th place Scholes. 244-8 was enough for the hosts batting first with three batsmen chalking up half-tons; Alex Clegg (55), Yaasar Imtiaz (61) and Tom Brook (66). Golcar bowler Sam Mills took 4-67 but their train was derailed following the damaging blow of losing captain Steve Whitwam (5) for the first wicket. Scholes bowlers Josh Brook (4-33) and Tom Chadwick (4-39) then took charge and between them caused Golcar's chase to falter badly as they were bowled out for 140 in reply.
Thongsbridge gained revenge away at Moorlands who had defeated them twice already this season, both occasions on their own patch. Moorlands made their way to a solid-looking 243-6 with Michael Rounding (64) and Eddie Walmsley (66) both scoring half-centuries as Thongsbridge regularly rotated bowlers to try and stem the home teams scoring rate. Moorlands reckoned without a powerful Thongsbridge batting lineup and it became their undoing as they struggled to make a breakthrough with the ball. Ben Raven-Hill (118) notched his second century of the season with a controlled 137-ball performance containing 17 fours and no sixes. This provided the bedrock of the victory as overseas Haydn Slodecki (60) provided the firepower with a 73-ball knock containing 4 fours and 3 sixes. Thongsbridge cantered home on 247-2 in a perfectly measured chase after 48 overs to move to 6th in the table.
Wicketkeeper Shahban Raheem showed his prowess with the bat for Shepley as they made life hard for neighbours Shelley to move up to joint third in the table. Raheem (82) top scored for Shepley but it was an afternoon where several home batsmen boosted their personal tallies with overseas John Anderson (55), captain Greg Wood (45), Nadim Hussain (28) and Danny Glover (28) all profiting in a score of 321-7. Shelley captain and wicketkeeper Harvey Jones (83) made a dent in the target but despite sprightly contributions from big hitters Josh Scott (34) and former Shepley all-rounder Ranjith Bandula-Don (40) they were well off the chase with Ollie Davidson (5-49) enjoying a day with the ball in Shelley's return of 217ao.
Full scores:
Delph & Dobcross 274-6 (M Hussain 74, N Jones 28, G Simpson 28, C Tipper 40, L Hargreaves 61)
*Armitage Bridge 247-5 (S Matlub 88, T Treadway 30, J Curtling 54, A Gledhill 31no).
*Broad Oak 229 (D Finn 32, H Booth 55, T McCreadie 43; A Ghani 5-52, G Randhawa 3-35)
Hoylandswaine 230-9 (U Arshad 96no, A Ghani 27no).
*Cawthorne 328-7 (B Simpson 50, I Khan 30, L Wiles 58, J Deavin-Baker 102no, A Wiles 26)
Mirfield PC 192 (D Bolt 29, D Broadbent 56, M Suleman 32; L Robinson 6-60).
*Kirkburton 276-9 (L Williamson 93, A Scholefield 72; B Randell 3-73, S Denton 3-45)
Honley 241 (W Fraine 73, S Kelly 42, D Howard 50, T Craddock 29; W Reeves 7-84).
*Moorlands 243-6 (N Rabnott 38, M Rounding 64, E Walmsley 66)
Thongsbridge 247-2 (B Raven-Hill 118no, R Marshall 26, H Slodecki 60).
*Scholes 244-8 (A Clegg 55, Y Imtiaz 61, T Brook 66; S Mills 4-67)
Golcar 140 (J Hassan 37; J Brook 4-33, T Chadwick 4-39).
*Shepley 321-7 (J Anderson 55, G Wood 45, S Raheem 82, N Hussain 28, D Glover 28; M Ramzan 3-74)
Shelley 217 (H Jones 83, J Scott 34, R Bandula-Don 40; O Davidson 5-49).
Jedi Championship
The 2018 Jedi Championship season has all the fascinating ingredients to ensure it will again go to the wire with Almondbury Wesleyans new leaders after ending Barkisland's impressive eight match winning streak. Australian all-rounder Freddie Walker (105) scored an excellent century in a 87-ball knock that contained 8 fours and 7 sixes and turned round Wesleyans fortunes after recovering from a perilous position at 55-5. He found good middle-order company with Chris Stott (31) and wicketkeeper Johnny Hoyle (42) to post 243-7 batting first. Wesleyans were coincidentally the last team to defeat hosts Barkisland way back on 12th May and they got the measure of them once again with a disciplined bowling outing. Half-centuries from opener Jamie Summerscales (50) and Jake Finch (51) weren't enough as brawny bowler Matt Henshaw (4-48) got stuck into the leaders taking out the middle order and shifting the balance of power. It was a bad day all-round for Barkisland as they fell to 219ao, despite a intransigent 39 from no. 10 Matthew Steers and consequently relinquished their perch at the top, falling to third in the table.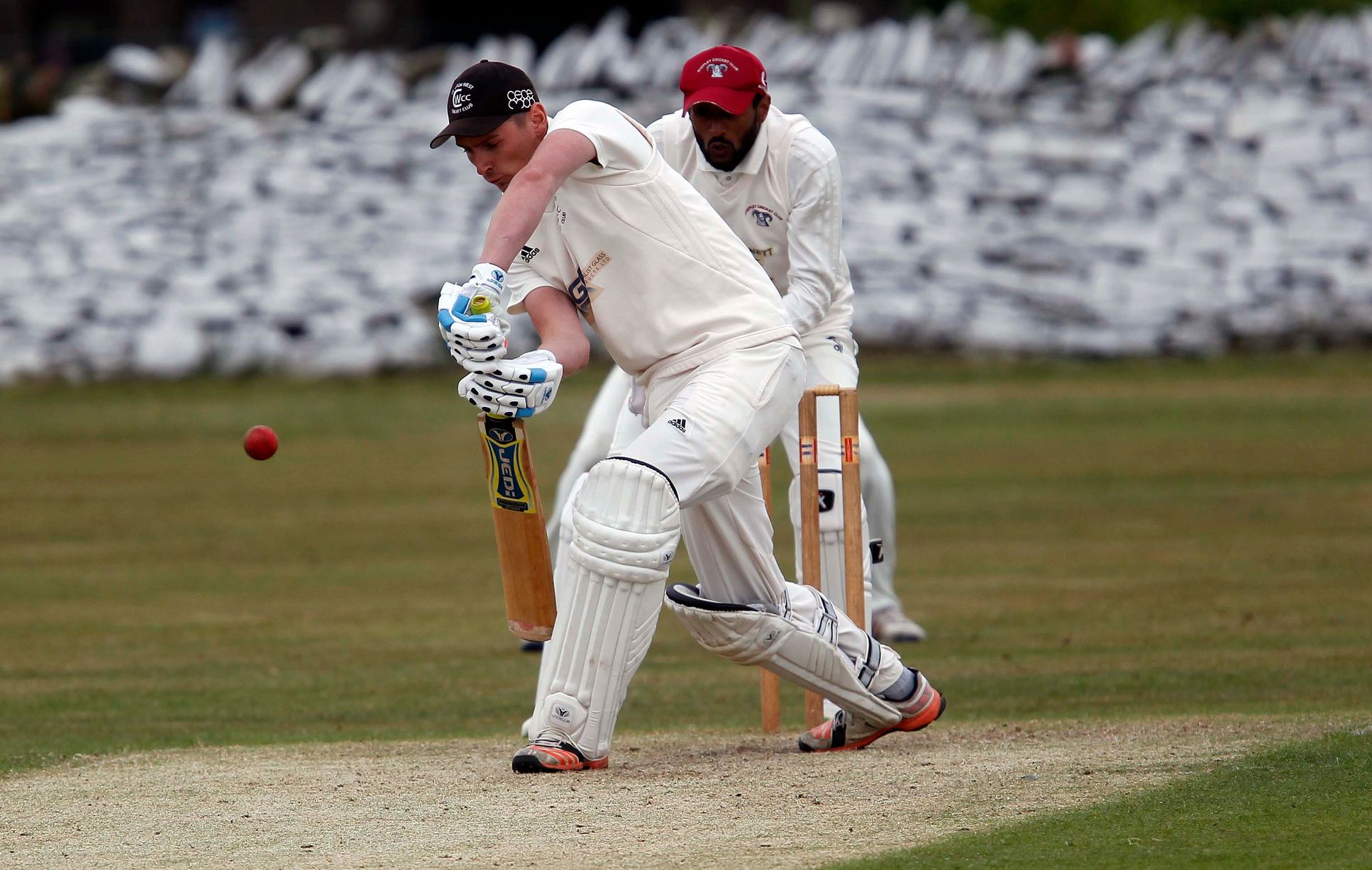 Clayton West were on hand to take advantage of whoever lost in the top of the table clash as they saw off Lepton Highlanders away from home. Overseas Phil Tunnicliffe (67) added more runs to a hugely successful personal campaign as Craig Glover's side posted 228-4 from their 50 overs. A pugnacious 66 from captain Danny Mulhall was the only highlight as Clayton West's bowlers asserted their control with Dan Barber (5-37, pictured above) taking his tally up to 46 wickets for the season, chalking up his fourth 5-wicket haul and resigning Lepton to defeat on 149ao meaning they remain in the relegation places in a three-way shootout at the bottom.
Meltham registered their first victory of the season and amazingly are still in with a shout of staying up, moving to within four points of safety following a vital win over Almondbury. The Meltham bowlers all clicked with Ibby Hussain (3-10) and Sagar Sawant (3-29) rifling through Almondbury who struggled to cope after being asked to bat first. Wicketkeeper Chris Buck (33no) top scored but it was a hugely below-par score of 154ao which they were ultimately unable to defend. Daniel Robinson (33) set the ball rolling but David Dyson (31no) and Kamran Muhammad (37no) steadied the ship with a fine 66-run partnership reaching 155-5 to bring home a much-needed first victory from a must-not-lose match.
Lascelles Hall have now slipped from top to sixth in a calamitous couple of weeks with their latest defeat coming at the hands of in-form Holmfirth. Seb Allen's improving side have a sense of togetherness running into a vital part of the season and they racked up 274-5 thanks to a big 77 from all-rounder Amar Rashid and useful contributions from Sami Ur-Rehman (45) and Josh Sedgewick (46no). Lascelles Hall's chase was impeded with Rashid (4-38) removing the dangerous Sheheryar Hassan (17) which sparked a collapse with the last six Hall batsmen all falling on single figures, leaving Matthew Simpson high and dry on 143ao. Aizaz Khan (4-17) also returned impressive figures as Holmfirth continue to climb the table.
Rastrick edged home in a thriller at Hill Top as Slaithwaite were denied a win to stay in touch with the top of the table. Visitors Rastrick defended a 241-9 total batting first with no less than nine batsmen reaching double figures. Ovais Hussain (61) completed a fine half-century with middle order batsmen Majid Khan (30) and Jacob Waterson (31no) chipping in with inputs that were to prove decisive. Sohail Butt (4-58) and Benn Thornton (3-31) were Slaithwaite's best bowlers on this occasion. The second innings was played virtually all in the balance as Wajid Hussain (45), Josh Chojnowski (51) and Harrison Quarmby (43) all raising anxiety levels amongst the Rastrick contingent as the pressure cooker bubbled. After Asif Afridi (3-24) and Jack Pearson (3-36) starred with the ball, Osama Ahmad (2-87) became the hero, returning at the death to take the final two Slaithwaite wickets leaving them crushingly 17 runs short on 224ao with two balls left.
Peter Dobson's six wicket booty wasn't enough for Elland to defend their low total as they were brought crashing back to earth by Skelmanthorpe following two consecutive league wins. Visiting captain Mike Kitson (4-52) was the star man with the ball as Elland were bowled out for 98 with Jacob Bower (30) top scoring. A routine victory looked on the cards for Skelmanthorpe after opener Dan Morgan (31no) batted with control starting off well. Dobson (6-36) then tore through the upper and middle order before number 9, Adam Rammell (37) dug in leading the visitors to safety on 100-7 inside 34 overs. Skelmanthorpe's win takes them to fifth in touching distance to the top.
Full scores:
Almondbury Wes 243-7 (F Walker 105no, C Stott 31, J Hoyle 42)
*Barkisland 219 (J Summerscales 50, J Finch 51, M Steers 39no; M Henshaw 4-48).
*Elland 98 (J Bower 30; M Kitson 4-52)
Skelmanthorpe 100-7 (D Morgan 31no, A Rammell 37no; P Dobson 6-36).
*Holmfirth 274-5 (A Rashid 77, J Sedgwick 46no)
Lascelles Hall 143 (A Rashid 4-48, A Khan 4-17).
Clayton West 228-4 (A Clegg 33, P Tunnicliffe 67no, C Bullock 29, D Barber 29no)
*Lepton Highlanders 149 (D Mulhall 66; D Barber 5-37).
Almondbury 154 (N Ayub 25, A Kamran 27, C Buck 33no; S Sawant 3-29, K Hussain 3-10)
*Meltham 155-5 D Robinson 33, D Dyson 31no, M Kamran 37no).
Rastrick 241-9
*Slaithwaite 224ao
Cedar Court Conference
Leaders Denby and second-placed Marsden strengthened their grip in the promotion places after third placed Cumberworth United slipped to defeat. Denby were easy winners at home to Linthwaite. The visitors' 129ao wasn't likely to test a side who have been rampant all season and they followed up Paul Goodman's (7-53, pictured below) good work with the ball with a comfortable chase as Matthew Smith (47) and Abdul Rehman (45) saw them home on 130-3.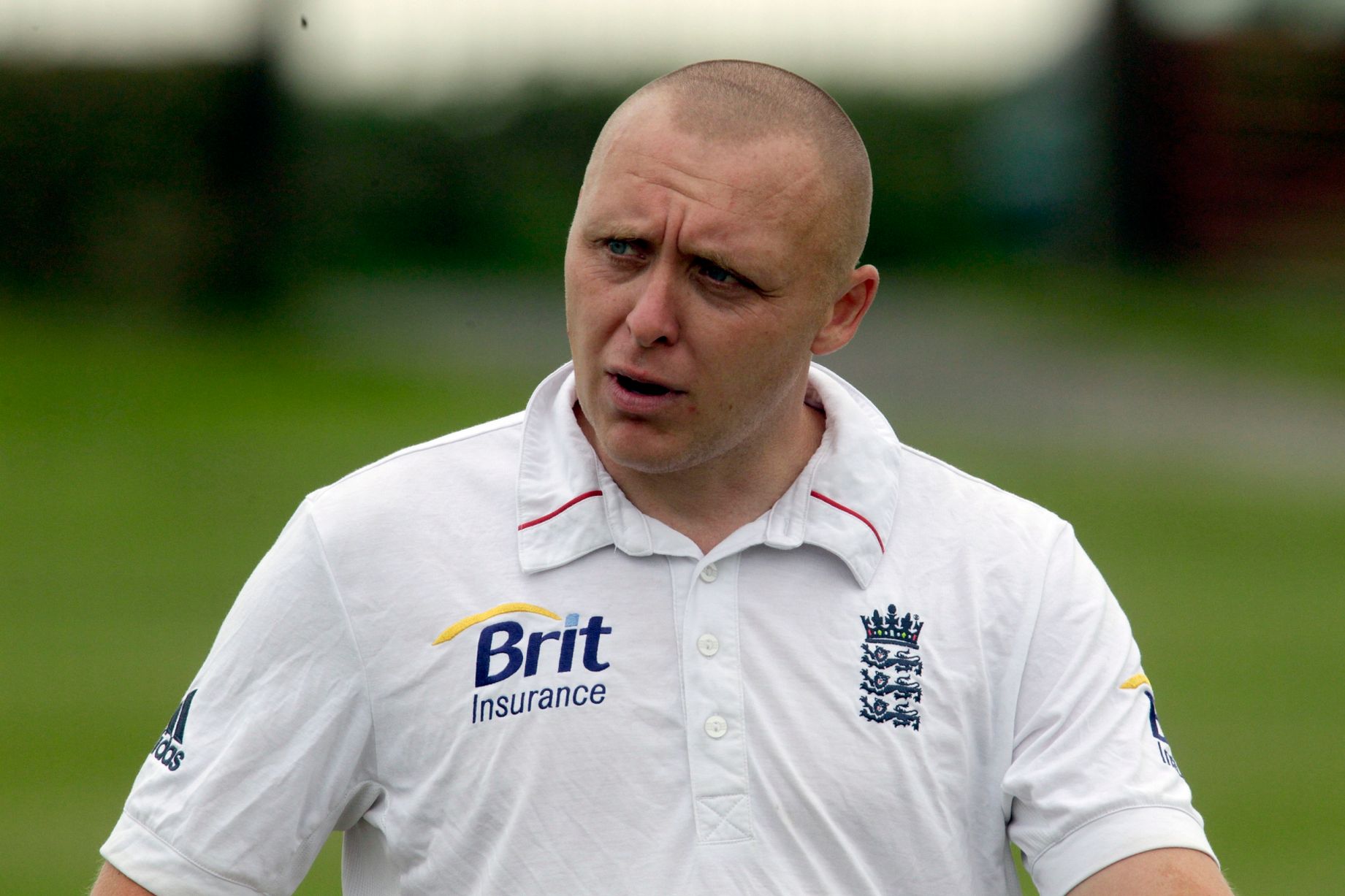 Marsden put their visitors Hall Bower emphatically to the sword after they were tested by a good bowling performance by Bower bowlers Ibrar Rafiq (3-34) and Faisar Siddiq (3-27) with experienced wicketkeeper batsman Matty Butters (42) top scoring with a crucial innings. However Marsden opening bowlers Sajid Ali (4-17) and Mark Johnson (3-35) made sure of the win as Hall Bower crashed on 111ao.
It was a damaging afternoon for Cumberworth United who were made to reflect on lost ground as Emley pummelled their way to 282-9 thanks to a stunning 148no from Kamran Saleem. He hit 17 fours and 9 sixes in an dazzling 98-ball performance as Emley put on an unassailable score. Cumberworth paced well in adversity reaching 141-5 with Reid Somani (67) and Jack Maskill (42). Mohammed Nabeel (6-56) put the skids under their middle order though and Cumberworth finished considerably short on 197ao following Nabeel's devastating display.
In the other matches, Thurstonland squeaked home in a last-wicket nailbiter at home to Mirfield as they chased down the visitors score of 154ao with a wicket to spare. Patrick O'Leary (26no) was the home team hero and Jack England took 5-26 in a memorable, nerve-shredding win. Upperthong defended their 181ao laid on with the help of a half-century from Tom Mighall (53) in a win away at Kirkheaton. Tom Charlesworth (5-35) snuffed out the hosts reply as they fell 19 runs short on 162ao. Finally, Birkby Rose Hill were distinctly second best at home to Denby Dale after they were bowled out for 138: Fred Stower (5-35) recording a five-fer and Ibby Hussain hitting 68no in Denby's reply of 139-2 and an 8 wicket victory.
Full scores:
*Birkby Rose Hill 138
Denby Dale 139-2.
Linthwaite 129
*Denby 130-3.
*Emley Clarence 282-9
Cumberworth Utd 197
Upperthong 181
*Kirkheaton 162
*Marsden 183
Hall Bower 111.
Mirfield 154
*Thurstonland 155-9.