The twists at the bottom of the Premiership table never fail to compel and the latest development in the saga in the basement saw Golcar romp to an emphatic victory to move them up four places with Shelley replacing them at the foot of the table. Leaders Hoylandswaine extended the gulf between them and second place to 22 points with a victory at home to Scholes as Honley lost vital momentum, slipping up at home to Moorlands. Danny Glover (featured image) scored a maiden first team century as Shepley won. Barkisland relinquished their position at the top of the Championship for only one week as they returned to the summit following Almondbury Wesleyans' home defeat to Slaithwaite. Holmfirth's phoenix-like ascendancy bore new teeth and saw them muscle into the promotion frame. In the Conference, the top two cannot be separated with Denby and Marsden sharing pole position after they both won.
Drakes Premiership
When you're floundering at the bottom of the table for much of the season, it helps to have a captain with the obvious all-round quality that Golcar's Steve Whitwam has and he stepped to the fore in sublime fashion as visitors Armitage Bridge were callously dismantled. Golcar's loss of the toss had little bearing on the match result after opening bowlers Sam Mills (2-27) and Will Hinchliffe (3-34) tore into the opening batsmen leaving the stage open for Whitwam (5-28). Bridge alarmingly toppled from a relatively safe position of 64-1 to 90ao as Whitwam's spin devastated the middle order; nine wickets fell for only 26 runs. Opening batsman Whitwam (66no) then took charge with a 49-ball innings to dominate the modest chase and reach 91-1 registering a huge win on an afternoon when their relegation rivals all lost.
Semi-final winners six days previously, Shepley made a tough trip to Thongsbridge look easy with a 55 run victory. They had to recover from a problematic 16-3 start batting first to put on 271ao after the hosts had the better of the early exchanges. Following a 72-run partnership between Greg Wood (39) and Nadim Hussain (31), the stage was set for one-club man Danny Glover (101) to reach his first ever first team ton in a fantastic 83-ball innings which contained 9 fours and 4 sixes. Archie Greaves (40) added a welcome total as the Thongsbridge bowlers waned with Haydn Slodecki (3-50) being the most fruitful. A dramatic home team collapse in the second innings turned the tide in Shepley's favour as six wickets fell for 21 runs. Thongsbridge were progressing serenely on 138-1 with Rory France (48) and Slodecki (68) rendering the normally potent Shepley bowling attack impuissant. Third-change seam bowler Nadim Hussain (8-48) had other ideas though as he ran through the Thongsbridge succession ending their chase on 216ao.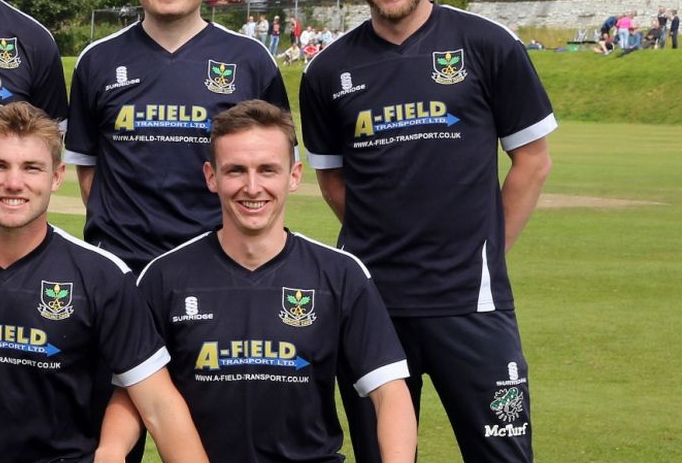 Charlie Roebuck (127) was in pulsating form for third-placed Broad Oak after clattering a century away at luckless Shelley. It was looking to be a long afternoon as Roebuck (pictured above) menaced the surrounding houses in his remarkable 84-ball innings; all achieved in the first 15 overs! He hammered 16 fours and 6 sixes before he became the first wicket to fall on 182-1. The rest of Broad Oak's 291ao total was achieved through more conventional scoring with a half-century from Dom Finn (50) and a useful 33 from wicketkeeper Tom McCreadie. Imran Zafar (7-72) returned a good yield as Shelley fought their way back into the contest. They welcomed back overseas Sikandar Raza Butt (107) and he registered his return with a fine run-a-ball century (6 fours, 7 sixes) which put Shelley in the hunt for an unlikely chase. However wickets fell too frequently for Shelley to make a tangible go of it and thanks to overseas Kyran Dill (4-53) and spinner Dan Taylor (4-50) Broad Oak ran out worthy winners as Shelley finished 220ao.
Moorlands rescued themselves from a daunting position at second-placed Honley to chalk up a striking win in a season blighted by inconsistency. The hosts worked themselves nicely to 169-3 with captain Timmy Taylor (63) and the experienced Ryan Robinson (48) preparing a good platform for a big score. Moorlands' bowlers Nicky Smith (4-58) and David Winn (4-31) tempered Honley's progress with the ball and the hosts had to be content with 207ao. Nathan Rabnott (97) missed the opportunity of a century in the reply but it sent Moorlands well on course for a remarkable victory with Eddie Walmsley (67) finishing the job as Moorlands' 208-4 was reached with more than ten overs remaining. Sam Denton (4-37) took all the wickets for Honley albeit somewhat in vain.
Hoylandswaine took full advantage of Honley's slip-up as they cantered to a routine home win against a Scholes side hampered by a trio of influential players sitting out due to suspension. The visitors endured a damaging collapse as they slid from 51-1 to 77-6 as strike bowler Adnan Ghani (3-58) and spinner Gurman Randhawa (3-31) dictated proceedings. Louis Brook (34) helped propel his side to 164ao inside 49 overs but it looked somewhat short of a total that would need to press the reigning champions. Yorkshire's Alex Lees (80no) took his tally to 935 runs in only 13 innings after Hoylandswaine shrugged off the early loss of Gharib Nawaz (11) and along with a fluid half-century from Saeed Anwar (58) Hoylandswaine notched up another victory towards a consecutive Byrom Shield title reaching 165-2 before the halfway point.
Kirkburton gained revenge for their loss at home to Mirfield Parish Cavaliers earlier in the season by overhauling their struggling hosts imposing score of 278-9. Parish batsmen were guilty of frittering away promising starts as every batsmen but two got scores deep into double figures with only one, Daniel Broadbent (66) converting his into a half-century. Andy Smith (3-104) had an unwanted century next to his name but he got his side off to the perfect start with a half century off 46 balls. Kirkburton went on to demonstrate the full value of converting scores as they kept vital wickets in hand with Jonny Butterfield (41), Toby Booth (82no) and captain Craig Fletcher (50no) all contributing match-winning inputs in Kirkburton's winning reply of 279-4. Kirkburton were victorious with a comfortable cushion of 20 balls remaining.
Sykes Cup finalists Delph & Dobcross emerged victorious at home to Cawthorne in a topsy-turvy match. Delph looked set to pile on a vast score at one point with Mosun Hussain (79) and Graeme Simpson (49) setting a solid platform for their power hitters down the order. To their credit, Cawthorne turned a daunting 131-1 score into 188-9 as Delph's middle order spectacularly combusted. Captain Liam Wiles (3-44) bowled with discipline to lead the way with Jacob Deavin-Baker (3-69) and Jonny Bennett (3-14) both combining to mop up the rest. Heavy overhead cloud offered classic seam and swing conditions for Delph, harnessed fully by Umer Yaqoob (5-36) who lay waste to a frail Cawthorne batting display as they substantially subsided from 36-0 to 69-8. Despite a breezy contribution from Adam Wiles (31), Cawthorne were well short on 97ao in reply.
Full scores:
*Delph & Dobcross 207 (M Hussain 79, G Simpson 49; L Wiles 3-44, J Deavin-Baker 3-69, J Bennett 3-14)
Cawthorne 97 (A Wiles 31no; U Yaqoob 5-36).
Armitage Bridge 90 (T Treadway 29; W Hinchliffe 3-35, S Whitwam 5-28)
*Golcar 91-1 (S Whitwam 66no).
*Honley 207 (S Kelly 32, R Jakeman 29, T Taylor 63, R Robinson 48; N Smith 4-58, D Winn 4-31)
Moorlands 208-4 (J Maxwell 26, N Rabnot 97, E Walmsley 67no; S Denton 4-37).
Scholes 164 (A Clegg 26, L Brook 34; A Ghani 3-58, G Randhawa 3-31)
*Hoylandswaine 165-2 (A Lees 80no, M Anwar 58).
*Mirfield PC 278-9 (T Orrell 25, D Butt 37, M Ali 27, D Broadbent 66, T James 26, D Hope 37; A Smith 3-104)
Kirkburton 279-4 (A Smith 51, J Butterfield 41, T Booth 82no, C Fletcher 50no).
Broad Oak 291 (C Roebuck 127, D Finn 50, H Booth 28, T McCreadie 33; I Zafar 7-72, M Bhoola 3-62)
*Shelley 220 (M Sykes 25, L Sykes 26, S Butt 107; K Dill 4-53, D Taylor 4-50).
Shepley 271 (G Wood 39, N Hussain 31, D Glover 101, A Greaves 40; H Slodecki 3-50)
*Thongsbridge 216 (R France 48, H Slodecki 68, B Balmforth 31; N Hussain 8-48).
Jedi Championship
Barkisland regained top spot in the Championship in a dominating display away at strugglers Almondbury. Fida Hussain (38) top scored in a below-par Almondbury performance which wasn't enough to severely test Darren Robinson's pacesetters with Matthew Steers (4-25) keeping them on a tight restraint. Barkisland cruised to victory in just 21 overs as Luke Bridges (36), Jamie Summerscales (26) and Jake Finch (25) ensured a swift return to the top of the table.
Almondbury Wesleyans' perch at the top was only enjoyed for one week after they crashed to a defeat at home to Slaithwaite, whose inconsistency is costing them a say in the promotion shake-up. Wesleyans were made to chase a 239ao score after Hasnat Yousaf (71) and Josh Chojnowski (57) half centuries set a decent first innings score. Losing their first three wickets in the space of just three runs hampered Wesleyans in the follow-up and things progressed from bad to worse later on as they slumped to 112-7 with captain Alex Walker (5-66) taking a five-fer and Chojnowski (4-29) causing damage. Despite overseas Freddie Walker (48) attempting to hold the innings together, Wesleyans were finished off finally on 167ao.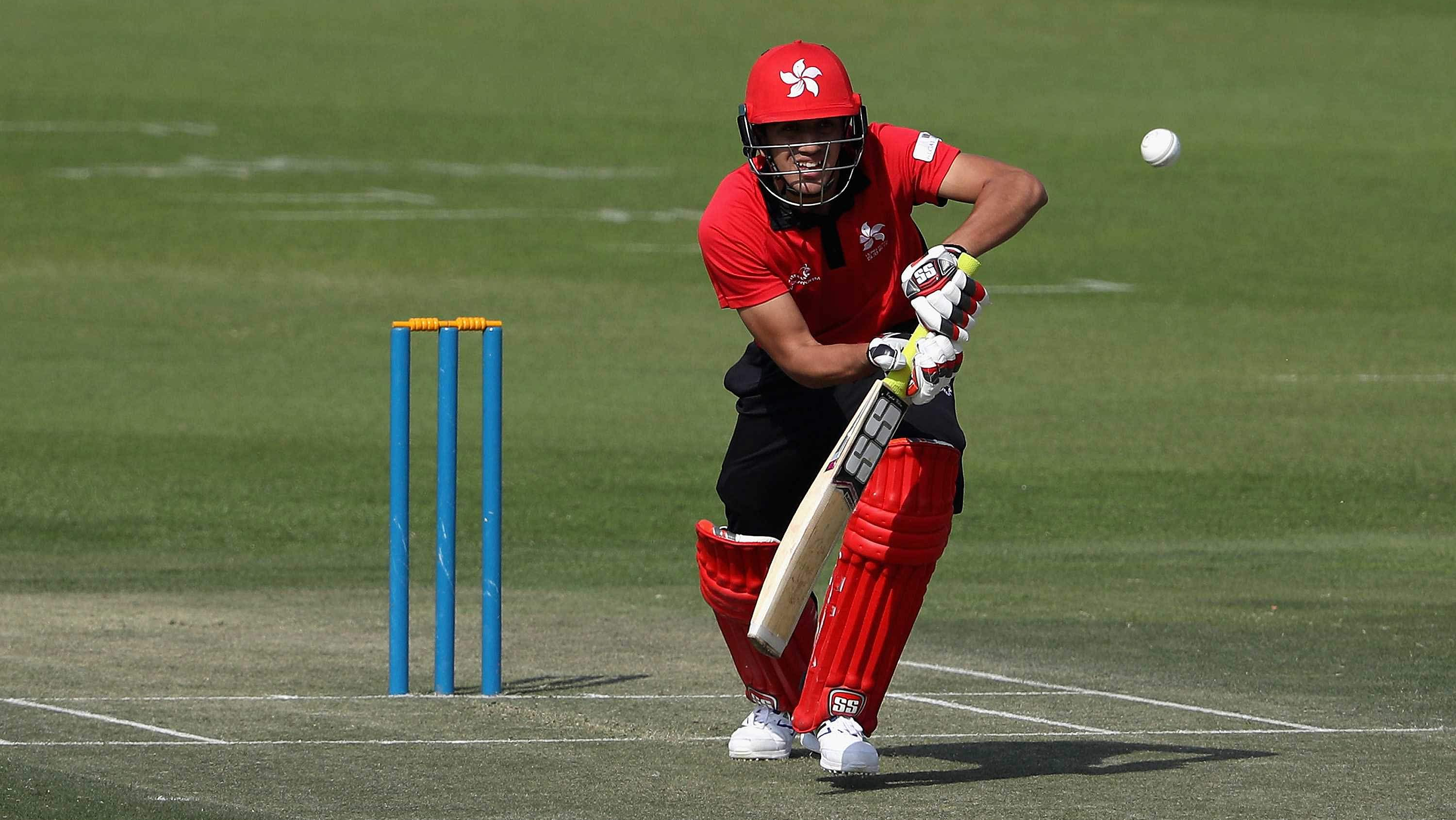 Clayton West were victims to Holmfirth's meteoric rise as they were blitzed by a breathtaking Aizaz Khan all-round display. Hong Konk international Khan (pictured above) top scored for visitors Holmfirth with a run-a-ball 88 as Holmfirth set 233ao on Clayton West's compact ground with home skipper Craig Glover (5-52) taking five wickets. This was more than enough however as Khan (6-16) ploughed through a sedentary performance by Clayton West with only opener David Swann (15) reaching double figures. Holmfirth bowled out the hosts for a meagre 43 to make it six wins in six.
What a difference a week makes. Two weeks ago Meltham were winless and seemingly rudderless however they made it back to back victories with a nail-biting success away at Skelmanthorpe. Opening batsman Sam Clegg (48) carved out what was to be a match-winning score although the rest of his teammates fell meekly in the visitors lowly score of 106ao with home captain Mike Kitson (6-43) registering his third 5+ wicket haul of the season. Skelmanthorpe were left kicking themselves for throwing away a winning position on 77-3 as Meltham bowler Sagar Sawant (4-40) steadily asserted control. Ibrar Hussain (2-8) then pitched in and the narrow win was secured with no. 10 Rob Bartram dramatically run out as Skelmanthorpe stumbled on 101ao.
Lascelles Hall are in freefall and they slumped to ninth in the table just three weeks after they occupied a joint top position. Elland made it five consecutive defeats for their plummeting hosts as they bowled them out for 122 with Matt Simpson (60) enjoying a century on a poor day for Lascelles Hall. Liam Fletcher (68no) and Ciaran O'Malley (44) made swift work of the chase as Elland leaped above their opponents by reaching 123-1.
James Anderson (5-21) scuppered any hopes Lepton Highlanders had of lifting themselves off the basement away at Rastrick. They were harried by the home bowlers all innings batting first and were worn down to 90ao off just 28 overs as Anderson wiped out the tail after Wasim Javed (2-11) and Asif Afridi (2-10) had caused a haemorrhage to the top order. The thoroughly one-sided win was complete as Asif Afridi (25no) carried his bat for a regulatory victory as Rastrick kept their promotion ambitions alive in fourth place.
Full scores:
*Almondbury 122-9 (M Mobeen 27, F Hussain 38no; S Moyle 3-30, M Steers 4-25)
Barkisland 125-5 (J Summerscales 26, J Finch 25, L Bridges 36; S Ali 4-43).
Slaithwaite 239 (H Yousaf 71, B Thornton 25, J Chojnowski 57, H Quarmby 39; B Shufflebotham 3-56)
*Almondbury Wes 167 (F Walker 48; J Chojnowski 4-29, A Walker 5-66).
Holmfirth 233 (M Gummerson 38, A Khan 88, S Allen 29; P Tunnicliffe 3-64, C Glover 5-52)
*Clayton West 43 (A Khan 6-16, M Gummerson 3-20)
*Lascelles Hall 122 (W Simpson 60; A Sims 3-39)
Elland 123-1 (L Fletcher 68no, C O'Malley 44).
Lepton Highlanders 90 (J Anderson 5-21)
*Rastrick 96-4 (A Afridi 25no).
Meltham 106 (S Clegg 48; M Kitson 6-43, R Bartram 3-25)
*Skelmanthorpe 101 (S Salant 4-40).
Cedar Court Conference
Marsden look set for a successful promotion campaign after they swept aside Mirfield on their travels. They set 230-7 with openers Max Berry (69) and Martin Kyle (63) inflicting the most damage. Jack McNamara (4-13) polished off an emphatic win with Mark Johnson (3-48) also influential in the win.
Denby made a testing run chase at Hall Bower look easy as they shared top position with Marsden in an 8-wicket win. Hall Bower scored 232-7 as wicketkeeper Danny Russell (86) top scored. Zafar Jadoon (4-35) for Denby yielded the best return with the ball. The run chase was paced perfectly with openers Mark Askham (81) and Matthew Smith (55) putting on 148 for the first wicket and Abdul Rehman (51no) finishing the job in the 43rd over. Denby finishing with 235-2.
Emley Clarence scored heavily for a third successive time as they totalled 327-8 against pitiful Linthwaite. Kamran Saleem (124) scored a brisk century with his innings coming in 71 balls with 15 fours and 7 sixes battered off the Linthwaite bowling. Despite a half-century from beleaguered captain Saif Rehman (54) Linthwaite were a long way off competing on 113ao.
Cumberworth United kept their fading hopes of promotion vaguely alive with a thrilling one wicket win at home to Kirkheaton. Reid Somani (84) hit his 500th run of the season in a decisive knock with number 11 bat Martin Kilner holding his nerve as they successfully chased down Kirkheaton's first innings score of 164-9.
Elsewhere Birkby Rose Hill defended their 245ao total away at Upperthong by bowling the hosts out for 176. Muhammad Imran putting a man of the match performance in with 91 and 5-56. Denby Dale chased down visitors Thurstonland's score of 179ao for the loss of seven wickets.
Full scores:
Kirkheaton 164-9
*Cumberworth Utd 168-9.
Thurstonland 179
*Denby Dale 180-7.
*Hall Bower 232-7
Denby 235-2.
Emley Clarence 327-8
*Linthwaite 113.
Marsden 229-7
*Mirfield 113.
Birkby Rose Hill 245
*Upperthong 176.