Three Premiership batsmen hit astronomical high notes with the bat on an eruptive afternoon. Will Fraine and Steve Whitwam both struck huge centuries for their respective clubs; Honley and Golcar whilst Chris Holliday (featured image) crashed a remarkable double century for Hoylandswaine. All of which have contributed on one day to giving the League Executive a tough decision for match-winning performance of the season. In the Championship, Lepton gave themselves a shot in the arm in their battle against the drop whilst their rivals lost and Barkisland eased home in a tough trip to Holmfirth. Denby took a big stride towards the Conference title by seeing off second place Marsden with Cumberworth United narrowing the gap to just six points.
Drakes Premiership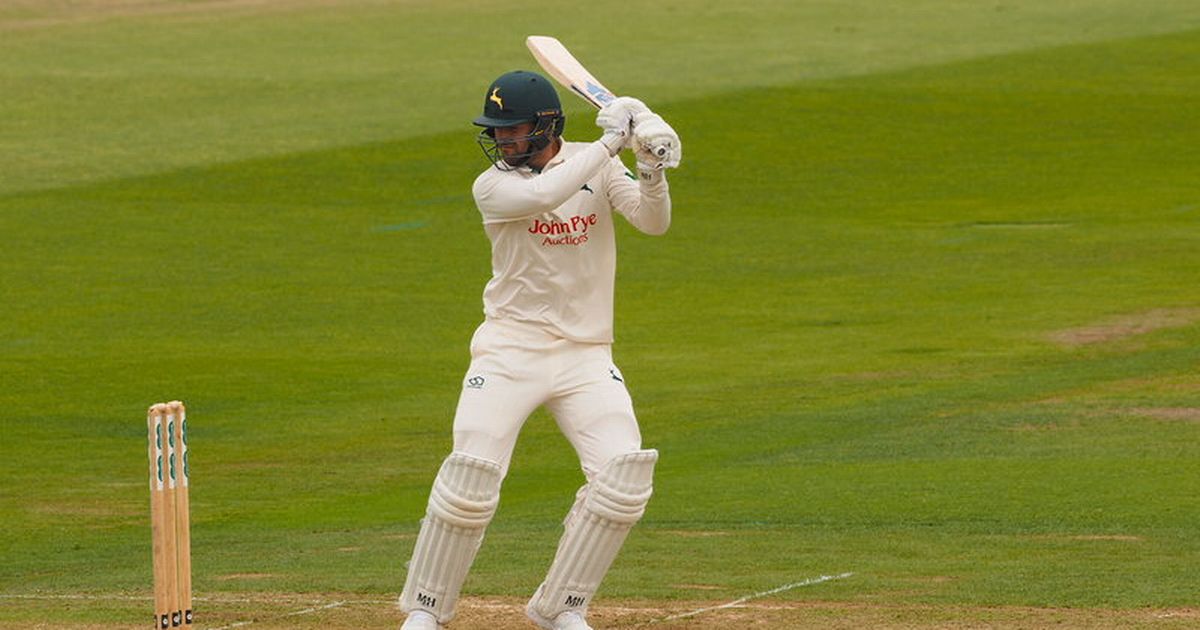 Records were ripped up in dramatic style as second place Honley won against all odds away at Delph in the most breathtaking of circumstances. It would have taken a brave person to bet against Delph at tea after they laid siege to the Honley bowlers in a powerful batting display where they racked up 316-7 batting first. Mosun Hussain (72) continued his fine run of form with the bat before Honley began to make inroads by removing dangerous players such as Graeme Simpson (27) and Chris Tipper (26) before they could cause severe havoc. Even Waqas Maqsood (29), being released from Pakistan international duty in time for the Sykes Cup final was taken out just at the right time but it left big-hitting lower order batters Wasim Qasim (62) and Luke Hargreaves (49) the platform to give it the long handle in the final ten overs. Never before has an away team chased down such a daunting total at Delph but the broken records didn't stop there. The fact that Honley overcame such a big target was remarkable enough, but the manner in which they did made the feat even more phenomenal. Opening batsmen Will Fraine (185no) and Simon Kelly (104no) went about their tasks with consummate ease and hammered a combined total of 51 boundaries. Fraine (pictured above) hit 19 fours and 13 sixes - many of which were hit deep into the surrounding fields - from 129 balls whilst Kelly (104) - not one used to playing a supporting role - struck 13 fours and 6 sixes from 92 balls. Amazingly there were still over thirteen overs left to play when the visitors passed their target reaching 320-0 in 36.3 overs with Fraine breaking the record for highest score by a Honley batsman away from home and highest ever Honley first wicket partnership on afternoon to savour for the Honley supporters.
It's largely been a season to forget for Golcar but they put their best performance of the season together when they travelled to bottom-placed Mirfield Parish Cavaliers who are enduring a torrid run. Captain Steve Whitwam (171no) reigned down suffering on a troubled Parish bowling attack already smarting from heavy defeats by Delph & Dobcross and Honley in the previous two matches. Whitwam's 152-ball innings contained 16 fours and 11 sixes as Golcar gained vengeance for their Sykes Cup defeat on their previous visit to the Parish this season. Other Golcar batters contributed to lesser effect with Abdul Wahid (31), Jake Lockwood (25) and Oliver Pearson (25) chipping in to put on 316-7 at tea. Whitwam completed a marvellous all-round display by taking five wickets in the reply as the Cavaliers understandably wilted. Pearson (3-55) also helped wrap up the win as Parish stumbled to 169ao with only dependable skipper Tim Orrell (44) and Aiden Hawkesworth (60) making a dent in the target. Parish are quickly finding matches running out and the gap to safety getting larger.
Hoylandswaine helped themselves to their second 400+ score of the season as their intoxicating batting strength peaked once again away at Kirkburton. There seemed little sign of what was to come after Kirkburton removed powerful top two Gharib Nawaz (34) and new Durham signing Alex Lees (25) followed by skipper SP Singh. Saeed Anwar (62) steadied the ship with typical professionalism allowing Chris Holliday (224no) centre stage to utterly obliterate the Kirkburton bowlers with a searing batting display. Holliday launched an aggressive offensive in just 126 balls hitting an incredible 33 fours and 8 sixes as Hoylandswaine posted the days largest score of 429-5 at the break. This considerably took the wind from the Kirkburton sails who managed 116ao in reply with opener Andrew Smith (37) and Luke Williamson (41) the only two batters to reach double figures. Gurman Randhawa (3-38) returning to his former club and Usman Arshad (3-11) cleaned up with the ball in a dominating win for the leaders.
Shepley secured a good win to pull back Broad Oak's progress who slipped to fourth, an achievement made all the more impressive by doing it with ten players after leading wicket taker Nasir Jamal dropped out close to the start with an arm injury. Shepley were also missing influential seam bowler Nadim Hussain but their fringe bowlers all stepped up to the plate with spinners Ollie Davidson (3-18) and Abbas Ahmed (3-33) doing the damage. Oak never felt comfortable and were indebted to their overseas Kyran Dill (35) who again applied glue to the innings as the hosts steadied from 104-8 to reach 151ao. Shepley themselves were in an awkward position at 64-4 in reply but Australian John Anderson (81no) played a fine, decisive 87-ball innings to see his side home on 157-6. Alex Slack (3-52) put in a good performance in his final match of the season before moving away but it was too little, too late for Broad Oak.
A superb team performance by Cawthorne took them to a win at home to fellow strugglers Shelley. There were contributions right down the order for the Barnsley-based outfit with Iqbal Khan (45), Nathan Buck (40), Liam Wiles (33) and Michael Burgess (36no) and Luke Robinson (33no) all boosting the score as Cawthorne made 247-8. Shelley bowlers Sikandar Butt (3-62) and Imran Zafar (3-82) performed best but it was another chastening day for Harvey Jones' travelling side. The return of Northamptonshire's Nathan Buck clearly must have given Cawthorne invigorating encouragement along with a healthy first innings score but it was West Indian import Kimson Dalzell (5-35) who overshadowed him in the bowling stakes by removing the first three Shelley batsmen without troubling the scorers. Dalzell took two more wickets with Jacob Deavin-Baker (2-33) to put Shelley well out of contention at 75-7 but the visitors restored a little pride with a half-century from the experienced local-based Sri Lankan Ranjith Bandula-Don (52) as Shelley finalised on 183ao.
Thongsbridge moved up to a season's high of third place with a well-earned win away at Armitage Bridge although the hosts had them worried in a low-scoring match. Batting first, Armitage Bridge found the going tough as opening bowler Zafar Iqbal (3-38) controlled the opening exchanges. A 56-run stand between Jack Hinchliffe (21no) and Daniel Moorhouse (31) managed to reimpose the hosts but James Thompson (3-8) made a second breakthrough to reduce the home side to a below-par 129ao. Thongsbridge looked to be cantering to an easy victory at 83-2 before Moorhouse (7-43) began to turn the match his sides way with a strong spell of spin bowling to first uproot the captain Ben Raven-Hill (43) and then Richard Marshall (23). Rory France (23no) diligently dropped anchor and expertly guided his side home with only two wickets remaining.
Josh Brook put in a captain's performance leading his side to a welcome win to put behind them a turbulent five match winless run, wracked by missing key players. They welcomed back James Noble and Tom Brook and went on to convincingly defeat visiting Moorlands with a blistering second innings bowling performance. Scholes had to defend a slender first innings score of 177-9 with Moorlands bowlers Nicky Smith (3-46) and Dave Winn (4-21) keeping tabs on the hosts progress. Ishan Rangana (37) and Noble (45) helped eradicate a poor start to build a score to defend and that they did by taking advantage of Moorlands' soft underbelly with the bat. Josh Brook (6-21) and brother Tom (3-31) went to work on the visitors fragility after they reached a decent position on 72-3. Moorlands lost their last seven wickets for a dismal 17 runs and crashed to defeat at 89ao in 23 overs.
Full Scores:
*Armitage Bridge 129 (D Moorhouse 31; Z Iqbal 3-38, J Thompson 3-8)
Thongsbridge 132-8 (B Raven-Hill 43; D Moorhouse 7-43).
*Broad Oak 151 (J Hargreaves 31, K Dill 35; O Davidson 3-18, A Ahmed 3-33)
Shepley 157-6 (J Anderson 81no, D Glover 28; A Slack 3-52).
*Cawthorne 247-8 (I Khan 45, N Buck 40, L Wiles 37, M Burgess 36no, L Robinson 33no; S Butt 3-62, I Zafar 3-82)
Shelley 183 (R Bandula-Don 62, M Sykes 29; K Dalzell 5-35).
*Delph & Dobcross 316-7 (M Hussain 72, G Simpson 27, C Tipper 26, W Maqsood 29, W Qasim 62, L Hargreaves 49no; L Kenworthy 4-80)
Honley 320-0 (W Fraine 185no, S Kelly 104no).
Hoylandswaine 429-5 (C Holliday 224no, S Anwar 62, M Joice 37)
*Kirkburton 116 (G Randhawa 3-38, U Arshad 3-11).
Golcar 316-7 (S Whitwam 171, A Wahid 31, J Lockwood 25, O Pearson 25; J Hardcastle 3-80)
*Mirfield PC 169 (T Orrell 44, A Hawkesworth 60; S Whitwam 5-33, O Pearson 3-55).
*Scholes 177-9 (I Rangana 37, J Boble 45; N Smith 3-46, D Winn 4-21)
Moorlands 89 (M Rounding 28; T Brook 3-31, J Brook 6-21).
Jedi Championship
Barkisland overcame their stiffest test yet with flying colours by brushing aside a Holmfirth side who have risen phoenix-like in recent weeks. A commanding performance with the ball by Darren Robinson's side set the tone with Jamie Sykes (4-31) claiming the valuable scalp of Hong Kong international Aizaz Khan (31) among his four victims. With Luke Bridges dismissing another star performer Amar Rashid it was left for Robinson (4-8) to clinically mop up the tail leaving Holmfirth having to defend a slim target of 128ao. Barkisland weren't going to miss such a big opportunity to maintain a healthy lead at the top of the table and opener Matthew Weston (37) played his part in a fine victory with Jake Finch (22) and Bridges (41no) ensuring they returned home with a valuable win.
Hanging on to Barkisland's coat tails are Almondbury Wesleyans and they negotiated a tricky test at Hullen Edge by successfully chasing down a strong Elland first innings score of 212-8. An excellent century by Ciaran O'Malley (101) provided the bedrock of the innings with no other Elland batsman higher than the mid-teens. Overseas Freddy Walker (3-59) equalled that with a century of his own as he scored an unbeaten 102 and he was well supported by a crucial half-century from Matt Henshaw (57). With Henshaw out, the task was left to wicketkeeper Jonny Hoyle (18no) who guided Wesleyans home on 214-5 with 13 balls left, despite 3-47 from Jack Hendy.
An After the Lord Mayor's Show blighted T20 Shield winners Slaithwaite as their promotion hopes took a blow with a defeat at strugglers Lepton Highlanders. A disastrous start batting first forced Slaithwaite to rebuild from 35-5. An 81-run partnership between Chris Coleman (41) and Sohail Butt (44) appeared to put the visitors back on track but Lepton skipper Danny Mulhall (5-47) had Slaithwaite on the back foot again to reduce them to 141-9. Sloppy bowling allowed last man Alex Woodworth (41no) to pile on some bonus runs as Slaithwaite finished on 204ao in the last over. Lepton then put in a good performance with the bat and their victory was achieved mainly to a studious opening partnership of 66 between Mohammed Ishan (53) and Tony Mulhall (14). Asif Hussain (44) put the hosts in command and contributions from the skipper Mulhall (20) and Matthew Dickenson (24no) got them to 208-7 and assured a vital win that opened up a seven point gap from bottom-placed Almondbury.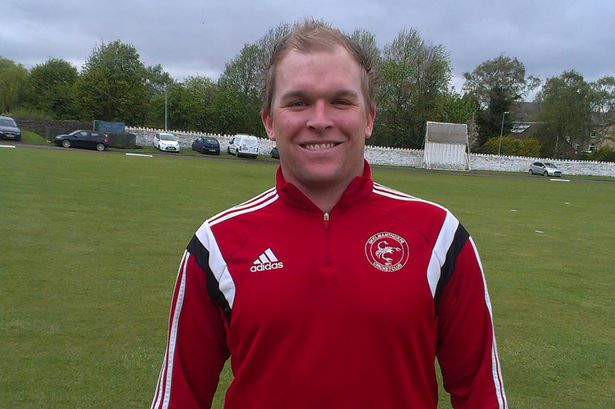 Not a single player reached double figures for Clayton West whose strong first half to the season seem a distant memory in their latest failing away at Skelmanthorpe. The hosts were rampant with the ball with opening bowler James Crossland (7-37) in particular in blistering form. Crossland (pictured above), standing in as captain in the absence of Mike Kitson, removed the top six Clayton West batsmen and never took his foot off their throat with Asif Hooper (3-5) finishing off the rest in a scant total of 54ao. Skelmanthorpe completed an easy win by reaching 56-3 in reply with Jordan Greaves (19) and Hooper (12) getting Skelmanthorpe back to winning ways.
Lascelles Hall rose to fourth as they put rock-bottom Almondbury to the sword in a 144-run rout at home. Hall piled on 337-5 batting first with George Somerville (61), Sheheryar Hassan (83), Will Simpson (68) and Gavin Smith (38no) all scoring heavily for the hosts. Hassan (4-40) was also amongst the wickets with him and Zeeshan Khan (3-69) stopping the visitors from building any dangerous partnerships as several Almondbury batsmen failed to convert chances. Atif Kamran (34) and Fida Hussain (32) top scored but it was another loss as the Fernsiders slumped to 193ao and their seventh straight defeat of a difficult campaign.
With only one team going down from the Championship, Meltham will be grateful for their 14 point cushion as their four match winning streak came to an end at home to promotion-chasers Rastrick in a low-scoring match. Rastrick's decision to bat first looked to be questionable when they were reduced early to 16-4. Majid Khan (41) kept his head when most of his teammates were losing theirs as Ibrar Hussain (4-23) whittled down the rest and finished with Khan. Rastrick, all out for 102. However when you possess bowlers of the quality of Asif Afridi and Osama Ahmad you're never quite out of the game and both took five wickets apiece to obliterate Meltham's reply. Afridi (5-22) and Ahmad (5-35) crushed Meltham with all but one batter, Sagar Sawant (17) falling in single figures including five ducks in a disappointing reply of 62ao.
Full Scores:
*Elland 212-8 (C O'Malley 101; F Walker 3-59)
Almondbury Wes 214-5 (F Walker 102no, M Henshaw 57; J Hendy 3-47).
*Holmfirth 128 (C Cowell 32, A Khan 31; J Sykes 4-31, D Robinson 4-8)
Barkisland 129-3 (M Weston 37, L Bridges 41).
*Lascelles Hall 337-5 (S Hassan 83, W Simpson 68)
Almondbury 193 (A Kamran 34; S Hassan 4-41).
Slaithwaite 204 (C Coleman 41, S Butt 44, A Woodworth 41no; I Khan 3-51, D Mulhall 5-477)
*Lepton Highlanders 208-7 (M Ihsan 53, A Hussain 44).
Rastrick 102 (M Khan 41; I Hussain 4-23)
*Meltham 62 (A Afridi 5-22, O Ahmad 5-35).
Clayton West 54 (J Crossland 7-37, A Hooper 3-5)
*Skelmanthorpe 56-3
Cedar Court Conference
The battle at the top took a pivotal turn when leaders Denby faced down second-place Marsden at home. Denby were restricted to 210ao in 49 overs after electing to bat first. Three Denby batsmen couldn't get a hat round for a collection with Abdul Rehman (40), Jimmy Gumpert (42) and Paul Goodman (44) all falling with similar scores. Wickets were shared around for the visitors as Danny Clee (3-62) claimed the most. Marsden were left deflated early in the second innings as skipper Goodman (4-35) inflicted a terminal blow to reduce the visitors to 10-3. They then slid further to 49-7 as Denby maintained a firm grip and Zafar Jadoon (3-29) helped complete the win with Marsden crashing to 99ao.
Cumberworth United cashed in to Marsden's failings by seeing off Denby Dale at home in a 136-run victory. A half-century from Jack Maskell (53) inserted steel into a first innings score of 232ao which Denby Dale couldn't get close to thanks to a five wicket haul from Josh Kilner (5-35) in a Dale reply of 96ao.
Elsewhere Linthwaite failed to lift themselves off the bottom with defeat at Upperthong. Kirkheaton won a tense match by 3 wickets at home to Mirfield and Emley Clarence saw off visitors Thurstonland by 4 wickets.
Full Scores:
*Birkby Rose Hill 195
Hall Bower 175-4.
*Cumberworth Utd 232
Denby Dale 96.
*Denby 210
Marsden 99.
Thurstonland 182
*Emley Clarence 183-6.
Mirfield 195
*Kirkheaton 199-7
Linthwaite 114-9
*Upperthong 116-4.