Hoylandswaine have potentially put themselves within one match of retaining the Byrom Shield after a sublime ton by Saeed Anwar (main image) hammered another nail in the coffin of unfortunate Mirfield Parish Cavaliers. Their closest rivals Honley slipped to a surprise home defeat which leaves their title ambitions hanging by the thinnest thread. Shepley put their Sykes Cup disappointments firmly behind them with a overwhelming demolition of Scholes with Sykes Cup winners Delph also victorious away at Golcar. A gap has opened in the Championship promotion chase with leaders Barkisland having their lead clipped to two points with Almondbury Wesleyans and Rastrick in close pursuit after securing vital wins. Denby's promotion looks all but secured as they took another firm step in the right direction after seeing off local rivals Denby Dale. Marsden and Cumberworth United both won as they continue to battle it out for the remaining place.
Appreciation to Onion Bag Photography for the featured image
Drakes Premiership
Honley's title hopes took a colossal blow after they were humbled at home to Broad Oak to leave them with a huge gap of 23 points behind leaders Hoylandswaine with only 30 points left to play for. Honley who had scored 625 runs on the previous two matches struggled for fluidity as visiting Broad Oak controlled the match from start to finish. The hosts were rattled at 11-3 after bowlers Kyran Dill and Harvey Booth removed much of the upper order with prolific opening batsman Simon Kelly resorting to dig himself in. Kelly (48) managed to put together a partnership with Lewis Kenworthy (29) to take Honley to 85-3 but Oak spinners John Keeling (3-34) and Dan Taylor (4-35) then hit back to dislodge the two Honley batsmen and rattle through the rest to leave Honley with a 112ao total to defend. Jack Hargreaves' men went about the reply in workmanlike fashion. Opener Charlie Roebuck (26) went first but steady partnerships followed with Hargreaves (23) and Harvey Booth (20no) ticking off the runs they needed to complete an impressive double over Honley whilst causing serious damage to their fading title hopes.
A fine 96-ball century from Hoylandswaine overseas Saeed Anwar, his second of the season, enabled his side to routinely chase down a sub-par Mirfield Parish Cavaliers total to move them one step closer to retaining the Byrom Shield for the fourth time in their decade-long Huddersfield League history. Parish, whilst not quite dead and buried will require a remarkable turnaround in fortunes to avoid relegation after one season in the top flight. Familiar flaws returned to haunt them as they failed to put together a strong enough score to cause any concern for the home side. Seven visiting batsmen managed to record double figures yet none could turn their performance into a matchwinning contribution with Daniel Broadbent (32) totalling the highest score. Adnan Ghani (4-39) was again amongst the wickets as he chalked up his 47th of the season. The opening bowler has been in fantastic form and had solid support from the consistent Gurman Randhawa (3-30) who himself has snared some 85 wickets and hasn't failed to take one stretching back for eleven matches. Parish, hampered with disruption to their momentum slewed their way to 183ao and had a flicker of hope early in the reply after opening bowler Dan Hope (3-54) removed the two opening Hoylandswaine batsmen cheaply with the score just 20-2. Anwar (100no) then showed his class with a graceful ton dispatching 14 fours and 4 sixes in a virtual run-per-ball unbeaten innings. He, along with the free-scoring Chris Holliday (33) and Max Joice (24no) sent the current champions to another conquest ahead of a trip to Delph & Dobcross where a win combined with results going their way will see them once again lift the Byrom Shield.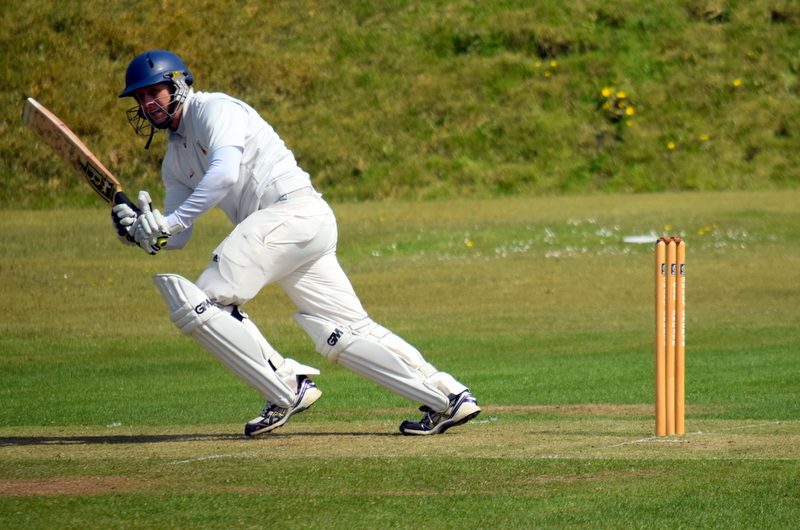 The closest match of the afternoon saw Armitage Bridge edge out their hosts Moorlands by the narrow margin of 7 runs. A fine century off 102 balls by Bridge's Robin Broom (113, pictured above) helped set 246ao after recovering from 10-2. Darrell Sykes (6-60) was in fine fettle with the ball for Moorlands but they key scalp of Broom ultimately came at too high a cost. Moorlands were guilty of letting the match slip from their grasp as they looked well set on 182-3 as captain Andrew Fortis (84) and Dave Winn (72) put the hosts in control. Bridge made the breakthrough when second teamer Joe Atkin (1-24) removed Fortis and Winn was dismissed by New Zealander Tony Treadaway, both falling to catches by Danny Moorhouse. A catastrophic collapse infected Moorlands as spinner Jaycub Curtling (2-53) was introduced and in the nervy final overs the home side's batsmen were suffocated as Moorlands were forced to settle on 239-7 in reply and two batting points.
Thongsbridge notched their fourth consecutive win in a memorable season to hold onto third place against visiting Cawthorne. Zafar Iqbal (4-22) was a constant thorn in the side of Liam Wiles' troubled visitors as Cawthorne were bowled out for 134 with Ben Simpson (33) top scoring. Two wickets each were nabbed by Ben Raven-Hill (2-51) and the in-form James Thompson (2-11) to restrict Cawthorne. Thongsbridge had to recover losing Raven-Hill in the first over without scoring but they have power further down as Richard Marshall (46), Haydn Slodecki (23) and Jack Cassidy (37no) ensured that was as much joy the visitors would extract and they went on to post 138-4 in 15 overs.
Delph's opening bowler Uber Yaqoob (8-28) put in a season's best performance to dampen Golcar's recent resurgence at Swallow Lane. Steve Whitwam's side have enjoyed a timely run of victories to push them into safer waters but they came up second best against a rampant Yaqoob. Delph were missing fellow quick bowler Wasim Qasim but his team-mate Yaqoob more than made up for it with a virtuoso display of seam bowling. Lancashire's Arron Lilley (2-49) also chipped in with both bowling right through as Golcar were skittled out for 80 after being asked to bat first. The Sykes Cup winners went about the small chase with minimal fuss as Mosun Husain (47no) took his season's tally to over 1,000 league and Cup runs. Graeme Simpson (18no) also finished unbeaten to ease the visitors home at 82-1 in just 15 overs.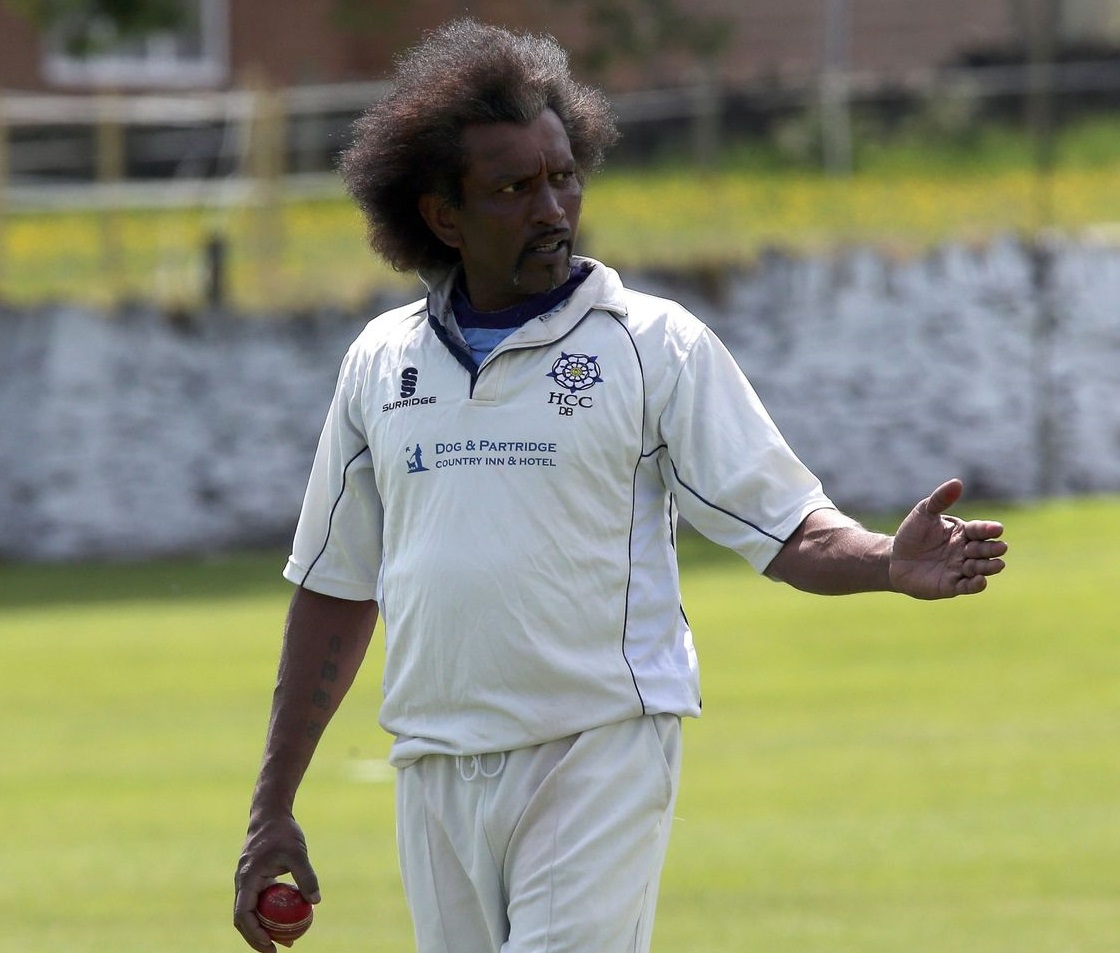 Ranjith Bandula-Don (7-34) was in impeccable form for his Shelley team as they won local bragging rights at home to near-neighbours Kirkburton. The veteran expatriated Sri-Lankan scythed through the visitors ranks removing the top six 'Burton batsmen. He collected another wicket later on and overseas Sikandar Raza (2-15) mopped up the rest as Craig Fletcher's stunned visitors were knocked over for 93. Bandula-Don (pictured above) capped a superb all-round performance by scoring 39no with the bat and he, along with Raza (22) secured a win by leading them to 94-3 which all but certainly guarantees Premiership cricket for the 2019 season, barring a disaster. Harvey Jones' men can be sure of safety with a win in a crunch fixture away at Mirfield Parish Cavaliers in the next matchday on August 25th.
Shepley shrugged off their Sykes Cup dismay by crushing Scholes at Marsh Lane. Runs flowed through the Shepley order with three half-centuries from Dan Wood (82), John Anderson (51) and captain Greg Wood (61) amongst several other Shepley contributions which enabled them to impose themselves with a 291-9 total. Tom Chadwick (4-68) was the only visiting bowler to return pleasing figures in a fairly one-sided contest. In reply, Scholes lost both Alex Clegg and Yaazar Imtiaz in the first over to Nasir Jamal (2-17) but Chadwick (27) and overseas Ishan Rangana (48) then steadily rebuilt. However Shepley weren't to be denied a win which solidifies their place in the top five and Danny Glover (3-40) and the returning Nadim Hussain (2-15) put the visitors through the ringer as Scholes subsided to 152ao in 36 overs.
Full Scores
*Golcar 80 (U Yaqoob 8-28)
Delph & Dobcross 82-1 (M Hussain 47no).
*Honley 112 (S Kelly 48, L Kenworthy 29; J Keeling 3-34, D Taylor 4-35)
Broad Oak 113-5 (C Roebuck 26).
Mirfield PC 183 (D Broadbent 32, M Suleman 26no; A Ghani 4-39, G Randhawa 3-33)
*Hoylandswaine 186-4 (M Anwar 100no, C Holliday 33; D Hope 3-54).
Armitage Bridge 246 (J Curtling 29, R Broom 113; D Sykes 6-60)
*Moorlands 239-7 (A Fortis 84, D Winn 72).
Kirkburton 93 (R Bandula-Don 7-30)
*Shelley 94-3.
*Shepley 291-9 (D Wood 82, J Anderson 51, G Wood 61; T Chadwick 4-68)
Scholes 152 (T Chadwick 27, I Rangara 48; D Glover 3-40).
Cawthorne 134 (B Simpson 33; Z Iqbal 4-22)
*Thongsbridge 138-4 (R Marshall 46, J Cassidy 37no).
Jedi Championship
Two centuries bookended the local derby between leaders Barkisland and promotion hopefuls Elland and it was Elland who returned home happiest after recording a vital morale-boosting win that keeps alive their faint promotion hopes with four matches remaining. Luke Bridges (116no) registered a fine ton with a 101-ball knock that contained 12 fours and 7 sixes. Only James Summerscales (29) made an alternate impression as Barkisland lost too many wickets attempting to push the target out of the reach of their visiting neighbours, rounding on 216-8. Elland's follow-up was solid and steady with Liam Fletcher (101) at the heart of their reply. Fletcher scored his patiently in 123 balls with 14 fours and 1 six. Elland survived a little wobble when they slipped from 66-1 to 106-4 but captain Alastair Finn (37no) took his side to the cusp of victory. When Fletcher finally departed Elland only needed a handful of runs to win and they made sure by reaching 217-6 with 14 balls remaining.
At the bottom of the table, Lepton Highlanders virtually made sure of their survival with a comprehensive defeat over bottom-placed Almondbury. Jamil Ahmed (7-53) put in a remarkable performance with the ball and still ended up on the losing side as runs leaked from his teammates. Sajid Bashir (82) and Asif Hussain (82) ensured Lepton had a firm foundation and despite a middle-order wobble, Matt Dickenson (24) and Jack Mulhall (23no) flashed the willow in the later overs to help Lepton set 274-8. They then followed this up with a near-faultless bowling performance to stun their hosts who are mired in trouble at the bottom. Mulhall (5-26) and Imran Khan (5-33) both took worthy plaudits as they rolled their rivals over for 70 in 25 overs.
Almondbury Wesleyans made it back to back wins with a routine dismantling of lowly visitors Meltham. They made the worst possible start after losing two wickets in the second over to leave them reeling. Sam Clegg (39) helped them re-establish themselves and a half-century from Ibrar Hussain (58) injected some hope into Meltham's innings. Despite Abdul Hamid (30) also impressing, Meltham couldn't continue to put pressure on the hosts who Zuhaib Tanweer (3-36) did most damage with the ball and Meltham were restricted to 182ao. Wesleyans were able to pursue the target with relative ease as opener Alex Taylor (46) and skipper Will Binns (31) set them up. Overseas Freddie Walker (49no) carried his bat as Wesleyans replied with 183-4 inside 36 overs to stay in second place.
Rastrick who twice in two years have been thwarted in their bid for promotion are in a good position to make it third time lucky as they overcame Skelmanthorpe at Round Hill. Wasim Javed (4-14) was in unplayable form with the ball as visiting Shat first recovered from 4-2 to rebuild to 92-3 with both Adam Rammell (43) and Asif Hooper (41) squandering half-century opportunities. Skelmanthorpe then abruptly abated to 132ao as James Anderson (3-18) made the original breakthrough and Javed mopped up the tail. Skelmanthorpe made a routine chase interesting after Hooper (2-35) and Rammell (3-45) reduced Rastrick from 41-1 to 47-4 with clear dangerman Asif Afridi (6) sent back to the hut. A standout innings from middle-order batsman Majid Khan (69) settled things down for the promotion chasers however and they cruised home on 138-5 with ten overs left.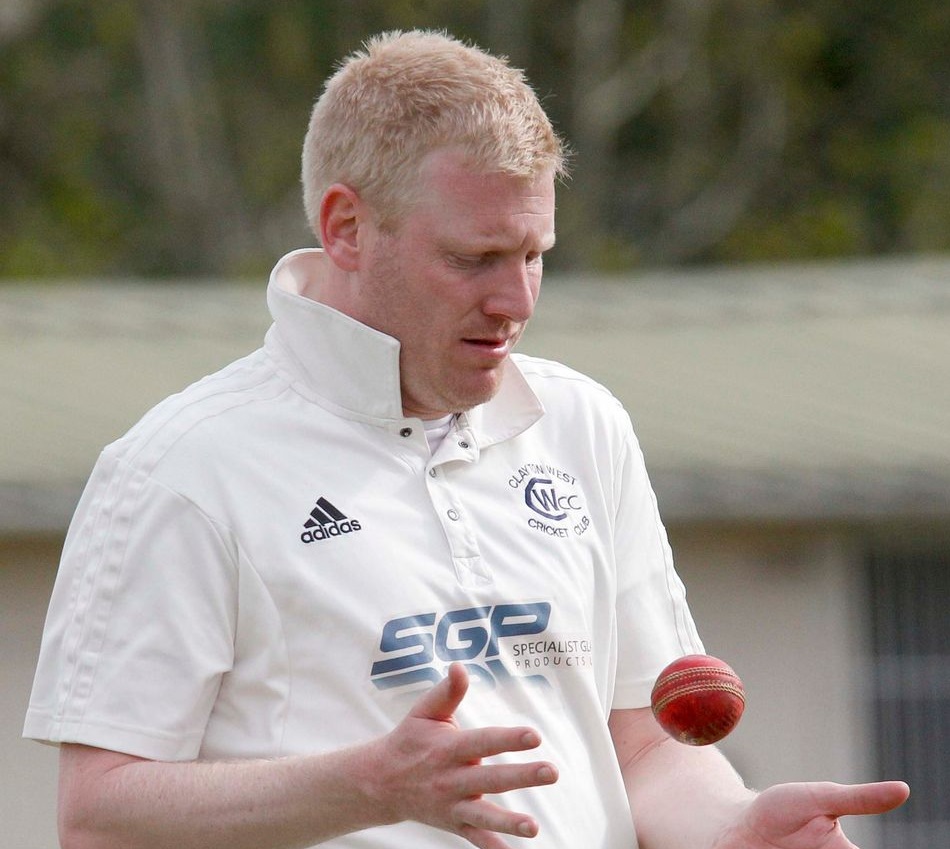 Craig Glover's Clayton West put a wretched five match winless run behind them as they upset the Lascelles Hall apple cart to end their recent run of three wins. The hosts made 237-9. Overseas Phil Tunnicliffe (53) scored his seventh half-century of the season to take him over 1,000 runs and he along with David Swann set the tone for the innings. Lascelles Hall fought their way back with Sheheryar Hassan (3-49) but Ash Thompson (43) helped boost the home side's score at a vital time. Glover (7-33, pictured above) stunned the visitors with an accomplished spell of bowling that bewildered their opponents with four of his victims bowled. Tunnicliffe (3-39) took care of business at the other end as Lascelles Hall were 79ao with Will Simpson (26) top scoring on a downbeat day for the visitors.
Abdul Ghafoor and Amar Rashid helped put the skids under Slaithwaite as Holmfirth came out on top in a low-scoring affair. Slaithwaite had designs on overcoming their in-form visitors after three wickets each for Harrison Quarmby (3-29), skipper Alex Walker (3-53) and Sohail Butt (3-16) put them in control as Holmfirth were bowled out for 127. Holmfirth were probably thankful for a late cameo by Maaiz Khan (36no) batting at nine. However they showed their durability as they fought back themselves with Ghafoor (3-25) and Rashid (3-24) in irresistible touch. Max Gummerson (2-24) got the ball rolling by taking out a couple of the upper order batsmen and Khan (2-9) wrapped up the win by polishing off the tail as Slaithwaite meekly crumbled to 83ao.
Full Scores
Lepton Highlanders 274-8 (S Bashir 82, A Hussain 82; J Ahmed 7-53)
*Almondbury 70 (I Khan 5-26, J Mulhall 5-33).
Meltham 182 (S Clegg 39, I Hussain 58, A Hamid 30; Z Tanweer 3-36)
*Almondbury Wes 183-4 (A Taylor 46, W Binns 31, F Walker 49no).
*Barkisland 216-8 (J Summerscales 29, L Bridges 116no; J Hendy 3-35)
Elland 217-6 (L Fletcher 101, A Finn 37no; L Bridges 3-71).
*Clayton West 237-9 (P Tunnicliffe 53, D Swann 42, A Thompson 41; S Hassan 3-48)
Lascelles Hall 79 (W Simpson 26; P Tunnicliffe 3-39, C Glover 6-32).
Skelmanthorpe 132 (A Rammell 43, A Hooper 41; W Javed 4-14, J Anderson 3-18)
*Rastrick 138-5 (M Khan 69; A Rammell 3-45).
Holmfirth 127 (M Khan 36no; H Quarmby 3-29, A Walker 3-53, S Butt 3-16)
*Slaithwaite 83 (A Ghafoor 3-25, A Rashid 3-24).
Cedar Court Conference
Denby possess an almost unassailable 13-point lead over third place Cumberworth United as they home in on their first promotion since 2014. Their local neighbours Denby Dale were ruthlessly put to the sword as Denby made one more big stride towards Championship cricket for 2019. Opener Mark Askham (66), Abdul Rehman (39), Farhan Hussain (44) and Tom Sanders (46no) all heavily contributed with the bat in Denby's 241-4 first innings score. Sanders (3-18) and skipper Paul Goodman (2-29) decimated the Denby Dale upper order leaving Zafar Jadoon (4-33) the job of mopping up the tail as the hosts were bowled out for 102.
Marsden and Cumberworth United look like battling it out for the one remaining promotion place after they both registered wins against Emley Clarence and Linthwaite respectively featuring two perfect all-round performances for each club. A century for overseas Jack McNamara (103) sent Marsden on their way to a huge 293-6 first innings score to which Emley Clarence could only make 155ao in reply. McNamara (3-25) followed up his ton with an impressive showing with the ball too. Lowly Linthwaite were bowled out for 140 by Cumberworth after Reid Somani (6-22) took his season's tally to 57 with his best performance yet. Somani (62no) took no prisoners with the bat either as he oversaw Cumberworth to 143-3 in reply.
In the days other matches, Thurstonland put in an impressive performance to defeat Kirkheaton to end their four match unbeaten sequence. Lee Booth (6-26) and Jordan Thackray (4-29) bowled straight through as Kirkheaton were stunned on 60ao in 14 all-too-quick overs. Thurstonland totted off the total for the loss of three wickets. Upperthong came out on top in a mid-table battle with Hall Bower as Sam Hobson (4-19) helped reduce Bower to 139ao in reply to the 'Thongs first innings total of 193ao.
Full Scores
Denby 241-5
*Denby Dale 102.
Upperthong 193
*Hall Bower 139-99.
*Linthwaite 140
Cumberworth Utd 143-3.
*Marsden 293-6
Emley Clarence 155.
*Mirfield v Birkby Rose Hill - Late Result
Kirkheaton 60
*Thurstonland 64-3.