Whilst the Premiership title was virtually confirmed, there are still outcomes in the Championship and Conference yet to be settled and shows every sign of being taken right until the final day. Hoylandswaine's title is all-but sealed after they battled back to win a tough contest at Delph & Dobcross whereas Honley also won but require a miracle of biblical proportions if they are to take their interest any further. Mirfield Parish Cavaliers gave themselves a faint whiff of a chance of escaping the relegation trapdoor after succeeding in a "must win" encounter at home to troubled Shelley. Down in the Championship, The news that Meltham are to be deducted a colossal amount of points sealed the only relegation place (pending appeal) whilst the battle at the top rumbles on with wins for Barkisland, Almondbury Wesleyans and Rastrick. In the Conference, Denby suffered a shock defeat, only their second of the season, away at Emley Clarence which opens the door for Marsden who moved within a point from the top.
Drakes Premiership
A full-strength Hoylandswaine side took to their travels away to Delph & Dobcross in a match that had Honley's result fell their way, coupled with victory of their own would have secured their fourth Byrom Shield title and their second in succession. It's been a dominating season for SP Singh's side but they've been pushed hard in both encounters against Delph, the only team to bowl them out [twice] in the league this season. Electing to batting first, Hoylandswaine let slip a solid start and had an uncharacteristic wobble before some late order big hitting pushed them up to a 249ao target. A hundred partnership from SP Singh (51) and Chris Holliday (53) got Swaine into an ominous position at 154-3 mid-innings. Delph battled back well though and a timely change of bowling from captain Arron Lilley got them back into the match. Impressive young spin bowler Xander Selby (3-80) took out both batsmen and forced the visitors on the back foot. This allowed in-form seam bowler Umer Yaqoob (4-40) to lead the fightback as Hoylandswaine then slumped to 214-9. Former Delph bowler Shakir Muhammad (20) combined well with last man Adnan Ghani (15) and hammered some lusty blows on his old stomping ground to set a challenging chase. Delph started the reply quite well with their dangerous opening batsman Mosun Hussain (67) continuing his strong finish to the season. From 40-1 Shakir Muhammad made the breakthrough and the intriguing tussle was turned completely in their favour after Gurman Randhawa (2-33) captured the key wicket of Lilley (14). Muhammad (4-54) went on to enjoy a fine return by bowling right through and despite a short cameo from Grant Jones (21no), in his final season of a long 1XI career, Delph finished well short in the end on 159ao. A win at home to Golcar will seal back to back Byrom Shield triumphs for decorated South Yorkshire-based Hoylandswaine.
The two teams that came up from the Championship fought out a match that was equally vital to both teams as they both battled to keep themselves out of the Premiership's only relegation place. Shelley travelled to Mirfield Parish Cavaliers who were reeling from ten consecutive defeats that have plunged them right into the depths of relegation gloom. Ironically Parish's last win came away at Shelley and they completed a much-needed double with a well-earned 52-run win to boost their chances and cut the gap to ten points with 24 still to play for. The hosts batted first and a half-century from wicketkeeper Muhammad Ali (62) was added to by valuable inputs from captain Tim Orrell (44) followed by middle-order batsmen Jamie Hardcastle (30) and Mohammed Suleman (22). Shelley's Mo Bhoola (3-48) and Sikandar Raza (4-65) were both in the wickets as Parish posted 257ao. Louis Sykes (35) helped get the visitors reply off to a solid start and at 144-4 Shelley were well positioned to convert their opportunity into a win which would have virtually sealed their opponents fate. Hardcastle (5-48) had other ideas though and when he removed the dangerous Zimbabwean international Raza (64) Shelley relinquished their control. Captain Harvey Jones (42no) hung around but he could only helplessly witness wickets falling around him and Shelley catastrophically withered away to 205ao.
A first hundred of the season for Golcar opener Abdul Wahid wasn't enough to stop second place Honley as they recorded the win that puts back Hoylandswaine's title party for at least a further week. Wahid (103) accounted for over half his team's cumulative runs as home side Golcar were bowled out for 202. Sam Denton (3-35) led the bowlers whilst there were two wickets each shared between Brett Randell (2-45), Lewis Kenworthy (2-66) and Simon Kelly (2-52). Honley welcomed back Will Fraine (95) from county duty with Nottinghamshire and he pinned down the reply along with a healthy contribution from skipper Timmy Taylor (46) as Honley ran out easy winners on 203-5 with 15 overs left to play.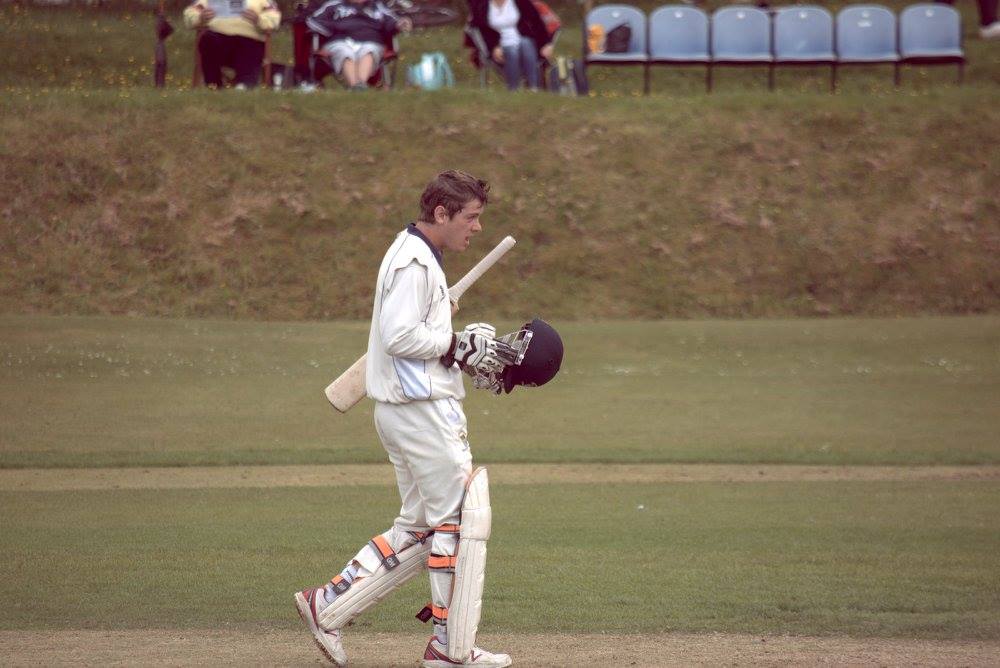 Ben Raven-Hill (above) scored his third century of the season to help fire Thongsbridge to another victory

Thongsbridge made it five wins from five as they head towards the end of the season strongly. Kirkburton, conversely have lost their last three matches and it was a pair of centuries from the visitors that prolonged Kirkburton's losing streak. Ben Raven Hill (118) and Jack Cassidy (118no) were the batsmen who made life a misery for the hosts bowling attack. Raven-Hill
chalked up his third ton of the season as he smacked 20 fours and a couple of sixes. Cassidy's hundred, a second of the season, contained 17 fours and three sixes and Alex Kemp (33no) chipped in at the end of the innings as Thongsbridge made 293-3 from their fifty overs. Kirkburton skipper Craig Fletcher returned the best figures on an uncomfortable day for his team. In reply, Thongsbridge kept the hosts in tight shackles as they ruthlessly removed the upper order. Toby Booth (67) took his tally past 750 runs of a productive season but that was about as good as things got for the Riley Lane side. Apart from Fletcher (41), Kirkburton were pretty toothless and were eventually bowled out for 207 as James Thompson (4-48) bagged his 11th wicket in four matches.
Another centurian finished up on the losing side at Chapelgate as Broad Oak ran out emphatic winners away at Scholes. Bradley Birkhead (113) made it 500 runs for the season in a 97 ball innings containing 19 fours and 2 sixes but it was all in vain as Scholes were bowled out by the visitors for 180. Harvey Booth (4-36) and spinner John Keeling (3-31) made life difficult for the hosts who apart from a 70 run partnership between Birkhead (featured image) and Louis Brook (5) found wickets falling at all-too-regular intervals. A 122-run opening partnership between Charlie Roebuck (74) and Dom Finn (53) virtually eliminated any chance the home side had of defending their below-par total and when they were out captain Jack Hargreaves (24o) ensured Broad Oak reached their target in comfortable circumstances scoring 185-2 just before drinks at the halfway interval.
A five wicket haul from Shepley seamer Nadim Hussain was the major difference between sides when Armitage Bridge played host to Shepley. A typically tight ten over spell from opening bowler Nasir Jamal (2-15) accounted for two Bridge top order batsmen but it was Hussain (5-57) that put the squeeze on the hosts. Saqib Matlub (83) put in an epic performance to anchor himself in but wickets elsewhere fell frequently apart from a stubborn showing from Robin Broom (34). The ninth wicket partnership between Joe Atkin (17no) and Aiden Jump (16no) prevented the visitors from getting their tea early as Bridge held out for 202-8 after 50 overs. Brisk knocks from overseas John Anderson (59) and captain Greg Wood (62) put Shepley well on course and on top of the run rate. Despite losing them both, victory was clearly in their crosshairs and Danny Glover (24no) stayed in to see 208-5 home in a much swifter 27 overs. Jaycob Curtling (2-53) was the only notable performer with the ball for Armitage Bridge.
Moorlands and Cawthorne are both looking forward to next season already for differing reasons. Visitors Moorlands suffered their third straight defeat in a heavy ten wicket loss. Opener Adam Roberts fell in only the second ball of the match and despite a 93 run fourth wicket stand, Moorlands were seduced by the quick-bowling spell of West Indian Kimson Dalzell (5-15) on top form in a virtually unplayable season's best performance. Dave Winn (76) and Siraj Sajid (43) offered resistance to the speedy overseas but it wasn't enough as the visitors could only log 176ao in their fifty overs. Cawthorne whose plans for their new season in the South Yorkshire league are well underway will be leaving our league in reasonable fettle and made the chase look easy as they knocked off the target without loss inside 34 overs. Lewis Skelly (68) and the evergreen Iqbal Khan (84) effortlessly ticked off the winning runs to lift Cawthorne up to 12th in the table with four matches left to play.
Full Results:
*Armitage Bridge 202-8 (S Matlub 83, R Broom 34; N Hussain 5-57)
Shepley 208-5 (J Anderson 59, S Raheem 29, G Wood 62).
Moorlands 176 (D Winn 76no, S Sajid 43; K Dalzell 5-15)
*Cawthorne 180-0 (L Skelly 68no, I Khan 84no).
Hoylandswaine 247 (S P Singh 53, C Holliday 44, U Arshad 37; U Yaqoob 4-40, X Selby 3-80)
*Delph & Dobcross 159 (M Hussain 67; S Muhammad 5-54).
*Golcar 202-9 (A Wahid 103; S Denton 3-35)
Honley 203-5 (W Fraine 95, T Taylor 46; S Mills 3-62).
Thongsbridge 293-3 (B Raven-Hill 119, J Cassidy 118, A Kemp 33)
*Kirkburton 207 (D Butterfield 27, C Booth 67, C Fletcher 41; Z Iqbal 3-41, J Thompson 4-48).
*Mirfield PC 257 (T Orrell 44, M Ali 62, J Hardcastle 30; M Bhoola 3-48, S Butt 4-65)
Shelley 205 (L Sykes 35, S Butt 64, H Jones 42no; J Hardcastle 5-48).
*Scholes 180 (B Birkhead 113; H Booth 4-36, J Keeling 3-31)
Broad Oak 185-2 (C Roebuck 74, D Finn 53).
Jedi Championship
An increasingly tense summit of the Championship saw Barkisland hold onto a slender two point lead by hammering suffering Meltham at Mean Lane. The hosts, who have been slapped with a huge 81 point deduction for a severe rules infringement which has effectively relegated them (pending an appeal), were peppered by opening Barkisland bowlers Sam Moyle (5-43) and Jamie Sykes (3-46). Abdul Hamid held his own in the middle order with a battling 44 but Meltham were eventually corralled on 106ao just shy of the 30 over mark. Opening batsmen George Hampshire (30) and Jake Finch (50) made light work of the chase and Finch was joined by Luke Bridges (24) who helped finish the job as leaders Barkisland romped home on a Nelson reaching 111-2 in precisely 20 overs.
Almondbury Wesleyans' hopes of taking their promotion charge to the dying embers of the season received a boost as they ran out comfortable victors at inconsistent Skelmanthorpe. Despite 48 from opener Josh Megson, a five wicket looting by overseas Freddie Walker (5-55) kept the hosts in check but if they could have found others to match their overseas Asif Hooper (91) the outcome may have been somewhat closer after Skelmanthorpe finished with a 204ao total to defend. Wes skipper Will Binns (80) registered an inspiring performance to propel his side to a vital win with Walker (26) also making a useful contribution with the bat. Tom Addy (40no) and all-rounder Matt Henshaw (24) then took charge and saw home the priceless win with ten overs left to play. Megson (2-46) made it a pleasing day personally as the pick of the Skelmanthorpe bowlers.
Recruitment is obviously going to be on Almondbury captain Mirza Mobeen's off-season agenda as his 8-man side slumped to an overwhelming defeat away at Clayton West who still hold a faint chance of sneaking in a promotion place. A half-century by Atif Kamran (51), clearly one player Mobeen will be hoping to retain, was the only bright spot on a fairly glum day as Almondbury hobbled their way to 100ao. With big gaps in the field the result was always likely to be inevitable and so it proved with opener Phil Tunnicliffe (35) making a big enough dent in the target and Ash Thompson (37no) and David Swann (29no) making the result academic on 103-1 in a rapid 12 over period.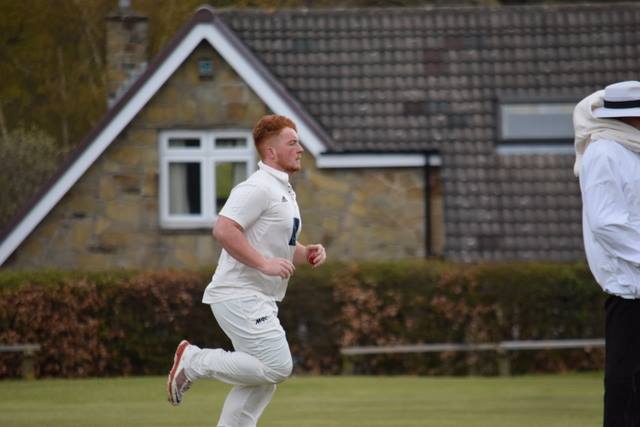 Jack Hendy (above) hit Slaithwaite with a four wicket blast to help turn the game around in Elland's 20-run victory

Slaithwaite experienced a sense of schadenfreude after they somehow contrived to throw the game away from a winning position against the team they defeated in the T20 Shield final; Elland. Their hosts were put through some tribulations by Slaithwaite bowlers Josh Chojnowski (3-22) and Liam Wood (5-53). Liam Fletcher (48) and Alastair Finn (36) provided resistance as Elland could only muster 154ao batting first. Slaithwaite were cruising towards a routine win at 95-1 before opening bowler Jack Hendy (4-41) and Peter Dobson (5-43) amazingly put the skids under the visitors who lost their last nine wickets for 40 runs and finished 20 runs short of their target on 135ao.
Rastrick still have designs on playing Premiership cricket in 2019 and a final day showdown away at Almondbury Wesleyans may yet be the match that decides their destiny. Firstly though, a mesmerising bowling performance by Asif Afridi (5-27) and Osama Ahmad (4-27) put paid to Lascelles Hall's promotion hopes in clinical fashion as they were skittled out for 96 despite resistance from top order batsmen Zahed Ahmed (28) and Jack Ingham (22). Gavin Smith took a couple of quick wickets in the reply accounting for dangerous opening batsman Ovais Hussain (25) but Rastrick were not likely to be denied their seventh straight victory and Majid Khan (37no) guided them home to 99-4 in reply.
A half century from Amar Rashid (50) helped Holmfirth harbour fading hopes of promotion after they eased past a challenge of visiting strugglers Lepton Highlanders. Imran Khan (2-50) and Jack Mulhall (4-67) put pressure on the hosts with the ball and they obliterated the upper order already suffering from losing their talismanic overseas Aizaz Khan. Rashid distilled some hope with his steely fifty and captain Seb Allen (47) put in a key contribution as Holmfirth made 174-8 off their 37 overs. Holmfirth's opening bowlers Abdul Ghafoor (3-27) and Max Gummerson (2-38) put Lepton in a sticky situation themselves as they got stuck into the top order. Lepton rallied and Matt Dickenson (21) and big-hitting Asif Hussain started to frustrate the bowlers. Maaiz Khan (4-40) carved out the breakthrough and when he captured the prize wicket of Hussain (76) the end was in sight. A late rally by Imran Khan (17no) put Lepton within a whisker of victory but he ultimately ran out of partners as the visitors stumbled 8 runs short on 166ao.
Full Results:
Almondbury 100 (A Khan 51; P Tunnicliffe 3-30)
*Clayton West 103-1 (P Tunnicliffe 35, A Thompson 37no, D Swann 29no).
*Elland 154 (L Fletcher 48, A Finn 36; J Chojnowski 3-22, L Wood 5-53)
Slaithwaite 135 (H Yousaf 74; D Hendy 4-41, P Dobson 5-43).
Lepton Highlanders 168 (A Hussain 76; M Khan 4-40)
*Holmfirth 170-8 (A Rashid 47, Z Allen 47; J Mulhall 4-67).
*Lascelles Hall 96 (Z Ahmed 28; A Afridi 5-27, O Ahmad 4-27)
Rastrick 99-4 (M Khan 37no)
*Meltham 106 (A Hamid 44; S Moyle 5-43, J Sykes 3-46)
Barkisland 111-2 (G Hampshire 30, Jake Finch 50no).
*Skelmanthorpe 204
Almondbury 205-4
Cedar Court Conference
The battle at the top narrowed after Denby's juggernaut run at the summit was derailed in spectacular fashion away at improving Emley Clarence. The hosts who have lost only one match in ten were a good match for the all-conquering Denby side who had lost just one match prior to this meeting. Emley made full use of their fifty overs reaching a competitive score of 224-9 with a fine 137-run partnership between Kamran Saleem (68) and Shannon Clarke (71) providing the backbone to their innings. Mohammed Nabeel (5-29) helped crush the Denby reply in a rare off day for the table toppers with no Denby batsmen, aside from Farhan Hussain (25), able to get into double figures. Adam Taylor (3-4) helped polish off the tail as Denby were routed on 79ao.
A superb all-round display by Marsden overseas Jack McNamara was at the forefront of their win as they closed the gap to one point by easing past Kirkheaton on their travels. McNamara's 3-43 helped restrict the hosts to 185-7 from their 50 overs and he then blasted 71 with the bat as Marsden overcame their target with 7 overs remaining.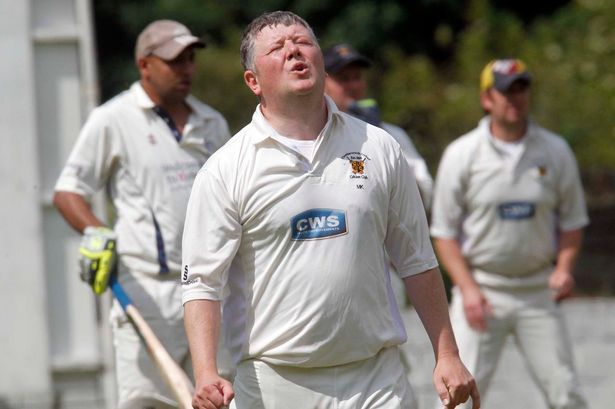 Martin Kilner (above) rolled back the years with a vital five-fer in Cumberworth United's emphatic victory over Hall Bower

Elsewhere five wickets for Martin Kilner (5-21) kept Cumberworth's promotion hopes alive and a final day battle at Hemplow may yet prove decisive with three matches to play. Reid Somani (3-30) also chipped in as Hall Bower were bowled out for 113 with Cumberworth knocking off the target eight wickets down in a patient 43 overs after the visitors had them sweating at one point.
Elsewhere, Denby Dale edged out hosts Linthwaite in a close match after a crucial 94 from Ibrar Hussain helped the visitors chase down Linthwaite's handy score of 242-8. It also wasn't a good day for second-bottom Mirfield whose nine players were unable to defend their 200ao total away at Upperthong. Ben Earnshaw's 85 went a long way in the chase and Upperthong reached 202-4 in reply. Kaleel Ahmed followed up his one wicket in Birkby Rose Hill's 230-7 total with a superb century to fire Thurstonland to victory with 234-6. Ahmed hit 15 fours and a six in his 129-ball 106no as the visitors claimed the win with 5 balls to go.
Full Results:
*Birkby Rose Hill 230-7
Thurstonland 234-6.
Hall Bower 113
*Cumberworth Utd 114-8.
*Emley Clarence 224-9
Denby 79.
*Kirkheaton 185-7
Marsden 186-5
*Linthwaite 242-8
Denby Dale 244-8
Mirfield 200
*Upperthong 202-4.