One of the most pulsating finishes to a season in Huddersfield Cricket League history came to a staggering head in the promotion battle at the top of the Conference table. Second-placed Marsden and third-placed Cumberworth United have virtually been inseparable for the entire season and so it proved again in the final match with an incredible tied match which sent Marsden up. Denby took the Conference title with an impressive final win at home to Upperthong. The Championship promotion chase didn't quite contain the heart-in-mouth thrills as the Conference finale as top two Barkisland and Almondbury Wesleyans recorded wins to seal glory on the last day. In the Premiership, pride and league placing were the only things at stake as Hoylandswaine finished a remarkable record-winning season with another win with Broad Oak and Shepley both bagging victories to consolidate their lofty top flight positions.
Featured Image: Denby CC 1XI, Cedar Court Conference champions 2018. (Picture courtesy of Julian Kynaston).
Cedar Court Conference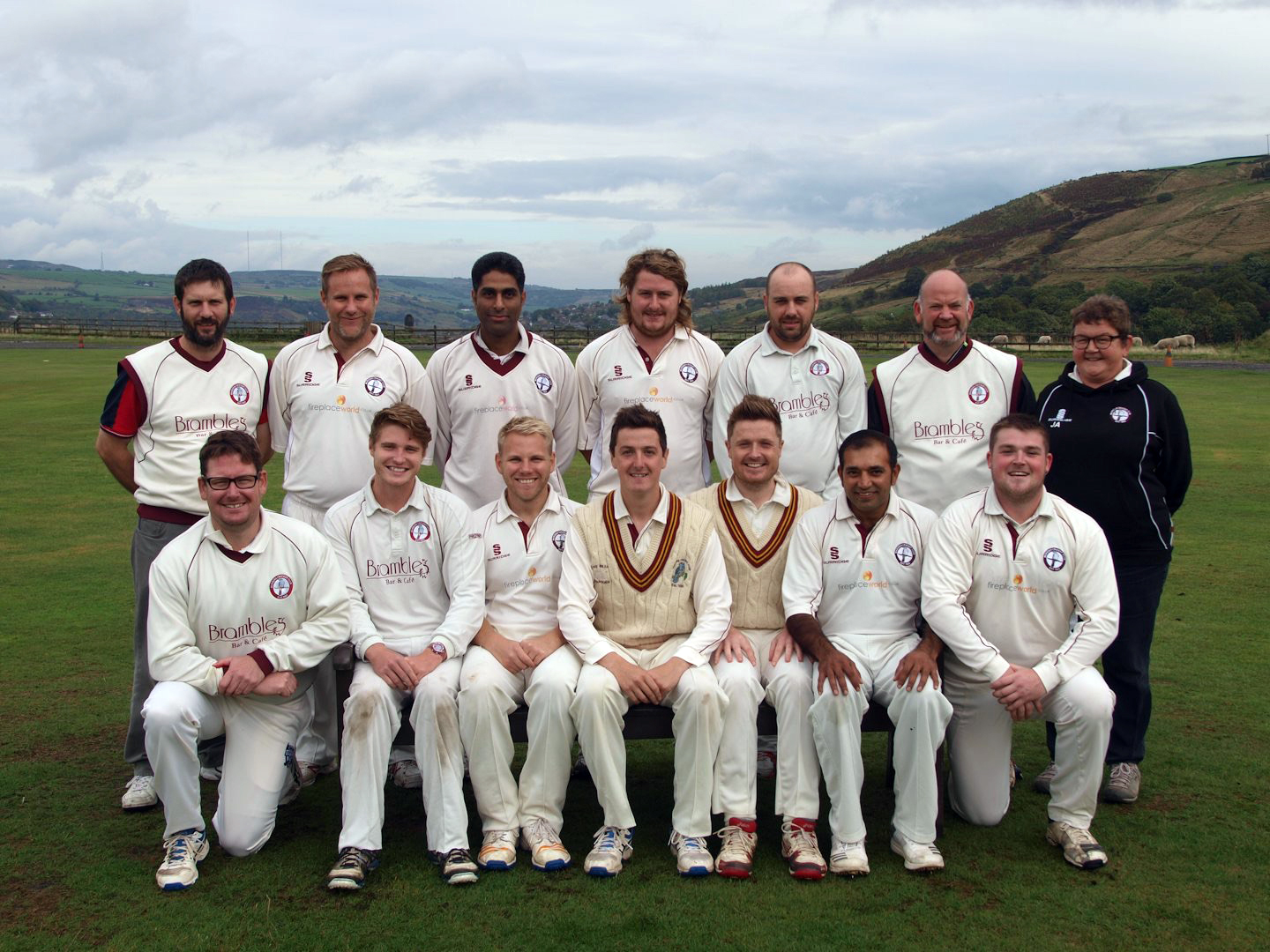 Above: The victorious Marsden team that tied on the final day with Cumberworth United in a winners-take-all match that ensured promotion for the Hemplow side after a three season Conference stint. In an amazing coincidence it was the second tie in two seasons between the clubs. (Photo: Marsden CC Twitter account)
A tense ménage à trois saw the final match have everything still to play for at the end of a long, fatiguing season with Denby, Marsden and Cumberworth United all vying for the two promotion positions. Marsden's home match to Cumberworth United suffered a delayed start due to the morning's precipitation and thankfully a 40-overs per side match was undertaken. Marsden set a first innings score of 172-7 with a half-century from Imran Malik (53) standing apart with a handful of vital inputs from Matty Butters (20), overseas Jack McNamara (24) and Sajid Ali (22). Bowlers Reid Somani (2-38) and Josh Kilner (2-33) had a hand in keeping the hosts within range as tensions began to rise in a match that ebbed and flowed. In the reply, Cumberworth's chances were dealt a huge buffeting with a haemorrhage involving the top order. Marsden bowlers Ali (4-25) and long-time Hemplow club man Ian Bray (2-25) blew a sizable hole in the Cumberworth reply including the crucial scalp of overseas Reid Somani (34), bowled by Danny Clee (3-47). The visitors then further collapsed to 90-7 and thoughts of promotion lay firmly with the home side. However a brilliant fightback ensued as number 8 Joe Senior (21) dropped anchor with number 9 Josh Kilner (48no) to put on a 49 run partnership. Clee knocked over the stumps of Senior to ratchet up the excitement when another match-changing partnership grew after James Haigh joined Kilner in the middle. With Kilner taking charge Cumberworth edged their way towards the target and eventually tied the scores with 12 balls remaining. With defeat, and despair all but certain for the home team opening bowler Sajid Ali stepped into the breach in the penultimate - and his final - over. Haigh (7) was trapped LBW which brought in last man Chris Wilks. On his final ball, Ali found the edge off Wilks' bat and McNamara took the catch which kept the scores level, sparking wild celebrations amongst the Hemplow faithful. Cumberworth's defeat was softened arbitrarily by the result securing them the Hopkinson Trophy, which surely felt somewhat hollow by the fine margins from which they lost out on promotion.
Upperthong scotched any suggestions that a team with nothing to play for would do anything other than give their all against a Denby side knowing a win would secure them promotion, along with the Conference title. Visitors Upperthong played their part with an impassioned performance in an exhilarating match which forced Denby to dig deep to secure the victory that they needed. Batting first the visitors had Sam Briggs (92) in fine form with the bat and his big score was followed up with smaller but equally as tenacious contributions from opener Tom Willians (39) and Ben Charlesworth (42). Opening bowler for Denby Tom Sanders played a huge part in Denby's success with a five-wicket haul, his only one of the season as Upperthong made 232ao. The resolute nature of the home side came to the fore after they somewhat recovered from a rocky start where Upperthong opening bowlers Ben Mighall (2-40) and Henry Frankland (3-58) forced the hosts onto the back foot. Opening batsman Mark Askham proved to be the matchwinner with nerves of steel as he racked up an unbeaten century. Askham (112no) became an awkward thorn in the visitor's side with a responsible 152-ball innings containing 18 fours and no sixes. He found good company from middle order batsman Jack Jones (46) and although Jones fell sparking a minor collapse, Askham held firm and saw Denby to a memorable win with only four balls left to play.
Elsewhere, Second-bottom Mirfield signed off their mostly unhappy season with a welcome boost after seeing off away side Hall Bower. The visitors' plodding 182-8 score was overcome in 23 overs with skipper Adam Goldthorpe (63) chalking up 1,000 campaign runs as Mirfield made 188-5. Two half-centuries were scored on each side as Emley Clarence homed in on fourth place and saw off Birkby Rose Hill. Altaf Hussain (57) and Muhammad Imran (51) both ended up on the losing side as Luke Taylor (54) and Jon Lee (57) helped Emley achieve a welcome win. Denby Dale number 9 batsman Hayden Rose (68) played a big part in a 112-run partnership to push his side into an unassailable position on 276ao at home to Kirkheaton. The visitors only managed 167ao in reply. Rock-bottom Linthwaite will be glad 2018 is out of the way after their latest defeat; a 17th of the season. With only eight men, it came as no surprise that Thurstonland were too strong for them as Linthwaite were bowled out for 77 only 12 months since their relegation from the Championship. Bowlers Lee Booth (3-20) and Jordan Thackray (3-32) with the wickets for Thurstonland.
Full Scores:
Upperthong 232
*Denby 234-8.
*Denby Dale 276
Kirkheaton 167.
Birkby Rose Hill 210
*Emley Clarence 216-3.
*Marsden 172-7
Cumberworth United 172 (Match tied)
Hall Bower 182-8
*Mirfield 188-5.
Linthwaite 77-7
*Thurstonland 80-1

Jedi Championship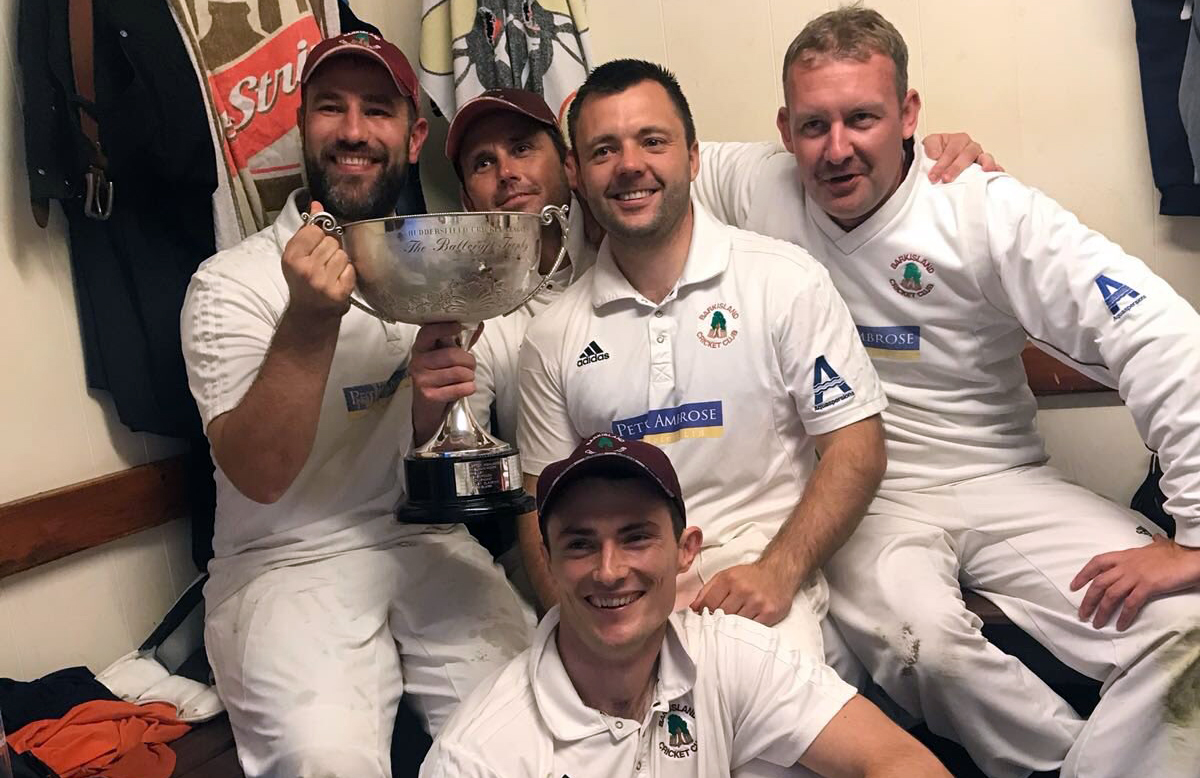 Above: Barkisland 1XI secured the win they required to lift the Ballcraft Trophy in a successful season for the Calderdale-based team. (picture: Barkisland CC Twitter account)
There were still loose ends to tie at the top of the Championship and with Barkisland already assured of promotion following Clayton West's defeat the previous week, they grasped hold of the Ballcraft Trophy by edging out their visitors, coincidentally Clayton West themselves. In an abbreviated 20 overs per-side thrash, The away team put up 149-8 with the runs coming from overseas of the season Phil Tunnicliffe (32), Benjamin Oldroyd (38) and wicketkeeper Alex Clegg (27). Without the influence of experienced Barkisland bowler Matthew Steers (5-40) the outcome may have been different. However, the hosts chased their target with an added sense of urgency and thanks to a fine 51-ball innings from Jamie Summerscales (70no), Barkisland were crowned champions when Ben Westbrook (32no) powered them over the line on 151-3 with four balls left to bowl.
Almondbury Wesleyans were another side with the bit between their teeth and they thoroughly outplayed visitors Rastrick, the only side who potentially could have leapt above them. Will Binns led his side admirably with an exquisite ton to shake off the early loss of opener Alex Taylor. Binns (101) scored in 82 balls and hit 10 fours and 8 sixes and once he departed Tom Addy (79) and overseas Freddie Walker (74) seized the initiative and racked up an imposing score, one made even more difficult for Rastrick given the prize at stake. A steady start to the reply had the visitors thrust the game into the balance by reaching 79-1 with opener Ovais Hussain (41) and Majid Khan (25). The two batters unfortunately fell within a few overs of each other and the balance of power shifted, moreso since Rastrick were missing their enigmatic all-rounder Asif Afridi. They found the going tough from here as Wesleyans bowler Matt Henshaw (6-51) asserted himself on the weakened visitors. Wickets then tumbled as Rastrick were reduced to 124-9 in a revised 23 overs match and Almondbury Wesleyans completed a striking rise to power with another promotion just two seasons after rising up from the Conference.
Another distinguished innings from Skelmanthorpe's overseas Asif Hooper wasn't enough to stop the visitors crashing to another defeat in a winless run that stretches back for five matches. Hooper (88) top scored away at Lepton Highlanders and apart from opener Jordan Greaves (35) no other batsman could contribute tellingly as the visitors - severely hampered with absences - stuttered to 166ao. Lepton's Jack Mulhall (4-37) ensured he helped keep Skelmanthorpe in range and Sam Carroll (60no) stepped up to the fore with a match-winning contribution. Effervescent captain Daniel Mulhall (26) also added useful runs on their way to a morale-boosting victory against a Skelmanthorpe bowling attack led by the ageless Graham Hurlbatt (3-75), himself a Byrom Shield winner back in 1990. Lepton reached 169-7 inside 32 overs to record their final day win.
Amar Rashid helped Holmfirth ruthlessly put Meltham to the sword to end a season to forget for the visitors who ended the season in negative equity due to a severe points deduction. Rashid (6-28) was simply unplayable as Meltham subsided to 123ao batting first, with Malik Muhammad helping to make his team's score respectful. Matthew Gummerson (48no) again enjoyed his unlikely opening batting slot in the reply and Rashid (41) rounded off an excellent days work as Holmfirth romped to an 8-wicket victory on 124-2 in 17 overs.
Another team to suffer the end of season blues was Lascelles Hall whose trip to Slaithwaite proved ultimately fruitless. They were skittled out for 77 with opening Slaithwaite bowlers Harrison Quarmby (3-27) and Josh Choknowski (2-13) ending their seasons in fine nick. Sohail Butt (4-12) mopped up the tail in supremely efficient fashion with opener Jack Ingham (22) top scoring for visitors Hall. Opening bats Hasnat Yousaf (26) and Wajid Hussain (25) briskly went about the reply and even though they were both out, the result was never in doubt with Slaithwaite making 83-3 in a 16 over reply.
The only other match of the division was abandoned without a ball bowled at Almondbury at home to Elland.
Full Scores:
*Almondbury v Elland no play
*Almondbury Wes 294-4 (W Binns 101, T Addy 79, F Walker 74no)
Rastrick 124 (M Khan 25; M Henshaw 6-51).
Clayton West 149-8 (P Tunnicliffe 32, B Oldroyd 38, A Clegg 27; M Steers 5-40)
*Barkisland 151-3 (J Finch 25, J Summerscales 70no, B Westbrook 32no).
Meltham 123 (I Hussain 28, M Muhammad 53; M Khan 3-27, A Rashid 6-28)
*Holmfirth 124-2 (M Gummerson 48no, A Rashid 41).
Skelmanthorpe 166 (J Greaves 35, A Hooper 88; J Mulhall 4-37)
*Lepton Highlanders 169-7 (S Carroll 60no, D Mulhall 26; G Hurlbatt 3-75).
Lascelles Hall 77 (H Quarmby 3-27, S Butt 4-12)
*Slaithwaite 83-3 (H Yousaf 26, W Hussain 25).

Drakes Premiership
Alex Lees signed off his impressive season at domestic level with a half century as Champions Hoylandswaine reached a record points tally for a Premiership club with a win away at Shelley, themselves safe from relegation. Christian Jackson (4-23) made the most of a rare outing with the ball as Shelley were bowled out for a low score of 109 in 32 overs. Lees (54no) along with fellow opener Gharib Nawaz (48no) seemed to rack up the required runs in a rush as it took only 45 deliveries to reach their 110-0 target.
Armitage Bridge finished their season with an impressive win away at second-placed Honley which secured a sixth-placed finish; their highest top flight placing for several decades. A run-a-ball century from Robin Broom gave a steely backbone to the visitors innings after being inserted by Honley, whose title ambitions were finally quashed just a couple of matchdays earlier. Broom (109no) cruised along in 111 balls hitting 13 fours and 4 sixes and was supported by Jaycob Curtling (49) in a dominating 136-run fourth wicket partnership, which was eventually broken by home captain Timmy Taylor (3-24). In reply, Honley struggled with keeping up with such a high rate as sides often do at Far End Lane and they were pestered into defeat by well-organised Armitage Bridge. Tony Treadaway (2-28) signed off his season before returning to the southern hemisphere and Daniel Moorhouse (2-41) helped put Honley in further jeopardy, despite a 44 from Ryan Robinson. It was a pleasing afternoon for Bridge's young fringe bowler Noah Thackeray (3-16) after he decimated the middle order leading to Honley's demise on 138ao in reply.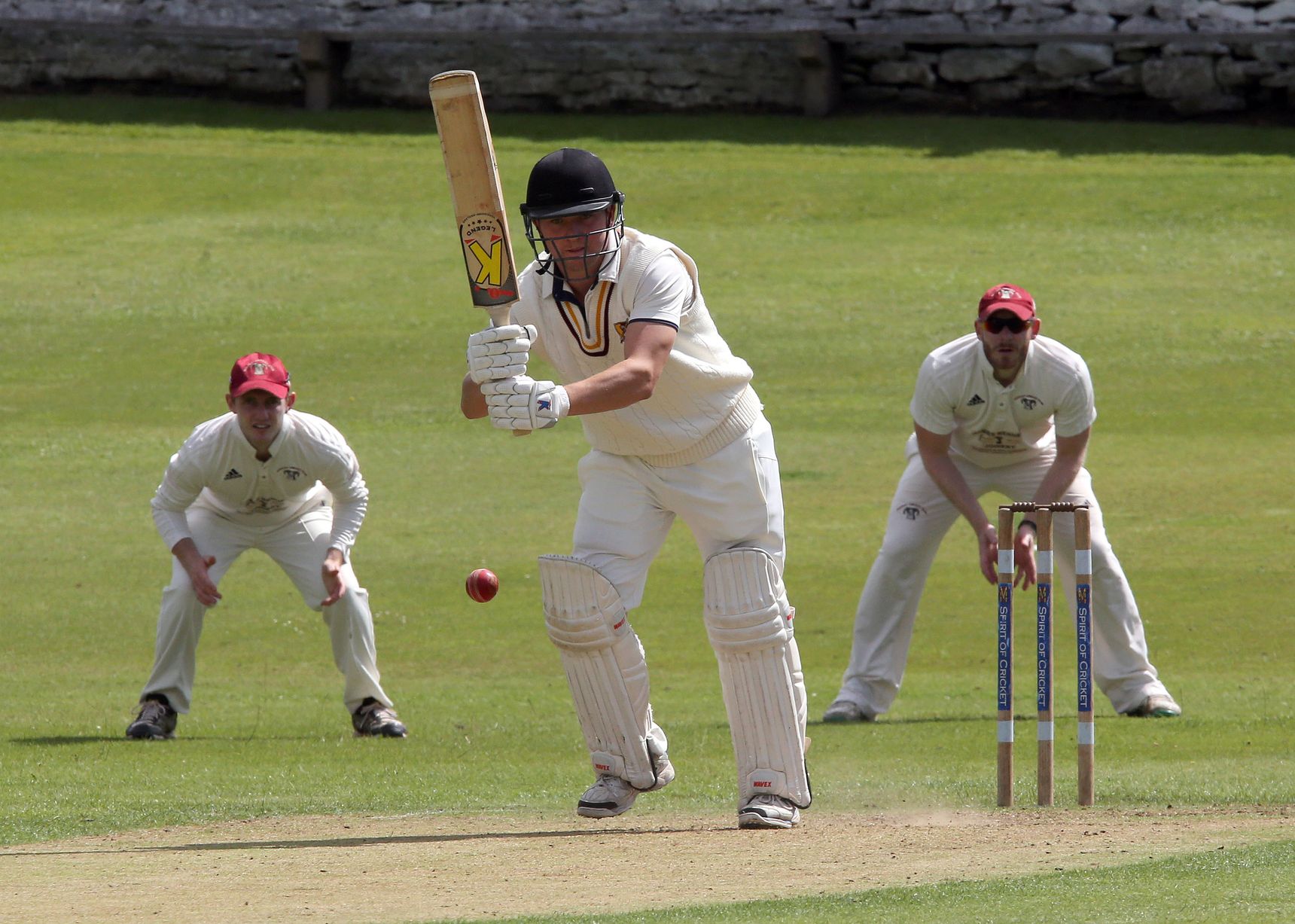 Above: Harvey Booth produced an all-round performance of 54no with the bat and 3-22 with the ball to get one over brother Toby who captained the visiting side. (Picture: Huddersfield Examiner)
Broad Oak finished their season with a flourish in their highest Premiership finish for many years. They saw off visitors Kirkburton after posting a hefty first innings score of 240-5 in an abridged 30 over match. This was achieved after another striking performance from opener Charlie Roebuck smashing 89 runs from 48 deliveries as the ball sailed over the boundary a total of 15 times (12 fours, 3 sixes). Harvey Booth (54no) scored a run-a-ball half-century to enable him to claim bragging rights over twin brother Toby, the captain on the opposing side before Sean Mee added 35 runs to further punish the visitors. After Kirkburton's first three wickets fell with no score on the board the conclusion was inevitable. Alex Scholefield (40) and Booth (38) belligerently rebuilt with an 80-run partnership but it wasn't enough to get them back into the contest and Harvey Booth (3-22) along with Daniel Taylor (3-11) vanquished an already deflated tail as Kirkburton crashed to 121ao and a 119 run defeat.
Shepley rounded in on third place after their strong finish to the season was too hot to handle for already relegated visitors to Marsh Lane; Mirfield Parish Cavaliers. They depart to the Championship but with respect intact after they were ground down to 170ao batting first. Five Shepley bowlers shared two wickets apiece with Ollie Davidson (2-5), Jake Lynn (2-9) polishing off the tail in expert style with six Parish batsmen getting into double figures without putting unnecessary pressure on the hosts; a metaphor of Parish's unsuccessful season. In reply, overseas John Anderson (54) held the Shepley reply together for stand-in skipper Danny Glover (22no). Archie Greaves (33no) went on to strike the winning runs as the hosts recorded the win in 24 overs.
Sykes Cup winners Delph bid farewell to a turbulent league season finishing in a disappointing ninth place after they fell apart away at Moorlands, who themselves leapt above them in the table. Seam bowlers Umer Yaqoob (4-36) and Wasim Qasim (3-49) were a constant threat to the hosts all afternoon with Andrew Fortis (31) and Andrew Walker (38) both putting in hardy defensive performances with the bat for Moorlands. Delph wicketkeeper Grant Jones, a Lady Sykes Candlestick winner in 2017 signed off his epic career at first team level with a trademark stumping to end the Moorlands innings on 123ao. Jones then went on to open the batting and was afforded a generous round of applause by the home team when he departed for the third wicket with visitors Delph in the box seat on 54-3. Chris Tipper (30) looked in the mood but when he hit a loose shot off a delivery by Walker (3-13) the visitors rapidly deteriorated. Darrell Sykes (6-21) then pounced ruthlessly and ran through the remaining batsmen as Delph lost their final eight wickets for only 10 runs, finishing all out for 64.
Cawthorne ended their seven year Huddersfield League residency away at Scholes and it was the hosts that ran out winners in a close match. Ben Simpson (55) and captain Liam Wiles (53) both scored half centuries after Cawthorne elected to bat first. All-rounder Yaasar Imtiaz (5-66) discovered his groove with his second five-wicket plunder as the visitors were dismissed for 197ao. Alex Clegg (63) gave the hosts a solid start to the reply and despite losing a huddle of wickets stayed on track thanks to a crucial offering from Tom Brook (34). Wicketkeeper Bradley Birkhead (41) held the tail together as Scholes paced their reply well and reached a victorious score of 200-8 in virtually the same amount of balls as the first innings.
Thongsbridge were unable to finish their successful league campaign with a win after becoming undone at home to Golcar. Thongsbridge have routinely swept away most sides this season but they found the going trickier against a spirited Golcar side. The visitors battled their way to 181ao batting first with Jacob Mulhall (57) scoring a hard-earned half century and Steve Whitwam (42) contributing to his side's solid start, which only began to fall away once he departed. Thongsbridge captain Ben Raven-Hill followed up his 3-26 with the ball by totting up 64 with the bat in another season where he again topped 1,000 runs for the Miry Lane side. That was as good as it got though as the hosts big guns failed to spark and Golcar overseas Sam Mills (5-43) said goodbye to his teammates with a match-winning bowling display. Whitwam (3-34) then chipped in to take his tally with the ball to 43 wickets as the home side crumbled to 120ao.
Full Scores:
*Broad Oak 240-5
Kirkburton 121
Armitage Bridge 227-7 (J Curtling 49, R Broom 109no; T Taylor 3-24)
*Honley 138 (R Robinson 44, O Kenworthy 28; N Thackeray 3-16).
*Moorlands 122 (A Fortis 31, A Walker 38; U Yaqoob 4-36, W Qasim 3-49, X Selby 3-17)
Delph & Dobcross 64 (C Tipper 30; A Walker 3-13, D Sykes 6-21).
Cawthorne 197 (B Simpson 55, A Wiles 28, L Wiles 63, W Mott 27; Y Imtiaz 5-66)
*Scholes 200-8 (A Clegg 63, T Brook 34, B Birkhead 41no; L Robinson 3-66).
*Shelley 109
Hoylandswaine 110-0
Mirfield PC 170 (D Broadbent 37, J Hardcastle 26 M Suleman 30)
*Shepley 173-5 (J Anderson 54, A Greaves 33no).
Golcar 181 (J Mulhall 57, S Whitwam 42, I Amjad 25; B Balmforth 3-40, B Raven-Hill 3-26)
*Thongsbridge 120 (B Raven-Hill 64; S Mills 5-43, S Whitwam 3-34).