The leadership changed hands as previous top two; Thongsbridge and Broad Oak both suffered their first defeats of the season allowing Hoylandswaine, Delph & Dobcross and Moorlands to all share pole position at the Drakes Premiership summit. In the Jedi Championship; Elland relinquished their position at the top following their defeat at unbeaten Skelmanthorpe whilst Denby and Hall Bower lead the way in the early stages of the Cedar Court Conference.
Drakes Premiership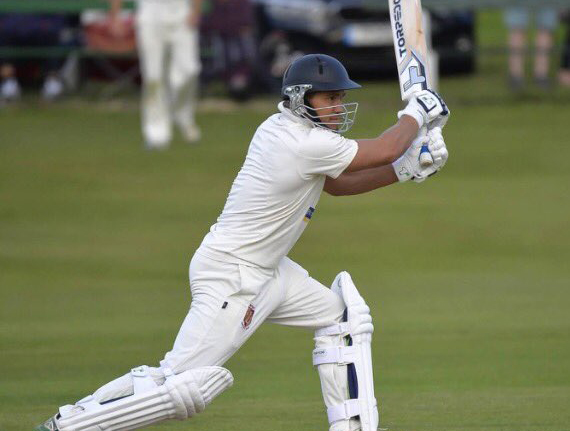 Table-topping Thongsbridge were dealt a strong blow by Moorlands who went on a run rampage down Miry Lane in a huge 181-run victory. Middle-order batsman Eddie Walmsley (167no, pictured above) provided the pyrotechnics with a exquisite unbeaten 123 ball innings containing 18 fours and 9 sixes that stunned the home side with Nathan Rabnott (87) continuing his strong start to the season with the bat. Thongsbridge used seven bowlers to try and stem the leakage but were unable to prevent Moorlands setting a daunting 373-5 first innings target. In reply, Thongsbridge found it hard to start in the hunt and finished 192ao, despite pacing their innings well, losing vital wickets at the wrong time. The two clubs will meet again in the Sykes Cup second round stage.
Broad Oak travelled to Hoylandswaine hoping to inflict a first defeat on the reigning champions but they were pegged back after racing off to the perfect start. Oak reached a comfortable 112-2 at drinks. However that's when Gurman Randhawa (6-65) stepped up and in his fifteen overs he inflicted enough damage to ensure Broad Oak didn't leave their crosshairs with no-one getting out of the thirties for the guests. But Broad Oak have a solid bowling attack themselves and when they reduced Swaine to 44-4, with deeply damaging batsmen back in the shed, tails must have been up. However an excellent 88-ball knock by former Durham county cricketer Usman Arshad set the foundation for tracking the target and by the time Arshad departed, caught by wicketkeeper Tom McCreadie it was left to Randhawa (49no) to see his team home for a five wicket win.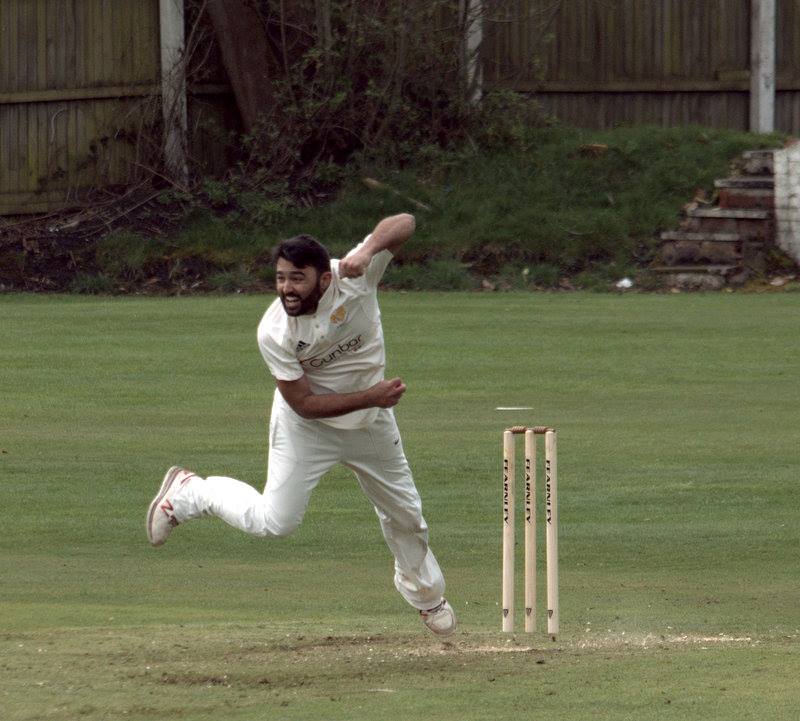 Umer Yaqoob (4-29, pictured above) made it fifteen wickets for the season already as he helped dismantle Armitage Bridge who headed down the A62 to Delph & Dobcross. The 2016 champions kept Bridge well under control as regular wickets fell as only expatriated Australian Robin Broom (28) managed to dig out an innings. Wasim Qasim (3-46) and Xander Selby (2-30) both helping to assert their influence on the match with timely wickets as Armitage Bridge were bowled out for 130. It was never likely to test Delph, a potent batting force although they lost powerful opener Mosun Hussain to a first ball duck, bowled by Jack Hinchliffe. Chris Tipper (50no) and Arron Lilley (64no) both scored unbeaten half-centuries as Delph made short work of chasing down the low total in a rapid 17 overs.
A century opening stand by Will Fraine (83) and Simon Kelly (54) sent Honley on their way to defeating Kirkburton at Far End Lane. Home side Honley were bowled out for 221 in precisely fifty overs as young spinner Will Reeves (5-62) found conditions to his liking. Kirkburton were put under pressure straight after tea as they were quickly reduced to 36-4 thanks to a five wicket haul by Brett Randell (5-42). Kirkburton regathered with a half-century by Toby Booth (66) but they were left well short of the required run target finishing on 193-7 despite a late 34-ball cameo by skipper Craig Fletcher (46no). Honley move up to 4th in the table.
Shepley found the going hard after winning the toss and batting first on a slow wicket at local rivals Shelley as they toughed it out reaching 213-9 from 50 overs. Skipper Greg Wood (64) and wicketkeeper Shahban Raheem (53) returning to his former club provided the mainstay of the Shepley innings but were held admirably by a five wicket return for Mo Bhoola (5-51), himself returning to Shelley after a two season spell at Kirkburton. Shelley fell to a 63-run defeat after being bowled out for 150 as Abbas Ahmed (4-59) kept things ticking in the bowling department in a well-earned Shepley triumph.
Golcar prop up the table as they still search for a first win of the season. Visitors Scholes came out on top inflicting a 58-run defeat for Steve Whitwam's team. James Noble couldn't repeat the fine knock that put his team through in the Sykes Cup six days prior as he was caught behind without getting off the mark. Meanwhile a studiously paced 137-ball century from the impressive Yaasar Imtiaz (101) set the tone for Scholes as they reached 201-7 from winning the toss and batting first. Golcar's Sam Mills (3-44) with the best return for the hosts. Tom Chadwick (5-30) handed Scholes control of the match as he ran through the upper order and skipper Josh Brook (5-50) took care of the tail as Golcar finished well short on 152ao.
A fine first league win of the season for Mirfield Parish Cavaliers put paid to Cawthorne who are still searching for their first victory and remain hovering at the foot of the table at this early stage. Four wickets apiece for Daniel Broadbent (4-49) and Connor Rowlands (4-48) restricted the visitors to 164ao with Lewis Skelly (49) frustratingly missing out on a half-century. For Cavaliers in reply, wicketkeeper Muhammad Ali (84no) followed up a pair of catches in the first innings with a fine 101-ball performance as Parish coasted to victory in 34 overs.
Full scores:
Armitage Bridge 130 (R Broom 28; W Qasim 3-46. U Yaqoob 4-29)
*Delph & Dobcross 133-2 (C Tipper 50no, A Lilley 64no).
Scholes 210-7 (Y Imtiaz 101, T Cahdwick 31; S Mills 3-44)
*Golcar 152 (J Mulhall 34; J Brook 5-50, T Chadwick 5-30).
*Honley 221 (W Fraine 83, S Kelly 54; A Scholefield 3-59, W Reeves 5-62)
Kirkburton 193-7 (T Booth 66, C Fletcher 46no; B Randell 5-42).
Broad Oak 202 (D Finn 34, J Hargreaves 30; G Randhawa 6-65)
*Hoylandswaine 204-5 (U Arshad 82, G Randhawa 49no).
Cawthorne 164 (L Skelly 49, C Walmsley 29; D Broadbent 4-49, C Rowlands 4-48)
*Mirfield PC 167-3 (M Ali 84no, N Husain 38no).
Shepley 213-9 (G Wood 64, S Raheem 53; M Bhoola 5-51)
*Shelley 150 (J Scott 26; A Ahmed 4-59).
Moorlands 373-5 (N Rabnott 87, E Walmsley 167no, J Maxwell 35no)
*Thongsbridge 192 (R Marshall 34, A Kemp 61; E Walmsley 3-36).
Jedi Championship
Early leaders Elland were given shock treatment after a visit to Skelmanthorpe in a first defeat for Alastair Finn's team. In a low-scoring affair, home skipper Mike Kitson (43) handed his team something to bowl at as Alec Hodgson (5-47) took five wickets with Skelmanthorpe bowled out for 129. Kitson (6-33) completed a man-of-the-match performance as he blazed through the Elland ranks as they were blitzed by hostile bowling from the opening bowler. James Crossland (2-19) and Asif Hooper (2-3) wrapped up the win nicely as Skelmanthorpe made it back-to-back Championship wins.
Rastrick performed a remarkable rear-guard action to despatch Slaithwaite who relinquished the match from a winning position. Hasnat Yousaf (86) helped Slaithwaite on their way to posting 205ao as Wasim Javed (4-33) best-bowled for Rastrick. At the midway point of Rastrick's reply with them in peril at 101-5, Jacob Waterson (92no) stepped forward and help shepherd his side to a fine win as they chased down the target by a narrow one-wicket margin.
A century from wicketkeeper George Sommerville (102) enabled Lascelles Hall to get back to winning ways after their Sykes Cup exit by putting Holmfirth to the sword. Amar Rashid (3-37) and Sami Ur-Rehman (3-64) got to work to prevent Lascelles Hall from causing any more harm as they reached 227-8 batting first. Holmfirth could only answer that by managing 145ao in their follow-up, mainly due to an extraordinary 12-over bowling performance from Lascelles Hall's Zeeshan Khan (8-44).
Barkisland are still finding their feet following last season's relegation from the Premiership and were second best to Almondbury Wesleyans who are enjoying a great start to their 2018 campaign. There were contributions throughout the Wesleyans order as they made 244-8 after winning the toss and batting first. Four wickets each for Matthew Henshaw (4-34) and Fred Walker (4-24) ensured Barkisland were never able to put an effective stand together as they crashed to 119ao in reply.
Lepton Highlanders forfeited a useful platform with the top four batsmen all scoring heavily on their visit to Clayton West's compact ground. However 223ao wasn't enough as the last seven Lepton batsmen could only manage 20 runs between them after bowlers Dan Barber (5-62) and Phil Tunnicliffe (3-40) got stuck into the tail. Clayton West ably reached their target for the loss of seven wickets with Dan's brother Tom Barber (68) top scoring. Imran Khan (4-24) not helped elsewhere in the bowling as Lepton suffered defeat.
Only three batsmen got above double figures for Almondbury but it was enough to see off Meltham who now prop up the table along with Holmfirth and Barkisland. Imran Muhammad (48), Atif Kamran (37) and Yasir Mehmood (26) all combined usefully as Almondbury were bowled out for 165. Meltham couldn't pace their response well at all as skipper Mirza Mobeen (4-44) scythed through the upper order as the visitors crashed to 122ao (extras top scoring with 34!), losing by 43 runs.
Full scores:
*Almondbury 165 (A Kamran 37, I Muhammad 48; I Hussain 3-36)
Meltham 122 (M Mobeen 4-44, I Muhammad 3-10, N Ayub 3-38)
*Almondbury Wes 244-8 (W Binns 41, M Henshaw 34, J Hoyle 40no; L Bridges 3-67)
Barkisland 119 (L Bridges 35; M Henshaw 4-34, F Walker 4-24).
Lepton Highlanders 223 (M Ishan 51, T Mulhall 25, S Bashir 39, A Hussain 77; D Barber 5-62, P Tunnicliffe 3-40)
*Clayton West 228-7 (T Barber 68no, P Tunnicliffe 28, C Bullock 36; I Khan 4-24).
*Lascelles Hall 227-8 (G Summerville 102, T Weightman 43; A Rashid 3-37)
Holmfirth 145 (M Gummerson 30; Z Khan 8-44).
Slaithwaite 205 (H Yousaf 86, C Coleman 43, J Chojnowski 38no; W Javed 4-53, J Pearson 3-78)
*Rastrick 209-9 (J Warterson 92no).
*Skelmanthorpe 129 (M Kitson 32; A Hodgson 5-47)
Elland 60 (M Kitson 6-33).
Cedar Court Conference
Hall Bower help lead the way in the Conference who held off Marsden by just ten runs in the closest match of the afternoon. Mark Johnson (6-27) may have thought his input would've been enough to restrict hosts Hall Bower to a chaseable score of 140ao but Bower had answers right across their bowling attack as first Iqrar Amjad (3-20) got stuck into the Marsden upper order and Tom Baxter (3-18) and Faisar Siddiq (3-41) finished the task as Marsden were bowled out for 130.
Denby are also leading the way in the season's infancy by overcoming a Linthwaite target of 213-9 at Manchester Road. Linthwaite captain Saif Rehman (58) and Mohammad Umar (48) top scored but a supreme 131-ball innings from Denby's Farhan Hussain (99no) led a perfectly weighted comeback as Denby reached 214-3 with 5 balls remaining to leave Linthwaite pointless and sat at the bottom of the table.
Also riding high are Birkby Rose Hill who's 246-9 was plenty in a 41-run victory away at Denby Dale (205ao). Mirfield first restricted travelling Thurstonland to 191-8 before casually knocking off the total with 10 overs left thanks to a super 118-ball knock by captain/wicketkeeper Adam Goldthorpe (131) which contained 16 fours and 2 sixes.
Elsewhere Upperthong (210ao) took apart Kirkheaton (88ao) and Cumberworth United (229-5) raced to a five wicket win at home to Emley Clarence (227ao) who's Shannon Clarke (90) couldn't do enough with the bat.
Full scores:
Emley Clarence 227 (S Clarke 90, J Lee 27; R Somani 3-35, G Smith 3-57)
*Cumberworth Utd 228-5 (A Littlewood 46, R Somani 31, G Smith 31no; M Nabeel 3-59).
Birkby Rose Hill 246-9 (A Hussain 45, A Yousaf 29, R Khan 31, R Nazar 75no; F Stower 4-54)
*Denby Dale 205 (P Hale 64, M Rammell 27, F Stower 50no; N Rashid 6-73).
*Hall Bower 140 (F Siddiq 33; S Ali 3-31, M Johnson 6-27)
Marsden 130 (S Ali 34; I Amjad 3-20, T Baxter 3-18, F Siddiq 3-41).
*Linthwaite 213-9 (S Rehman 58, M Umar 48, T Suleman 31; Z Jadoon 3-62, M Askham 4-53)
Denby 213-3 (G Gumpert 37, F Hussain 99no, M Ul-Haq 30, T Sanders 26no).
Thurstonland 191-8 (J Booth 57, T Broom 27, K Ahmed 25, S Malik 32; N Saudagar 3-44, B McGuinness 3-74)
*Mirfield 193-1 (A Goldthorpe 131, J Ramsey 45).
*Upperthong 210 (G Marah 50, S Briggs 26, T Mighall 46, W Oakley 26; P Girardi 5-62)
Kirkheaton 88 (S Sharwar 32; H Frankland 5-38, T Charlesworth 3-7).