As we move past the first third of the season, two teams have pulled away at the top; Hoylandswaine and Honley who both toughed out crucial victories to maintain their excellent starts whilst at the bottom Golcar became a latest scalp for high-flying Kirkburton. In the Jedi Championship, only six points separate the entire top half with Lascelles Hall drawing level at the top with Almondbury Wesleyans. Meanwhile Denby crushed Thurstonland to maintain their four point gap at the top of the Conference.
Drakes Premiership
In one of the most beguiling matches of the programme, second placed Honley headed to fifth place Shepley in what would be one of the most stern tests of their Byrom Shield challenge and the visitors duly negotiated the hurdle presented to them, although they were made to recover from a disastrous position. Honley's in-form strike bowler, overseas Brett Randell (4-31) was again pretty unplayable with the ball in his hand as he single-handedly destroyed the batting power that Shepley have at their disposal, removing Dan Wood, Greg Wood and Shahban Raheem all for single figures. Shepley simply didn't recover from such a hefty blow as two-wickets apiece for Tom Craddock and Lewis Kenworthy dusted off the remaining batsmen as Shepley finished at 100ao. Still, Shepley boast quality swing and seam bowling proficiency of their own and they quickly had the visitors reeling at 9-4 as opening pair Nasir Jamal (2-20) and Archie Greaves (2-25) got stuck into the top order. It took a diligent half-century from Randell (61no, featured image) himself as he along with Kenworthy (21) wrestled back control and guided Honley over the line.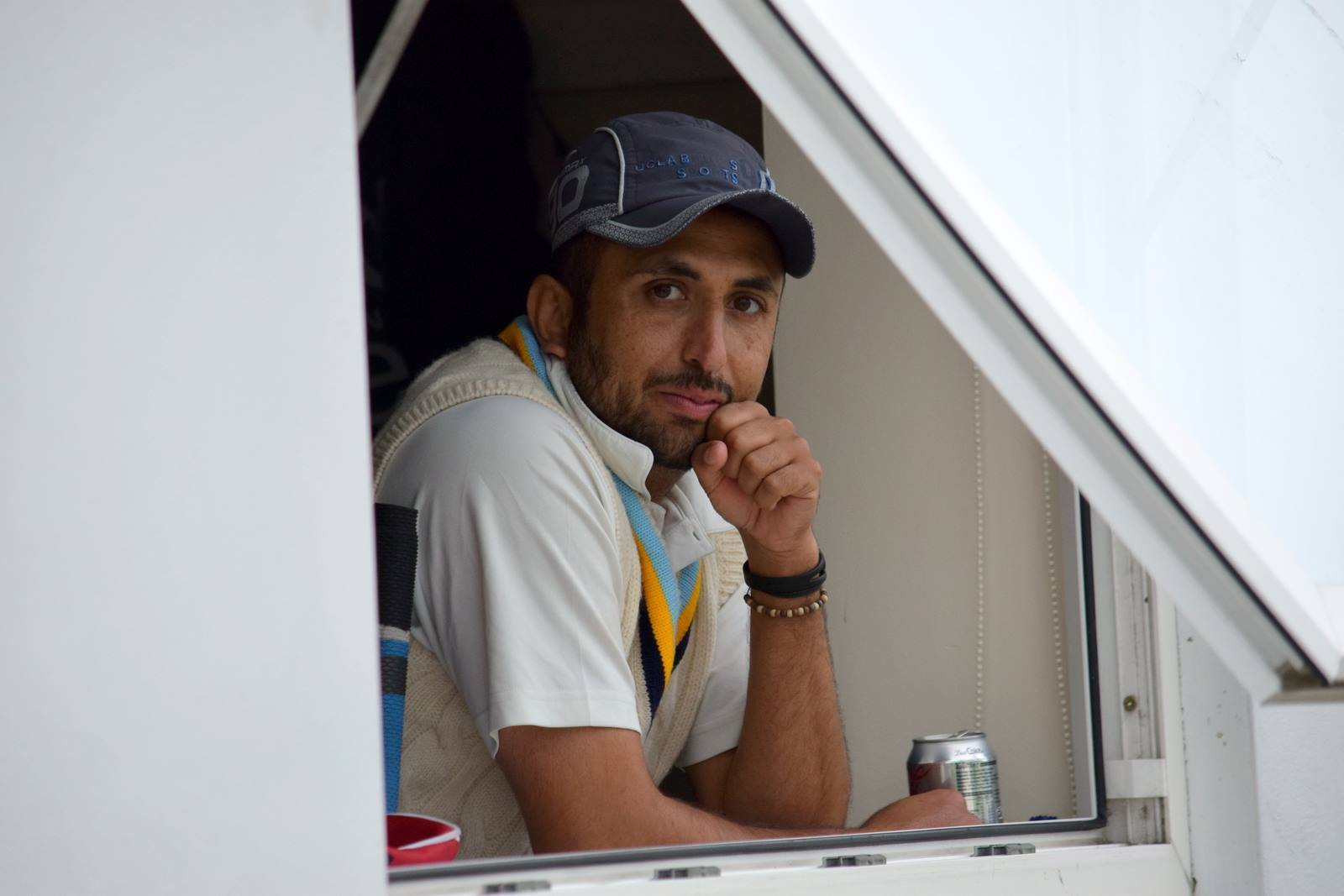 Whilst drama was going on at Marsh Lane, Hoylandswaine made a short journey to their neighbours Cawthorne and had to put in a characteristic performance to ensure they returned with six points. Their hosts elected to bowl first at their table-topping neighbours and made the normally fluid reigning Champions graft to a score of 250-9. Alex Lees (86) put in yet another high-scoring shift in away from his county duties but Swaine had to be grateful for Usman Arshad (43) sticking around and accumulating a defendable tally. Former Delph & Dobcross opening bowler Shakir Muhammad (5-21, pictured above) effectively put paid to any hope that Cawthorne may have had in the reply as he put in his best performance with the ball this season. Gurman Randhawa (3-47) did a good job of nullifying any life left in the tail and Cawthorne faltered at 114ao.
Third-placed Broad Oak's modus operandi this season has been no deep reliance on any specific team member and their latest success epitomised their fine team spirit with no less than three half-centurians on show as they overcame their visitors Moorlands by 43 runs. Harvey Booth (50), Sean Mee (52) and Kyran Dill (51) all got the opportunities to send their caps around an excited home crowd as along with good inputs from Charlie Roebuck (35) and captain Jack Hargreaves (36) they put on 273-8 batting first, despite the efforts of Moorlands' dependable bowler Darrell Sykes (4-63). It looked to be an absorbing fixture as Andrew Fortis' visitors paced things nicely with Fortis (46) and opener Jared Maxwell (48) putting them into a decent position. Broad Oak's Daniel Taylor (4-29) was the deciding factor and the game was up once Eddie Walmsley (32) ran out of partners with Moorlands finishing on 230ao.
Nazar Hussain helped Mirfield Parish Cavaliers continue to adapt to Premiership life nicely as they heaped more discomfort on Delph & Dobcross who suffered a fourth defeat in five matches. Hussain (5-65) bowled straight through and decimated the brittle Delph upper order as they recovered slightly from being shell shocked at 91-8. Pugnacious 9 and 10 batsmen Wasim Qasim (39) and Umer Yaqoob (51) helped them recover to 186ao but it was very much in vain as excellent Parish ran out 6-wicket winners. Half-centuries from opener Aiden Hawkesworth (51) and wicketkeeper Muhammad Ali (52) easily overcame the first innings deficit and registered a vital win to drag Delph further into trouble and simultaneously ease relegation fears of their own.
A remarkable century from Scholes' overseas Ishan Rangana (151no) put his team back on the winning trail as they chased down a Thongsbridge total of 267-9 at Chapelgate in a thrilling Holme valley derby encounter. Thongsbridge had a centurion of their own as Jake Cassidy (104 off 106 balls) helped put on a challenging first innings total but the glory was taken by the brilliant Rangana who smashed his way off 109 balls with 20 fours and 7 sixes, tormenting the Thongsbridge bowling attack and bringing home the win with 8 balls remaining.
Kirkburton's fourth straight win came at the expense of forlorn Golcar who are seeing a bigger gap to safety open up. Golcar captain Steve Whitwam (42) put in another battling batting performance but apart from Irfan Amjad (38) and Mark Wilson (21no) they had little answer as they were pestered by Yorkshire's Jack Brooks (4-46) and Javaid Ahmad (5-44) and could only make 160ao. Kirkburton opener Andrew Smith (55) led his side's reply with a fine 65-ball half-century as the hosts reached 161-4 in 30 overs.
Shelley were brought back to earth with a bump as they were outplayed on a visit to Armitage Bridge. Jaycob Curtling (75) fired the home side to a challenging 221-8 batting first as Mo Bhoola (3-76) starred with the ball for Shelley. Zimbabwean Sikandar Raza (32) couldn't repeat his previous weeks heroics and along with Joe Sykes (38) were the only Shelley batsmen to withstand the constant questions posed by the Bridge bowlers. Tony Treadaway (4-25) and Daniel Moorhouse (3-35) snuffed out hope of a third consecutive win and Shelley were restricted to 115-9 and remain second bottom whereas Armitage Bridge rose to 7th.
Full scores
*Armitage Bridge 221-8 (J Curtling 75; M Bhoola 3-76)
Shelley 115-9 (J Sykes 38, S Butt 32; D Moorhouse 3-35, T Treadaway 4-25).
*Broad Oak 273-8 (H Booth 50, C Roebuck 35, J Hargreaves 36, S Mee 52, K Dill 51; N Smith 3-83, D Sykes 4-63)
Moorlands 230 (J Maxwell 48, A Fortis 46, S Sajid 29, E Walmsley 32; D Taylor 4-29).
Hoylandswaine 250-9 (A Lees 86, S P Singh 26, U Arshad 43, B Potter 26no; J Deavin-Baker 3-76)
*Cawthorne 114 (J Deavin-Baker 58; S Muhammad 5-21, G Randhawa 3-47).
Golcar 160 (S Whitwam 42, I Amjad 38; J Brooks 4-46, J Ahmed 5-45)
*Kirkburton 161-4 (A Smith 55, R Ranhawa 37; O Pearson 3-52).
Delph & Dobcross 186 (C Tipper 37, W Qasim 39, U Yaqoob 51; N Hussain 5-65, T Fretwell 3-84)
*Mirfield PC 188-4 (T Orrell 28, A Hawkesworth 51, M Ali 52, N Hussain 25; X Selby 3-33).
Thongsbridge 267-9 (B Raven-Hill 39, H Slodecki 38, J Cassidey 104; Y Imtiaz 6-47)
*Scholes 270-4 (H Clegg 30, I Rangana 151no, T Brook 36, T Chadwick 27no).
*Shepley 100 (J Anderson 37; B Randell 4-31)
Honley 103-6 (B Randell 61no).
Jedi Championship
It's a rousing season already in the Championship and Holmfirth registered their first win of the campaign at home to flourishing Almondbury Wesleyans. A good bowling performance by Holmfirth saw Wesleyans held back to 188ao as Max Gummerson (4-60) caused the most damage and Thomas Addy (73) top scoring for the visitors. The match bubbled away into high drama as Wesleyans fought back themselves with the ball. Homfirth were helped by Sami Ur-Rehman (76) and a half-century by Amar Rashid (53) as despite losing regular wickets they reached 189-9 in a thrilling climax with 2 overs remaining.
Lascelles Hall came away worthy 75-run winners away at Skelmanthorpe. Zahed Ahmed (59), Matthew Simpson (60) and Sheheryar Hassan (44) all combined to lift Hall to 245ao with two five-wicket scalps for Shat's Jack Hepworth (5-50) and Richard Wimpenny (5-51). The hosts could've done with the all-round abilities of absent captain Mike Kitson as they fell apart in the chase with only Asif Hooper (32), Wimpenny (35) and Fez Khan (44) getting over double figures. Opening bowler Gavin Smith (3-48) and Hassan (3-12) put the skids under Skelmanthorpe who stuttered to 170ao.
Elland took local bragging rights on the far side of the M62 as they ran out easy winners at home to in-form Rastrick who fell to their first defeat of the season. Rastrick were bowled out for 134 with Majid Khan (43) top scoring and Jack Hendy (4-47) with the most victims for Elland. The home side's opener Ciaran O'Malley (59) lay a solid foundation and Paul Winrow (19no) and Alec Hodgson (20no) negotiated some good Rastrick bowling to take Elland past the winning post on 137-4.
Samual Moyle took four wickets for Barkisland as they ran out worthy winners away at Lepton Highlanders. Moyle (4-33) put the home side under pressure with captain Danny Mulhall (37) highest scoring as several Lepton batters made starts yet couldn't convert. Barkisland cruised to an 8-wicket win as opener George Hampshire (87no) batted right through and along with James Summerscales (64) took the visitors to 192-2 within 39 overs.
The highest score of the afternoon was put on by Slaithwaite's Hasnat Yousaf (184no) as they made Almondbury toil after winning the toss and batting first. The Moonrakers made 323-7 from their 50 overs with Yousaf taking 136 balls to compile his heavy score with 22 fours and 7 sixes. A nippy fifty from captain Alex Walker (50) laid on some late-innings runs in an afternoon to forget for the Almondbury bowlers, of whom only Sharaz Ali (4-41) emerged relatively unscathed. Josh Chojnowski (5-44) had a memorable afternoon too as Almondbury collapsed to 117ao in reply; opening bat Mirza Mobeen (46) and Atif Kamran (31no) the only Almondbury batters to offer any resistance.
Meltham relinquished the opportunity to chalk up a first win of the season and the hunt goes on after they fell short of an under-par score at home to Clayton West and remain bottom. Kamran Muhammad (6-79) blasted through the Clayton West ranks with Sam Tyas (47no) putting on runs that proved, in the end, to be vital as the visitors reached 176ao. But it was enough, not by much, as Clayton West had Phil Tunnicliffe (4-30) and Dan Barber (4-23) to thank for their 26-run victory after bowling Meltham out for 150 in reply, despite a middle-order riposte from David Dyson (62).
Full scores:
Rastrick 134 (M Khan 43; J Hendy 4-47)
*Elland 137-4 (C O'Malley 59; A Afridi 3-28).
Almondbury Wes 188 (T Addy 73)
*Holmfirth 189-9 (S Rehman 76, A Rashid 53).
*Lepton Highlanders 191 (T Mulhall 25, S Bashir 29, D Mulhall 37, J Waring 29; S Moyle 4-33)
Barkisland 192-2 (G Hampshire 87no, J Summerscales 64).
Clayton West 176 (D Swan 32, S Tyas 47no; I Hussain 3-37, M Kamran 6-79)
*Meltham 150 (J Moulson 31, D Dyson 62; P Tunnicliffe 4-30, D Barber 4-23).
Lascelles Hall 245 (M Simpson 60, Z Ahmed 59, S Hassan 44; J Hepworth 5-50, R Winpenny 5-51)
*Skelmanthorpe 170 (S Khan 44, A Hooper 36, R Winpenny 32; G Smith 3-48, S Hassan 3-12).
*Slaithwaite 323-7 (H Yousaf 184no, A Walker 50; S Ali 4-41)
Almondbury 117 (M Mobeen 46, A Kamran 31no; J Chojnowski 5-44).
Cedar Court Conference
Denby continued their 100% record with a bowling annihilation of Thurstonland with Paul Goodman (5-44) and Zafar Jadoon (4-27) inflicting maximum damage on the visitors as they were bowled out for 94. The total was reached for no loss as Abdul Rehman (49no) top scored in the reply.
Linthwaite finally got off to their first win on the road after the well-travelled Qaiser Rashid (89) and Tahseen Suleman (86no) helped them to 254-9 and they proceeded to bowl Birkby Rose Hill out for 177. Suleman (4-50) also took crucial wickets with the ball as Linthwaite ran out 77-run winners.
Elsewhere, Cumberworth United kept pace with the leaders with an equally satisfying 8-wicket win away at Upperthong, eclipsing Upperthong's 89ao for the loss of two wickets. Reid Somani (6-22) the main Cumberworth wicket-taker. Emley Clarence (255ao) picked up a convincing win at home to Mirfield (134ao) and Marsden (204-8) edged out the challenge of Denby Dale's 176ao after Danny Clee (6-64) proved the difference.
Full scores:
Linthwaite 254-9 (Q Sheikh 89, T Suleman 86no; M Munsaf 3-38)
*Birkby Rose Hill 177 (R Khan 53, S Hussain 35; T Suleman 4-50, B Ounees 3-46)
Thurstonland 94 (J Booth 37; P Goodman 5-44, Z Jadoon 4-27)
*Denby 95-0 (A Rehman 49no, M Askham 26no)
*Emley Clarence 255 (D Stratford 70, M Nabeel 82; A Zarif 6-61)
Mirfield 134 (A Goldthorpe 43; M Nabeel 3-50, ATaylor 4-26)
*Kirkheaton v Hall Bower - Late Result
*Marsden 204-8 (J Smith 61, M Butters 25, I Malik 50; F Stower 3-41)
Denby Dale 176 (N Rana 28, H Senior 33, T Clarke 40, M Tehseen 29; D Clee 6-64)
*Upperthong 89 (R Somani 6-22)
Cumberworth Utd 92-2 (J Maskill 53no)