Heavy showers decimated the T30 programme on Matchday six with just a handful of matches seeing some action. Holmfirth romped to a victory at home to hapless Almondbury was just one of the two matches that was played to a finish. In Group Green, Upperthong were left frustrated by Honley 2XI as they let slip a golden opportunity to claim ground on leaders Delph & Dobcross 2XI.
Group Orange
The only match that saw some play came at traditionally-moist Delph & Dobcross who had enough of a break in the weather to start a twenty over match more-or-less on time at home to Honley. The hosts got off to a rip-roaring start with captain Alex Peters (21) and Mosun Hussain (30no) finding the boundary regularly. Honley started to get a handle on the match once they removed Peters and Timmy Taylor took an excellent low one-handed catch at gully. However that was almost the final action after a shower forced the players off on the six over mark. Play resumed following a five minute delay and only a further four overs were possible which left Delph at 77-3 when the next storm terminated proceedings.
Group Yellow
No matches survived the morning's rain with all Group Yellow fixtures abandoned without a ball bowled.
Group Red
The only match to survive entirely in Group Red was at Holmfirth where Jake Coleman-Hallsworth steered his side to their second win of the season at home to rock-bottom Almondbury in a match that was reduced to twenty overs. A valiant effort from Almondbury skipper Liam Hanson (24) wasn't enough to put up enough runs batting first once Glyn Brown (3-9) inspired Holmfirth as the visitors were held to 73-7. Tight lines were applied by most of the Holmfirth bowling attack and they were rewarded with a easy victory as they successfully chased down in less than ten overs. Niel Harris (30no) was central to the second innings showing as he hit four sixes in Holmfirth's 75-4 reply.
Group Green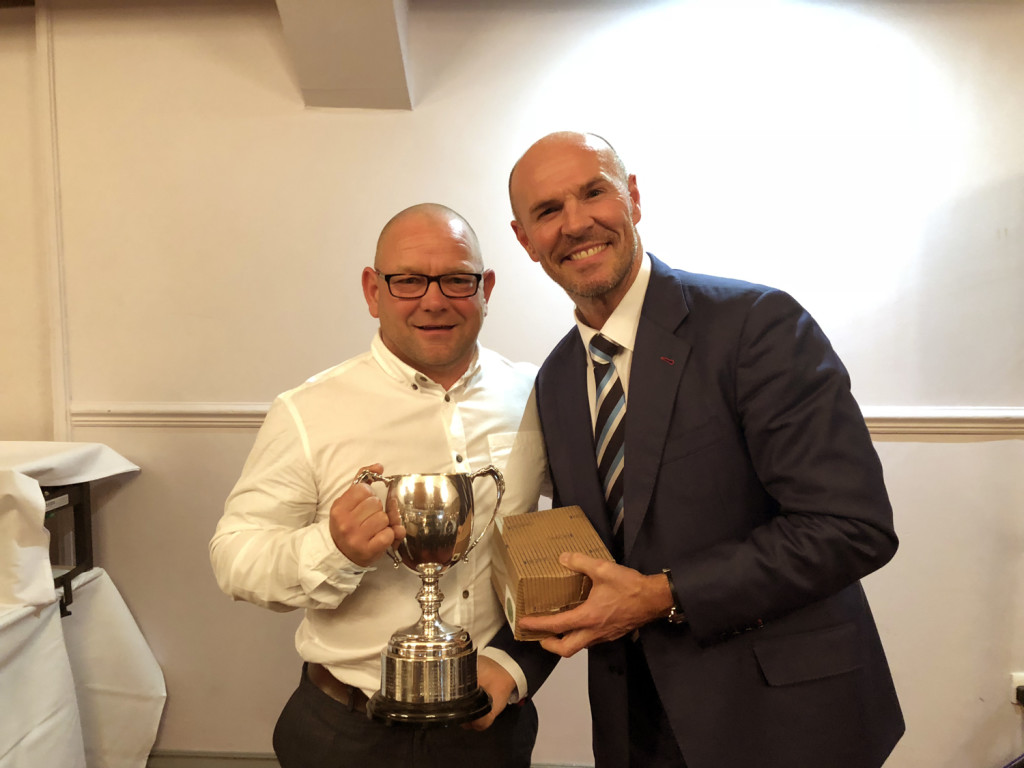 Richard Jakeman (left) let his vast experience do the talking as his half-century became the key to Honley 2XI's well-measured success at home to second-placed Upperthong 1XI.
With leaders Delph & Dobcross 2XI unable to take to the pitch away at Barkisland 2XI, second-placed Upperthong squandered a perfect opportunity to draw level at the top when they took on Honley 2XI. The hosts welcomed back the experience of Richard Jakeman; Premiership Two batting winner for the past two seasons and his half-century helped earn Honley 2XI the win to deny Upperthong. Jakeman (52) and Ben Lindley (25) were top scorers in the hosts 133-7 first innings total in a match that was reduced to 23 overs. Upperthong began the pursuit well enough with openers Edward Clowes (24) and Ben Mighall (17) sharing a decent first wicket partnership. However a glut of wickets then fell under the hand of Tom Willets (4-24) and despite a rally by Ben Charlesworth (24), the visitors had lost too much momentum and finish 14 runs shy on 119-7. It's likely the Delph & Dobcross 2XI vs Upperthong match on the penultimate matchday a week on Saturday may be crucial to both sides when it comes around.
No further matches were played.