Hoylandswaine made it a double celebration when they ended a five year wait to lift the Sykes Cup, before their 2XI followed it up by claiming the Paddock Shield seven days later. The Sykes Cup has eluded them in recent times but an unlikely hero made the key breakthrough in the 100th Sykes Cup Final. Delph relinquished their hold on the famous old trophy in a slow-scoring match when old boy Arron Lilley and Swaine skipper Sarjinder Pal Singh combined to set up a stern target which Delph failed to chase thanks to the input of one of their unsung heroes, Christian Jackson. In the Paddock Shield final, Hoylandswaine 2XI recovered from a disastrous start batting first to overwhelm Skelmanthorpe.
WisdenAuction.com Sykes Cup Final
Heavy rain in the run up to the centenary Final summed up the weather that has pockmarked most of a challenging season. Elland's groundsmen had their work cut out in preparing a pitch suitable for such a milestone occasion but Hoylandswaine managed to draw deep from their reserves to record their third Sykes Cup final victory. At the centre of their match-winning first innings total was captain Sarjinder Pal Singh, opening the batting for the first time this season and he carefully plotted a patient - he faced nearly half the total balls of the Hoylandswaine innings - contribution that gave licence to some of his more ostentatious teammates to up the ante later on. His opening partner, Iftikhar Naseer (5) succumbed in the tetchy, opening duel to a simply outstanding catch by Delph & Dobcross skipper Alex Peters. The former Greenfield man steadied himself underneath a steepling shot which he did extremely well to hang on to which inspired Delph who managed to take out another destructive element by forcing a slack shot from Chris Holliday (22) sending a simple catch to Rehan Afridi at mid-on.
Singh meanwhile, had survived a couple of half-chances off his edge through the slips earlier and was not in a generous mood as he duly dropped anchor. Former Delph all-rounder Lilley began to show his class by taking the sting out of the Delph pace attack as he and Singh (46) and swiftly put on 76 runs, together making the surface look easy to bat on. Lilley (46) was removed, bowled by an excellent ball from Muhammad Shakir before Singh's 131-ball watch was finally ended when Xander Selby took a catch from his own bowling. Usman Arshad as afforded the room to start to go after the tiring bowlers as he hit 2 fours and 2 sixes in an entertaining 20-ball cameo to set Delph a 207-7 target. Bowlers Adam Hayes (2-50) and Wasim Qasim (2-46) returned the best figures for Delph.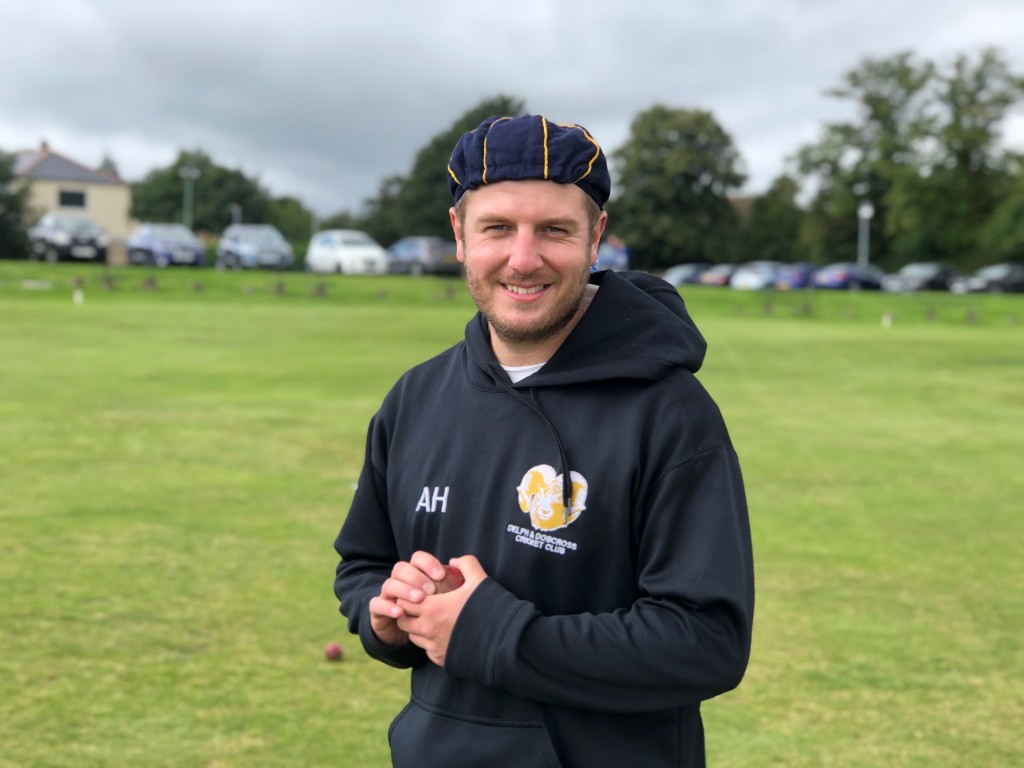 All-rounder Adam Hayes did well with both bat and ball for Delph but it wasn't enough. Hayes took 2-50 with the ball and top scored with 25 runs.
Hoylandswaine's three-pronged pace attack was kept reasonably subdued after the restart as Delph searched hard for loose balls to try and keep on top of the rate. For the most part, they succeeded and were ahead on the run rate after 20 overs, with only the loss of Muhammad Shakir (11) to an easy catch from the Hoylandswaine skipper. A shuffle of the pack saw Gurman Randhawa introduced with occasional bowler Christian Jackson in an unusual move, given the balance of play. Jackson (3-31) rewarded his captain by making the crucial breakthrough as Mosun Hussain (14) was tempted with a short delivery that he wastefully lolloped down to Singh at square leg. Randhawa then bowled Peters (21) in the next over which effectively eliminated any chance Delph may have harboured. Aside from a spirited performance from Hayes (25), wickets then fell quickly as they were reduced from 58-1 to 70-5. Umer Yaqoob (17) had some fun down the order but the match withered away with the final wicket falling on 124ao with nine overs left to play. Jackson (3-31) took the man of the match award for his breakthrough and excellent bowling performance.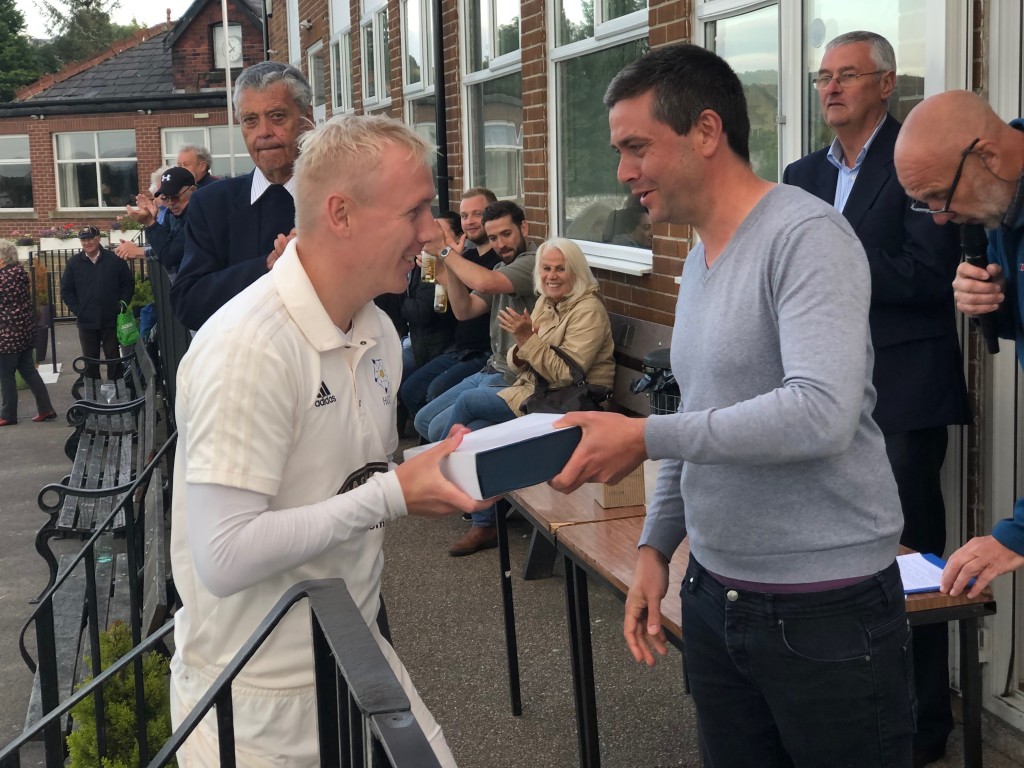 Christian Jackson emerged as Hoylandswaine's unlikely hero with the wicket that swung the balance of power his team's way, eventually finishing with 3-31. He received his man of the match award from WisdenAuction.com owner Chris Ridler.
Fired-Up Corporation Paddock Shield Final
Hoylandswaine 2XI overcame a pressure situation to recover from a precarious position away at Skelmanthorpe. A disastrous start with the bat had them severely floundering after Scott Jagger (3-38) had led the home side, cheered on by a healthy home support to a commanding position. At 75-6, Jack Lockwood (37) and Luke Potter arrested the slide with a 76-run partnership with a steady repair of the damage ahead of a brutally pernicious assault towards the end. Potter (69) was particularly devastating as he slammed 6 fours and 3 huge sixes over the boundary in a 55-ball knock that unravelled the earlier good work by the Skelmanthorpe bowlers with Hoylandswaine setting a 188-7 first innings total.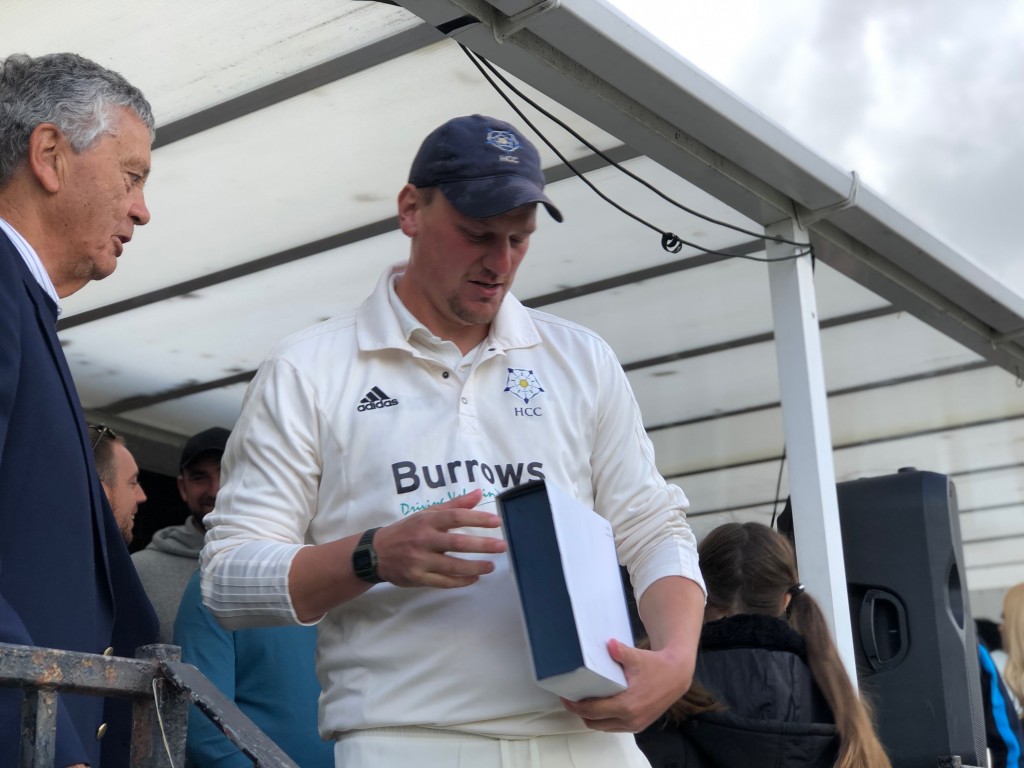 Luke Potter (Hoylandswaine 2XI) claimed the man of the match in the Paddock Shield with a blistering 69 run contribution which repaired their faltering first innings and took the game away from Skelmanthorpe.
The home side were clinically taken out of the game early in the reply as the visitors began with intent. Saif-Ur Rehman (3-10) blasted through the upper order with the hosts stunned into submission almost immediately. Wickets clattered down with alarming regularity as Skelmanthorpe were not allowed an inch - their biggest partnership of the afternoon was 21 runs. Josh Holmes (5-20) wrapped up victory, taking the last five wickets with Rob Bartram (14) top scoring for the Lidgett Lane men as they made 87ao.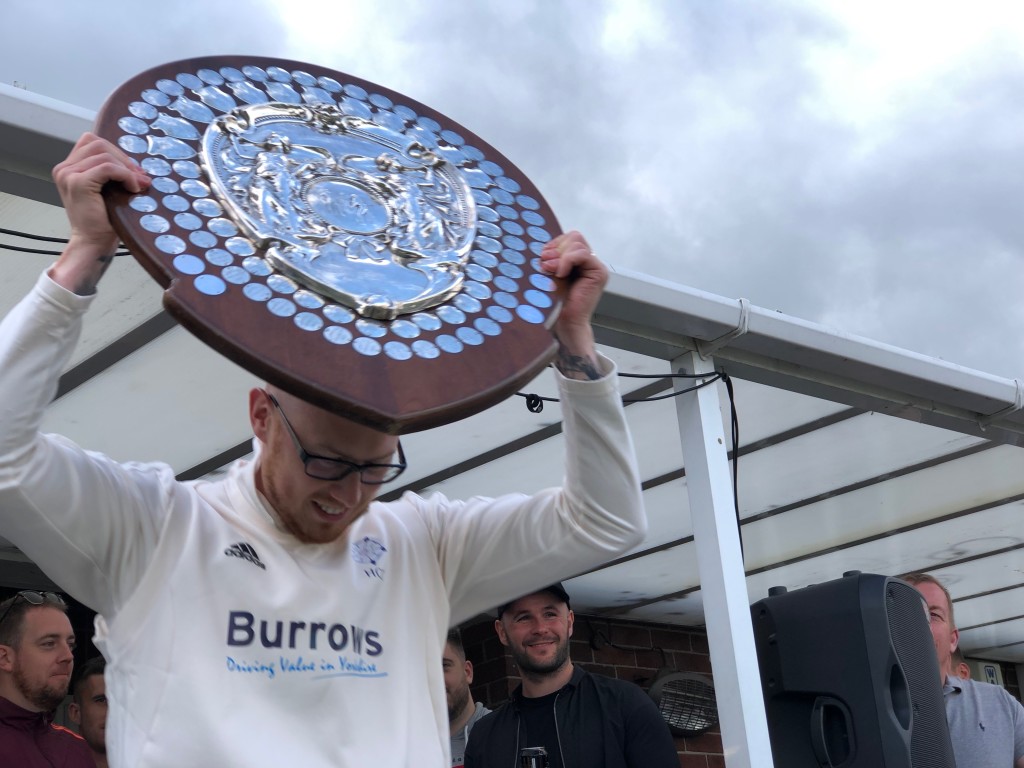 Hoylandswaine 2XI lifted the Paddock Shield for the second time after their win at Skelmanthorpe.