The culmination of weeks of uncertainty amongst the bottom half of the Premiership was ironed out in just under two hours of blistering bowling. Broad Oak hammered Almondbury Wesleyans to secure their safety, along with two other clubs; Armitage Bridge and Delph & Dobcross. The Championship had drama at both ends of the table with Slaithwaite claiming the ultimate prize of promotion to the top flight after an absence of four years. Skelmanthorpe's win at the bottom eliminated Lepton Highlanders and Almondbury, regardless of their outcomes. Hoylandswaine 2XI picked up the Conference title in their first season competing with first teams and Meltham celebrated their immediate return to the Championship, denying Emley Clarence by defeating Birkby Rose Hill.
Drakes Premiership
A dazzling five wicket blast by Broad Oak spinner John Keeling (5-11) stunned Almondbury Wesleyans and avoided a tense, drawn-out slugfest on a dramatic final day which held connotations for at least four clubs fighting it out for safety at the bottom. Keeling's magnificent spell of bowling cleaned up the Wesleyans lower order to leave them defending their lowest score of the season; 58ao. Earlier, Kyran Dill (2-18) and Harvey Booth (1-21) hammered demoralising blows on the hosts' upper order as Will Binns' side were left subdued ahead of the carnage to come from Keeling and Dan Taylor (2-7). The New Zealander's star turn came with a fine delivery that nipped off the seam to take out dangerous Wesleyans overseas Freddie Walker, on a high from his heroics at Honley seven days previously. The news filtering through buoyed their rivals, who were part way through their first innings' by this point, knowing that a heavy Wesleyans defeat meant safety all round. Predictably, Broad Oak made little fuss of knocking off their low target and did so losing just one wicket in the process. Dominic Finn (26no) and Harvey Booth (17no) made no mistake as Oak replied with 59-1 inside 13 overs. For Wesleyans, to be relegated on 64 points - a record at this level - was still an outstanding achievement. A credit to the Premiership.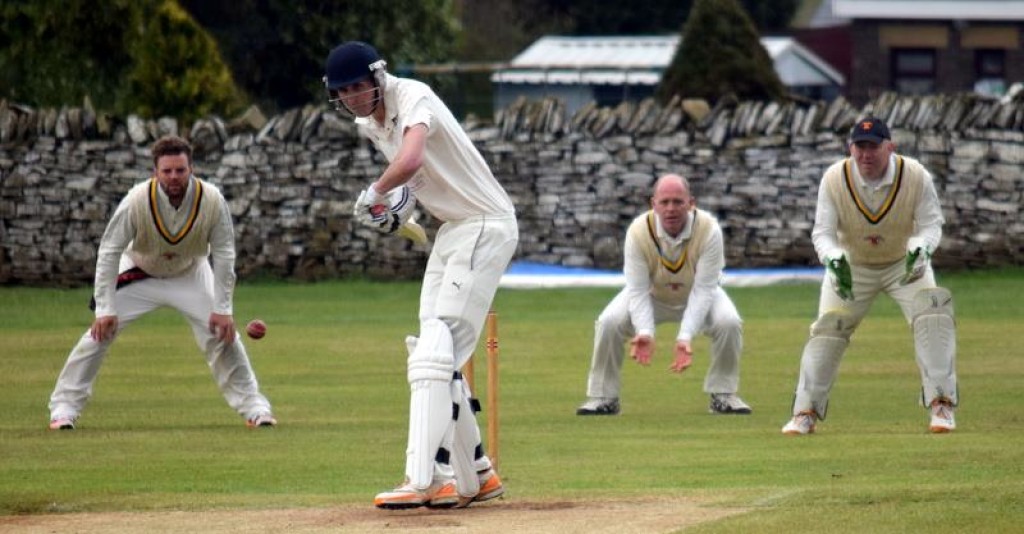 Dan Wood's extraordinary century put Shepley well on their way to a pleasing triumph away at Champions Hoylandswaine and secured their second trophy of the season when they won the Hopkinson last six matches Trophy.
Dan Wood made the final day disappointing for Champions Hoylandswaine as they finished their successful double-winning season with a rare defeat at home to Shepley. The visitors proved their previous weeks defeat to Kirkburton was a mere blip as Wood (145) tormented Hoylandswaine in a brilliant exhibition of batting. He scored 17 fours and 5 sixes in a 123-ball innings that set his side up, although most of his teammates were unable to complement his
lead with wickets falling regularly at the other end. Nadim Hussain (37) was his most successful partner as they put on 66-runs for the 7th wicket to help Shepley to a 245ao total. With their Leicestershire players recalled, Hoylandswaine were expected to challenge Shepley's score but another high quality bowling performance by Nasir Jamal and Danny Glover (2-61) left the hosts in a mess at 68-6. An 80-run partnership between their former player Sarjinder-Pal Singh (71) and Gurman Randhawa steadied Hoylandswaine's ship somewhat but it was release of Jamal (6-39) back into the fray which terminated the fight back. Shepley finally coasted home by bowling out Hoylandswaine for 188 with just under ten overs remaining and collected the Hopkinson Trophy in the process for picking up the most points in the last six matches.
Steve Whitwam finally scored the 58 runs he would require to eclipse Lee Baxter's all-time Huddersfield League batting record and help his side finish a successful season with a win at Shelley. Whitwam (65) was joined by a half-century by Craig Ruscoe (50) with Abdul Wahid adding 30 runs in Golcar's first innings total of 228ao. George Barden (5-38) gamely battled back with his first ever senior five wicket haul and Shelley were firmly in the ascendancy when another belligerent opening batting display by Martin Sykes (83) got them quickly out of the traps. Remarkably his fellow opener Kirin Green contributed seven of the 83 runs on the first wicket partnership after a rip roaring start. Sykes (83) blasted 4 fours and 9 sixes in a destructive 44-ball display which has been a regular feature since relegation was confirmed three weeks ago. They failed to follow that up as Golcar's bowlers quickly got to grips when they dismissed Sykes. Jack McNamara (5-70) and Whitwam (3-36) dominated from then on as Shelley capitulated to 167ao. Golcar's victory left them residing in the comfortable waters of mid-table whereas Shelley face a battle to return to the top flight next season.
Delph & Dobcross registered a 3-run victory away at Kirkburton to end the season in good form, although prior to the match, they still required a minimum of two points to guarantee their safety. The earlier than expected result at Almondbury Wesleyans resulted in the second innings being played out in a calmer environment but Delph - missing three senior players - put in a resolute performance with the bat to post a challenging total of 247-7. A classic, old-school partnership between Louis Aspeling (48) and stand-in captain Mosun Hussain (70) was patiently played out over two thirds of the innings. Quickfire cameos from Nathan Jones (25) and Wasim Qasim (20) boosted Delph's score as they added 60 runs in the last five overs. The visitors extracted Kirkburton's most potent threats with clinical precision as opening bowlers Umer Yaqoob (2-51) and Muhammad Shakir (2-42) put Delph in command. Captain Toby Booth (25) and Chavez Younes (37) kept the home side in the match but with the sun setting, the visiting fielders found ball visibility difficult. The umpires eventually brought the match to a close with Kirkburton poised on 196-8 with 13 overs left which with a revised total of 199 meant that Delph ran out victors by a narrow margin.
Armitage Bridge's dramatic escape the previous week led to a much calmer affair at home to Moorlands as they held onto their Premiership status with a win, even though Broad Oak's quick victory had confirmed their survival. Moorlands opener Eddie Walmsley (51) prevented Moorlands from complete annihilation as rampant bowlers Jack Hinchliffe (2-41) and Jaycub Curtling (3-51) cut through the visitors defence with ease. Darrell Sykes (42) helped keep them in the match in a 28-run final wicket stand before Danny Moorhouse (4-35) wrapped up Moorlands' innings on 150ao. Knowing they were already safe allowed Bridge to bat out the reply in freedom and openers Matthew West (49) and Saqib Matlub (46) responded accordingly, although they both lost out on half-centuries. Bridge completed the win with five overs left on 151-2.
A catastrophic start by Scholes led to a defeat at home to neighbours Thongsbridge who ran out comfortable winners at Chapelgate. Scholes lost their opening three batsmen without a run being scored and it was left to Bradley Birkhead, captain next season at Scholes, to repair the damage. Birkhead (55) and Tom Brook (47) hit the reset button to help the hosts post a 186ao total. Zafar Iqbal (3-53), Tom Raven-Hill (2-41) and Ben Howitt (3-17) shared the wickets for visiting Thongsbridge. The away side ended a poor end of season run to complete victory after losing two quick wickets themselves early on after the restart. Ben Raven-Hill (72no) was an immovable force as Thongsbridge romped home to 187-4 (32 overs), with Haydn Slodecki (39no) joining his captain to see the job home.
A high-scoring match at Barkisland resulted in visiting Honley edging home by two runs in a virtual rerun of their previous success at home to Almondbury Wesleyans. A 116-run partnership for the 7th wicket was key to their success with Barkisland's departing captain Darren Robinson experimenting by using all ten outfield players to bowl. Ryan Robinson (63) and Archie Greaves (61) revived Honley's progress to enable them to set a 276-9 total. Having experienced a scare the previous match day, Honley were going through déjà vu despite a good start with the ball leaving Barkisland on 33-3. Sachin Jayawardena (123no) hit his first century for his employers and their score was further boosted by the input of Harry Finch (46). The Sri Lankan scored at precisely a run-a-ball sending 16 fours and 3 sixes beyond the boundaries but he was unable to help them finish with a remarkable win to end the season on a high after their mid-season troubles. Greaves (4-74) was brought back on and he along with Simon Kelly (2-14) halted Barkisland on 274ao to bring an entertaining match - and season - to a close.
Jedi Championship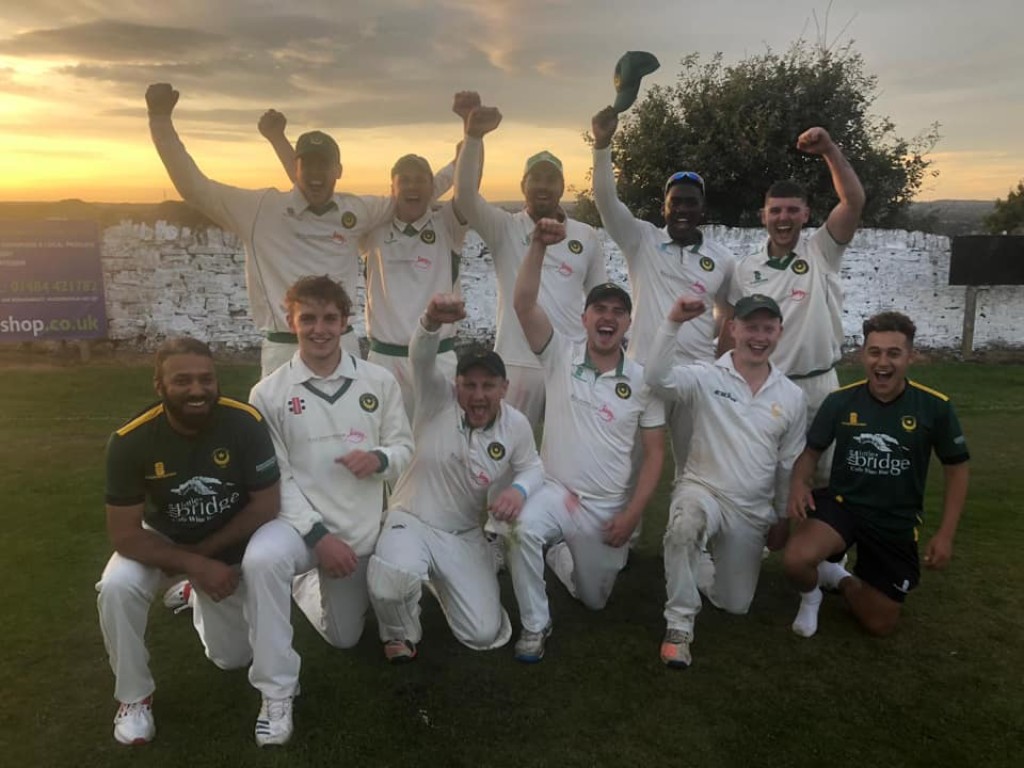 Premiership here we come! Slaithwaite's incredible batting performance crowned a superb season at Hill Top which culminated in them winning their must-win match away at Rastrick to secure promotion.
The chase for promotion just couldn't have been closer and Slaithwaite emerged triumphant to join Mirfield Parish Cavaliers in the top division after they unleashed a ferocious assault with the bat to pip Rastrick. For the second season running, Rastrick were forced to lick their wounds and contemplate another season in the Championship after leading the division for so long. With Cosmond Walters, Slaithwaite have struck gold and the West Indian fired his fifth half-century - and highest score - this season to take his run tally to over 700 for the Colne Valley club. Walters (86) and Yorkshire Academy scholar Harrison Quarmby (64no) were invaluable in their contributions for the visitors. They set a daunting first innings total of 289-6 to heap the pressure on Rastrick who were already missing their high-performing overseas all-rounder Asif Afridi. Sadaqat Zaman (46no) also increased the discomfort on the perplexed home bowlers with a 26-ball thrash at the end of the innings. Rastrick's chase was patient and a 103-run third wicket partnership led by Majid Khan (77) appeared to place the match in the balance on 146-2. Khan's disastrous run out set off the self-destruct button with Joah Bradley (4-48) leaping on the opportunity to pick off the middle order, of which skipper Jacob Waterson (41) was a victim. Slaithwaite then ran out comfortable winners as the hosts finished 199ao to celebrate their return to the Premiership after a four season wait.
Skelmanthorpe overseas Blair Buchanan's match-winning performance sealed their survival at the end of a troubling season by winning away at Marsden; a result which condemned both Lepton Highlanders and Almondbury in the process. Buchanan (5-15) claimed a decisive five wicket haul as Marsden's season - which started so brightly - ran out of puff. James Crossland (3-40) played an important supporting role for 'Shat' with both openers taking eight wickets between them in Marsden's 109ao total with Imran Malik (33) top scoring. As any relegation-threatened team would tell you, it doesn't take much to set the nerves jangling and Marsden bit back hard at the start of the reply by removing both Skelmanthorpe openers to leave them 9-2. Anwar Haq (39) and Joe Sykes (31) calmed things down with a fine 67-run partnership and even though Skelmanthorpe lost both when they neared their target, they had enough to get over the line on 110-6 (30 overs) to ensure Championship cricket will be played at Lidgett Lane next season.
Tom Fretwell took five wickets for Mirfield Parish Cavaliers who picked up the title after a four wicket success away at Lascelles Hall. Fretwell (5-30) brushed aside Lascelles Hall who had little to play for and were dismissed for 140, although Hardeep Singh (54) finished his season well with a 65-ball fifty. Parish will have a colossal job in replacing Tim Orrell (65) who'll most likely take a step back next season as he signed off with another trademark half-century. The visitors conceded a brace of wickets as they neared their target but they notched their twelfth success of the season on 141-6 to claim the same title they won two years ago.
Almondbury had their hopes dashed elsewhere by Skelmanthorpe and perhaps it is better they were after they frustratingly let visiting Denby squirm from their grasp in a low-scoring 7-run defeat. Nine Denby batters succumbed to the charms of opening Almondbury bowlers Faisal Usman (4-10) and Wasim Khaliq (5-37). Tom Sanders (28) scored over a third of Denby's runs who harboured scant hopes of defending their small score of 79ao. Zafar Jadoon (4-43) turned proceedings around for the away side and with captain Paul Goodman (3-6) appreciating the conditions, Almondbury were dragged down and bowled out for 73. Usman (30) top scored for the hosts although had he stayed in they'd most likely have finished the season positively, even if it didn't mean Championship survival.
Lepton Highlanders were left cursing their recent form which dragged them back into the dogfight before Skelmanthorpe's victory found them relegated despite their crushing conquest over visiting Holmfirth. Sayed Salman (56) cracked a fifty for Lepton who had many smaller contributions through the side to help them put up 220ao. Jack Lepton (6-42) fizzed through Holmfirth in the reply and they were dismissed for 68 with Anas Mahmood (35) following up his 3 wickets from the first innings in vain.
Josh Ramdoo ensured Elland finished their campaign emphatically by beating Clayton West. West Indian Ramdoo (3-7) took the final three Clayton West wickets after Tom Baxter (3-15) had earlier softened them up with Ashley Thompson (34) making the most in the visitors 148ao total. Ramdoo then added an unbeaten 76 in Elland's reply and they cruised home to 150-6 with 13 overs remaining.
Cedar Court Conference
In their first season competing against first teams, Hoylandswaine 2XI won the Conference title to make it a double alongside their Paddock Shield success the previous month, capping off a superb achievement at the club as they totalled four trophies. Promoted Thurstonland were demolished by the bowling of Saif-Ur Rehman (4-26) with three more Hoylandswaine bowlers finishing with two wickets apiece in Thurstonland's below-par score of 140ao. Darren Lockwood (52no) hit an unbeaten fifty which was added to by Daniel Hoyle (47no) as Hoylandswaine 2XI romped home on 141-1 in just 17 overs.
Meltham followed in Thurstonland's footsteps to bookend a successful season by winning an instant promotion and banish the memories of a catastrophic 2018. They narrowly squeezed past the post to deny Emley Clarence with a nerve frazzling one wicket win away at Birkby Rose Hill. Ibrar Hussain (5-43) continued his strong finish to the season by grabbing five wickets as Birkby Rose Hill were shot down for 114ao. Meltham's effervescent mood damped when Birkby bowler Arkam Asif had a similar influence to stun the visitors. Cool heads were required and Meltham regrouped in the middle order with Hussain (26) and Khuram Sajjid (19) adding runs with much-needed determination. The loss of both put more pressure on the promotion chasers and thankfully they hung on thanks to an invaluable 16no from last man, Rizwan Malik as Meltham's 116-9 secured a satisfying end to the season in dramatic circumstances.
A strong first innings performance from Emley Clarence put them in the box-seat to take advantage of any mistakes made by Meltham but it wasn't to be in the end after their rivals sneaked home. Denby Dale also harboured promotion hopes but they were dashed when Emley's Adam Taylor (40), Kamran Saleem (55) and Mirza Mobeen (42) all made good contributions to the visitors 241ao total. Mobeen (4-41) proved the difference in the reply too, by removing both Denby Dale openers and putting strain on down the order with a couple more victims. Hywel Senior (47) top scored, but it needed a big innings from elsewhere that never materialised as the home side were bowled out for 199.
In the remaining matches, a huge ton from Mirfield overseas Deron Greaves (137no) made light work of Cumberworth United's 217-9 first innings total. Greaves slammed 13 fours and 11 sixes in a nippy 65-balls to help his side finish the season on a high with 219-5 in 33 overs. Two half-centuries from Hammad Ul Hassan (65) and Imran Saddiq (57) earned Hall Bower a dominating triumph at home to hapless Linthwaite who were bowled out for 95 following up. Much improvement is required at Kirkheaton after they finished bottom and were overwhelmingly defeated at Upperthong. Jack Brook (5-33) added to the earlier work of his teammates Will Kilner (71) and Tom Mighall as Upperthong successfully defended their 229-6 first innings score by bowling Kirkheaton out for 135.