Durham CCC's, Alex Lees (main image) lashed a stunning double century - the third in the space of six days by a Premiership batsman - to propel Hoylandswaine into second place and a battle between the top two unfoldi elsewhere after Moorlands edged out Thongsbridge to move clear at the top. Rastrick and Marsden top the Championship after home victories and in the Conference, Upperthong relinquished pole position after succumbing to Meltham who picked up their first win of the season.
Drakes Premiership
Unfortunate Golcar were at the pointy end of a rampant Hoylandswaine performance as the current champions - and Durham CCC's Alex Lees in particular - obliterated them with the bat racking up their highest score in the league so far. Lees (200) slammed a 147-ball double century in Swaine's 355-8 total scoring 18 fours and 9 sixes. Captain Sarjinder Pal Singh (53) crafted a steady half-ton with Golcar struggling for options to support Will Hinchliffe (4-84) in the face of fierce adversity. Swaine of course are a handful with the ball and the imposing target was far too elephantine for the visitors to compete with. Maqsood (3-48) and Ghani (1-28) softened up Golcar by removing the top three and Usman Arshad (4-1) clinically mopped up the tail to conclude Golcar's innings on 118ao.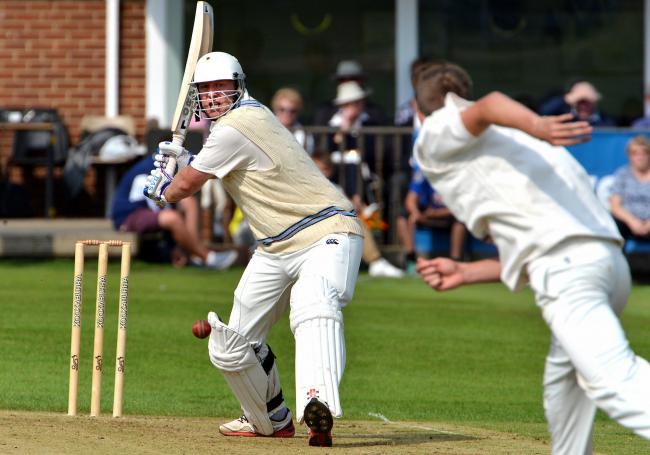 Moorlands' James Stansfield was the difference with a battling all-round display with bat and ball which held off Thongsbridge and ensured the Mirfield-based side topped the Premiership table.
Photograph: Telegraph & Argus
Moorlands came out on top in a tense finish to unseat former table-toppers Thongsbridge at the Memorial Ground. Michael McEwan (45) and Siraj Sajid (42) dressed the stage for James Stansfield (73) to drive the hosts to a competitive first innings total of 251-8. Tom Raven-Hill (3-60) continued his good season by taking his 18th wicket for Thongsbridge. His side have been a steely proposition this term having already accounted for some notable conquests but they have now let two from two slip from their grasp in a harsh lesson in Premiership cricket. They were blessed with a solid platform after Ben Raven-Hill (45), Richard Marshall (48) and Jack Cassidy (53) positioned them nicely to secure a win on 218-3 with eight overs left. With in-form batsman Haydn Slodecki still in, Moorlands reintroduced opening bowler Darrell Sykes (3-39). Sykes along with Stansfield (3-60) upped a gear and wickets began to fall. Slodecki (64no) held up his end but couldn't get the visitors over the line after they ended seven runs short on 244-8 with hosts Moorlands rewarded by replacing their opponents at the summit.
A fine all-round team performance by Almondbury Wesleyans saw them register their second Premiership win of the season at home to out-of-sorts Kirkburton. Alex Taylor (78) guided them to foundations of a decent first innings score of 241ao with Tom Binns (37) and Matthew Henshaw (37) both contributing. Kirkburton's Sri Lankan professional Roscoe Tahttil (4-65) displayed his all-round capabilities for the visitors. Their reply was badly hampered after Jack Atkinson (2-23) and Ashley Smith (2-23) had 'Burton floundering on 79-5. The damage ultimately proved too severe and Wes then got on top. Javaid Ahmad (48) and Jonny Butterfield (37) attempted to reset the innings with a 70 run partnership that had the hosts concerned but they were able to finish the job with Henshaw and overseas Freddy Walker (3-54) making the crucial breakthrough as Kirkburton fell some way short on 186ao.
Honley captain Eddie Wilson May have been cursing his decision to insert his opponents as Delph & Dobcross emerged triumphant at Far End Lane. They recovered admirably from 26-3 under the early afternoon sunshine after first a 50-run stand repaired the earlier setback. Skipper Louis Aspeling (60) and overseas Rehan Afridi (78) then skilfully took advantage of Honley's depleted bowling attack to manoeuvre the ball around the large ground to set an imposing 238-9 first innings total. Sunshine turned to drizzle and ten overs were lost revising the target to 203. However Delph's potent bowling attack anaesthetised last week's Honley hero Simon Kelly in Umer Yaqoob's first over. They quickly scented blood and got well on top with Mosun Hussain taking a sublime one-handed catch to remove Yorkshire CCC's Will Fraine shortly after off Qasim (3-34), closely followed by Mel Benito to leave Honley at 33-4. It was an uphill struggle after that although the blend of experience and youth from Ryan Robinson (34) and Lewis Kenworthy (45) provided a faint pulse in Honley's hopes. Lancashire CCC youngster Xander Selby (2-45) put on pressure with his left arm spin and the hosts finally capitulated to 142ao with six overs left when Yaqoob (4-24) was reintroduced from a different end. Delph's second victory within a week pushes them up from the one-eyed worry of the bottom to a relatively safer position of mid-table.
Armitage Bridge put a wretched double header the previous week behind them by adding to Shelley's woes. Batting first, Bridge took advantage of porous Shelley bowling with opener Matthew West (78), overseas Marco Van Biljon (81) and wicketkeeper Jaycub Curtling (34) profiting. To their credit, Shelley showed a bit of fight by handling the last ten overs well, with bowler Kirin Green (5-64) finally getting to grips with the ball as the hosts failed to capitalise, falling from 216-3 to 237ao. However, overhauling a total of that size on the wide expanses of Bridge's ground is no mean feat and Shelley found the going tough especially after opening bowlers Van Biljon (2-36) and Jack Hinchliffe (3-30) removed Shelley's main threats. This left Daniel Moorhouse (4-6) able to polish off the tail as Shelley fell to another defeat in a rapidly concerning season, finishing 95ao.
Shepley's season is gaining traction and they are becoming tough advisories on the road. After piling on the runs last Sunday, Broad Oak found life trickier against Shepley who welcomed back main bowlers Nasir Jamal and Danny Glover. Batting first, Shepley had to grind out a defendable total built around the good work of openkng batsman Tom Chadwick (72). The former Scholes player entrenched himself as spinner John Keeling (4-47) pestered Shepley but once he was out the tail withered setting a 197ao score. Charlie Roebuck and Dominic Finn, who rattled 327 runs between them for their opening stand the match before, were ruthlessly swept aside by Jamal (5-41) and Glover (3-44) to leave Broad Oak's reply in tatters at 6-2. The situation worsened further after the hosts fell to 28-3 but Harvey Booth & Sven Burlaraux managed to steadily rebuild the innings. The match was poised when Shepley's support bowlers were fended off but Abbas Ahmed made a crucial breakthrough by removing Booth (44) and the returning Glover accounted for Burlaraux (34). From there, Oak slipped behind the eight ball and despite a spirited knock by Daniel Rushworth (34no), he ran out of partners as Jamal professionally finished the job by routing the tail. Oak fell short in a pulsating game by 32 runs on 165ao.
Yaasar Imtiaz put in a sparking performance over at Barkisland as Scholes ran out easy winners. Imtiaz (5-28) shined with the ball, harassing Barkisland who struggled to put together a meaningful partnership. Emerging threats from overseas Sachin Jayawardena (36) and Jake Finch (31) were snuffed out before they started to influence and younger brother Harry Finch (37) added runs down the order but the home side's score of 178-9 probably felt a little under-par. Imtiaz (63no) guided his side home with the bat after rain reduced the chase to a revised total of 131 with Scholes making 133-5 off 28 overs to bag the win.
Full Scores
*Almondbury Wes 241 (A Taylor 79, T Binns 37, M Henshaw 37; R Tahttil 4-65)
Kirkburton 186 (J Ahmad 48, J Butterfield 37; F Walker 3-54).
*Armitage Bridge 237 (M West 78, M van Biljon 81, J Curtling 34; K Green 5-64)
Shelley 95 (J Hinchliffe 3-30, D Moorhouse 4-6).
*Barkisland 178-8 [Rev 131] (M Weston 29, S Jayawardena 36, J Finch 31, H Finch 37no; Y Imtiaz 5-48)
Scholes 133-5 (Y Imtiaz 63no; D Robinson 3-32).
Shepley 197 (T Chadwick 72; J Keeling 4-47)
*Broad Oak 165 (H Booth 44, S Burlaraux 34, D Rushworth 34no; N Jamal 5-41, D Glover 3-44)
Delph & Dobcross 238-9 (L Aspeling 60, A Hayes 27, R Afridi 78; J Hebden 3-54. M Benito 3-29)
*Honley 142 (R Robinson 34, L Kenworthy 45; W Qasim 3-34, U Yaqoob 4-25).
*Hoylandswaine 355-8 (A Lees 200, S P Singh 53, U Arshad 27no; W Hinchliffe 4-84, C Roscoe 3-80)
Golcar 118 (I Latif 34; W Maqsood 3-48, U Arshad 4-1).
*Moorlands 251-8 (M McEwan 45, S Sajid 42, J Stansfield 73no; T Raven-Hill 3-60)
Thongsbridge 244-8 (B Raven-Hill 45, R Marshall 48, H Slodecki 64no, J Cassidy 53; D Sykes 3-39, J Stansfield 3-60).
Jedi Championship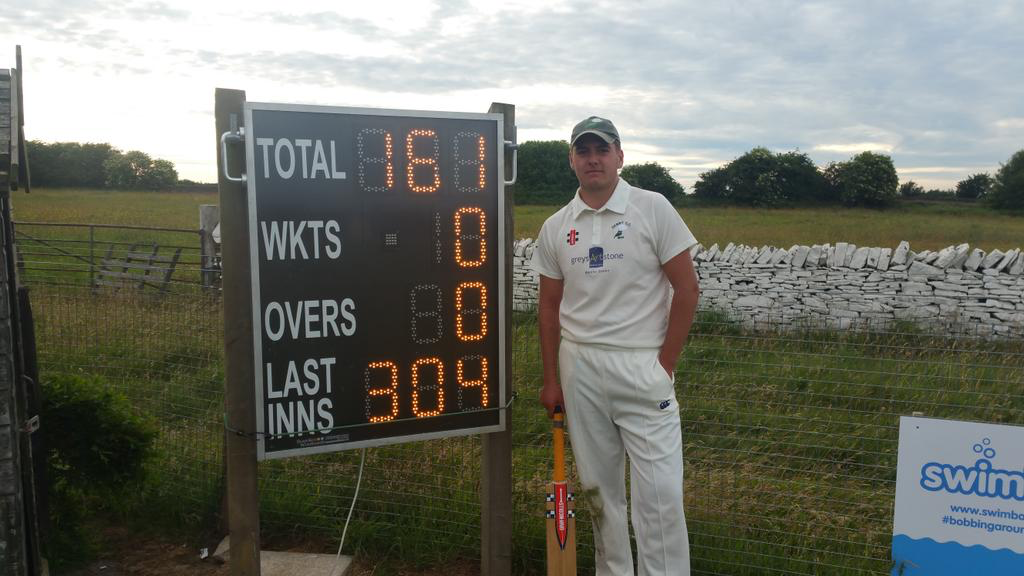 Denby's Tom Sanders' luck ran out while in sight of the finish line as his side lost to promotion-chasing Holmfirth.
Holmfirth edged out luckless Denby in a corker of a low-scorer to remain tucked behind the leaders. Seb Allen's side had it all to do after Denby heaped on pressure with the ball led by Harjot Johal (3-34) but middle order batsman Bilal Hamid (41no) played a pivotal role by holding Holmfirth's fragile innings together. More important was the 23-run final wicket partnership with Ben Roberts which Hamid shepherded well to enable the visitors to reach 118ao. If Paul Goodman's Denby side are to evade falling back into the Conference, they'll need to find a way to turn around close matches like this in their favour. Opening bowler Maaiz Khan (5-55) proved a handful for Denby's batsman along with Tony Wilkinson (3-33). Denby positioned themselves to win on several occasions, building their chase around former Yorkshire junior all-rounder Tom Sanders (42). Had he stayed in, Denby would be celebrating a crucial victory but Khan managed to nab the vital wicket of Sanders with just four runs left on the board. Last man James Gumpert couldn't quite hold his nerve as Holmfirth emerged victors in a nail-biting conclusion with Denby 115ao.
Having patiently building towards promotion, 2019 might be Rastrick's year. They chalked off another convincing win at Lascelles Hall with two half-centurions at the fulcrum of Rastrick's first innings score of 216-8. Majid Khan (53) and Asif Afridi (60) shared a 116-run third wicket partnership to set up a challenging target for Hall to chase, with all-rounder Sheheryar Hassan (3-44) enjoying a good spell bowling. They were undone though by a blistering spell of bowling by Rastrick opening bowler Osama Ahmad. Skipper Shaun Woodhams' side were not in the hunt, especially with powerful batters like Hassan (22) out before they could start to command the innings. Ahmad (6-42) blasted away the lower order and Lascelles capitulated to 88ao in reply.
The surprise package of the Championship looks to be Marsden and their sparkling start continued unabated with a cruise away at Almondbury. Former Broad Oak wicketkeeper Matthew Butters (55) was central to Marsden's 183ao with Jamil Ahmed (5-39) in the wickets for the hosts. The Cuckoos retained joint leadership with Rastrick following some sterling bowling, despite losing opening bowler Mark Johnson to injury after just one ball. Rijner Coetzer (4-20) dominated Almondbury and despite Abdul Qader (40) following up his two first innings wickets in a solid display, his teammates fell away despairingly as the home side surrendered on 140ao.
A local derby at Skelmanthorpe saw visiting Clayton West claim the bragging rights as Craig Glover's side look to a more positive future outlook after a disastrous start to the season. Six different Clayton West bowlers buzzed around the hosts with Dan Barber, David Swann, Mark Hinchliffe and Ben Oldroyd all claiming two wickets each. Adam Rammell (43no) top-scored for "Shat" but they laboured to 146ao batting first. Overseas Phil Tunnicliffe (81) showed his class in the reply as Clayton West romped home on 147-1 after 25 overs.
Benn Thornton returned a fine performance for Slaithwaite who visited Lepton Highlanders hoping to maintain their encouraging start to the season. Batting first, Slaithwaite had to dig in with Thornton (83no) batting all the way through in their 203-9. Lepton recalled Danny Mulhall from his burgeoning umpiring career and he showed there's still life in the old dog yet with four wickets to check Slaithwaite's progress. Five overs were lost after tea revising the score to 188 but despite skipper Jacob Mulhall (58) helping Lepton to a strong start, they wilted badly once Slaithwaite calibrated their bowling. Sohail Butt (5-52) produced a bit of magic when it was required and Lepton faded away at 170ao, just 18 runs short.
The evergreen Tim Orrell pulled out another matchwinning display in the twilight of his career to consign visiting Elland to defeat at Mirfield Parish Cavaliers. Orrell (87) and David Bolt (73) shared a 107-run opening partnership which laid a substantial foundation to put their opposition to the sword. Enigmatic overseas Nazar Hussain (59no) carved out a classy half-century as the hosts totalled 281-6. Elland overseas Josh Ramadoo (53) also scored a half-ton but his side were always up against scoreboard pressure. Hussain (3-23) and Dan Broadbent (3-53) asserted themselves on the Elland batsmen and they weren't able to get close to the revised 239 target, having to settle for a batting point on 188ao.
Full Scores:
Marsden 183 (M Butters 55, I Malik 27; J Ahmed 5-39)
Almondbury 140 (Q Rashid 31, A Qader 40; R Coetzer 4-20).
Holmfirth 118 (B Hamid 41no; H Johal 3-35)
*Denby 115 (T Sanders 42; M Khan 5-57, T Wilkinson 3-33).
Rastrick 236-8 (M Khan 53, A Afridi 60, J Waterson 3no; S Hassan 3-44)
*Lascelles Hall 88 (L Jackson 25; O Ahmad 6-49).
Slaithwaite 203-9
*Lepton Highlanders 170
*Mirfield PC 281-6 (T Orrell 87, D Bolt 73, N Hussain 59no; R Randhawa 3-82)
Elland 188 (A Kennedy 46, J Ramdoo 53, B Speak 33; N Hussain 3-23, D Broadbent 3-53).
*Skelmanthorpe 146 (H Arshad 36, A Rammell 43no)
Clayton West 147-1 (P Tunnicliffe 81, T Barber 35no).
Cedar Court Conference
Khuram Sajjad's half century got Meltham's season finally off to a start with a first win of the season. That it came against current early pacesetters Upperthong bodes well for the rest of the campaign. Meltham ran out worthy winners by restricting their visitors to 178ao as wickets were spread evenly amongst the Meltham bowlers. Sajjad (57no) saw his team home to a revised 164-5 total, victory coming with nearly ten overs in hand.
Hoylandswaine 2XI are racking up the runs in their first season amongst 1XI teams in the Conference. They laid waste to Linthwaite's unfortunate bowlers by amassing 365-8 batting first at the Manchester Road ground. Ifthikar Naseer (106) and Saif-Ur Rehman (92) helped themselves to hefty scores with Mustafa Bashir (66) compounding Linthwaite's misery. Darren Lockwood (7-54) crushingly eliminated any vague hopes Linthwaite may have harboured as they were bowled out for 196 in the second innings.
Elsewhere in the division, Denby Dale performed a remarkable run chase to brush aside Birkby Rose Hill. Ibrar Hussain (84) and Hywel Senior (54) were instrumental in Dale's win after Mirza Tehseen's (4-50) good work with the ball earlier. Muhammad Munsaf (91) and Rashid Nazar (93) both missed out on centuries as Birkby's 274-7 was overhauled with 277-5. Cumberworth United's Jack Maskell (122) blasted a century yet ended up on the losing side as Hall Bower's revised total of 178-4 was enough to claim victory. Mirfield came out on top in a low-scoring encounter at home to Kirkheaton to return to the top of the table. Kirkheaton were restricted to 128ao after a good performance by Mirfield's Asad Hamid (4-35). They rallied admirably and had the hosts worried although they squeezed through on a revised 118-8 score. Five wickets for Kamran Saleem (5-68) was in vain for Emley Clarence. They bowled out hosts Thurstonland for 175 but a superb performance by Jack England (4-11) in the second innings shocked Emley who could only muster 88ao in reply.
Full Scores:
*Birkby Rose Hill 274-7
Denby Dale 277-5.
Cumberworth Utd 200 [Rev 176]
*Hall Bower 178-4.
Hoylandswaine 2XI 365-8
*Linthwaite 196.
Upperthong 178 [Rev 164]
*Meltham 164-5.
Kirkheaton 128 [Rev 117]
*Mirfield 118-8.
*Thurstonland 185
Emley Clarence 88