Arron Lilley, a player who had ruthlessly flayed many an opponent during his ten year spell with Delph & Dobcross, dished out similar treatment to his former club with a chanceless century as Hoylandswaine successfully negotiated a tricky test of their title credentials. Second met third at Chapelgate and it was Moorlands who secured a crucial away win to keep the heat on the leaders. Armitage Bridge rose to fourth in the table after a crushing victory at home to Broad Oak.
Drakes Premiership
Delph & Dobcross experienced a bruising time facing their former player Arron Lilley (main image) as Hoylandswaine mercilessly demolished the Lancashire-based side to keep their two point cushion intact at the top of the table. Lilley strode in with hosts Swaine once again needing to rebuild the innings having lost their top batsmen before a foothold could be made. The Leicestershire player hit a completely chanceless century as he combined forces with his County teammate Harry Dearden (62) in an irresistible partnership of 121 runs. Lilley (135) cleared the ropes 13 times and also scored 4 fours in his quickfire 66-ball appearance, although it's fair to assume Hoylandswaine will have to lose him when the T20 Blast starts up. The hosts piled on 318ao from their innings which was curtailed on the penultimate ball with Delph bowler Umer Yaqoob (5-87) taking his first five wicket haul of the season. As has often been the case, Hoylandswaine's potent pace attack clinically extracted any sting Delph may have had after they reduced them to 13-3 in a short sharp shock during the beginning of the reply. Alex Peters (49) fell agonisingly short of a half century but the game was virtually over by the time Muhammad Shakir (50) - who also played a season at Swaine in 2018 - converted his in a spirited knock. Another former Delph man Waqas Maqsood (5-45) put them through the ringer with the ball as the visitors were bowled out for 200 resulting in back-to-back defeats for Delph on the road.
Shoukat Ali held his nerve in a high pressure match at Chapelgate as second placed Moorlands overcame in-form Scholes (third) to do the double over their Championship rivals. Opener Ali (108) compiled a virtual run-a-ball ton and contributed to nearly half of the Moorlands run tally as they made 231ao in the first innings, Siraj Sajid (33) come the closest to his lofty score. Wasim Javed (3-87) and Yaasar Imtiaz (3-47) both played their part in stopping Moorlands moving out of sight. Scholes endured a disastrous start as they crashed to 51-5 with James Stansfield (4-55) proving to be a difficult advisory with the ball. Benji Birkhead (68) attempted to arrest the slide and slowly began to fight Scholes back into the contest in a 59-run partnership with Jake Robshaw (36). When Robshaw became a victim to Sajid though, Moorlands began to grasp control of the match and then ran out comfortable winners with Birkhead the last Scholes batsman out at 177ao.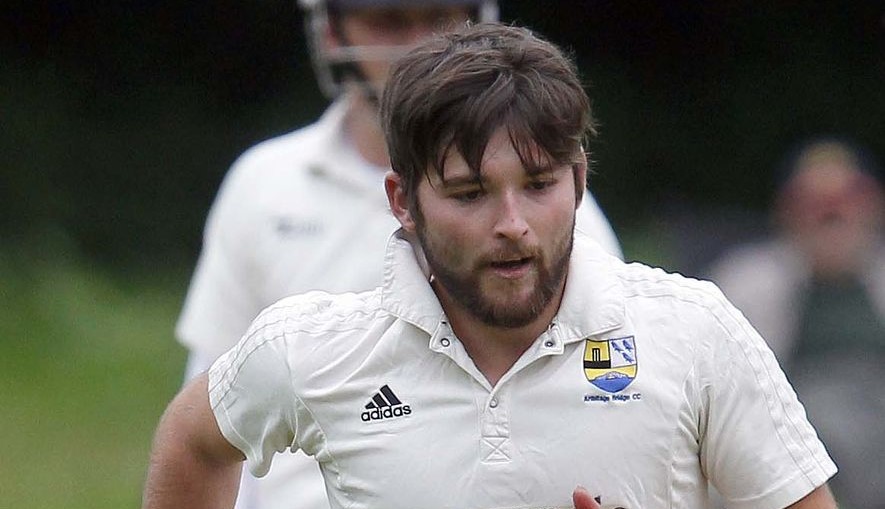 Jaycob Curtling (above) now has 14 wickets in three matches after another five wicket haul helped his club Armitage Bridge gain revenge over Broad Oak.
The last time Armitage Bridge faced off against Broad Oak earlier in the season the match resulted in a heavy defeat as Charlie Roebuck and Dominic Finn plundered 300-runs in the return fixture. Things were starkly different on home soil however and Bridge ran out decisive winners in a contest that was more about skill with the ball than flamboyance with the bat. Oak had a good start with a wicket in the first over of the match but Armitage Bridge steadily accumulated with several batsmen grinding out contributions to their 199ao first innings score. Jack Hinchliffe (32), Marco Van Biljon (41) and Danny Moorhouse (30) dug in whilst there was a leaky 34 runs in the extras column for Oak. Kyran Dill (4-34) boasted the best figures with the ball but there was little to smile about in the second innings. Both Dominic Finn (30) and Harvey Booth (27) showed some application with the bat but again for Bridge it was the spinners creating maximum damage once they were introduced. Moorhouse (5-13) and Jaycob Curtling (4-15) cleaned up as Broad Oak lost their way entirely to crash to a damaging defeat that leaves them perilously levitating above the relegation zone.
The wheels are rapidly falling off Shepley's season after their latest defeat came at home to Thongsbridge. An upcoming Heavy Woollen Cup Semi-Final will serve as a welcome distraction but it was a weekend to forget as they fell to back-to-back home defeats. They succumbed to the charms of opening bowlers Zafar Iqbal (2-40) and Benjamin Balmforth (4-38) and were reduced to 38-4 before a 100-run partnership from captain Greg Wood (53) and Tom Denton (66) threatened to put the strain on the visitors. Danny Glover (25) added runs to further boost the score but the final four wickets fell for only 14 runs as Shepley were all out for 199 in a disappointing climax to the innings. This allowed Thongsbridge to pace their reply but they were anxious momentarily after Shepley opened up with spinner Josh Ingham (3-45). He along with Glover (2-53) got them off to a rip-roaring start, removing the opening two batsmen with only six runs on the board. However the absence of seamer Nasir Jamal whose injuries are starting to take its toll seemed to affect the hosts as Thongsbridge grew into the match. Haydn Slodecki (34) enjoyed a good 68 run stand with Jack Cassidy with the latter going on to pile on a stunning century in a patient 147-ball innings. Cassidy (114) put away 15 fours and 3 sixes to win the match for the visitors. Cassidy was finally out with only three runs left to score which they duly did to bring up 203-6 with one over remaining.
It was a perfect weekend for Golcar who secured their third successive victory to ease their relegation worries and coincidentally deepened Kirkburton's' at the same time. The hosts couldn't make a crucial breakthrough as openers Abdul Wahid (85) and Steve Whitwam (56) put on 115 runs for the first wicket together. Jake Lockwood (62) picked up where they left off and former Kirkburton man Ibrar Latif (25no) and Craig Ruscoe (22) were able to help Golcar set a challenging total of 278-4. The capture of dangerous overseas Roscoe Tahttil for a first ball duck gave the visitors a huge boost and it was a blow that Kirkburton weren't able to recover from. Will Hinchliffe (5-30) asserted pressure with the ball as the Riley Lane side hit the rocks and crashed to 128ao in reply. The defeat leaves them cut adrift by seven points second from bottom.
A courageous performance from Shelley wasn't enough to secure a much-needed victory at home to Honley whose captain Timmy Taylor chalked up a century which ultimately proved decisive in the end. Taylor (101) plundered 7 fours and 5 sixes in a 91-ball performance as he gamely held his teams innings together. Archie Greaves (28) also added what would turn out to be crucial runs towards the end as Honley set 228ao batting first. Shelley were left to rue the absence of talismanic all-rounder Martin Sykes who may have proved the difference in this keenly fought match with Ranjith Bandula-Don (3-50) and new overseas Sami Aslam (3-64) sharing six wickets between them. The second innings was a thoroughly absorbing affair which kept Shelley in with a chance. Unfortunately wickets kept falling at vital intervals to keep the hosts on the back foot. Josh Jones (31) and Liam Brothers (33) almost put themselves in a position to hone in on the win but Sam Denton (3-56) and Jack Hebden (2-34) were equal to the task and took key wickets as Shelley fell short by 25 runs on 203ao.
Barkisland sank Almondbury Wesleyans closer towards relegation trouble to make it a double over the side who were promoted with them last term. Wesleyans are desperately trying to find the good early season form and today saw them way off the pace as they struggled to successfully chase down Barkisland's lowly first innings total. Freddie Walker (3-46) and Dan Payne (3-9) enjoyed solid performances with the ball with Matthew Weston (34) top scoring for the home side. Wesleyans fragility with the bat was badly exposed when Ethan Carrington (4-22) got stuck into them from the off. The rest of the wickets were shared amongst Sachin Jayawardena (2-20), Darren Robinson (2-16) and Luke Bridges (2-15) as the visitors succumbed to a painful defeat on 77ao - the final four wickets falling for only two runs - one which may become decisive in the final reckoning.