Mirfield Parish Cavaliers banished an indifferent start to their season when Nazar Hussain's all-round qualities helped fire them back into the Championship promotion frame with victory away at Holmfirth. In a competitive Premiership, Golcar consigned Moorlands to a two run defeat which opened the door to Hoylandswaine who went top. Thurstonland stealthily climbed up to joint top in the Conference after they edged out Cumberworth United.
Drakes Premiership
Despair has rapidly switched to elation at Swallow Lane after Golcar erased the recent memory of a disastrous bank holiday weekend with a quite brilliant win at home to in-form Moorlands. Captain Jack McNamara stepped forward with a monumental innings to help steer his side to a memorable victory but it was in the bowling department where Golcar excelled in a pulsating match. After being put into bat, the hosts enjoyed a steady start, built mainly around McNamara (75). Ibrar Latif (58) contributed heavily but Moorlands began to reign them in with key wickets in the final overs as Darrell Sykes (3-63) and Andrew Walker (2-46) kept things tight as Golcar settled on 213-7. Momentum was disrupted in the reply which prevented Eddie Walmsley's side from gaining superiority as wickets fell in pairs, forcing new batsmen to take time playing themselves back in. Jason Grosvenor (63) added to his impressive personal campaign which took him to over 500 runs for the season. Moorlands looked to be in a good position as the match entered its climax needing eight from the final over. Up stepped seasoned all-rounder Craig Roscoe who removed Sykes & Walker in quick succession. With four runs needed from the final ball and Walmsley on strike, the best he could manage was a leg bye which secured a much-needed six points for Golcar as Moorlands finished on 211-9.
The first ever visit to Marsh Lane made by Almondbury Wesleyans ended in a roaring success as the Premiership new boys continue to impress. They took advantage in a lack of confidence amongst the Shepley ranks as a batting lineup bristling with talent again failed to flicker. Shepley seamers Nasir Jamal (2-6) and Danny Glover (4-58) were their usual ruthless selves as the visiting side found life batting first tough. Aussie all-rounder Freddie Walker (64) managed to add more runs to an already impressive tally this season which along with Tom Binns (40) pushed Wesleyans to a 216ao first innings total. Shepley hit the self-destruct button, not for the first time this season midway through the reply after recovering from a bad start when they lost the prolific Dan Wood on the second ball. At 110-4 they appeared to be in a decent position to secure the win until Walker (4-50) removed three main threats in Greg Wood (12) and Tom Denton (28). Middle-order batsman Sam Tee (56) nobly attempted to drop anchor and navigate Shepley home but when he fell with over 60 runs still to chase down then the culmination came fairly quickly on 145ao.
An Eddie Wilson century for Honley wasn't enough to prevent them slipping to another defeat away at Thongsbridge to extend their run of defeats to three matches. The margin of defeat could have been severe had Wilson (100) not arrested the slide in a 76 run partnership with Lewis Kenworthy (38) to rebuild from 6-4. Sam Denton (57) added a half-century to give Honley something to defend against the hosts whose opening bowler (4-63) performed well. Thongs' captain Ben Raven-Hill (109no) scored his first century of the season as he led his side to a comfortable victory. His run-a-ball ton was complemented by a strong unbeaten knock by overseas Jack Cassidy (88no) with the hosts overhauling Honley's 248ao total with ten overs in hand, reaching 252-2 in the 40th over.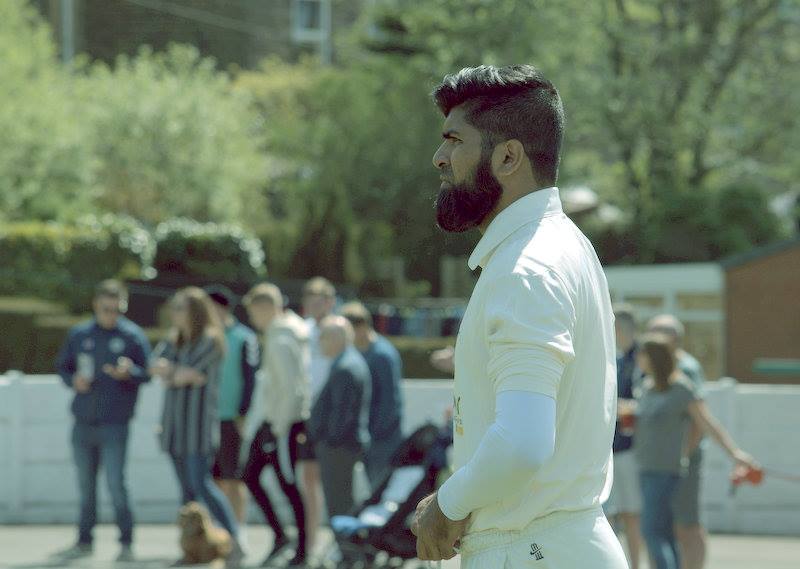 Delph's Wasim Qasim Returned his season's best figures with a five wicket haul to help turn over Broad Oak.
Bowler Wasim Qasim hit his stride in emphatic fashion after his five wicket blast demoralised visiting Broad Oak. His Delph & Dobcross team mate Umer Yaqoob blunted the tip of Broad Oak's spear by bowling the dangerous Charlie Roebuck (12) in the third but the visitors then steadily built up a partnership to take the score to 61-1. At this point Qasim (5-31) found his range to devastating effect and he obliterated the Oak upper order as they lost five wickets in the space of four overs. It was damage limitation from that point for the visitors as spinner Xander Selby (2-2) mopped up following Qasim's earlier devastation as Oak capitulated on 114ao. It took Delph 24 overs to pass the lowly target with Selby (20no) picking up the bat to open with Nathan Jones (29) and Mosun Hussain (35) also contributing in Delph's third consecutive league victory, and their first against Broad Oak in four attempts, replying with 115-3.
Hoylandswaine had to manage without their County big guns in an away fixture at Shelley but it didn't stop them moving clear at the top following Moorlands' loss, albeit after a fleetingly concerning collapse. Shelley wilted under a first innings bowling inquisition from spinner Gurman Randhawa (6-21). Usman Arshad (2-7) polished off the final two wickets to bowl the home side out for just 74. However the paltry target proved anything but easy as Shelley's experienced opening duo Ranjith Bandula-Don (3-46) Martin Sykes (3-32) jemmied open fissures that quickly developed In Hoylandswaine's batting. At 62-6, the Champions were in a spot of bother but a batting reshuffle had meant normal upper order batsman Chris Holliday (8no) was down at number 8 and in a position to diligently guide the visitors over the line on 78-6.
After being dumped out of the Sykes Cup four weeks earlier, Scholes enjoyed swift revenge by vanquishing Armitage Bridge comprehensively by 90-runs. Scholes put on 227-9 batting first thanks to a matchwinning performance from opener Yasaar Imtiaz (79). He was joined by several useful knocks down the order, chiefly by stand-in captain Brad Birkhead (33) and James Noble (29). Six wickets were shared out equally by opening bowlers Marco Van Biljon (3-46) and Jack Hinchliffe (3-49) for Bridge. South African, Van Biljon (48) got the visitors into a winning position at 110-3 before a disastrous collapse derailed them. The final seven wickets fell for only 27 runs with Imtiaz' spin along with Tom Brooks' probing seam rapidly eroding Bridge's reply. Brooks (3-53) and Imtiaz (4-29) finished as the hosts leading wicket takers as Bridge fell away on 137ao.
Inconsistency is beginning to dog Kirkburton as they failed to follow up the previous week's excellent win by succumbing to Barkisland at home. Darren Robinson's side are travelling well and no longer look the soft touch which saw them relegated two seasons ago as this win eloquently illustrated. His bowlers kept Kirkburton within range as key wickets were taken at just the right time in 'Burton's 223ao. Captain Toby Booth (77) gave his side the foundation of a decent score but couldn't help oversee most of his teammates get starts before being dismissed. Opening bowlers Ethan Carrington (3-56) and Sachin Jayawardena (2-28) were at the centre of everything that the Barkisland bowlers got right. Youngster Matthew Weston's stock is rising at a rapid rate and he put in another eye-catching performance opening the batting for Barkisland. Weston (87) and Jake Finch (61no) together made a 123-run partnership which ultimately took the game away from Kirkburton to reach 224-4 with four overs remaining.
Full Scores
Broad Oak 114 (H Booth 35; W Qasim 5-31)
*Delph & Dobcross 115-3 (N Jones 29, M Hussain 35).
*Golcar 213-7 (J McNamara 75, I Latif 58; D Sykes 3-63)
Moorlands 211-9 (M Mcewan 28, S Sajid 26, J Grosvenor 62, M Rounding 27; W Hinchliffe 4-42)
*Kirkburton 223 (R Tahttil 33, T Booth 77, J Ahmad 42; E Carrington 3-56, J Finch 3-25)
Barkisland 224-4 (M Weston 87, S Jayawardena 27, J Finch 61no)
*Scholes 227-9 (Y Imtiaz 79, B Birkhead 33, J Noble 28; M van Biljon 3-46, J Hinchliffe 3-49)
Armitage Bridge 137 (M van Biljon 48; T Booth 3-53, Y Imtiaz 4-29)
*Shelley 74 (G Randhawa 6-21)
Hoylandswaine 78-6 (U Arshad 30; R Bandula-Don 3-46, M Sykes 3-32)
Almondbury Wes 216 (T Binns 40, F Walker 64, M Henshaw 36; D Glover 4-58)
*Shepley 145 (S Tee 56, T Denton 28; F Walker 4-50, D Payne 3-20)
Honley 248 (E Wilson 100, L Kenworthy 38, S Denton 57; Z Iqbal 4-63)
*Thongsbridge 252-2 (B Raven-Hill 109no, H Slodecki 26, J Cassidy 88no).
Jedi Championship
A testing fixture away at in-form Holmfirth was answered in emphatic fashion by Mirfield Parish Cavaliers who romped to a huge 118-run victory in style. Overseas Nazar Hussain was central to Parish's success with a stylish century from 122 balls. Hussain (109no) with the eversescent Tim Orrell (50) and captain Dan Broadbent (44) laid waste to Holmfirth's bowling to put up an imposing 284-7. Hussain (3-33) then accounted for the top three Holmfirth batsmen with Brad Drake (3-40) taking out dangermen Anas Mahmood (22) and Amar Rashid (45). Apart from Josh Sedgwick (32), the hosts reply stuttered and they finished their innings well short on 166ao.
Hemplow is becoming quite the fortress for Marsden who kept up their 100% record by fending off winless Lepton Highlanders to remain in joint top spot. Matty Butters (83) and Joe Smith (53) combined to help set a good first innings total of 251-8 with Harry Bissett (2-65) taking a couple of wickets on his return to his former club. Lepton's struggles have been exacerbated with the loss of early wickets and familiar themes haunted them on this occasion. Asif Hussain (86) applied himself to put the visitors back into the match but with Rijnier Coetzer (5-40) chipping away with the ball momentum swung Marsden's way. Hussain fell as the final Lepton wicket on 210ao handing a fifth win if the season for Marsden.
Denby nabbed a narrow win away at Clayton West to propel them away from the foot of the table, with Clayton West finding themselves helplessly sucked into the scrap. This local derby had plenty of drama with Denby batting first. Skipper Craig Glover (5-29) had the visitors in deep trouble at 16-6 until Abdul Rehman (15) and Will Mott git their heads together. Former Cawthorne wicketkeeper Mott (73) then held his side's innings together to register a 141ao total which looked extremely unlikely before Mott's input. Former Holmfirth professional Aizaz Khan (6-44) and Zafar Jadoon (4-39) were too hot for Clayton West to handle in the reply. With wickets tumbling, the hosts suffered a catastrophic demise and fell all out for 122 with opening bat Ashley Thompson (35) top scoring.
Jacob Waterson's century helped Rastrick pummel Almondbury although they needed to shake off an unsteady start first. Visitors Almondbury's opener Wasim Kaliq (3-55) made an early impact as Rastrick were reduced to 71-5 which thrust skipper Waterson (106) into the fray. He carefully rebuilt the innings with Zafar Khan (79) in a stand of 154 before Khan was caught. The pressure had subsided by then allowing room for Osama Ahmed (38) to go hard at the demoralised visitors, clubbing 5 big sixes and a pair of fours in only ten balls in Rastrick's first innings total of 300-6. The wind had been taken out of Almondbury's sails into the second innings when Khan (6-32) scythed through the away side's upper order. Farhan Hussain (41) bravely hung around but he was dismissed by Asif Afridi (3-28) during their collapse to 144ao.
Skelmanthorpe put a rotten run of form behind them to collect their second league victory of the season; the first coming way back on the opening day. Slaithwaite were their victims after Adam Rammell (6-20) besieged them with the ball. Long-serving Skelmanthorpe seamer James Crossland (3-42) attacked the hosts removing a couple of upper order batsmen whilst opener Benn Thornton (35) attempted in vain to hold the innings together. Once Rammell removed Thornton, the rest of the Slaithwaite innings withered away to 123ao. In reply, Skelmanthorpe had to withstand a Slaithwaite backlash but the end proved inevitable with Jordan Greaves (21), Joe Sykes (22) and Haroon Arshad (22) all making starts as Skelmanthorpe successfully chased down the target with 124-5.
Jack Hendy led his side to a home victory against Lascelles Hall after recovering the innings from a precarious position. The Elland captain came into bat with Elland reeling on 101-6 with Rhys Newman (55) posting a stubborn half-century earlier. They deteriorated further to 101-7 before Hendy (63) found a willing participant in wicketkeeper Ben Speak (18). They then put on 52 runs on the way to putting up a useful 199ao for Lascelles Hall to chase with Sheheryar Hassan (4-30) in the wickets. Hall's reply started well with 60 runs put on for the first wicket until the Elland bowlers began to erode the batting. Rana Naseer (32) and Matthew Simpson (57) made useful contributions at the top of the order but once Peter Dobson (4-51) began to assert his influence the visitors ran out of steam. Crucially, with Hall on 147-5 and well placed to clinch the victory, Elland found the extra gear to strangle the lower-order and finish on 168-9.
Full Scores:
Denby 141 (W Mott 73; C Glover 5-29)
*Clayton West 122 (A Thompson 35; A Khan 6-44f, Z Jadoon 4-39)
*Elland 199 (R Newman 55, J Hendy 63; S Hassan 4-30)
Lascelles Hall 168-9 (R Naseer 32, Z Ahmed 27, M Simpson 47; P Dobson 4-51)
Mirfield PC 284-7 (T Orrell 50, N Hussain 109no, D Broadbent 44, D Hope 38no; A Rashid 3-77), *Holmfirth 166 (A Rashid 45; N Hussain 3-35, B Drake 3-40).
*Marsden 251-8 (J Smith 54, M Butters 83, I Malik 25; A Ashraf 3-50)
Lepton Highlanders 209 (D Mulhall 37, A Hussain 86; R Coetzer 5-40)
*Rastrick 300-6 (J Waterson 102no, O Ahmed 31no; W Khaliq 3-51)
Almondbury 144 (D Russell 28, F Hussain 41; Z Khan 6-32, A Afridi 3=28).
*Slaithwaite 111 (B Thornton 35, J McNamara 25; J Crossland 3-30, A Rammell 6-21)
Skelmanthorpe 124-5
Cedar Court Conference
Denby Dale held off Hall Bower in a low scoring thriller to share top spot with Thurstonland. Hall Bower struggled to contend with opening bowler Mirza Tehseen (6-38) who blazed a path through the Bower ranks which Fred Stower (3-18) happily dusted up in a 88ao first innings score. Denby Dale's reply was in danger of crashing against the rocks when Ibrar Rafiq (6-37) plunged them into grave danger with four wickets falling for 6 runs. However Paul Hale (16no) and Hayden Rose (14no) developed a quick understanding and saw the job home on 91-6.
A fine bowling performance from Lee Booth (6-41) for Thurstonland saw them maintain their good run and defend a low total away at Cumberworth United, who themselves are struggling to reach the heights last season in which they narrowly missed out on promotion. Thurstonland set 146ao batting first, rebuilding their innings from a perilous state at 48-6. But Booth's six wicket blast saw the hosts spectacularly combust and were eventually bowled out for 121.
Elsewhere Meltham's Ibrar Hussain (5-54) and Khuram Sajid (4-55) inflicted defeat away at Hoylandswaine 2XI for whom John Ashton (50) scored a half-century in their 197ao. Meltham navigated their way to victory carefully with the winning runs scored with 9 balls remaining in their 198-6 reply. Mirfield's good start to the season is beginning to unravel after a century from Hammad Usman (100) set Emley up for a 335-8 total, Mirfield making 170ao in the reply. Birkby Rose Hill worked their way to a welcome victory away at Upperthong by defending their 190ao total. Muhammad Munsaf (4-22) spearheaded Birkby's bowling attack as the hosts fell to 140ao. Kirkheaton picked up their first win in what has been so far a disastrous campaign, clawing their points tally into credit in the process. Linthwaite were bowled out for 122 with Paolo Girardi (4-41) in good form with the ball. The reply was knocked off with minimal fuss on 123-3.
Full Scores:
Thurstonland 146, *Cumberworth Utd 121
Hall Bower 88, *Denby Dale 91-6.
*Emley Clarence 335-8, Mirfield 170.
*Hoylandswaine 2XI 197, Meltham 198-6.
Linthwaite 122, *Kirkheaton 123-3.
Birkby Rose Hill 190, *Upperthong 141.