A win with two balls to spare kept Scholes well and truly in the Byrom Shield hunt as they kept hold of third place and kept tabs on the leaders despite all three teams at the top securing victories. Wasqas Maqsood had a sizzling afternoon with the ball for Hoylandswaine on the hottest days cricket of the season so far. Moorlands eased past Almondbury Wesleyans to stay in second place. The Jedi Championship contained the thrilling drama it has been accustomed too after Rastrick took the opportunity to nip back into the top place at the expense of Marsden. Thurstonland boosted their promotion chances by picking off Upperthong to move six points clear at the top.
Drakes Premiership
He might not have been as high profile as some of the close season transfers, but Wasim Javed is proving quite the signing with the Chapelgate faithful after Scholes extended their unbeaten run to seven matches and stay just two points off league leaders Hoylandswaine. Javed (4-46), pressed up into an opening bowling slot in place of the suspended Tom Brook, played a crucial role in restricting Shepley on a sweltering afternoon at Marsh Lane. Max Joice (56) held the home side's innings together as Javed nagged away but Joice struggled for support as Scholes slowly started to assert control. With Joice gone, Abbass Ahmed (26) attempted to drive the score up but they were forced to settle on a marginally below-par 180-9 from their 50 overs. Benji Birkhead (43) arrested what appeared to be a poor start where both Scholes openers were dismissed leaving them on 19-2. The normally prodigious Joe Carter (26) hasn't quite reached the free-flowing scoring that his reputation demands so it was down to unsung heroes to ride a tricky spell against the dangerous Nasir Jamal (2-28). There wasn't enough scoreboard pressure applied by Shepley and Brad Birkhead (39no) and Jake Robshaw (30) combined well to put on 70 runs and pace their chase expertly. Robshaw was out in the final overs but Scholes made sure of the win with two balls left on 183-5.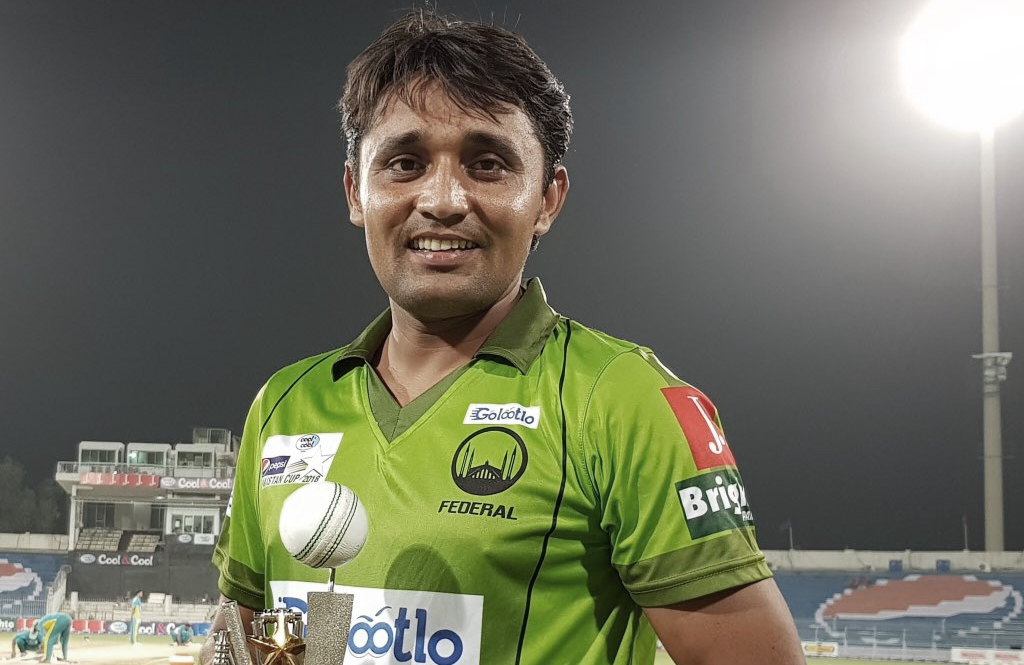 Waqas Maqsood (above) was in superb form opening the bowling to take six wickets as Hoylandswaine defeated Kirkburton by four wickets.
Hoylandswaine recovered from a poor start on a challenging pitch showing variable bounce away at Kirkburton. Batting first Kirkburton were bowled out for 135 with Waqas Maqsood continuing his fine debut season with a six wicket haul. However 'Burton dismissed the top order cheaply but couldn't make any further inroads to protect their slender first innings score and Hoylandswaine ticked off the runs making 140-6 in reply. Unfortunately details are scarce due to an uncompleted scoresheet from Kirkburton.
A local derby contained added spice in the lower half of the table as the battle to stay out of the bottom two places continues to bubble along. Barkisland were left frustrated at not picking up a vital win when they were in a clear winning position at Golcar. Batting first, the hosts required several contributions throughout the order to build a useful first innings total. Steve Whitwam (41), James Howson (33), Ibrar Latif (38) and Jake Lockwood (46) all made starts for the Swallow Lane side as they made 224-9 from their 50 overs. Barkisland's young bowling attack saw three wickets each for Ethan Carrington (3-47) and Jake Finch (3-44). The reply was going firmly to the visitors plan with Matthew Weston (41) and overseas Sachin Jayawardena (56) setting a sound platform as Barkisland reached 140-2. Golcar's Will Hinchliffe (3-60) made the vital breakthrough which opened the door for Steve Whitwam (5-46) who ruthlessly crushed Barkisland with a devastating bowling performance which resulted in the loss of the last eight wickets for just 58 runs. Barkisland on 198ao finished 26 runs short and leaves them continuing to look over their shoulder at the cluster of teams close behind them.
Armitage Bridge emerged triumphant in another local derby away at Thongsbridge to make it back-to-back wins. They were left submissive to Zafar Iqbal (6-42) in the first innings to post a low 157ao total batting first. In fact, had it not been for the dilligence and patience of opener Chris Dennison (81) the match would have been done and dusted way before tea time as Armitage Bridge found themselves submerged in trouble on 56-7. Noah Thackeray (25) worked hard to put on a tide-turning 70-run partnership with Dennison (81) but even when the last man fell, Thongsbridge would have felt in control of the match. The hosts contrived to snatch defeat from the jaws of victory with them nicely poised on 110-3 thanks to Haydn Slodecki (44), needing just 48 more runs for victory. A remarkable change of events then unfolded as Jaycob Curtling (6-44) removed Jack Cassidy (43) igniting a spectacular collapse as the remaining wickets fell for 30 runs and Thongsbridge crashed to 140ao to see them fall to sixth place in the table.
Shoukat Ali's runs with the bat enabled Moorlands to shrug off a bad start at home to Almondbury Wesleyans to stay second in the table, just two points behind leaders Hoylandswaine. Ali (74) anchored the Moorlands innings and was joined by skipper Eddie Walmsley (54) who added a half-century. Three Wesleyans bowlers picked up a couple of wickets each as Moorlands made 210-7 batting first. The visitors struggled at the beginning of the reply after the hosts had them stunned on 40-4. An 87-run partnership between Matt Henshaw (43) and skipper Will Binns (45) gave the visitors hope but they fell in quick succession as Moorlands bowlers James Stansfield (3-23) and Siraj Sajid (4-7) put the squeeze on their opponents. Almondbury Wesleyans subsided remarkably from then sliding from 127-4 to 147ao.
A Pakistan test star graced the pitch at Delph & Dobcross as visitors Shelley unveiled their overseas; Sami Aslam, but it wasn't enough to prevent them falling to another defeat. After winning the toss and electing to bat Shelley's got off to a disastrous start by losing Aslam (1) who played on with the slowly backspinning ball rolling against his stumps and then George Bardon (0) in consecutive balls from Muhammad Shakir (3-47). They managed to rally with Harvey Jones (31) and Kiran Green (43) laying the seeds of a good performance before both getting out when they were set nicely on a good batting surface. Ranjith Bandula-Don (64), was caught on the boundary but received a reprieve after fielder Luke Hargreaves overbalanced onto the rope before laying siege with a succession of boundaries. Once Yaqoob (3-47) had removed the veteran Sri Lankan, the tail was snuffed out by Yaqoob and Lancashire spinner Xander Selby (3-57) with Shelley setting a below-par target score of 207ao. Delph's top two run scorers Mosun Hussain (78) and Alex Peters (60) were again in the runs, taking advantage of the absence of normal opening bowler Martin Sykes. Both were out before reaching the target but overseas Rehan Afridi (36no) again looked in good touch as Delph ran home easy victors on 208-4 to move up to fifth place.
After a stunning win away at Hoylandswaine on Match Day 12, Honley were brought crashing back down to earth by visitors Broad Oak. Adam France (3-18) ran riot in the opening exchanges as he helped stun the hosts, reducing them to 11-5. Eddie Wilson (57) carved out a half century to drag Honley back into the match and late contributions from Lewis Kenworthy (22) and Jack Hebden (23) allowed Honley to reach a more respectable 146ao with Kyran Dill (4-39) taking the most wickets for the Oak. Harvey Booth (52) followed up last week's century with a fifty as Oak cautiously seeked out the win. The efforts of Sam Denton (3-41) was in vain and Honley weren't in a position to apply enough pressure to unsettle the visitors as Oak steadily progressed to 149-6 in reply.
Jedi Championship
Rastrick recovered from a perilous position away at Holmfirth to record the victory which would take them back to the top of the league at Marsden's expense. They rebuilt the innings to set a 178ao first innings target when they were 122-8 at one point. Max Gummerson (3-49) and Amar Rashid (4-47) had the visitors in plenty of discomfort before a late innings rally gave them something to bowl at. If Holmfirth could find a remedy to their frail batting at present they may have designs on challenging the leading pack. They were put through the ringer by the bowling of Osama Ahmed (4-51) and Asif Afridi as they fell into total freefall from 34-0 to 106ao.
The only unbeaten record from all three top divisions was Marsden and they finally succumbed to improving Clayton West away from home. Opening batsman Steve Butters jnr (68) batted resiliently for the entire innings but wasn't able to hold company for long enough to put the hosts under serious pressure. Matthew Butters (24) and Chris Coleman (36) almost collaborated with
decent partnerships but were dismissed at crucial stages as Craig Glover (3-27) and Dan Barber (3-60) kept the heat on the visitors by restricting them to a 163ao total. A solid start was tempered when Sajid Ali (1-55) captured the prized wicket of Phil Tunnicliffe (71) to leave Clayton West on 107-3. However Tom Barber (27no) Alex Clegg (18) resisted the beguiling bowling of Rijnier Coetzer (4-44) enough to nudge the hosts closer to victory which they eventually reached on 164-7 with just over 15 overs remaining.
Elland have mastered the knack of edging through nail-biting wins after they notched their third narrow victory in as many matches with a one wicket victory at home to luckless Lepton Highlanders. The visitors were left scratching their heads after they let slip another opportunity to close out a win but will probably look at the low score set from their 50 overs batting first. A pair of Mulhalls were once again leading the batting with captain Jacob Mulhall (29) and Tony Mulhall (28no) totalling the most runs in Lepton's 119-9 first innings score. Rohan Randhawa (4-28) once again enjoyed success with the ball since his early season transfer from Kirkburton. Jacob Mulhall (4-71) inspired his team with the ball along with his fellow opener Adeel Ashraf (5-35) as Elland found difficulties during the reply. In fact, had overseas Josh Ramdoo (58) been dismissed earlier, the outcome would possibly have been different but even though he was removed by Ashraf, Elland's Peter Dobson (12no) kept a cool head to hit the winning runs with Elland making 120-9 after 38 overs.
Nazar Hussain was once again in fine form with the ball for Mirfield Parish Cavaliers as they remain in the hunt for an instant return to the Premiership. Parish overcame their hosts, Denby thanks to a five-fer Hussain (5-25) helping to keep their opponents within a comfortable range. Opener Mark Askham (39) and overseas Aizaz Khan (40) helped Denby maintain a solid start but when Askham departed, Khan anchored himself in. Tom Fretwell (3-49) played a part in asserting control over Denby and Khan was the final wicket in the hosts 152ao. Parish lost Tim Orrell and Muhammad Ali to Tom Sanders (3-48) in the opening exhanges of the reply but Jon Hellings (57) and Hussain (23) steadied the ship. Ben Tillotson (22no) and Brad Drake (25no) extinguished any fluttering hopes that Denby had and Parish ran out comfortable winners on 156-5.
A recent run of three abandonments have frustrated Slaithwaite but they won again to extend a run of unbeaten matches that stretch back to May 11th. Bottom-placed Almondbury were the visitors and had they matched a first innings bowling performance with the bat they may have moved off the bottom of the table. Slaithwaite needed application and patience batting first with Abdul Qader (4-55) asking plenty of questions. Cosmond Walters (44) provided a reasonable foundation although Slaithwaite lost wickets at regular intervals. A half-century from Sohail Butt (52) then perhaps swung the contest as the hosts made 210ao. The reply hit the buffers almost immediately as Almondbury slumped to 10-3 before a couple of useful partnerships involving Qader (49), Qaiser Rashid (28) and Wasim Khaliq (40) put the visitors in a good position with the match balanced. Butt (6-39) rounded off an incredible performance to demolish Almondbury as they dramatically collapsed from 143-6 to 164ao.
Skelmanthorpe's relegation fears continue with their latest defeat coming at the hands of Lascelles Hall in front of their own spectators. Nazeer Rehman (87) and Matthew Simpson (86) built a 165-run partnership together which put the game beyond their struggling hosts in the first innings as they set 237-6 batting first with the best return with the ball coming from Skelmanthorpe's Adam Rammell (3-73). Losing Joe Sykes on the very first ball of the reply put a hole in their gameplan and the home side were against a rock and a hard place for the remainder of the match. Simpson (3-46) dominated proceedings with the ball and with a couple of wickets each from Zeeshan Khan (2-40) and Damith Weerasinghe (2-17), Skelmanthorpe were squeezed out of the chase. Josh Scott (38) displayed a bit of heart down the order but Luke Webster's side were soundly beaten by 67 runs on 170ao and continue to nervously look over their shoulders at the slender four point gap between them and the relegation zone.
Cedar Court Conference
Thurstonland lead a cluster of three clubs by six points after they edged out Upperthong in a captivating match. Thurstonland may have themselves been frustrated after letting a good opportunity to amass a sackful of runs and were made to settle on 166-8 batting first having been 124-2 at one point. Kaleel Ahmed (42) and Jay Allen (42) both had equal scores batting 3 & 4 respectively (in a partnership of 71 runs). Ben Charlesworth (3-42) led the bowling figures for hosts Upperthong. The two opening bowlers for Thurstonland; Jordan Thackray (3-30) and Tom Broom (3-31) blitzed Upperthong early in the reply - a colossol blow that they were unable to recover from. Charlesworth (37) valiently tried to rescue the innings but their visitors were too strong in the end as they were dismissed for 138.
Hoylandswaine 2XI emerged victorious at home to Denby Dale in the division's big match which left both clubs in joint second position of the table. Brayden Clark (106) dropped down from the 1XI to resgister a century from 126 balls, with John Ashton (61) hitting a half-century as Swaine set the visitors an imposing score of 303-9. Saif-Ur Rehman (4-44) dealt Denby Dale a terminal jolt by removing the top three batsmen to leave their opponents on 9-3 which quickly went to 43-4. Paul Hale (56) steadied the ship but the result was a formailty by then when Darren Lockwood (5-24) took control with a four over spell that mopped up the rest of the order leaving Denby Dale 139ao in a gigantic 164-run defeat.
The other side joining them in the push for promotion is Emley Clarence who kept out Hall Bower by 44 runs. Mirza Mobeen (122) gave the Emley first innings score a huge shot in the arm after they were worryingly unsettled on 50-4 to help them get up to 232ao. Faisar Siddiq (4-69) was the best bowler for Bower. They will have felt in the hunt too, with opener Matthew Crane (31) and middle-order batsman Siddiq (40) carving out meaningful scores. However Kamran Saleem (3-45) and Adam Taylor (3-49) shared six wickets between them as Emley began to dominate before Hall Bower eventually rescured a bonus point by reaching 188-9 in reply.
Elsewhere, Meltham having knocked out Rastrick in the T20 Shield in midweek, demolished Linthwaite with a 9 wicket win to stretch their unbeaten run to six league matches. Linthwaite were bowled out for a miserly 61 with Alex Clegg (5-4) oppressing the home side with the ball. Meltham knocked off the low total in 11.3 overs for the loss of one wicket.Kirkheaton's Tom Atkinson (4-19) had a great afternoon with the ball as Cumberworth United were restricted to 130-9. Will Smith (39) chipped in with a crucial contribution as Kirkheaton made 131-7 in the reply with six overs remaining and score a victory that would move them off bottom place. Finally, Birkby Rose Hill replaced them at the basement, albeit level on points as they suffered a chastising loss away at Mirfield after being bowled out for 82. Deron Greaves (6-29) and Beau McGuinness (4-26) were Birkby's tormentors with Mirfield replying with 84-3 in precisely 14 overs.