A strong team performance from Kirkburton 2XI meant they retained the Fired Up Corp Paddock Shield for a second season and their fourth time in total in front of their own supporters at Riley Lane against Broad Oak. In blustery conditions, James Newsome's decision to insert the visitors looked to have paid handsomely after opening bowler Tom Burkinshaw struck to remove two Broad Oak bastmen in his first two overs. Jack Pulley departed in only the fourth ball of the match as his cut shot was taken excellently by Mike Smith fielding at point. Broad Oak's plans to pile on a big first innings total were dealt a further blow when Burkinshaw (2-24), man of the match in the 2017 final, produced a fine delivery to castle aggressive number 3 Conor Woodruff (1) to leave Oak 4-2. However Oak tapped into some much needed guile and experience and opening batsman Simon Peacock joined forces with Ryan Wadsworth to quell the Kirkburton pressure. Together they batted with calmness and poise, regularly dispatching bad deliveries that started to creep in. Newsome reshuffled his pack but it was to no avail with both batsmen reaching half-centuries at approximately the same time.

With plenty of overs left at 110-2, Broad Oak were now in a promising position, bringing up a hundred partnership cheered on by an vocal band of Linthwaite-based supporters. The partnership was broken when Peacock (58), attempting to clear the ropes misjudged allowing Ben Carrington to take a good catch in the deep. A real turning point came shortly after when Ryan Wadsworth (51) and brother Jack had a crucial miscommunication resulting in Ryan caught out in the middle and a shy at the stumps was a direct hit to rock Oak once again. Wickets then started to tumble as Kirkburton sensed a way in, bringing on wily campaigner Rob Kettlewell. Jack Wadsworth was the next to go, caught by Tom Cliffe and Kettlewell then had his second wicket with captain Newsome holding on to a mid-wicket catch to remove Jake Read (5). Kettlewell (4-47) then laid out the bait for a third wicket with the visitors realising the importance of trying to push the score on quickly. Birkinshaw this time took a catch to see off Oak's captain Dale Brooke (10) and Oak were starting to crack at 145-7.
A second decent partnership started to form with new batsmen Jevon Peacock and Gavin Brooke beginning to score more fluently. The two put on 26 runs before an ill-advised two coupled with some sharp fielding by Kirkburton had the dangerous Jevon Peacock (18) run out. This set-back proved decisive in the end with Broad Oak only able to add two further runs to the score. Newsome brought back opening bowler Aaron Moore (2-25) and he efficiently tidied up the final two batsmen Brooke (12) and Liam Moran (0). Broad Oak's 173ao total would be a difficult one to defend against a Kirkburton side, packed with experience that bats deep.
Kirkburton started the reply with a relatively youthful look sending Mike Smith and 16 year old Ben Carrington to face off against opening bowlers Jack Wadsworth and Liam Moran. Both batsmen calmly went about their task and frustrated the opposition. The fifty partnership was brought up in the 11th over and it consumed more runs before Conor Woodruff could make the breakthrough by clean bowling Smith (31) soon after, Carrington (40) was removed via a run out as Broad Oak sensed an opportunity, albeit a slender one.
The two new batsmen, Dale Winterbottom and Tom Cliffe, more experienced operators than the openers cruelly snuffed out any chance Oak had and saw the game out with a creditable hundred run partnership. Winterbottom, whose flamboyant choice of off-pitch clothing inspired the entire team to arrive for the final in colourful Hawaiian-style shirts, was a perfect foil to the more attack-minded Tom Cliffe. Winterbottom (33no) looked solidly in control throughout, facing 59 balls and scoring 6 fours. Conversely, Tom Cliffe (58no) faced 79 balls and scored 4 fours and 4 sixes in his unbeaten innings. Kirkburton passed their target in relative comfort with just over 8 overs remaining and were deserved winners in a well-attended final. Congratulations to Kirkburton who again hosted a most excellent final.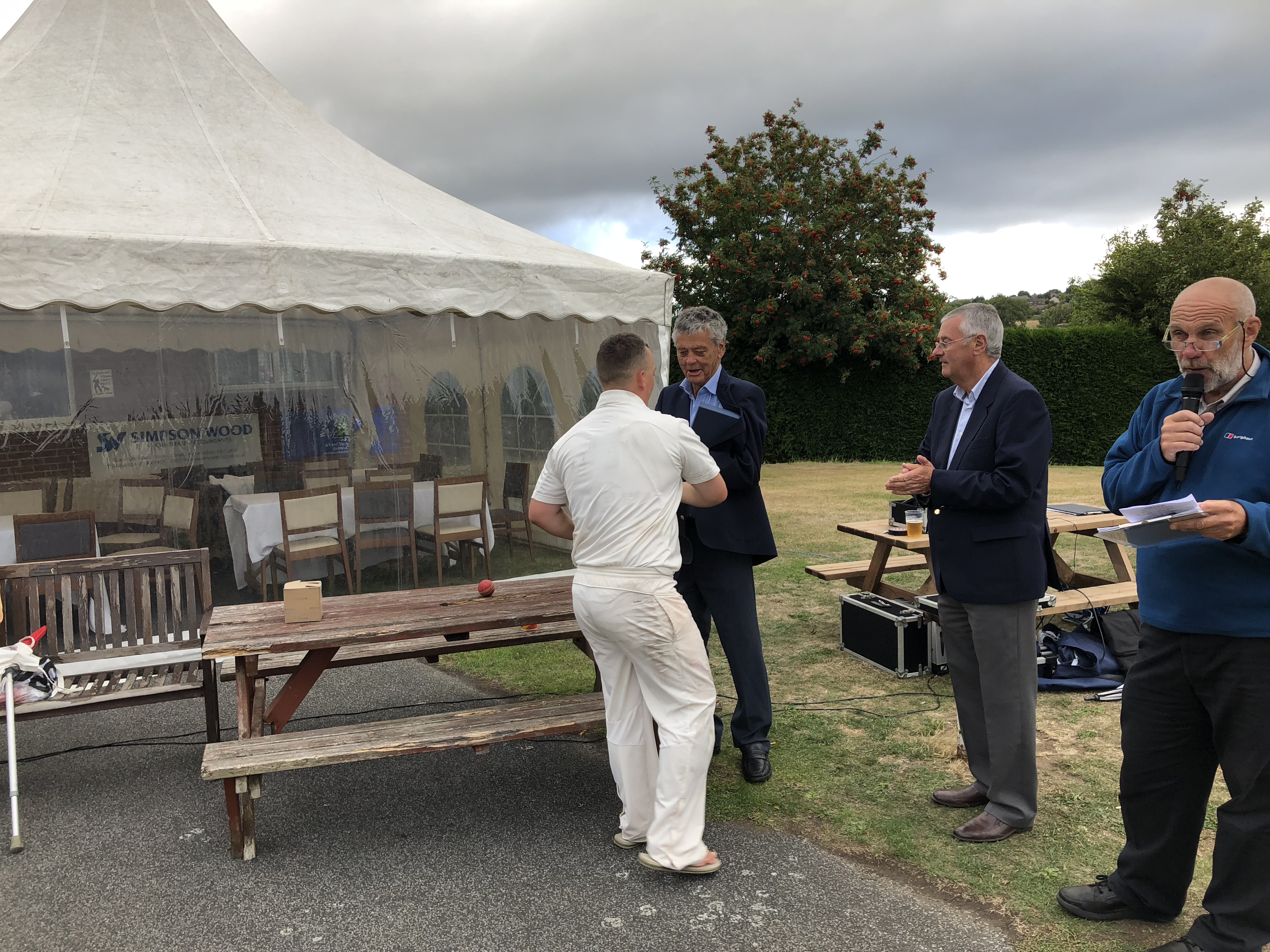 With a good catch in the first innings and a match winning innings of 58no, the Executive declared Tom Cliffe (pictured above) the man of the match.