Like a gripping box set, you can barely take your eyes off the Premiership. Delph & Dobcross are now clocking up the binge-watch wins and registered a back-to-back success whilst Barkisland held their nerve to suck Thongsbridge into the stramash which left six teams clustered together with four points between them. Sadly, Shelley endured a regretful afternoon and became the first team to feel the cold chill of relegation after they lost heavily away at neighbouring near-namesake Shepley. The Championship served up an equal amount of thrills and spills with Slaithwaite making a well-timed late surge into a promotion place to replace unfortunate Marsden. Meltham's three month long unbeaten run came to an end in the Conference which almost ends their promotion hopes after top-placed Thurstonland moved one step closer to their first promotion since they joined the league.
Drakes Premiership
One week after losing a crunch relegation match, Barkisland showed resilience and fighting spirit to ease their relegation fears and send Thongsbridge spiralling towards another worrying defeat. Darren Robinson's youthful side kept a steely eye on their prize in a nervous second innings chase which was achieved with just two wickets remaining. Thongsbridge were guilty of frittering away a glorious opportunity to bat their opponents out of the match with two batsmen getting themselves out as they approached half-centuries. Ben Raven-Hill (47) and Haydn Slodecki (46), both prolific scorers at this level, were removed at the moment they were ready to inflict maximum damage with Sri-Lankan Sachin Jayawardena (3-52) enjoying an influential spell with the ball. Barkisland were in similar waters themselves during the reply with not many able to forge a long and profitable partnership. Luke Bridges (52) crafted a half-century before crucially being removed by an LBW by Ben Howitt (4-54) and when skipper Robinson (42) was out with the score on 147-7, the hosts were firm favourites to seize victory. However young Australian Ethan Carrington (29) may have foreseen Ben Stokes' heroics against his countrymen by stoically denying Thongsbridge who frantically utilised seven bowlers in an attempt to dislodge him. Helped by over forty extras, Barkisland reached a 221-8 total with 13 balls to spare. Thongsbridge collected two bonus points but may argue that they let slip four more in the circumstances.
A phenominal opening spell of bowling by seamers Umer Yaqoob and Muhammad Shakir earned Delph & Dobcross a second consecutive success and ensured Armitage Bridge's concerns deepened at the same time. The win pulled Delph to within one point of their opponents who were 5th only a couple of weeks prior to this fixture and now stand only five points away from the relegation zone. Yaqoob (2-50) and Shakir (2-24) dismantled the openers before making way for Wasim Qasim (4-23) whose quick pace obliterated the Armitage Bridge middle order and were bowled out for 109. Jaycob Curtling (21) top-scored on a chastening afternoon for the visitors but Bridge felt they were back in the contest when they reduced Delph to 51-4 in the reply. In Luke Hargreaves, Delph boast a formidable weapon and the big-hitting local lad unleashed a 31-ball assault on the Armitage Bridge spinners, sending 5 big sixes over the ropes. In the end, Delph romped home to a significant win on 113-4 in 23 overs to maintain their end of season momentum.
A lackadaisical performance by Kirkburton may come back to haunt them in the final reckoning after seven batsmen got into double figures at home to Scholes but all were unable to convert their starts into a substantial contribution. Johnny Butterfield (27) hit his team's top score but Kirkburton were kept soundly in check by a revitalised Tom Brook (5-36) during the hosts 181ao first innings score. Scholes' experienced second teamer Ashley Pamment (52) succinctly illustrated how it ought to be done with a half-century opening the batting although he was unable to build alliances with most of his team-mates as Kirkburton battled themselves back into the match. Andrew Smith (2-48) and Roscoe Tahttil (3-49) chipped away as Scholes saw the match slipping away from their grasp until the calming influence of Brad Birkhead (48) stopped the rot. Birkhead (48no) stealthily shepherded the lower order to frustrate the home side who were powerless to prevent themselves falling to defeat. They managed to rescue two precious points after Scholes reached 183-8 with 14 balls remaining but with sides above them winning it was a costly afternoon for Toby Booth's strugglers.
Shelley's painful campaign was put at rest after they were soundly thrashed at their neighbours Shepley who are finishing their campaign strongly themselves. Seam pair Nasir Jamal (3-15) and Nadim Hussain (3-19) made full use of the conditions to torment the visitors who could only manage 101ao batting first at Marsh Lane. Opener Dan Wood (41no) saw home a fourth straight win with teammates Shahban Raheem (28) and Max Joice (25no) also contributing as Heavy Woollen Cup winners Shepley made 104-2 inside 19 overs.
Hoylandswaine kept well on course for another trophy-laiden season after piling on an eye-watering 300+ score in a rout away at mid-table Honley. Openers Sarjinder Pal Singh (55) and Iftikhar Naseer (72) caused most of the damage in a 149-run opening partnership. Chris Holliday (46) and Arron Lilley (42) then followed up their colleagues' good work and Waqas Maqsood added a brutal 30 runs in 15 balls late in the innings as Swaine set 313-9. Mel Benito's five wicket collection was a mere sideshow for Honley who were unlikely to challenge the target. Gurman Randhawa (5-26) clinically finished off the hosts after the opening bowlers Maqsood (2-21) and Adnan Ghani (2-7) softened up Honley's upper order as the home side were swept aside on 95ao.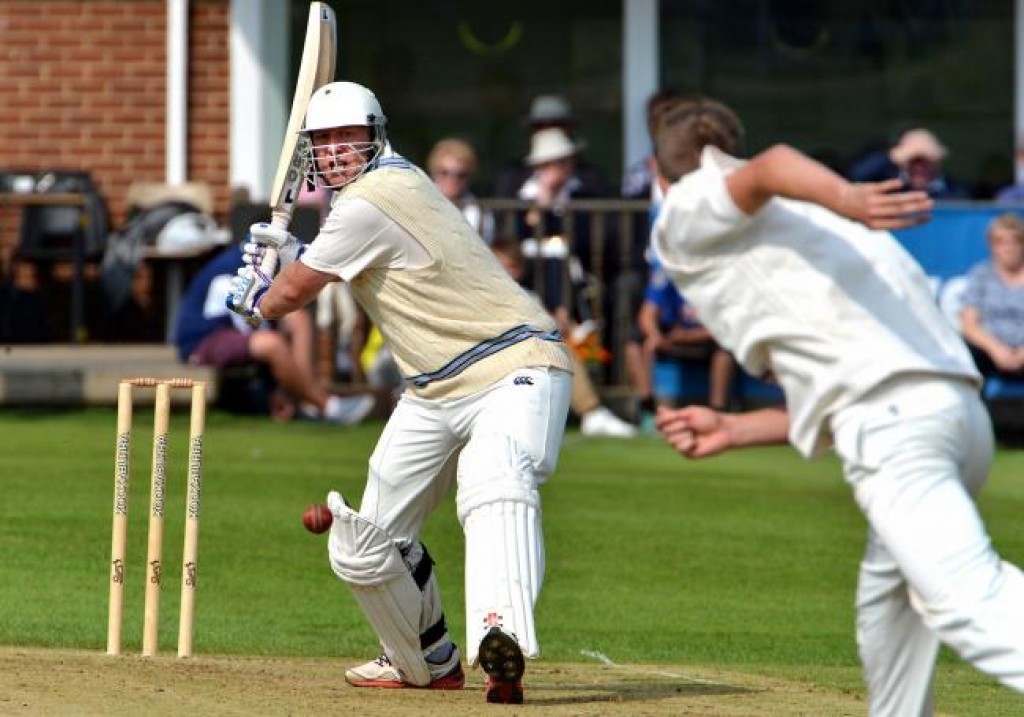 An excxellent all-round performance came from James Stansfield (Moorlands) who took seven wickets with the ball and won the match with a careful 35no.
James Stansfield's one-man show kept Moorlands' slim chances of toppling Hoylandswaine alive with a faint pulse in an entertaining win at home to struggling Broad Oak. At one point, Stansfield had 7 wickets for 7 runs before finishing with 7-18 in Oak's brittle 146-9 innings, boosted by a commendable rearguard action from number nine Daniel Rushworth (41no). However in-form Daniel Taylor (3-27) had the home side worried before Stansfield (35no) teamed up with 14-year old Josh Riding (33) with the score precariously poised on 81-5. The 'odd-couple' then battled their way to victory with a superb 61-run partnership to help Moorlands to 147-6 in reply. The bonus point does little to ease Broad Oak's worries.
Almondbury Wesleyans suffered a crushing defeat to harm their survival chances away at Golcar whose Premiership status was virtually preserved during the process. Jack McNamara's side are heading for the highest finish since 2014 where they ended the season in fifth place and this latest victory summed up the improvements since his arrival. Steve Whitwam (47) got the ball rolling before Ibrar Latif (39), Jake Lockwood (40) and Craig Ruscoe (39) all contributed to Golcar's first innings total of 206-7. The visitors simply couldn't get the measure of all-rounder Whitwam (5-13) who followed up his solid score with the bat by taking five wickets in a second innings blitz. Four wickets were also shared between Will Hinchliffe (2-18) and McNamara (2-38) to top off a splendid victory as Wesleyans crashed to 98ao for which Freddie Walker (31) top-scored..
Jedi Championship
Benn Thornton's half century helped propel Slaithwaite into the heart of the bubbling promotion cauldron; a handy place to be with just three league matches remaining. The Moonrakers, looking to return to the Premiership after a five year wait, dealt with visitors Lascelles Hall in a low-scoring grind with Thornton's (50) contribution crucial to Slaithwaite's 159-9 total. Sheheryar Hassan (5-36) kept the hosts on edge but the chase was an altogether different proposition. Alex Walker (4-45) and Solhail Butt (4-15) turned the tables on Shaun Woodham's men as Lascelles Hall faltered at 59-2. The loss of Matthew Simpson (30) ignited a domino effect and the visitors were eventually dismissed for 109 after 36 overs to send Slaithwaite into second place.
Marsden lost vital momentum after they slipped up at inconsistent Holmfirth. Skipper Seb Allen (28) made the highest score in either of the two teams but remarkably it was enough as Holmfirth made 122-9 batting first. Opening bowlers Alex Lategan (3-43) and Rijnier Coetzer (4-36) proved a lively handful with the ball but Marsden were flaccid with the bat when they came up against Holmfirth's spinners. Amar Rashid (4-35) and Anas Mahmood (5-28) had their opponents in knots as they wilted to 91ao in the reply. The defeat saw Marsden drop two places.
Mirfield Parish Cavaliers hammered a nail into Skelmanthorpe's coffin whose defeat leaves them requiring a near miracle to avoid their second relegation in three seasons. Had Anwar Haq (67) converted his golden opportunity into a century, the outcome may have been different but with him out, Bradley Geldart (44no) couldn't arrest the inevitable slide as the hosts were dismissed for 187. Parish used seven bowlers to keep Skelmanthorpe under pressure with fifth change Daniel Hope (4-24) achieving the best success with the ball. A steely innings from opening batsman Dave Bolt (74) kept the visitors on course to bounce back with a win following their damaging defeat the previous week. Dan Broadbent (38no) took over the mantle when Bolt was dismissed at 100-3 and guided his team to a precious win on 188-7 with just under seven overs remaining. The win leaves them just four points behind Slaithwaite in second place.
Asif Afridi's prowess put Rastrick within touching distance of a memorable promotion to the Premiership for the first time in their history. They overcame neighbours Elland with ease at Hullen Edge as Osama Ahmad (3-54) and Afridi (2-46) kept their opponents within their reach. Alex Kennedy (59) scored a half-century for Elland but they needed a score some way above 172-8 to really test Rastrick's firepower. Majid Khan (63no) stubbornly dropped his anchor opening the batting before making way for Afridi (78no) who made light work of the chase, losing just two wickets as Rastrick made 174-2 with 16 overs still to play.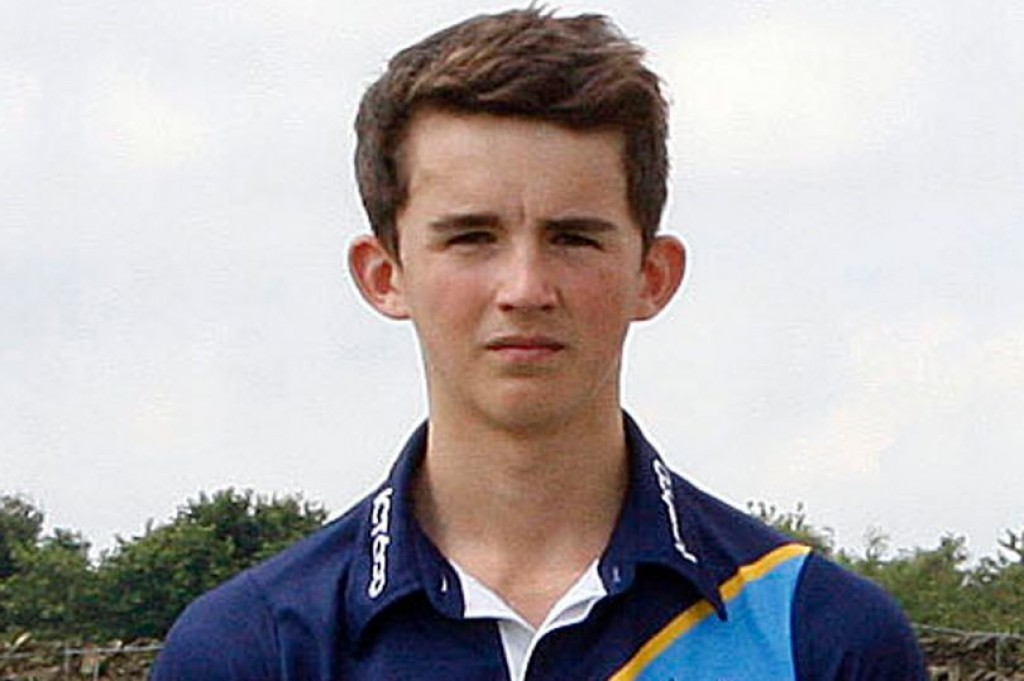 An monumental effort with a 145-ball half century from Alex Rank (Clayton West) wasn't enough to overhaul Almondbury's first innings total as his team fell short by 16 runs.
Keep an eye on Almondbury who may be pulling off one of the league's most incredible escape acts ever after they strung their third straight win together by edging out Clayton West. Almondbury turned their fortunes around with a gutsy half century from number eight Aaqib Zaheer (55) to recover from 104-8 to 179ao. In a fascinating second innings, an astonishing seven wicket booty by Faisal Usman stunned the hosts. Usman (7-44) scythed through the home side with six of his victims bowled by the rampant strike bowler. Opener Alex Rank managed to find a willing partner in last man Craig Glover (23no) and together they slowly began to fight back, putting on 66 runs in a tenth wicket partnership that shifted the balance of power. However Usman got his man when he bowled Rank (58) after an epic 145 balls faced on 163ao, agonisingly just 16 runs short of victory.
Lepton Highlanders are now in Almondbury's crosshairs after they surrendered to defeat away at Denby which leaves them just four points north of safety. A large 118-run partnership allowed Denby to pile up a 249-5 first innings total with Aizaz Khan (55) and Tom Sanders (93) at the heart of it. Lepton still held the initiative however after a solid 87-run second wicket partnership between captain Jacob Mulhall (44) and Asif Hussain (57) got them up to 102-1. The run out of Hussain was the catalyst for Denby to force themselves back into the match, with Matthew Smith (3-44) on the charge. Lepton absorbed too much damage at that point and although Adeel Ashraf (23) and Rob Dickenson (19) enjoyed spirited knocks in the lower order, Lepton were well beaten on the day, succumbing to 203ao.
Cedar Court Conference
Mirfield overseas Deron Greaves consigned Meltham to their first defeat in any format since May which all-but ends their promotion hopes. Greaves (87) starred with the bat for the home side as they successfully pursued Meltham's 152ao total after Beau McGuinness (4-36) had earlier reaped dividends with the ball. Mirfield made 153-4 in reply with 13 overs remaining.
Hoylandswaine 2XI have more than held their own with the first teams and stayed in second place after they overcame Cumberworth United at home. Saif-Ur Rehman (3-14) and Mustafa Bashir (3-4) led the attack to bowl out their opponents for 131 and then opening batsman Darren Lockwood (49) top scored in their 135-6 reply.
Kaleel Ahmed struck with five wickets for leaders Thurstonland who are now strong favourites to achieve their first ever promotion in their Huddersfield League history after joining five years ago. Ahmed (5-9) and Jack England (3-34) pulverised T20 Shield finalists Linthwaite who finished 96ao in 30 painful overs. The visitors completed victory for the loss of only two wickets for whom Nathan Appleyard made 45 in Thurstonland's 99-2 reply from only 17 overs.
In the other matches, Denby Dale were outplayed at Upperthong but remain in third place with matches running out. Sam Hobson (5-20) helped fire out Denby Dale for 91 and even though Mirza Tehseen (5-20) hit back with a five-fer of his own, Upperthong held on to win by two wickets on 92-8. Birkby Rose Hill are finishing the season with a flourish after their third win in four matches came impressively against Emley Clarence. Three half-centuries featured for the away side with Rajesh Monga (60), Muhammad Munsaf (50) and Rashid Nazar (66) shone in the middle order as Birkby made 269ao. Mushtaq Hussain (3-21) and Anjum Shahzad (3-48) help complete a real team performance to bowl out Emley for 141 in reply. Conversely the season can't end soon enough for Kirkheaton who were well beaten at home to Hall Bower. A remarkable performance from Hammad Ul Hassan (7-38) flayed the hosts as they were first dismissed for 124. Hassan (79) tormented the bottom team with the bat in the reply as they made 136-3 in the second innings.