Fantastic Golcar turned the tables on Shepley in the standout performance of the Premiership whilst Champions Hoylandswaine were made to work hard for victory away at Barkisland. Lascelles Hall kept up their momentum to top the Jedi Championship with a compelling performance to pick up their third win in three and in the Cedar Court Conference, Mirfield are at the front of the pack after seeing off Denby Dale.
Drakes Premiership
Will Hinchliffe put a dent in Shepley's title hopes by helping Golcar inflict a first defeat of the season on Greg Wood's side at Marsh Lane. Opening seam bowler, Hinchliffe (4-21) powered through the top order to leave the hosts reeling early in their reply where Golcar were restricted to 220-9 earlier. The visitors were indebted to a sturdy partnership between Steve Whitwam (66) and Dan Woodhead (68) after they were placed in a spot of bother themselves after Nasir Jamal (3-40) and Danny Glover's (5-45) input. Tom Denton (41) attempted to hold the innings together batting down the order but last term's all-rounder of the season Whitwam (4-45) got stuck into the lower order who were unable to prevent themselves losing wickets and their chase fizzled out.
It's been a tough re-entry into the Premiership for Barkisland but they will be buoyed by their performance at home to Byrom Shield holders Hoylandswaine after they were able to hold the champions to an assilable 239-9 first innings score. Swaine, who were able to call upon Arron Lilley's services following a gap in county duty schedule, had to graft with the bat after opener Brayden Clark (54) and Lilley (44) helped the visitors to a good start. The loss of six wickets for 30 runs appeared to unsettle the Hoylandswaine with Jake Finch (4-61) and Luke Bridges (3-75) enjoying a purple patch. A steady reply from Barkisland had their lofty opponents concerned with Matthew Weston (46) frustrating their intimidating pace attack. A short rain delay lost ten overs and led to a revised target of 203 but Hoylandswaine's spin options of Randhawa and Lilley did enough to suffocate the home side despite Bridges (55no) and James Summerscales' (35no) heroics.
Scholes and Honley both had their potent star batsmen on show in Joe Carter and Will Fraine in an absorbing contest at Chapelgate. Fraine (52) hit a half-century in Honley's competitive 225-7 total with Scholes opening bowler Tom Brook (4-51) playing a part in keeping them within range. Opener Gharib Nawaz (43) helped the hosts get off to a good start but the key wicket of Carter (10) damaged their hopes after he was caught behind by Eddie Wilson. Benji Birkhead is enjoying an exquisite start to the season and another half-century was in vain this time as Scholes lost wickets at vital intervals and finished 20 runs short on 205ao with Jack Hebdon (3-28) and captain Timmy Taylor (4-32) starring in Honley's win.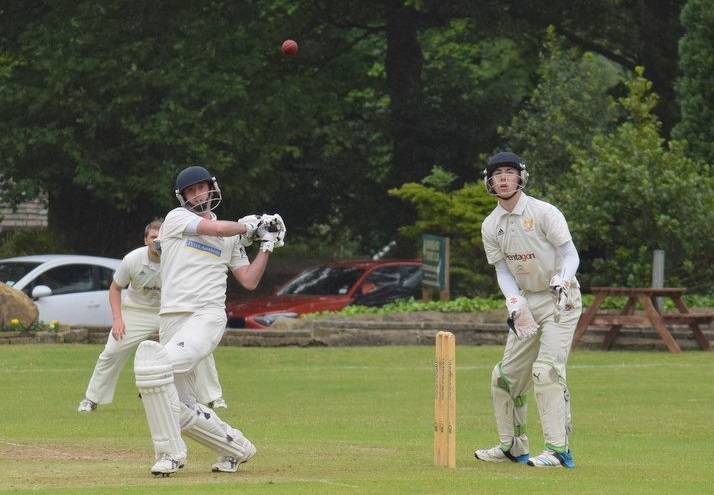 Alex Scholefield hammered a superb 140 and went for 1-18 in ten overs but it was ultimately in vain as Kirkburton's impoising total was expertly chased down by leaders Moorlands.
Alex Scholefield smashed a stunning century yet still finished on the losing side as Kirkburton let slip a commanding total slip at home to early Premiership leaders Moorlands. He put on a 171-run opening partnership with Andy Smith (73) as Moorlands toiled in the field with 'Burton putting on a 264-5 first innings total. The visitors had to recover from 46-3 but a 79-run partnership of their own helped settle the ship. Jason Grosvener (110) was the key man that Kirkburton couldn't dislodge and it was their former player; Siraj Sajid (43) who added a hammer blow with the hosts hemorrhaging runs as Moorlands reached 267-6 with four overs remaining.
Thongsbridge helped themselves to their first ever win at Delph & Dobcross and put down a convincing marker in the process. Delph were kept under control for most of the match with only opener Mosun Hussain (56) able to make a telling contribution as the brothers Tom Raven-Hill (4-60) and Ben Raven-Hill (3-55) snuffed out the threat. A 50-run last wicket partnership featuring Muhammad Shakir (45no) added a little gloss to Delph's total of 229-9 but it ultimately wasn't enough. Thongsbridge lost both openers cheaply but with Delph being far too generous in their bowling were able to get above the required rate quickly. Haydn Slodecki (43) and Alex Kemp (46) hit big as the Delph bowlers struggled with their lines and it was left to Rory France (43no) - plucked from second team obscurity at Kirkburton - to finish the job and claim a second win of the season.
Contrasting fortunes for Almondbury Wesleyans who were unable to follow up their opening day win against Honley after crashing to defeat in a thriller at Armitage Bridge. New overseas Marco Van Biljon (6-19) made his mark by obliterating the Wesleyans batting with only Matthew Henshaw (32) being able to carve out any sort of opportunity. The hosts completed a nervy victory but were made to sweat as Freddie Walker (5-30) put furrows in brows during the reply. In fact Bridge were in dire straits at 86-9 before brothers in arms Daniel Moorhouse and the experienced Richard Holmes edged them to victory with a crucial 16-run tenth wicket partnership. Bridge's 102-9 ensured the visitors claimed two important bonus points in defeat.
An industrious performance from Broad Oak led to an easy win at strugglers Shelley who suffered a disastrous second innings chasing the 232-9 laid on by Oak. Jack Hargreaves' side's strength in recent seasons has been solid contributions throughout the team and it was no different here when seven batsmen managed to get into double figures following the start made by openers Charlie Roebuck (47) and Dom Finn (41) along with number 3 Harvey Booth (44). Shelley would be wise to take inspiration from this approach after they melted away in reply with Adam France (3-27) and Kyran Dill (4-25) ensuring Havey Jones' side's uncomfortable start to the season continued.
Full Scores:
Almondbury Wes 98 (M Henshaw 32; M van Bijon 6-19)
*Armitage Bridge 102-9 (R Broom 38; F Walker 5-30)
Hoylandswaine 239-9 (B Clark 54, C Holliday 28, A Lilley 44, G Randhawa 34no; J Finch 4-61, L Bridges 3-75)
*Barkisland 179-3 (M Weston 46, L Bridges 55no, J Summerscales 35no)
*Delph & Dobcross 229-9 [Rev to 214] (M Hussain 56, A Peters 28, U Yaboob 25, M Shakir 45no; T Raven-Hill 4-60, B Raven-Hill 3-55)
Thongsbridge 215-6 (H Stodecki 54, F France 43, A Kemp 46; U Yaqoob 4-79)
*Kirkburton 264-5 (A Smith 73, A Schofield 140; D Sykes 5-63)
Moorlands 267-6 (J Grosvenor 110, J Stansfield 32, S Sajid 43, M Rounding 26no)
Honley 225-7 (W Fraine 52, R Robinson 38, L Kenworthy 33, A Greaves 25no; T Brook 4-51)
*Scholes 205 (G Nawaz 43, Y Imtiaz 26, B Birkhead 53; J Hebden 3-28, T Taylor 4-32)
Broad Oak 232-9 (C Roebuck 47, D Finn 41, H Booth 44; I Zafar 6-48)
*Shelley 81 (A France 3-27, K Dill 4-25)
Golcar 220-9 (S Whitwam 66, D Woodhead 68; N Jamal 3-40, D Glover 5-45)
*Shepley 160 (D Wood 30, M Joice 30, T Denton 41; W Hinchliffe 4-25. S Whitwam 4-45)
Jedi Championship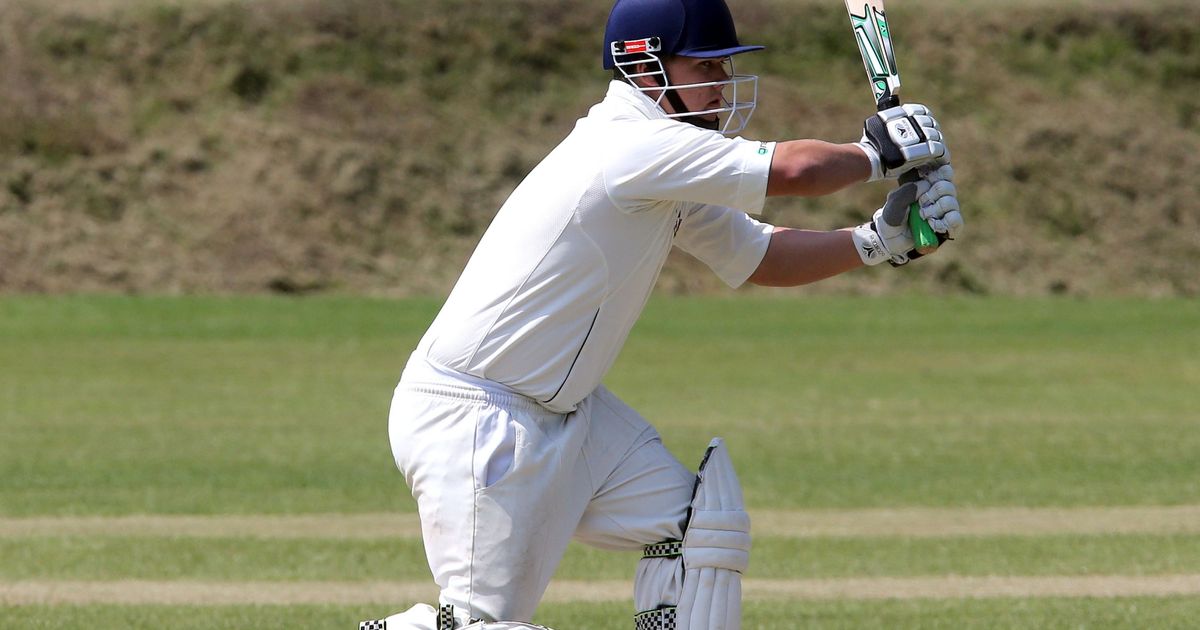 Lepton captain Jacob Mulhall (75 & 3-35) couldn't prevent his side falling to defeat away at Lascelles Hall by the finest of margins.
A victory snatched from the jaws of defeat was enough to send Lascelles Hall clear at the top of the Jedi Championship following a pulsating one wicket win at home to Lepton Highlanders. On a wicket offering plenty of assistance to the bowlers, Lepton were able to set a testing target of 190-5 following an inspirational batting performance from captain Jacob Mulhall (75). Hall's reply was anchored by Sheheryar Hassan (73) following a rocky start and when Hassan finally fell the vastly experienced Shaun Woodhams (40) helped the hosts inch nearer the target. Defeat looked inevitable at 162-9 with Mulhall (3-35) and Adeel Ashraf (3-36) putting the squeeze on Lascelles Hall but tail-enders Gavin Smith and Ben Ellam displayed nerves of steel to help their side stagger over the line on a revised score of 184-9.
At Hullen Edge, Elland threw away an opportunity for victory at home to Slaithwaite who themselves somehow claimed victory from an unlikely scenario. Paul Winrow (58) continued his fine start to the season with another half-century but his side were pegged back after wickets tumbled setting a lowly 133ao total. However the conditions meant the bowlers were kept in the contest and visitors Slaithwaite found it hard themselves to forge decent partnerships although Cosmond Walters (25) and Alec Jakeman (36) managed to keep the visitors on track. Elland were in the box seat with skipper Jack Hendy (4-22) asserting his influence with the ball and unlike the opening day at Marsden, Slaithwaite displayed enough steel to get themselves over the line. A fearless rearguard action from number 10 batsman Sadaqat Zaman (39) frustrated the Elland bowlers as Slaithwaite reached 134-9 with ten overs remaining.
After getting so close to promotion last season, Clayton West have ground to make up this time after they suffered their second defeat away at Holmfirth who themselves enjoyed their first win. A dogged batting performance from the home side got them to 228ao with Max Gummerson (49) missing out on a collection. He completed a sparkling man-of-the-match performance with 4-64 including bowling Clayton West's star man Philip Tunnicliffe (87). Clayton West had little left in the tank after their overseas departed and finished well short on 172ao.
Rastrick blew away Skelmanthorpe at their distinctive Round Hill ground to keep tabs on leaders Lascelles Hall. A steady first wicket partnership was about as good as it got for Shat after Zafar Khan (5-35) and Asif Afridi (3-24) worked their magic with the ball to torment Skelmanthorpe. Their 84ao score wasn't likely to test Rastrick and they were unable to secure any consolation points either as Majid Khan (32) and Afridi (22) made sure of the win getting Rastrick to a revised 81-4 in reply.
In the tale of the two promoted teams, Denby let victory slip away from their grasp after restricting Marsden to 137ao. A good bowling performance wasn't followed up with a canny batting one after Aizaz Mohammad Khan (4-39) had handed advantage to Paul Goodman's side on his debut. Khan (34) and former Scholes opener Matthew Smith (32) had Denby poised on 46-2 but when Alex Lategan (4-11) cleaned up Smith the wickets started to tumble. The visitors then collapsed to 91-8 and once Rijnier Coetzer (3-13) trapped Khan LBW the cuckoo's seized the chance and picked off the final wicket of skipper Goodman leaving Denby 37 runs short on 100ao.
David Bolt terrorised Almondbury with a colossal century as Mirfield Parish Cavaliers bounced back in style. Bolt (154) slammed 12 sixes and 8 fours as Parish made 240ao, although Farhan Hussain (5-47) claimed a five wicket haul for the Fernsiders. Harry Walker (56) made a half century in the reply and Hussain (45no) also featured but Parish were well in control as the Almondbury innings stalled on 183-7 which just about managed to secure them a bonus point.
Full Scores:
Mirfield Parish Cavaliers 240
*Almondbury 183-7
*Elland 133 (P Winrow 58)
Slaithwaite 134-9 (S Zaman 39no).
*Holmfirth 228
Clayton West 172
Lepton Highlanders 190-5 [rev to 183] (J Mulhall 75)
*Lascelles Hall 184-9 (S Hassan 73; J Mulhall 3-55, A Ashraf 3-36).
*Marsden 137 (C Coleman 45; A Khan 4-39)
Denby 100 (M Smith 32, A Khan 34; S Ali 3-22, A Lategan 4-11, R Coetzer 3-13).
Skelmanthorpe 84 [Rev target 81] (Z Khan 5-35, A Afridi 3-24)
*Rastrick 81-4 (M Khan 32).
Cedar Court Conference
Deron Greaves was the scourge of Denby Dale as Mirfield maintained their 100% record in direct contrast to last season's below-par campaign. Greaves (3-31) and Beau McGuinness (4-42) stifled Denby Dale's batting prowess as they bowled them out for 148 before he smashed an unbeaten 78-ball 90 with the bat to round off the win on 152-2.
Emley Clarence came out on top in a nail-biter away at Upperthong. Former Almondbury man Mirza Mobeen (3-15) put the skids under 'Thong first innings as they were reduced to 113ao but they were wobbling themselves on 8-3 and 51-7 in reply. However Simon Sykes (33) provided middle-order inspiration and despite the loss of late wickets, Emley squeezed home by one wicket on 114-9.
Hoylandswaine 2XI are finding their sea legs after an opening day setback. They worsened Kirkheaton's start to the season ensuring the visitors remained in negative equity following a points penalty due to a player registration infringement. Kirkheaton's 165ao wasn't enough after opening bowler Mustafa Bashir (5-19) dominated and Daniel Hoyle (70no) guided them home to 166-3 in a rapid 20 overs.
Elsewhere Meltham aren't finding life any easier following relegation by suffering a second defeat away at Hall Bower. They were bowled out for 116 with two five-wicket blasts from Faisar Siddiq (5-41) and Hammad Ul Hassan (5-23) causing the damage with Bower knocking off the target in 30 overs at 119-3. Linthwaite were embarrassed at Cumberworth crashing to 39ao in a short match with Josh Kilner (5-23) and George Parkes (5-15) taking five apiece. The hosts lost just one wicket in reply. Thurstonland enjoyed a comfortable win away at Birkby Rose Hill by putting on 223ao where Shabeer Malik (51) top-scored. Jack England's 5-11 polished off Birkby's tail in their lowly 74ao response.
Full Scores:
Thurstonland 220
*Birkby Rose Hill 74
Linthwaite 38
*Cumberworth Utd 39-1
*Denby Dale 148
Mirfield 149-2.
Meltham 116
*Hall Bower 119-3.
Kirkheaton 165
*Hoylandswaine 2XI 166-3.
*Upperthong 119
Emley Clarence 114-9