Birkby Rose Hill shrugged off their sluggish opening day showing to demolish Denby Dale thanks to Sarfraz Hussain's proficiency with the bat. Emley Clarence are enjoying a buoyant beginning to their campaign by carrying on their good work away at Almondbury. Lepton & Hoylandswaine both stay unbeaten following comfortable wins away at Hall Bower and at home to Mirfield. Upperthong protected a low total at home to Kirkheaton and Linthwaite left their recent troubles behind by picking up their second success in two matches.
Supreme Sarfraz Dampens Denby Dale's Prospects
Sarfraz Hussain put to bed a poor opening days result by helping Birkby down Denby Dale to register their first win of 2021. Openening batsman Hussain (69) - brother of popular Birkby Rose Hill skipper Mushtaq Hussain - laid down a solid foundation to set up a substantial first innings total with several of his teammates adding useful inputs, not least Zaheer Ahmed (34no). Mirza Tehseen (3-80 - main image) took three wickets for the away team, albeit expensively during Rose Hill's 234-6 total. Zain Ul Abdin claimed five wickets during Denby Dale's unsuccessful pursuit as they crashed to 140ao with ten overs remaining.
Swaine Romp To Crushing Second Victory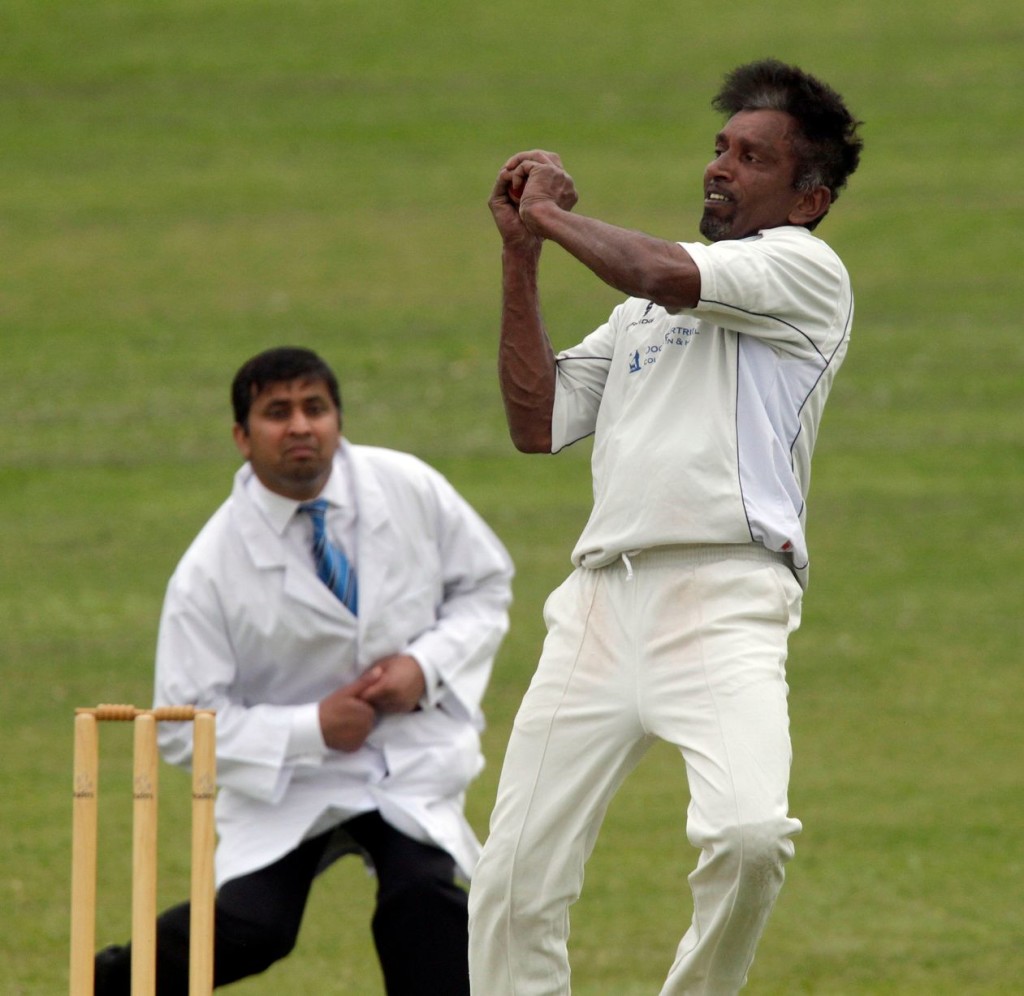 Ranjith Bandula-Don showed his guile as he helped mop up Mirfield's batting attack for Hoylandswaine 2XI
Hoylandswaine 2XI again look like the team to beat in the Conference as they raced to a convincing success at home to Mirfield which was all over inside 30 overs. Opening bowler Jack Lockwood (4-15) took out the top four Mirfield batsmen after they'd reached 20-0. Hardened all-rounder Ranjith Bandula-Don (3-9) applied more misery as Mirfield rapidly faded away to 56ao. Swaine took just ten overs to wrap up victory on 58-1.
Careless Bower Fail To Test Highlanders
Alex Crane was left cursing his side's carelessness as they let slip a good position batting first at home to Lepton. The hosts wobbled from 123-4 to eventually be bowled out for 164 as Lepton bowler Adeel Ashraf (4-40) proved a nuisance with the ball. Dependable Lepton skipper Jacob Mulhall (73) tidily went about accumulating the runs required in a patient 113-ball stay as the visitors replied on 165-4 with 20 balls remaining.
Linthwaite Overhaul Cumberworth Total In Perfect Chase
Former Paddock batsman Zahed Ahmed (82) showed his class as Linthwaite completed a run chase at home to Cumberworth to chalk up a second win of the season. His 114-ball innings provided the backbone to the second innings after Cumberworth had earlier posted 195-8. Two visiting batsmen got into the forties before losing their wickets; George Parkes (41) and Simon Moorhouse (41) so they weren't able to put Linthwaite out of the match. Good bowling by Bilal Ounees (3-37) kept them within range before Ahmed, Nasir Awan (30) and Mohammed Ihsan (25) saw home the victory with a 198-4 reply.
Kirkheaton Edged Out By Upperthong In Low Scorer
Tom Mighall's 41 proved crucial as Upperthong kept out visitors Kirkheaton in a low-scoring match. Mighall's contribution was central to the hosts 134ao total which was to be enough as they won by 18 runs. The signs must have appeared sinister when Upperthong struck with just 1 on the board before Jack Brook (4-24) and Sam Hobson (3-39) went on to decimate Kirkheaton's reply as they spluttered to 116ao.
Mobeen Helps Emley Outmuscle Almondbury
A fine team performance by Emley Clarence, in particular Ibrar Hussain (41) and Mirza Mobeen (47) saw off Almondbury as they joined Lepton, Hoylandswaine 2XI and Linthwaite with a perfect two wins from two. There were plenty more runs added throughout the team as they combined to put up 250ao in the final over. The visitors - relegated in 2019 - have a big rebuilding job on their hands as they fell to a 108 run defeat. Adam Taylor (3-9) finished off good earlier work by Mobeen (2-23) and Mohammed Nabeel (2-26) to finish proceedings as the hosts ended short-changed on 142-8.