A big match player at Mirfield Parish Cavaliers emphatically delivered the goods to shake up the promotion picture in the Jedi Championship. Nazar Hussain landed a knock-out blow onto Rastrick to open up the fight at the top with Marsden also slipping to a surprise defeat away at Lascelles Hall. Hoylandswaine 2XI topped the Conference for the first time this season after they crushed Mirfield with Thurstonland joining them on points when two five wicket hauls euthanized Hall Bower. Meanwhile in the Premiership, Hoylandswaine look well on course for their third Byrom Shield in a row following another sterile victory. Shelley's unlikely escape act played out its latest chapter when they overcame Barkisland to inch themselves into the relegation scrap.
Jedi Championship
We start the review this week with the big match in the Championship where leaders Rastrick had their lead snipped to just a point after succumbing to a seven wicket blitz by rampant Mirfield Parish strike bowler Nazar Hussian. Hussain (7-34) unleashed a hostile spell of bowling upon the table toppers who were stunned into submission chasing Parish's 154ao first innings score. The home side recovered from losing a wicket on the third ball of the match to put on 76 runs between Dave Bolt (38) and Jon Hellings (33). They then lost four wickets for only 8 runs as Rastrick's change bowling unit began to assert some authority with Asif Afridi (3-23) and Abdullah Khan (4-33) profiting from uncertainty sweeping through the Parish upper order. Hussain (42) showed his fine all-round qualities to stick it out with Muhammad Ali (21) but Rastrick mopped up the tail efficiently to peg them back once again. However the second innings was unmistakably the Nazar Hussain show and he embarked on a scorched earth opening bowling spell where wickets alarmingly tumbled for the visitors. They sank to 36-5 before opener Majid Khan (38) defiantly tightened up the batting. But he was dismissed at 64-6 and realistically Rastrick's chances vanished with him as they struggled to contain the on-fire Pakistan professional, eventually hobbling to 128ao.
Rana Naseer and skipper Shaun Woodhams helped unseat high-flying Marsden as their promotion hopes were snagged when they crashed to defeat away at Lascelles Hall. Opener Naseer (48) and Woodhams (43) played dogged roles in Hall's 189-8 first innings total with opening bowler Alex Lategan (4-51) again making an impression for the visitors. Their chances of overhauling Lascelles Hall's came a cropper when their decent start was ruined as they were reduced to 83-5 from 47-0. Bowling trio Gavin Smith (3-31), Zeeshan Khan (3-35) and Matthew Simpson (3-23) harassed Marsden's middle order and even the experienced Matty Butters (12) dropping down the order to shepherd the tail failed to work, despite Rijnier Coetzer (18) gamely attempting to nudge them over the line. Marsden eventually capped off at 142ao in a 47-run loss.
Elland remain in the hunt for a return to the top flight after they had too much for Denby to contend with. Matthew Smith (59) scored a half century but were lacklustre elsewhere as Peter Dobson (5-16) bagged a five wicket return in Denby's 139ao total. Former Skelmanthorpe man Mike Kitson (3-41) impressed on his home debut but Elland's overseas Josh Ramdoo (42) took his team to the cusp of victory when he was out with the visitors good for a routine win on 143-6 after 34 overs. Elland's win puts them within six points off the leaders.
Jacob Mulhall and Adeel Ashraf dominated Almondbury with a pitiless bowling performance as Lepton Highlanders waltzed to a huge victory in their relegation battle. Almondbury were bowled out for 68 as Mulhall (5-43) and Ashraf (4-17) ran riot with the ball before captain Mulhall (43no) led his side to a valuable win as Lepton reached their target for the loss of one wicket in just 8 overs of the reply.
Also entrenched in relegation worries are Skelmanthorpe and they were gazumped by visiting Holmfirth in a closely fought contest although two bonus points earned by the home side may come in handy in the final reckoning. Holmfirth made 198ao helped mainly by ba 55-run stand between overseas Anas Mahmood (79) and Bilal Hamid (34). Adelaide-based overseas Blair Buchanan (6-57) claimed six wickets for the hosts as they worked hard to peg them back. Skelmanthorpe may have felt especially dispirited after they shrugged off the loss of Buchanan in the first over before a strong 115-run stand between Allan Greenwood (56) and Joe Sykes (50) put them in the driving seat on 115-1. A cluster of wickets then fell in quick succession at the hands of former player Amar Rashid (5-35) to leave them on 129-5 before Jordan Greaves (19) laid anchor with Josh Scott to rescue the innings. Mahmood (3-72) dismissed Scott (26) which let Holmfirth in and Skelmanthorpe couldn't find a way to get over the line as they landed short on 193ao, only 5 runs shy of their target.
The Colne Valley was hit hard by the morning's weather resulting in a 25 over match being played at Slaithwaite against visiting Clayton West. Five wickets from Dan Barber (5-41) checked the progress of the home side as they steadily made their way to 107-7 with Cosmond Walters (37) top scoring with the bat. Sadaqat Zaman (4-11) was in fearless mood with the ball however and Clayton West had no answers to his bowling as they crumbled in the reply. Sohail Butt (2-7) and Nathan Cyrus (2-21) then took over to snuff out any faint hope as Clayton West were cleaned up for 64ao with an over left to play. The win keeps Slaithwaite in touch with the promotion group at the top of the table.
Drakes Premiership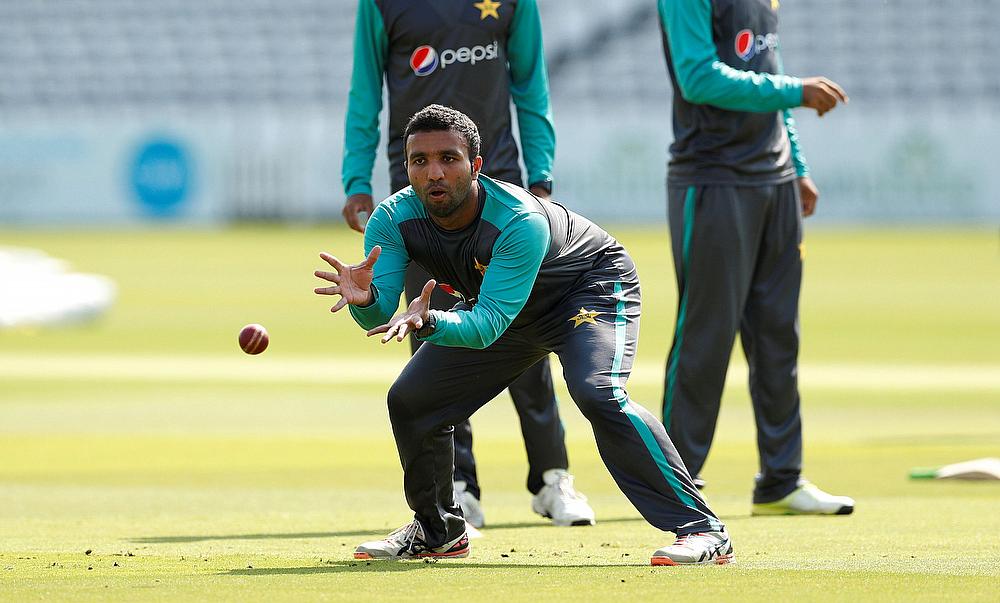 High Profile test player Sami Aslam (above) has rejuvinated Shelley and he delivered a sparkling all-round display to chalk up back-to-back wins for the bottom of the table side.
The pack at the bottom of the Premiership table is swiftly condensing and Shelley's bid to pull off one of the most dramatic escape acts ever seen continues after they made it back-to-back victories with a win away at Barkisland. Test player Sami Aslam has made all the difference to the Westerley Lane club and he nailed an impeccable all-round performance with bat and ball. After inserting the hosts in a 35 over match, Shelley looked to the high profile Pakistani professional to temper Barkisland's decent start after George Hampshire (26) and Matthew Weston built a 66 run opening partnership together. Aslam (6-25) removed Weston (38) and the door opened as he took further wickets to restrict Barkisland to 155-8. Shelley looked comfortable in reply with Martin Sykes and Aslam putting on 61 for the first partnership and a further 60 runs when Harvey Jones (26) took over took them to 121-1. However Jake Finch (3-16) began to get things moving for Barkisland reducing them to 134-6. Aslam (73no) was the key wicket at that point and he successfully guided the basement battlers over the line on 157-7 with 15 balls left for another big win in their scrap for survival.
If Kirkburton are going to pull away from the relegation zone, then closing out matches when in a winnable position is of pressing importance. Twice they squandered a good position to place hosts Broad Oak - who themselves aren't out of the woods yet - under breakable pressure. Batting first, Kirkburton undid a fine start to a reduced overs match as Andrew Smith (44) and Jonny Butterfield (27) got them up to 112-2. Oak's new signing, Derbyshire's Tony Palladino (2-38) and spinner Dan Taylor (4-44) took a glut of wickets to reduce the visitors to 124-7 but youngster Ben Carrington (24) and wicketkeeper Jonny Smith (19) built a partnership of 41 to rescue the innings as Burton set 171-8. The hosts reply was under the cosh for most of their innings as upper order batsmen made decent starts before being dismissed at crucial intervals. Sven Burluraux (40) and Jack Hargreaves (39) played vital roles in staying in the hunt. Kirkburton bowlers Smith (3-47) and Roscoe Tahttil (3-47) attempted to knock the home side's progress off kilter and very nearly did had it not been for the stoic vanguard from number 9 batsman Alastair Finn (19no). He wrestled the match away from the visitors and agonisingly for Kirkburton, nicked the win by reaching the winning runs on 172-9 with two balls to spare.
Lancashire side Delph & Dobcross plummeted further towards the drop zone after a loss at Moorlands, their fourth straight league defeat. Their decision to bat first hit the buffers quickly amongst heavy swinging conditions as Moorlands kept them under firm control for their entire innings. Captain Alex Peters (21) batted gallantly before misjudging a Darrell Sykes delivery for an LBW. Sykes (5-23) went on to torment his opponents further whilst Andrew Walker (1-19) tied down his end, conceding little. Louis Aspeling (23) dug in and Rehan Afridi (44) added a brisk and breezy contribution before being bowled. Delph weren't able to kick on in the later overs which ultimately cost them dearly and they settled on 158ao in 50 overs. Shoukat Ali (41) took the game to the visitors hitting them hard in the first ten overs to force a bowling reshuffle. Medium pacer Adam Hayes (3-18) found some purchase on the slow surface as the visitors began to even up the contest but Eddie Walmsley (29no) batted sensibly to frustrate Delph. With nearly 22 overs remaining, Moorlands cantered to a fairly easy victory finally on 159-6.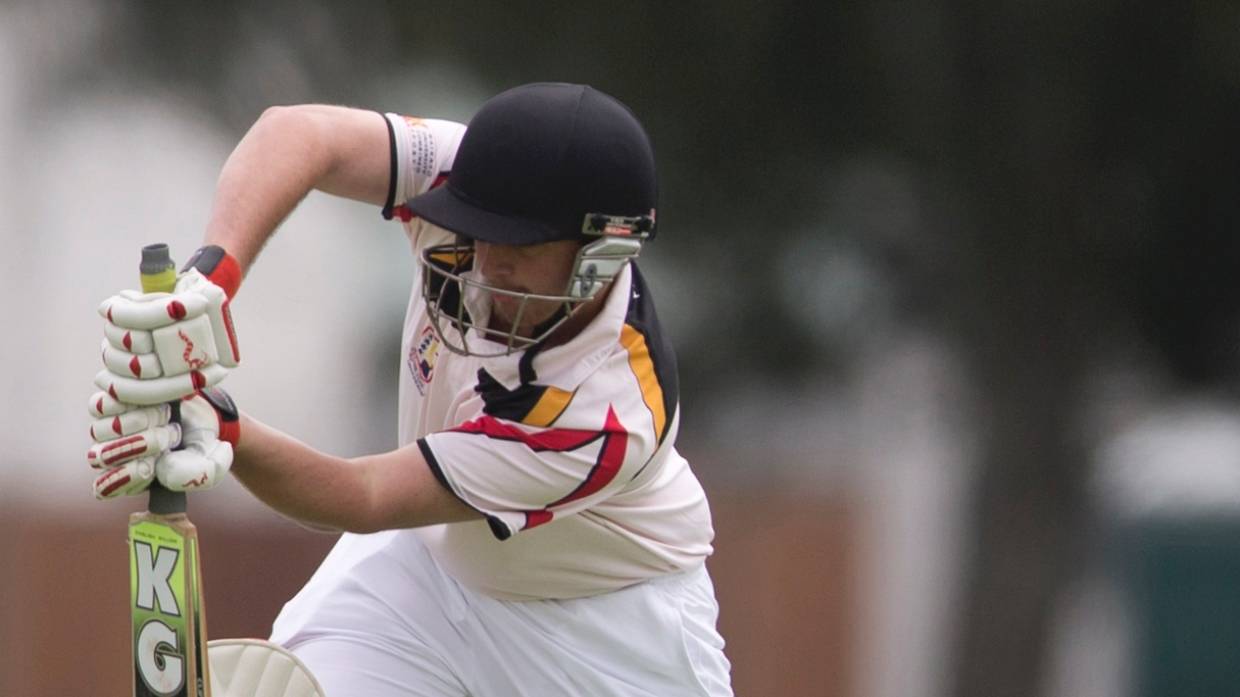 Australian Freddie Walker (above) put in another strong performance with the bat for Almondbury Wesleyans as their debut Premiership season goes from strength to strength.
Mid-table safety is the aim for Almondbury Wesleyans and they seem well and truly on course to achieve that after they made it back to back wins with an eye-catching success at home to Scholes. An all-round team effort got them to 207-7 batting first in a 39 over match with Chris Stott (53) and Freddie Walker (47) enjoying an 89-run stand together which enabled them to put the visitors under scoreboard pressure. Louis Brook (4-40) had the most success with the ball for Scholes. The visitors lost destructive batsmen Gharib Nawaz (0) and Joe Carter (15) at early stages to thrust them behind the eight ball. Benji Birkhead (90) held his side's innings together with a stubborn and well-crafted innings but Ash Smith (4-32) and Walker (3-32) took the heart out of Scholes' reply. With Birkhead out, Scholes limped on a little further before crashing to 175ao in the 34th over.
Waqas Maqsood has the lethal touch for Hoylandswaine and his impact brushed aside Armitage Bridge at home. Bridge were bowled out for 114 with fast bowler Maqsood (6-41) - who has taken 5+ wicket hauls on five occasions in the last six matches - in blazing form once again. Jack Hinchliffe (27), Jaycob Curtling (23) and Robin Broom (20) all made starts but had a benign effect on the Armitage Bridge innings as a whole, with Usman Arshad (2-26) also picking up a couple of wickets. Iftikhar Naseer (43) made a quick start for Hoylandswaine and victory was assured with minimal fuss with fellow opener Brayden Clarke (31no) and Chris Holliday (31no) seeing the job home on 114-1 after 19 overs.
When Simon Kelly is in the mood for Honley, it usually means the Far End Lane club fare well too as was the case when they bludgeoned Shepley at home to wreak vengeance after their chastening defeat at Marsh Lane back in April. Kelly (69), Lewis Kenworthy (41) and Timmy Taylor (52) took advantage of a Shepley bowling attack struggling for consistency. Danny Glover (5-64) managed to cash out with a five wicket collection but it was a costly day overall for Greg Wood's men as Honley made a hefty 230-7 from their 40 over stint. Such a high required rate drew chances and the hosts made sure of capturing the key wickets before they could kick on. Tom Chadwick (34), former Honley player Max Joice (32) and Greg Wood (38) were all removed just as they'd played themselves in with Max Morley (3-29) and captain Timmy Taylor (3-9) snuffing out the Shepley response. The visitors finished a long way short on 157ao, losing their final five wickets for only 12 runs.
Golcar picked off visitors Thongsbridge in a 30 over thrash at Swallow Lane to string a couple of wins together and rise further towards safety. Canny bowling from home captain Jack McNamara (4-30) had restricted 'Bridge to 123-7 batting first with Jack Cassidy (34) top scoring for the visitors. Golcar's wickets fell regularly as they chased down the Thongsbridge total with Abdul Wahid (26) and Jake Lockwood (27) central to Golcar's success. The visiting team utilised six bowlers in an effort to put the skids under their opponents progress but McNamara's men had enough in the tank to get over the line making 125-7 in reply with five overs to play.
Cedar Court Conference
A superb century from Adam Taylor helped Emley Clarence heap on the runs at home to Kirkheaton to remain in the hunt for promotion. Taylor (128) clubbed 15 fours and 6 sixes in 116 balls with his teammates also chipping in. Jon Lee (52) slammed a half-century and Kamran Saleem (39) added a useful contribution as Emley set a daunting 356-8 total. Aside from a half century from Niall Phayer (54), Kirkheaton couldn't match their hosts' lofty total and were bowled out themselves for 181 with Saleem (5-31) and Mohammed Nabeel (3-65) making sure of the win.
Hoylandswaine 2XI are hitting their straps as they bid to play their cricket at Championship level next season. They demolished Mirfield with Jack Lockwood (3-34) and Saif-Ur Rehman (5-24) not giving an inch as the home side were bowled out for 85. Hoylandswaine 2XI reached their 86-3 target in 24 overs of the reply with Lockwood (30) scoring highest with the bat.
In the remaining matches, Hall Bower missed the opportunity to topple promotion-chasing Thurstonland after bowling out their hosts for 100 with Hammad Ul Hassan (6-35) taking six wickets. However they were shocked in the reply as they crashed to a demoralising defeat by being dismissed for 29.All ten wickets shared equally between Lee Booth (5-14) and Jordan Thackray (5-14). Cumberworth's George Parkes put in a man of the match performance in his side's win away at Birkby Rose Hill. He scored 37 with the bat and took 4-32 with the ball as Cumberworth defended their 196-8 total by bowling out Birkby for 149. Linthwaite emerged winners at home to Upperthong thanks to Mohammad Ihsan (66) helping them to a 208-9 total. Abdullah Amin (5-49) proved deadly with the ball as Upperthong were dismissed for 138 batting second.
Rain was the only winner at Meltham who couldn't get on the pitch at home to Denby Dale in the only fixture to fall foul of the weather in the top three divisions.