Adam Rollin brilliantly designed the downfall of the top ranked club Thongsbridge as Championship team Skelmanthorpe marched into the quarter finals with gusto after a one-sided victory over their Premiership opponents. Delph & Dobcross professionally mitigated the threat of Honley's Simon Kelly to plot a course into the quarter finals and Broad Oak turned the tables on Golcar in their second round derby match. Holders Hoylandswaine had little trouble skirting past Championship opposition Thurstonland as did Moorlands away at Holmfirth. Scholes' season is quickly gaining momentum after they heaped on more problems to Shepley's season and Kirkburton ended neighbours Shelley's interest in the competition with a five wicket win.
Skelmanthorpe Inflict Cup Shock By Shooting Down Thongsbridge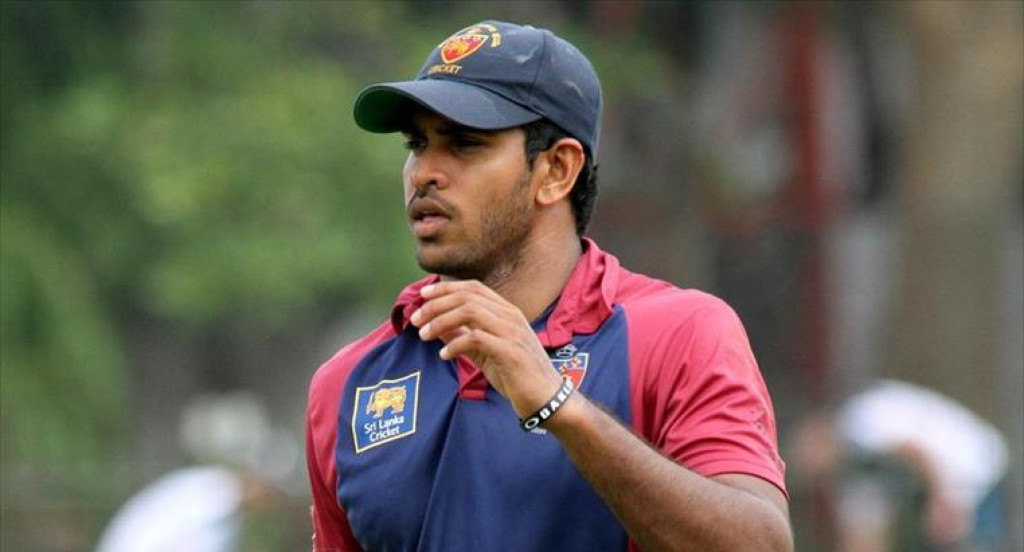 Kasun Hewa is Skelmanthorpe's Sri Lankan import for 2021 and he made a splash with two wickets
Unbeaten Thongsbridge were dumped out of this season's Sykes Cup in spectacular circumstances in front of their own supporters by a fired up Skelmanthorpe side to provide the shock of the competition so far. The hosts, flying high in the Premiership, were stunned into submission by the visitors, spurred on by Adam Rollin as he and brand new overseas Kasun Hewa from Sri Lanka smashed into Alex Kemp's in-form side. Rollin took 4-20 and Hewa 2-12 in an opening spell that devastated Thongsbridge as they were quickly reduced to 14-4. The omens looked ominous before that in the first round when Lepton Highlanders held them to a similar compromising position but no-one was around to save Thongsbridge this time as they eventually crumbled to 70ao. Skelmanthorpe, channelling their cup heroics from the 00's and certainly not overawed by their opponents, expertly finished the job losing four wickets in their reply. Paul Cummins (23no) took on the navigating role with a responsible innings who had Joe Sykes (36) for company as they reached 71-3 in 19 overs. Few clubs left in the hat will relish facing the Lidgett Lane side in this form.
Kelly's One Man Show Not Enough To Save Honley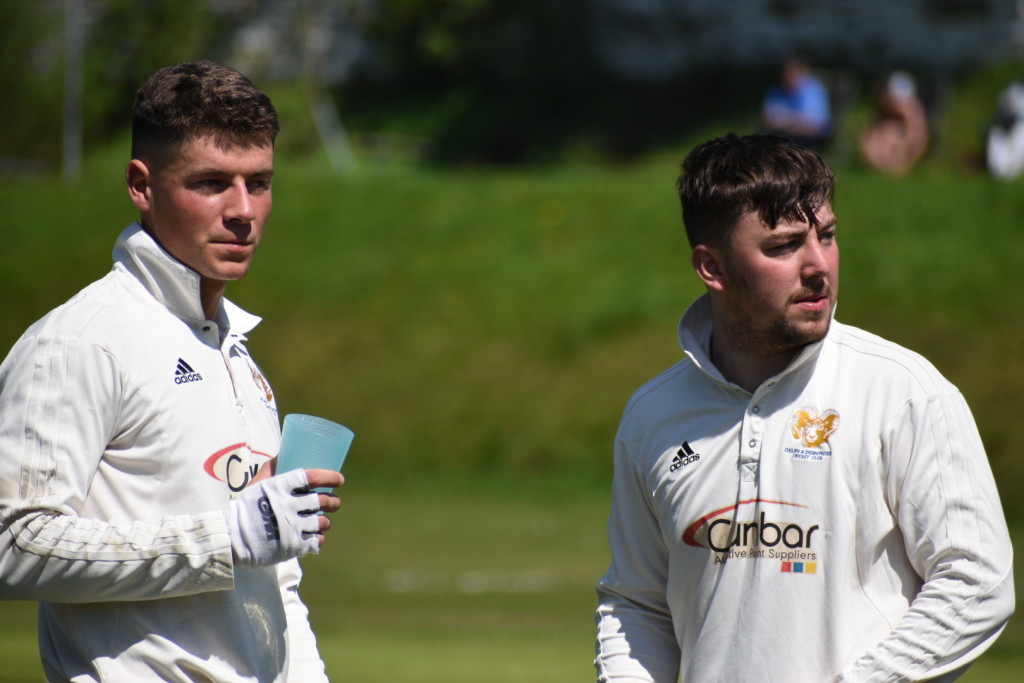 An 82-run partnership between Harry Partington (left) and Nathan Jones (right) helped Delph into the quarter finals
Delph & Dobcross extracted their revenge over Honley following their league defeat a week earlier when they put together an accomplished performance on a sun-baked afternoon. Despite being the third consecutive match played on the same wicket, it held up remarkably well as Delph racked up an impressive first innings total of 223-8 which could've been more had it not been for Honley pulling it back at the death. Jon Selby (39) deputised impressively for his sons as he put on 60 for the opening partnership with Mosun Hussain (24). Harry Partington (32) and Rizwan Ali (39) then scored fluently but it was Nathan Jones, nursing a side strain, that put a gloss finish to the innings with a fantastic 41-ball half-century. Lewis Kenworthy took 3-46 for the visitors on a fairly abject afternoon in the field, who were missing influential captain Timmy Taylor. After the restart, Delph bowlers Ali (2-36) and Umer Yaqoob (4-22) quickly got into the upper order to leave Honley struggling for ideas on 74-6. However opener Simon Kelly was in no mood to roll over and he and no. 9 Harry Moore (21) battled gamely to force Honley back into the contest, putting on 59 runs together. Delph skipper Xander Selby targeted the youngster by reintroducing his opening bowlers with Ali removing Moore. Kelly (93no) was unfortunately left high and dry as Yaqoob clean bowled the last pair to prematurely end the Honley reply on 169ao.
Broad Oak Snatch Back Bragging Rights With Derby Success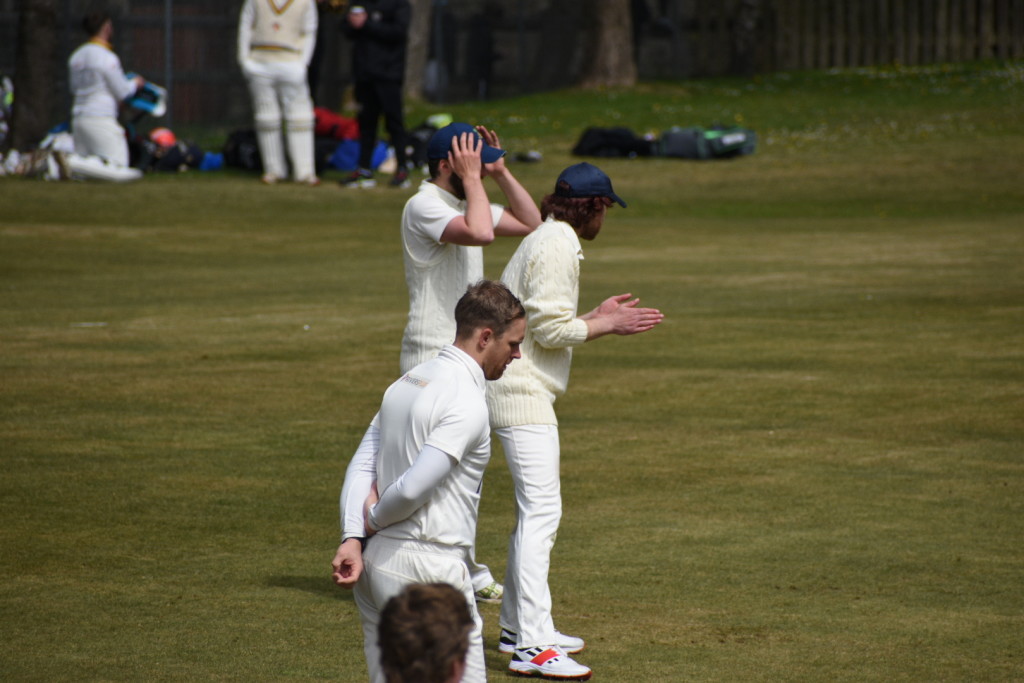 Sean Mee's 33 was a vital component in Broad Oak's win over Golcar
Broad Oak dumped out their adjacent Colne Valley locals Golcar in a fascinating two wicket win. Oak lifted their game impressively following an abject display at Swallow Lane just seven days previously by overhauling a challenging Golcar total of 179-7. Jack McNamara was key to his side's input with a well-earned 74 from 104 balls allowing others to chip away around him. Jake Lockwood (20) and Dan Woodhead (32) obliged with Jack Hargreaves taking his sixth wicket of the weekend for Oak with 3-48. Conor Woodruff (24) and Daniel Rushworth (38) were the glue of the reply having lost Dom Finn (6) early. Sean Mee (33) and Ian Hall (34) picked up the baton to take the hosts to the cusp of victory until Golcar bowlers McNamara (3-53) and Steve Whitwam (3-28) almost provided a sting in the tail. Broad Oak lost three wickets to slip from 173-5 to 176-8 but Tom McCreadie (18no) kept a cool head to inch the 2015 finalists over the line.
Hoylandswaine's Armoury Too Good For Thurstonland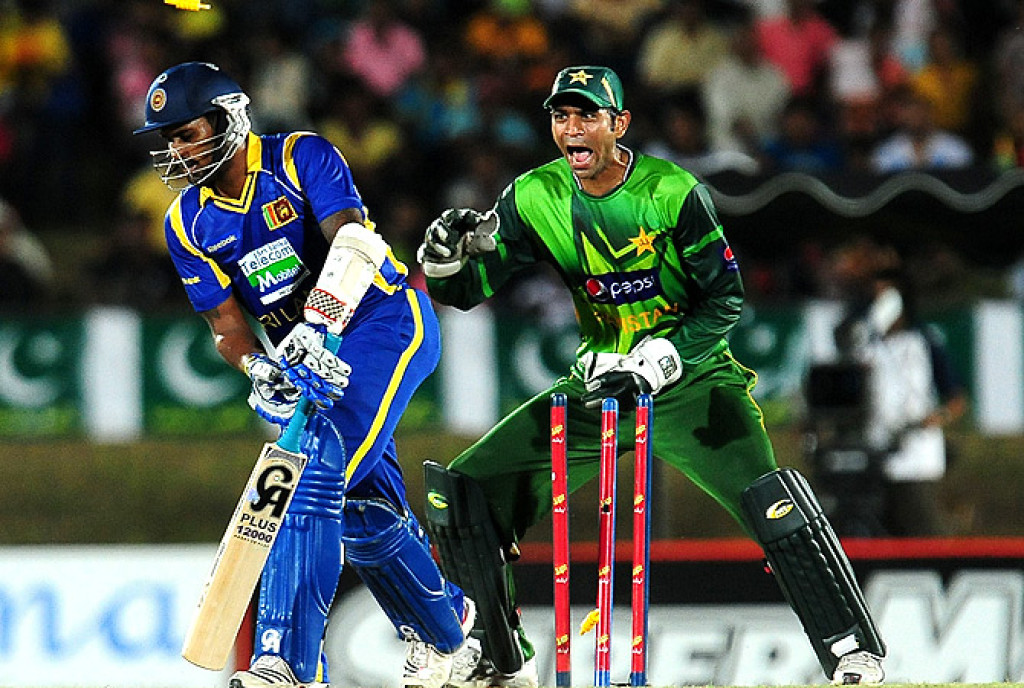 Hoylandswaine's Pakistan overseas hammered 71 against Thurstonland.
Thurstonland could have no complaints after they were outclassed away at current holders Hoylandswaine. Asif Iqbal (61) opened the batting and provided the foundation for their more cavalier batsmen to operate. Overseas Shakeel Ansar (71no) duly obliged with an entertaining 52-ball knock containing 3 fours and 5 sixes. Ben Potter (34) and Chris Holliday (33no) added hammer blows to a Thurstonland attack that had acquitted themselves well for the most part as Swaine set 240-4. The hosts gave seven bowlers a run out in the reply as Thurstonland were dismissed for 87. Captain Russ Mottram (23no) witnessed most of his teammates succumb to the hands of Max Morley (3-16) and Arron Lilley (4-15) until Muhammad Amjad (20) resisted bravely in Thurstonland's 163-run defeat.
Scholes' Josh Compounds Shepley's Troubles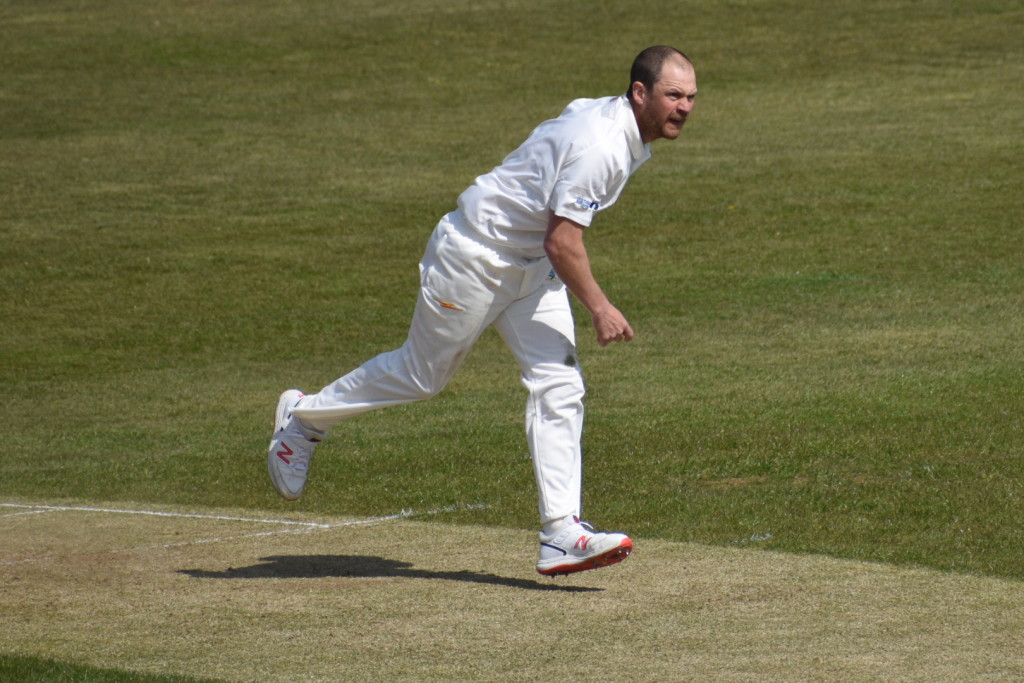 Josh Brook (Scholes) was a cause for concern for Shepley as he bagged four wickets.
Shepley's worryingly fragile middle order suffered another battering at the hands of rejuvenated Scholes who sliced through them with ease as the hosts booked their passage into Round 2. Josh Brook (4-26) was the architect of Shepley's downfall once Wasim Javed and Tom Brook had removed openers Daniel Wood (32) and Tom Chadwick (10). The first innings total could have been worse had it not been for the efforts of overseas player Numan Akbar (34). He was removed by the spin of Yaasar Imtiaz (2-21) to close the innings on 112ao. Shepley welcomed back George Booth who missed Saturday's match and he took 2-24 by taking out both Scholes openers. However Yorkshire's Benji Birkhead (45) quickly subdued any fleeting hopes Shepley may have had as Scholes romped to a 6 wicket victory on 113-4.
Moorlands Bowlers Punish Holmfirth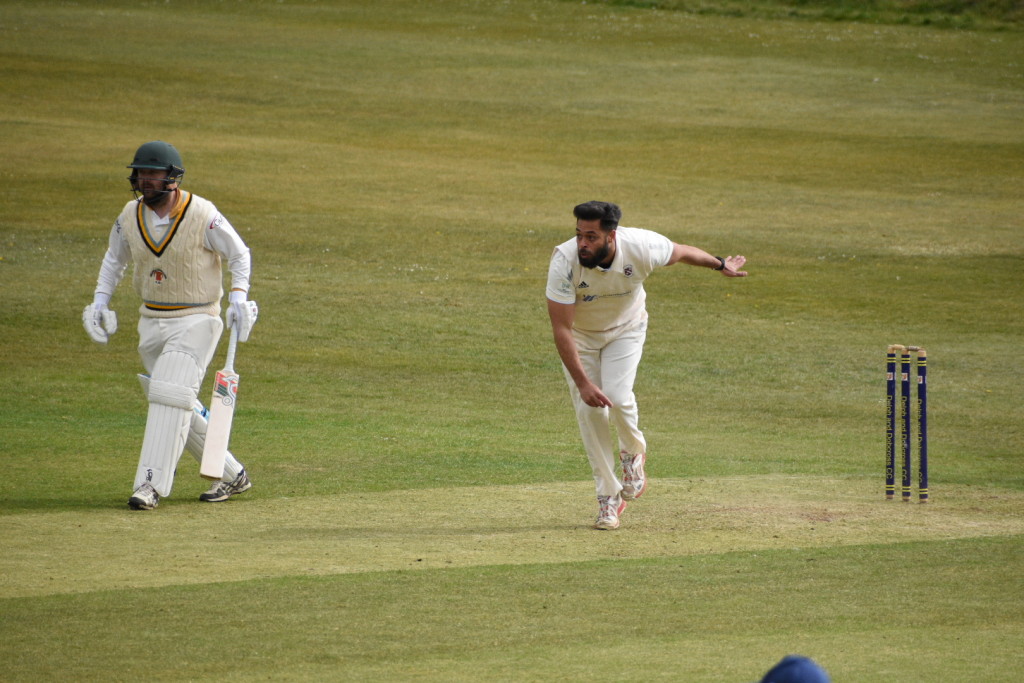 Nadim Hussain was in ruthless form for Moorlands taking the opening three wickets.
Holmfirth were decimated by a hungry Moorlands bowling attack who thoroughly dominated this match from the start. Nadim Hussain (3-19) clinically eliminated the opening trio of which Chris Cowell (10) top scored with Mohammad Khuzaifa (10). This opened the gate for James Stansfield (2-10) and Eddie Walmsley (4-13) to operate like foxes in a chicken coop who quickly mopped up the rest as Holmfirth were bowled out for 59. Holmfirth opening bowlers Maaiz Khan (2-37) and Simeon John (2-22) took all four Moorlands wickets between them but the visitors were never likely to be troubled on their way to 60-4.
Kirkburton Suffer Shelley Fright But Too Good On The Day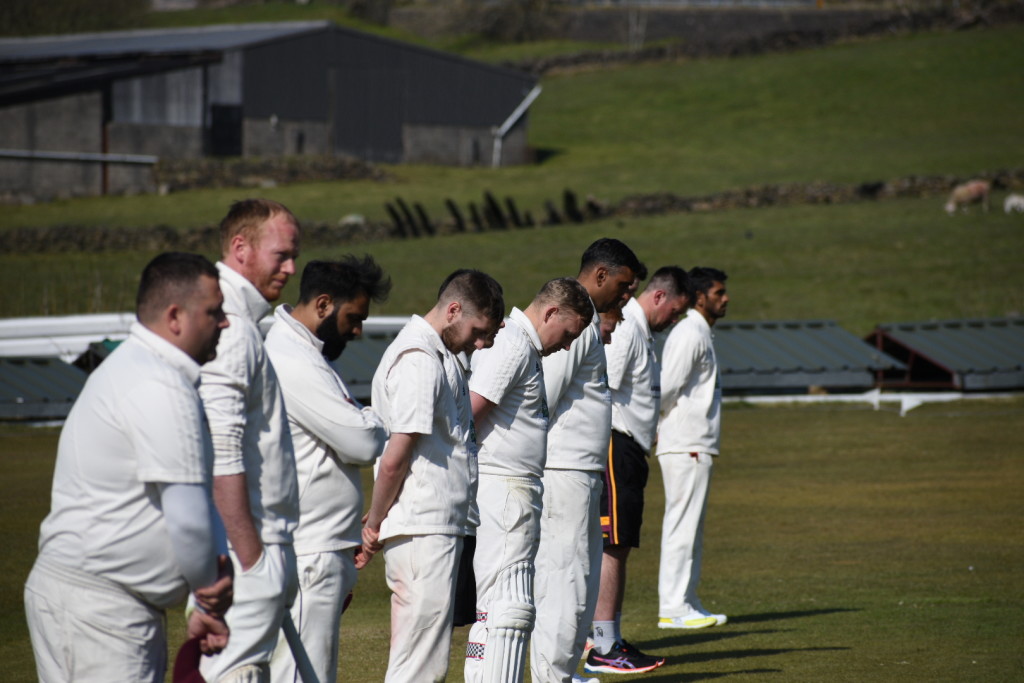 Jonny Smith (front) was the matchwinner for Kirkburton as they eased home away at Shelley
Kirkburton returned from the short trip to Shelley with their place in the Sykes Cup quarter final booked but it wasn't without suffering a fright against their Championship neighbours. Andy Smith (3-31) was the highlight of the six 'Burton bowlers used in Shelley's 95ao first innings total for whom opener Harvey Jones (36) top scored. However in the second innings, visitors Kirkburton had been reduced to 37-4 with Smith and top scoring batsman Roscoe Tahttil out cheaply. Captain Jonny Butterfield was the next to depart at the hands of Faisal Usman (3-16) as Shelley eyed an upset, but former Wrenthorpe 'keeper Jonny Smith (34no) provided his value in experience as he carefully saw off Usman's threat and picked off runs from the more vulnerable bowlers. Chavez Younes (10no) also chipped in as Kirkburton eased nerves by reaching 96-5.