A superb spell of bowling by Broad Oak's Dan Taylor, supported by Alastair Finn (main image) sent Scholes spinning to defeat at Chapelgate to grant them breathing space at the bottom whilst enhancing Hoylandswaine's hopes of retaining the Byrom Shield for a second season running. They outfoxed Thongsbridge to extend their cushion at the top to 13 points. It was all change at the bottom of the Premiership where five of the bottom seven teams all picked up victories. The big match in the Championship saw second placed Marsden send third place Mirfield Parish Cavaliers packing and in the Conference, Denby Dale hammered Linthwaite to take top spot with Hoylandswaine 2XI and Thurstonland joining them on the same number of points.
Drakes Premiership
Daniel Taylor's scintillating bowling spell sent Scholes crashing to a damaging defeat as Broad Oak ran out easy winners at Chapelgate. The previous week, Scholes moved up into second place and held serious ambitions of stopping the Hoylandswaine juggernaut. This defeat meanwhile is a fantastic illustration of how competitive the top flight has become this season where third bottom Broad Oak showed no signs of being intimidated by their esteemed opponents. Scholes' sedate start took a tumble when Taylor (5-33) was introduced as the second change bowler. He skilfully removed a potent trio of Joe Carter (19), Brad Birkhead (27) and James Noble (0) to stun Scholes as they stumbled from 71-2 to 75-5. Alastair Finn (3-59) stepped up following Taylor's lead and together they snuffed any opportunities Scholes may have of rebuilding as they were bowled out for 128. Harvey Booth (61no) knitted together the modest pursuit as Oak came across few issues and cruised home on 132-3 after 31 overs.
Delph & Dobcross were hit the hardest in the bottom half of the table as they plummeted down three places after they hit the self-destruct button at home to Golcar. Delph's nineteen season stay in the top division is under serious threat for the first time since they joined the league and Golcar clinically exploited a chink in their armour in their four wicket win. With drinks approaching, Delph appeared in no trouble whatsoever until the introduction of spin at both ends brought on a bizarre turn of circumstances. Openers Mosun Hussain (26) and Muhammad Shakir (43) sparked off an avalanche of wickets as Delph spectacularly combusted from 74-0 to 95-8 in an incredible six over period, all at the hands of Steve Whitwam (5-26) and Jack McNamara (3-40). Rehan Afridi (63no) detected the only answer to Delph's sudden troubles was to take the game back to Golcar and his flamboyance paid off as together with the more conservitive Umer Yaqoob (17) they put on 59 runs for the final wicket; just 3 runs short of Delph's best ever. With the hosts 172ao, Golcar sped off in the reply as the opening bowlers struggled to find their range with Whitwam (30) in a destructive mood. However Yaqoob (4-49) began to make the ball sing and he removed four dangerous upper order batsmen to bring the match firmly in the balance. Jake Lockwood (30) then stopped the rot as the home side once again struggled to find their rhythm but it was the patience and application by James Howson (43no) that proved the difference as he rode with the punches before delivering the knockout blow to send Golcar to a huge victory on 175-6.
Sami Aslam's first century for Shelley wasn't enough to claw Almondbury Wesleyans closer into the relegation pack as the visitors edged home by a slender margin on 18 runs. Batting first, Wesleyans stop-started their way to 197ao on a surface where time and patience was key to building a score. Freddie Walker (28) painstakingly held his side's innings together with Nathan Kenworthy adding some decisive runs towards the back end of the innings. Martin Sykes (3-46) and Imran Zafar (3-21) claimed the most success with the ball for hosts Shelley. They were pegged back early in the reply losing their first four wickets for seven runs before Aslam (104) dug in magnificently facing 157 balls in 47 overs. Josh Jones (22) also entrenched himself as Shelley eyed a back-to-back win that would have provided a massive boost in confidence. However Wesleyans' Matthew Henshaw turned the tide by removing Jones before Jack Atkinson began to pick off the lower order. Aslam eventually fell to a catch by Musa Ahmad off Henshaw's bowling which left too much to do for final man Moin Hussain who was run out pushing for runs shortly after. Shelley finished on 179ao with 18 balls remaining.
Moorlands endured a horror show at Marsh Lane as they were routed by Shepley who themselves are returning to form following their excellent Heavy Woollen Cup semi-final victory six days earlier. Seam bowler Danny Glover (4-29) was in irresistible form and was well supported by Nasir Jamal (2-26), Edward Booth (2-10) and Nadim Hussain (2-4) who shared the remaining six wickets between them. Stunned Moorlands got themselves back into contention by blasting away the first three Shepley wickets but with not enough runs on the board the pressure they could exert was fleeting. Max Joice (26no) and Hasnat Yousaf (21no) finished the job professionally to reach 76-3 just after the 19 over mark.
The wickets are flowing for quick bowler Waqas Maqsood as he picked up his 63rd wicket this season in Hoylandswaine's latest success away to Thongsbridge. Swaine, who booked their passage to the Sykes Cup final last weekend are starting to ominously hit the straps and looked good value for their victory. Despite an 83-run third wicket partnership between Haydn Slodecki (30) and Jack Cassidy (53), Thongsbridge were under the cosh after Maqsood's (4-50) efforts. Gurman Randhawa (3-29) put the squeeze on before Ben Balmforth (43) knuckled down to try and bat out the fifty overs. However once he was out the innings was swiftly curtailed on 161ao. Hoylandswaine were forced to dig a little deeper into their reserves as none of their County men were available to play and were slightly up against it at 5-2 early in the reply with Zafar Iqbal (3-34) having an initial impact. Chris Holliday (34) re-energized the visitors before captain SP Singh (42) stubbornly stuck around. Randhawa (29) took Hoylandswaine to the cusp of victory which was sewn up eventually on a revised total of 134-5.
A big team performance secured yet another eye-catching conquest for Barkisland who are rapidly shedding the 'surprise package' tag. They worked out a winning formula away at Armitage Bridge, a notoriously challenging assignment that they breezed through with flying colours. Seven batsmen out of the eight that were used came away with double figures in Barkisland's 231-6 first innings total. Luke Bridges (45) led the way while there were scores in the thirties by George Hampshire (34), Jamie Summerscales (36) and Darren Robinson (37no). As usual there were 30 overs of spin bowling from Armitage Bridge to contend with but Jaycub Curtling (1-51) and Danny Moorhouse (3-38) had an off-day and weren't able to dominate on this occasion. The Barkisland opening bowlers did most of the damage as Bridge lost crucial wickets under mounting scoreboard pressure. Ethan Carrington (4-25) and Sachin Jayawardena (2-42) proved a handful at the tip of the spear with Saqib Matlub (54) earning a half century for the home team. With four other visiting bowlers taking wickets along with Jasper Male taking a couple of catches, that meant everyone on the Barkisland team provided a pleasing meaningful contribution as Armitage slumped to 186ao.
Kirkburton's inability to defend par totals on their own ground is becoming an unwanted motif at Riley Lane as they crashed to defeat at home to Honley. It was a dire day for Toby Booth's men as their defeat coupled with many bottom half successes elsewhere saw them lose vital traction as the season counts down. They weren't able to finish with a flourish as the tail wilted badly from the upper order's terrific platform. Andrew Smith (71) top scored and Chavez Younez (35) made the most of his first start in two seasons. For Honley, Lewis Kenworthy (5-55) bagged a five-fer and Archie Greaves (3-55) made an impression in their efforts with the ball, pegging the hosts back to 230ao with six balls remaining. An honest captain's performance from Timmy Taylor (66) stiffened Honley's reply as they made it two wins against Kirkburton in the space of four days following their midweek T20 trophy victory. Owen Kenworthy (46) and Simon Kelly (32) made decent contributions too as Burton's bowlers struggled to make the key breakthroughs early enough. When they did, the likes of Mel Benito (18no) and Lewis Kenworthy (20) were up to the task of easing Honley home on a revised total of 213-6 earning them a crucial win.
Jedi Championship
After recovering from an uncertain start, Marsden's robust side took another positive step towards back-to-back promotions with a heavyweight performance at home to fellow promotion-chasers Mirfield Parish Cavaliers. Experienced middle-order batters Matty Butters (24), Chris Coleman (32) and Max Berry (30) helped turn around an innings that was beginning to lose its way after being pestered by the Parish bowling trio of Nazar Hussain (2-52), Tom Fretwell (2-42) and captain Dan Broadbent (3-57). This set the scene for Danny Clee (41no) and Sajid Ali (19) to add on what proved to be essential runs towards the back end of the innings as Marsden set a 197-9 first innings total. Bowler Alex Lategan (5-34) returned season-best figures after demolishing the Parish upper order in the reply. When Ali (3-34) took down the key wicket of Hussain, the game swung strongly in Marsden's favour and once Michael Padgett (41) was dismissed, along went Parish's chances who were eventually all out for 136.
Rastrick kept hold of top spot with a convincing win at home to Denby after being indebted to their upper order batsmen who enabled them to put up an imposing total batting first. Zafar Khan (67) and Majid Khan (46) scored 102-runs for the opening partnership before Shakeel Mahmood (53) helped take the score up to 149-3. Jacob Waterson (44) led the run scoring in the latter stages as Rastrick made 271-6. The visitors made a good start of their own with Matthew Smith (55) continuing his recent good run of form with another half-century. However four wickets lost for only 13 runs knocked Denby wildly off course, a blow they would not recover from. Asif Afridi (4-27) got himself into the game as Denby went on to lose by a convincing margin of 109 runs on 162ao.
Keeping tabs on the leaders are Slaithwaite who's clandestine promotion campaign persistently moves forward. Another match-winning score from their overseas Cosmond Walters helped chase down Holmfirth's 200-9 first innings score. Steady batting from the home side looked to have put on a score to test the Colne Valley-based visitors with Bilal Hamid (44) top scoring before he was run out. Sadaqat Zaman (3-40) had enough with the ball to keep Holmfirth in range. Slaithwaite's reply was anchored by Walters (40) with several contributions from Alec Jakeman (25), Finlay Brook (21no) and Sohail Butt (24) pulling them over the line. Amar Rashid (5-94) persisted with an expensive five wicket haul but even with a short delay for a shower, Slaithwaite secured victory on a revised score of 186-7 in the 28th over.
A valiant chase by Skelmanthorpe away at Elland fell agonisingly short of a desperate win needed from Luke Webster's men to move away from the relegation bunfight, after a points deduction dropped them into the bottom two. Elland had set them 208 runs to win from their 207-8 total, mainly due to the excellent start that openers Rhys Newman (64) and James Lee (48) had given them. Haroon Arshad (3-55) helped drag Skelmanthorpe back into the game as batting became tougher as the game wore on. If one Skelmanthorpe batsman had converted a twenty or thirty into a fifty then the outcome would certainly have been different. Allan Greenwood (25), Blair Buchanan (31), Joe Sykes (20), Arshad (32) and Josh Scott (28) all got into positions to make a higher score and it ultimately cost them. Elland;'s change bowlers Jacob Bower (2-23), Peter Dobson (2-51) and Rohan Randhawa (3-56) all combined to erode the chasing side as Skelmanthorpe finished six runs short on 201-9. The consolitary two points they picked up may still be crucial for the Lidgett Lane side this season although it's wins that they need.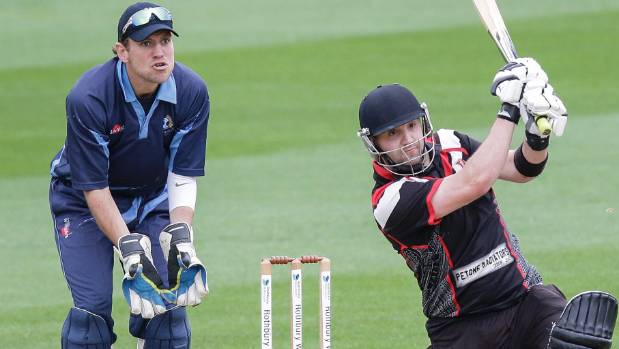 An awesome all-round performance by Clayton West's Phil Tunnicliffe (above) slayed Lepton Highlanders as his side emphatically bounced back from defeat.
Phil Tunnicliffe blasted through Lepton Highlanders with the ball and then the ball as Clayton West bounced back with a much-needed win. Promotion is probably out of the equation now barring a miraculous run but they made Lepton suffer in a quick match which only reached 43 overs in total. Tunnicliffe (6-54) was in spectacular form as Lepton lost their first nine wickets for 64 runs. Middle order batsman Sayed Salman (63no) had no-one else to bat with him as Lepton were bowled out for 106 in 30 overs. Tunnicliffe (74no) then finished unbeaten as Clayton West made light work of the paltry target when they reached 107-1 in the 13th over.
Almondbury appear doomed after they failed to chase a reachable target at home to Lascelles Hall. The visitors struggled to 154ao when Qaiser Rashid (4-31) rolled back the years to hamper their progress, with opening batsman George Sommerville (42) top scoring for Lascelles Hall. Almondbury suffered what appeared to be terminal damage as opening bowler Tom Wightman (5-34) quickly reduced the hosts to 39-4. Rashid (25) dropped down the order to try and rescue their innings but once he was removed there was far too much left to do. Zeeshan Khan (2-43) and Matthew Simpson (2-21) snuffed out any further resistance as Almondbury were bowled out for 123 and remain bottom, seven points from safety.
Cedar Court Conference
Ibrar Hussain (71) was the main man for Denby Dale who bolstered their promotion hopes by crushing Linthwaite by 224 runs to keep a slender lead at the top of the Conference. The skipper, Matthew Rammell (54) scored a half-century and there were solid contributions from Hywel Senior (46) and Tom Clarke (39) as Denby Dale made 283ao, with Raheel Akhtar (4-68) the only Linthwaite bowler to avoid a hammering. However Linthwaite were annihilated with the ball in the reply as Denby Dale's opening bowlers Aiden Geldart (3-26) and Mirza Tehseen (5-20) dominated. Jahanzaib Ghous (26) was the only Linthwaite player to reach double figures with a total of seven players coming away with ducks in their 59ao reply.
Hoylandswaine 2XI may be playing cricket just a division apart from their 1XI next season after a handsome home win against fellow promotion candidates Emley Clarence saw them hang on to second place, level on points with the leaders. Ben Potter (42) led the home side whose innings was littered with reasonable contributions with the bat in their 267-9 first innings tally. An incredible spell of bowling from Jack Lockwood (7-40) sent Emley crashing to defeat who were bowled out for 149 with Jason Kilner (35) top scoring.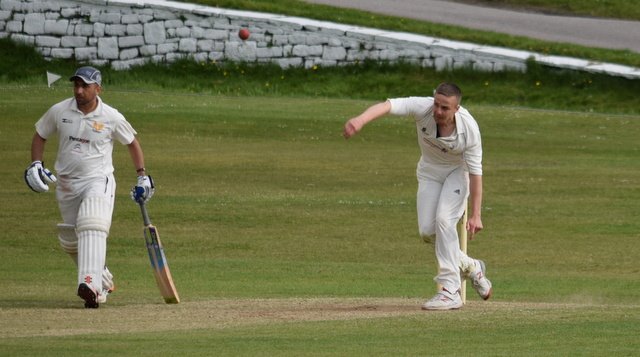 Meltham's Alex Clegg (above) who returned to his boyhood club this season has been key to their recent phoenix-like form picked up another four wickets as they dismantled Cumberworth United to move up- to fourth in the Conference.
The form team in the division are Meltham whose stock is soaring after ending a fantastic week by being drawn as hosts of the 2019 T20 Finals Day. They macerated Cumberworth United on their travels with opening bowlers Alex Clegg (4-26) and Rizwan Malik (4-34) causing the carnage as the hosts were dismissed for 82. Sam Clegg (34no) and Jack Moulson (25) cruised through the reply in a huge 9-wicket win for Meltham who have given themselves an outside chance of promotion with their staggering unbeaten run.
In the other matches, Jay Allen (93) narrowly missed out on a century but it was enough for Thurstonland to remain level on points with the leaders in third place in a 102-run win away at Kirkheaton. They successfully defended 256-7 thanks to Jordan Thackray (3-42) and Lee Both (3-31) sharing six wickets as Kirkheaton were restricted to 154ao in reply. Birkby Rose Hill's heroics the previous week paled into the past as they suffered a bad defeat away at Hall Bower. Nine wickets were equally divvied out between Ibrar Rafiq (3-24), Isaac Dyson (3-38) and Hammad Ul-Hassan (3-27) as Birkby were bowled out for 114. Hall Bower's 116-3 winning response was driven by a half-century for Alex Crane (62) as they won inside 20 overs. Upperthong's win was disrupted by rain but they saw the job home by reaching 205-8 in response to Mirfield's 245ao in an absorbing contest. Will Oakley (45) top scored with Ben Charlesworth (3-72) making the best impact with the ball for Upperthong.