Thurstonland's first ever win in the Championship will be remembered for all the right reasons after an intoxicating bowling performance stunned Lascelles Hall. Shelley and Rastrick played out a tie; the second of the season in the division and leaders Almondbury Wesleyans needed to dig deep to win a thriller against Elland at Hullen Edge. Marsden moved into the top three with a crushing victory at home to Denby.
Lascelles Hall Dismissed Cheaply In Thurstonland's Maiden Win
Jordan Thackray (main image) put in an irresistible bowling performance to mercilessly shoot down Lascelles Hall who were dismissed for just 20 in a remarkable match. Lee Booth took the opening batsmen out with only three runs on the board but from then on it was the Jordan Thackray show as he claimed seven wickets, running through a bewildered Lascelles Hall batting order. This was in reply to Thurstonland's 93-9 first innings total as they battled through 40 overs. Opener Leo Corley (23) started well and Jasper Anderson soaked up 53 balls for his 25 runs with four Hall bowlers picking up two wickets apiece. Thurstonland's win moves them off the bottom into a congested bottom half where seven points separate six teams.
Rastrick Battle Hard For Tie At Shelley
Rastrick's battling qualities earned them a tie at Shelley in a low-scoring 20 over match at Westerley Lane. They stunned the hosts after asking them to bat first by removing the opening three batsmen for just one run with opening bowlers Abdullah Khan (4-31) and Samad Rahman (4-30) in fine fettle. Martin Sykes (27) steadied things momentarily for Shelley but was unable to prevent a collapse to 64-9. No. 10 Yasir Mehmood (35) hit 4 sixes to give their flagging innings a timely boost as the hosts reached 92ao but perhaps rued not batting their full quota. Rastrick found batting equally as challenging in the conditions and were indebted to Sunil Singh's robust unbeaten 49no that they were able to rescue four points from the match. He got them to a final over where they required nine to win. Sykes assisted matters by putting down three wides but Rastrick were unable to get the boundary they required and had to settle on matching Shelley's run total with 92-7.
Elland Left Frustrated By Robust Wesleyans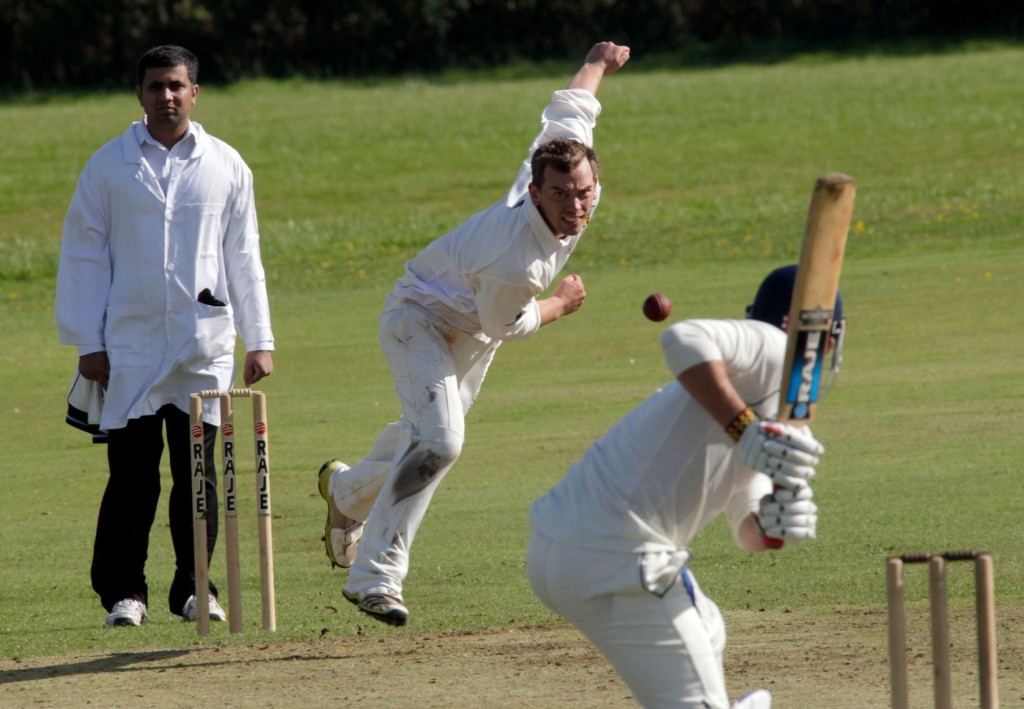 Ash Smith bowled tight lines for Almondbury Wesleyans to take three wickets for only 9 runs at Elland.
Elland remain the only Championship team yet to win after they fell narrowly short at home to leaders Almondbury Wesleyans. Kieran Rogers would have felt his team were well on the way to a welcome first win of the season after Rohan Randhawa (5-25) returned his first ever five-fer for Elland. Visiting skipper Will Binns (21) was the highest scorer and his gratitude surely went to No. 9 Coe Byrne (12) and last man Jack Atkinson (13no) who prevented the first innings becoming a non-event by grinding out vital runs in their 95ao. Meanwhile, Wes's opening bowlers Jack Atkinson (2-18) and Ash Smith (3-8) found the conditions just as fertile as they destroyed Elland's fortifications with a searing opening barrage. Faisal Javel (43) stubbornly dropped anchor and threatened to drag Elland to victory but he was removed by Atkinson which led to their 8-run defeat on 87ao. Wes remain unbeaten after their closest match of the season so far.
Cuckoos Are On Song In Denby Demolition
Moin Hussain had Marsden chirping freely as they ascended to third following a dominating display at home to Denby who's early season form has now deserted them. Hussain (4-12) doubled his output for the season in nine parsimonious overs that ripped the heart out of the visitors. Abdul Rehman (17) was one of the few that staggered into double figures on an afternoon that Marsden commanded with Denby eventually hobbling to 106ao. The hosts lost both openers cheaply but wicketkeeper Matty Butters (23no) and Asif Hussain (26) recalibrated the reply leading them to easy winners on 111-3.
Rain Affected
Clayton West v Holmfirth and Skelmanthorpe v Meltham both fell victim to Friday's weather and were abandoned.