Quicklinks
Premiership | Championship | Conference | Premiership Two | Championship Two | Conference Two
Click here to go back to the 2016 results page.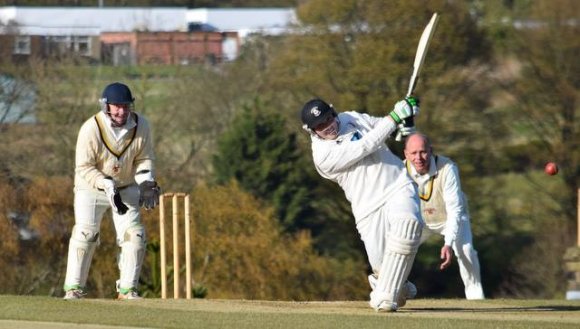 Sam Evans made an explosive start to his time at Kirkburton smashing an unbeaten 175 against a strong Hoylandswaine side. In a match cut short by the rain, Hoylandswaine failed to overcome a revised target of 220, slipping to a first defeat of the season.
Saturday 23rd April

Click here for all Premiership scorecards
Armitage Bridge 176 (B.Jenkins 29, R.Wadsworth 44*; D.Taylor 4-41, H.Haye 3-35)
*Broad Oak 177-4 (H.Booth 90)
Umpires: (name removed) (1) | I.LIVESEY (35)
Broad Oak 6 pts | Armitage Bridge 0 pts
*Cawthorne 152 (L.Wiles 45, M.Burgess 52; T.Taylor 3-18, A.Padbury 5-40)
Honley 89 (E.Wilson 27, S.Denton 34; I.Khan 3-19, L.Wiles 3-18)
Umpires: A.WRAY (55) | B.HUTTON (60)
Cawthorne 6 pts | Honley 0 pts
Golcar 116 (U.Bandara 44; A.Lilley 3-23)
*Delph & Dobcross 118-1 (C.Laker 56*, A.Gleave 35)
Umpires: B.DYSON (21) | R.TINDALL (51)
Delph & Dobcross 6 pts | Golcar 0 pts
Skelmanthorpe 231-9 (W.Mott 27, M.Kitson 54, A.Rashid 35, F.Khan 26, L.Webster 34; S.Sajid 3-50, L.Senior 4-41)
*Elland 183 (B.Birkhead 86*, H.Krishnesh 31; A.Rashid 4-37, S.Khan 4-47)
Umpires: T.ATKINSON (3) | T.BALL (5)
Skelmanthorpe 6 pts | Elland 1 pt
Kirkburton 302-8† (S.Evans 175*, C.Younes 33; R.Wilkinson 3-73, I.Wardlaw 4-77)
*Hoylandswaine 189-4 (G.Nawaz 32, S.Singh 46*)
Umpires: Z.HASHMAT (25) | J.WOOD (53)
(† Rev. 220) Kirkburton 6 pts | Hoylandswaine 1 pt
Barkisland 138 (A.Kaye 25; T.Macrury 3-32, J.Brook 4-48)
*Scholes 142-8 (T.Chadwick 26, T.Macrury 43; M.Steers 3-59, R.Coetzer 3-29)
Umpires: R.GARTSIDE (24) | D.NUNNS (39)
Scholes 6 pts | Barkisland 2 pts
*Shelley 165 (B.Cant 26, M.Bhoola 54; N.Jamal 6-26)
Shepley 167-4 (D.Wood 39, D.Anderson 91)
Umpires: R.BISSETT (9) | J.EATON (22)
Shepley 6 pts | Shelley 0 pts

Click here for all Championship scorecards
Meltham 160 (I.Hussain 36; M.Gummerson 5-39)
*Holmfirth 87 (M.Butt 4-30, M.Kashif 6-31)
Umpires: J.BEAUMONT (7) | P,MITTON (37)
Meltham 6 pts | Holmfirth 0 pts
Clayton West 242-6
*Linthwaite 158-9
Umpires: S.BARTHOLOMEW (6) | J.WALKER (52)
Clayton West 6 pts | Linthwaite 1 pt
*Marsden 55 (A.Ghani 10-23)
Denby 58-0 (F.Hussain 26*, S.Ahmed 30*)
Umpires: N.BROOK (12) | TBC
Denby 6 pts | Marsden 0 pts
Kirkheaton 168 (C.Gardiner 25, B.Ahmed 41, M.Nabeel 26; J.Pearson 7-48)
*Rastrick 171-4 (J.Waterson 75*, J.Smith 32, M.Mccoach 25; P.Girardi 3-27)
Umpires: D.HAIKINGS (26) | T.ROCKETT (44)
Rastrick 6 pts | Kirkheaton 0 pts
*Slaithwaite 203-5 (I.Hall 46, M.Berry 41, C.Coleman 62*; M.Padgett 4-49)
Moorlands 195 (N.Zamurad 52, M.Rounding 71; D.Rushworth 5-48, D.Hales 3-31)
Umpires: M.ARMITAGE (4) | S.SYKES (50)
Slaithwaite 6 pts | Moorlands 2 pts
Lascelles Hall 212 (P.Bocock 105, J.Scott 31; B.Mavuta 3-75, Z.Iqbal 3-69)
*Thongsbridge 155 (B.Raven-hill 29, A.Kemp 34, B.Howitt 32; P.Bocock 3-27, T.Walker 5-52)
Umpires: D.COLLINS (17) | R.HARRISON (32)
Lascelles Hall 6 pts | Thongsbridge 0 pts

Click here for all Conference scorecards
*Birkby Rose Hill 39 (M.Mobeen 4-15, M.Tehseen 6-23)
Almondbury 43-1
Umpires: D.BEVERLEY (8) | I.MELLOR (36)
Almondbury 6 pts | Birkby Rose Hill 0 pts
*Cumberworth United 132 (A.Greaves 29; C.Swanson 4-27, T.Mighall 3-31)
Upperthong 69 (J.Haigh 5-8)
Umpires: M.BROADBENT (14) | D.SYKES (49)
Cumberworth United 6 pts | Upperthong 0 pts
*Denby Dale 275-5† (N.Rehman 38, S.Tyas 68, S.Mullavey 104*, M.Hale 32)
Almondbury Wes 177-4 (J.Gibson 78*)
Umpires: P.SENIOR (46) | K.HALLAM (27)
(† Rev. 200) Denby Dale 6 pts | Almondbury Wesleyans 1 pt
Mirfield Parish Cav 326-5 (T.Orrell 113, T.James 100*, J.Hardcastle 51*)
*Emley Clarence 103 (R.Haynes 49; S.Hassan 5-37)
Umpires: M.FORTIS (23) | S.HULMES (28)
Mirfield Parish Cav 6 pts | Emley Clarence 0 pts
Hall Bower 128 (S.Dyson 45, F.Siddiq 33; A.Pearson 5-41)
*Mirfield 123 (A.Goldthorpe 37, J.Broadhead 40; C.Atkinson 6-30)
Umpires: S.ADLER (2) | Q.COLES
Hall Bower 6 pts | Mirfield 2 pts
*Thurstonland 133 (T.Sykes 56; J.Mulhall 6-31)
Lepton Highlanders 134-3 (J.Greaves 38*, C.Neal 69)
Umpires: TBC | A.CRAWSHAW (19)
Lepton Highlanders 6 pts | Thurstonland 0 pts

Click here for all Premiership Two scorecards
Hoylandswaine 164 (M.Wright 83, M.Ihsan 28; M.Johnson 6-34)
*Armitage Bridge 152 (O.Brook 31*)
Hoylandswaine 6 pts | Armitage Bridge 2 pts
*Barkisland 256-7 (M.Bridges 56, D.Weston 107*)
Scholes 151 (G.Pearson 46, A.Pamment 47; J.Colman 3-15, J.Travis 3-26)
Barkisland 6 pts | Scholes 0 pts
Broad Oak 246-6 (S.Peacock 68, S.Burluraux 50, S.Mee 37, J.Harper 40)
*Golcar 176 (A.Iqbal 51, G.Crowther 63; N.Howard 4-54, L.Moran 4-27)
Broad Oak 6 pts | Golcar 0 pts
Slaithwaite 222-9† (D.Massey 47, A.Turner 32, F.Brook 74)
*Honley 198-9 (T.Willitts 26, M.Green 77; T.Simpson 3-22)
(† Rev. 198) Honley 4 pts | Slaithwaite 4 pts
Delph & Dobcross 61 (J.Carrington 6-11)
*Kirkburton 62-0 (R.France 35*)
Kirkburton 6 pts | Delph & Dobcross 0 pts
*Shepley 46 (M.Kilner 5-19, R.Greaves 5-22)
Cumberworth United 47-0
Cumberworth United 6 pts | Shepley 0 pts
*Skelmanthorpe 205 (D.Morgan 38, G.Hurlbatt 52, C.Rowley 27; M.Hinchliffe 3-20, T.Thornton 3-38)
Elland 109 (R.Palmer 29; G.Hurlbatt 4-26, D.Storey 3-31)
Skelmanthorpe 6 pts | Elland 0 pts

Click here for all Championship Two scorecards
Rastrick 184-8 (S.Farlow 47, T.Barrett 66, M.Essex 30; S.Panday 3-22, D.Burns 3-51)
*Almondbury 188-7 (A.Malik 87, D.Russell 36; T.Barrett 4-25)
Almondbury 6 pts | Rastrick 1 pt
Marsden 55 (S.Scott 4-27, S.Thornhill 5-28)
*Clayton West 56-1 (C.Bullock 30*)
Clayton West 6 pts | Marsden 0 pts
*Hall Bower 166 (M.Beaumont 77; H.Rose 4-19, C.Stower 3-27)
Denby Dale 170-5 (J.Tyas 32, R.Lammyman 29, H.Rose 76*)
Denby Dale 6 pts | Hall Bower 0 pts
Shelley 121 (M.Bhoola 59)
*Lascelles Hall 124-3 (J.Dawson 36*, B.Robshaw 51)
Lascelles Hall 6 pts | Shelley 0 pts
*Meltham 155-8 (C.Earnshaw 39, B.Cockshaw 57*)
Holmfirth 156-9 (J.Sedgwick 51, G.Thornton 38; C.Earnshaw 3-37)
Holmfirth 6 pts | Meltham 2 pts
Cawthorne 152 (P.Osborne 32, T.Macrow 35; C.Hinchliffe 4-13)
*Moorlands 154-3 (M.Baldwin 43, R.Firth 59, O.Rounding 35*)
Moorlands 6 pts | Cawthorne 0 pts

Click here for all Conference Two scorecards
Birkby Rose Hill 68 (M.Parkin 5-7, S.Kenworthy 3-28)
*Almondbury Wes 70-3 (T.Hinks 33)
Almondbury Wesleyans 6 pts | Birkby Rose Hill 0 pts
*Denby 193-9 (C.Auckland 65, J.Pease 54; T.Edwards 5-28)
Mirfield 194-7 (A.Kaushal 61, G.Whitworth 53; J.Pease 5-32)
Mirfield 6 pts | Denby 1 pt
*Kirkheaton 118 (M.Halliwell 33; M.Imran 3-11, M.Haseeb 3-16)
Linthwaite 92 (N.Ali 32; T.Gledhill 3-32, C.Swift 3-21)
Kirkheaton 6 pts | Linthwaite 1 pt
*Lepton Highlanders 68 (D.Rishton 4-15, L.Corley 4-17)
Thurstonland 69-6 (T.Atkinson 4-17)
Thurstonland 6 pts | Lepton Highlanders 1 pt
*Mirfield Parish Cav v Emley Clarence †
(† Match Conceded) Mirfield Parish Cav 6 pts | Emley Clarence 0 pts
Thongsbridge 165-7 (T.Kemp 40, A.James 43; D.Hancock 4-29)
*Upperthong 129 (L.Bolton 34; C.Dimbylow 3-27, T.Shah 3-18)
Thongsbridge 6 pts | Upperthong 1 pt