Quicklinks
Premiership | Premiership Two
Click here to go back to the 2016 results page.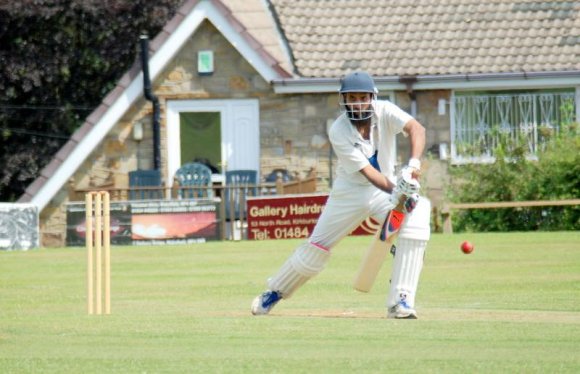 A century by Cawthorne's Iqbal Khan was ultimately in vain as Broad Oak claimed their second win in two to share the Premiership's top spot. Khan's diligent 104 helped Cawthorne set 189-8 but Broad Oak went about their business in brisk fashion reaching their target with the loss of 3 wickets thanks to a ton by kiwi, Henry Cooper (125).
Sunday 24th April

Click here for all Premiership scorecards
*Cawthorne 189-8 (I Khan 104, M Hussain 26; A Slack 4-46)
Broad Oak 190-3 (H Cooper 125, L Baxter 42; J Rodgers 3-50) Broad Oak 6 pts
Umpires: M.ARMITAGE (4) | R.TINDALL (51)
Broad Oak 6 pts | Cawthorne 0 pts
*Delph & Dobcross 272 (C Laker 37, G Buckley 71, G Simpson 44, L Hargreaves 42, W Oasim 43no; L Kenworthy 5-62)
Honley 148 (T Taylor 29; S Muhammed 5-29)
Umpires: J.BEAUMONT (7) | Z.HASHMAT (25)
Delph & Dobcross 6 pts | Honley 0 pts
*Elland 112 (S Sajid 40; M Cranmer 3-29, R Wilkinson 3-31)
Hoylandswaine 114-6 (R Robinson 25no, M Joice 26; A Finn 3-19).
Umpires: R.BISSETT (9) | D.HAIKINGS (26)
Hoylandswaine 6 pts | Elland 1 pt
*Golcar 145 (D Woodhead 33no; M Steers 5-44)
Barkisland 147-7 (J Summerscales 40, D Robinson 43no; U Bandara 3-70)
Umpires: R.HEAP (30) | R.HARRISON (32)
Barkisland 6 pts | Golcar 1 pt
Shepley 233-9 (D Wood 50, D Anderson 33, S Rehman 30, O Davidson 32, T Burkinshaw 27)
*Kirkburton 80 (C Fletcher 40no; N Jamal 6-38, D Glover 3-10),
Umpires: I.MELLOR (36) | P.MITTON (37)
Shepley 6 pts | Kirkburton 0 pts
*Scholes 191-9 (J Noble 65, T Macrury 41; A Rashid 5-47)
Skelmanthorpe 192-6 (A Rashid 36, V Khan 79no, L Webster 44; T Brook 4-52).
Umpires: A.CRAWSHAW (19) | D.NUNNS (39)
Skelmanthorpe 6 pts | Scholes 1 pt
*Shelley 193 (J Hinchliffe 3-34, M Johnson 3-75, J Curtling 3-17)
Armitage Bridge 154 (T Haytack 3-45, J Geldart 3-21, M Bhoola 3-23).
Umpires: S.BARTHOLOMEW (6) | R.PEARCE (40)
Shelley 6 pts | Armitage Bridge 1 pt

Click here for all Premiership Two scorecards
*Armitage Bridge 183 (J.Harrison 71; C.Mosley 3-40, M.Kilner 3-14)
Cumberworth United 151 (C.Mosley 46; J.Vickerman 3-31, E.Harrison 3-33)
Armitage Bridge 6 pts | Cumberworth United 1 pt
*Barkisland 235-8 (B.Jobson 55, D.Weston 32, B.Westbrook 39; M.Brook 3-55)
Golcar 161 (M.Turner 36, J.Woodhead 45; B.Westbrook 4-28, J.Colman 3-15)
Barkisland 6 pts | Golcar 0 pts
Slaithwaite 103 (N.Howard 4-16)
*Broad Oak 106-4 (S.Burluraux 70)
Broad Oak 6 pts | Slaithwaite 0 pts
Delph & Dobcross 199-8 (A.Lees 95; T.Willitts 4-48)
*Honley 203-3 (R.Jakeman 138, R.Moore 35)
Honley 6 pts | Delph & Dobcross 0 pts
*Hoylandswaine v Elland †
(† Match Conceded) Hoylandswaine 6 pts | Elland 0 pts
*Shepley 118 (N.Childs 55, D.Lynn 29; S.Atkinson 3-29)
Kirkburton 119-0 (D.Greaves 53*, R.France 57*)
Kirkburton 6 pts | Shepley 0 pts
Scholes 149 (M.Boorman 41, D.Holmes 32; A.Steers 3-27, D.Storey 4-29)
*Skelmanthorpe 147 (J.Hart 27, A.Steers 48; E.Pearson 4-43)
Scholes 6 pts | Skelmanthorpe 2 pts