Quicklinks
Premiership | Championship | Conference | Premiership Two | Championship Two | Conference Two
Click here to go back to the 2016 results page.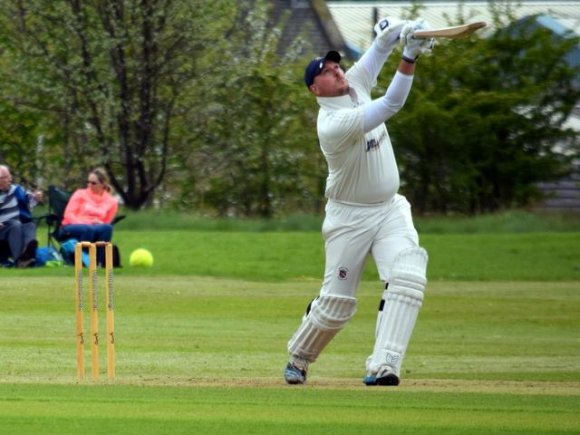 In the Championship, Moorlands denied newly-promoted Rastrick in their run chase thanks to Dave Winn (5-31). The Mirfield club look to bounce back following last season's relegation disappointment from the Drakes Premiership.
Saturday 30th April

Click here for all Premiership scorecards
*Armitage Bridge 152-9 (D Moorhouse 39no, E Maywand 35; I Wardlaw 3-48)
Hoylandswaine 153-9 (S P Singh 42, R Robinson 57; J Hinchliffe 3-15, D Moorhouse 3-60)
Umpires: I.LIVESEY (35) | D.NUNNS (39)
Hoylandswaine 6 pts | Armitage Bridge 2 pts
*Barkisland 190-6 (J Summerscales 66, G Chirimuuta 34, A Kaye 41; M Bhoola 4-40)
Shelley 190-7 (M Bhoola 32no, J Sykes 38, L Sykes 55, O Hussain 26)
Umpires: M. BOTTOMLEY (10) | S.SYKES (50)
Barkisland 4 pts | Shelley 4 pts
Scholes 100 (U Bandara 4-33)
*Golcar 52 (L Brook 4-23, T Brook 3-17)
Umpires: P.MITTON (37) | A.WRAY (55)
Scholes 6 pts | Golcar 0 pts
*Honley 177-6 (S Kelly 29, L Kenworthy 52no, T Taylor 30; A Finn 3-53)
Elland 178-6 (L Fletcher 46, S Mataud 71)
Umpires: R.HARRISON (32) | I.MELLOR (36)
Elland 6 pts | Honley 1 pt
Delph & Dobcross 318-8 (A Gleave 69, A Lilley 128; C Fletcher 4-84)
*Kirkburton 229 (T Booth 40, J Butterfield 54, J Hendy 28; G Buckley 5-53, A Lilley 3-36)
Umpires: R.TINDALL (51) | J.WOOD (53)
Delph & Dobcross 6 pts | Kirkburton 0 pts
Cawthorne 150-4 (L Wiles 78no, M Hussain 30)
*Shepley 151-9 (D Anderson 86no)
Umpires: D.HAIKINGS (26) | R.PEARCE (40)
Shepley 6 pts | Cawthorne 2 pts
Broad Oak 236-5 (H Cooper 107, L Baxter 37; A Rashid 3-54)
*Skelmanthorpe 197-9 (L O'Dea 72, M Kitson 30, J Green 26, Z Khan 34; H Booth 4-38, A France 3-46)
Umpires: N.BROOK (12) | K.HALLAM (27)
Broad Oak 6 pts | Skelmanthorpe 1 pt

Click here for all Championship scorecards
*Clayton West 22-0 [Abandoned]
Marsden - Did Not Bat
Umpires: J.BEAUMONT (7) | R.HEAP (30)
Clayton West 2 pts | Marsden 2 pts
*Denby 220-6 † (S Hussain 65, Q Rashid 42, A Ghani 48no; N Hubbard 3-51)
Holmfirth 205-4 (S Richardson 40, C Cowell 78)
Umpires: C.DAVIS (20) | R.GARTSIDE (24)
(† Rev. 204) Homfirth 6 pts | Denby 0 pts
Linthwaite 187-8 (Z Ahmed 33, A Hussain 35)
*Kirkheaton 138 (P Girardi 30, M Senior 33no; S Hussain 4-40)
Umpires: J.EATON (22) | B.KETTLEWELL (33)
Linthwaite 6 pts | Kirkheaton 0 pts
Slaithwaite 256-8 (I Hall 37, N Berry 54, C Shannon 53, C Coleman 35, A Walker 36; T Wightman 4-71)
*Lascelles Hall 205 (H Sheheryar 51, T Walker 30; A Walker 8-39)
Umpires: S.ADLER (2) | P.SENIOR (46)
Slaithwaite 6 pts | Lascelles Hall 1 pts
*Meltham 145-9 (S Clegg 34)
Thongsbridge 79 (R Marshall 35; M Butt 5-14, I Hussain 3-29)
Umpires: R.BISSETT (9) | S.ASHWELL (58)
Meltham 6 pts | Thongsbridge 0 pts
*Moorlands 223-6 (G Maxwell 43no, P Greenwood 43; J Ghani 3-51)
Rastrick 165 (J Waterson 58, M McCoach 51; D Winn 5-31)
Umpires: M.ARMITAGE (4) | T.ROCKETT (44)
Moorlands 6 pts | Rastrick 0 pts

Click here for all Conference scorecards
Emley Clarence 195-9 (A.Rhodes 39, A.Kamran 53, K.Taylor 35; M.Mobeen 4-32)
*Almondbury 98 (I.Hussain 30; J.Lee 4-28, A.Moors 5-22)
Umpires: Q.COLES (16) | D.SYKES (49)
Emley Clarence 6 pts | Almondbury 0 pts
*Almondbury Wesleyans 289-7 (A Taylor 76, W Binns 38, T Binns 44, J Hoyle 36, B Shufflebotham 36; N Hussain 3-56, T Iqbal 4-43)
Birkby Rose Hill 256-9 (A Rehman 35, K Sajid 37, S Hussain 40, R Malik 96no; B Shufflebotham 4-60)
Umpires: L.ASPELING (57) | B.HUTTON (60)
Almondbury Wesleyans 6 pts | Birkby Rose Hill 1 pt
Denby Dale 147 (F Siddiq 5-47)
*Hall Bower 148-8 (C Atkinson 48, M Ahmed 28; M Hale 4-48
Umpires: M.BROOK (13) | D.COLLINS (17)
Hall Bower 6 pts | Denby Dale 0 pts
*Lepton Highlanders 166-6 (D Mulhall 43no)
Mirfield 156 (A Goldthorpe 92)
Umpires: M.BROADBENT (14) | G.RANK (41)
Lepton Highlanders 6 pts | Mirfield 2 pts
*Mirfield Parish Cav 248-8 (N Hussain 78)
Cumberworth Utd 157 (N Hussain 5-39, T Fretwell 5-49)
Umpires: T.ATKINSON (3) | A.CRAWSHAW (19)
Mirfield Parish Cav 6 pts | Cumberworth United 0 pts
Thurstonland 119 † (N Appleyard 52; B Bamforth 6-25)
*Upperthong 107-2 (C Swanson 67no)
Umpires: M.FORTIS (23) | S.HULMES (28)
(† Rev. 105) Upperthong 6 pts | Thurstonland 0 pts

Click here for all Premiership Two scorecards
Armitage Bridge 145-8 (J.Moorhouse 31, J.Harrison 26; S.Burluraux 4-29)
*Broad Oak 59 (S.Peacock 34; J.Vickerman 3-16, C.Rhodes 3-14)
Armitage Bridge 6 pts | Broad Oak 0 pts
Barkisland 122 (B.Jobson 47; M.Kilner 3-26, R.Greaves 3-11)
*Cumberworth United 98 (I.Pollitt 3-9)
Barkisland 6 pts | Cumberworth United 1 pt
*Delph & Dobcross v Golcar - No Play (Rain)
Delph & Dobcross 2 pts | Golcar 2 pts
*Elland 101 (J.Evans 32, J.Rawson 32*; J.Andrew 4-11)
Honley 103-2 (S.England 36*)
Honley 6 pts | Elland 0 pts
Skelmanthorpe 96 † (J.Ashton 3-20, C.Hoyle 3-10)
*Hoylandswaine 74-1 (J.Ashton 50*)
(† Rev. 71) Hoylandswaine 6 pts | Skelmanthorpe 0 pts
Kirkburton 152-9 (J.Mellor 31, J.Carrington 54*; E.Pearson 3-14, J.Langfield 3-23)
*Scholes 101 (J.Saville 32, D.Holmes 30; T.Cliffe 6-18)
Kirkburton 6 pts | Scholes 0 pts
*Slaithwaite 187-6 (A.Turner 27, D.Massey 46, M.Lees 25*, C.Payne 38*)
Shepley 129-9 (A.Reza 65)
Slaithwaite 6 pts | Shepley 0 pts

Click here for all Championship Two scorecards
Lascelles Hall 85 (J.Dawson 29, B.Robshaw 39; P.Youel 3-30, G.Kilburn 3-18)
*Cawthorne 86-2 (T.Macrow 45*)
Cawthorne 6 pts | Lascelles Hall 0 pts
*Denby Dale 119-7 (R.Thewlis 28*; R.Firth 3-6)
Moorlands 117-9 (R.Firth 36, C.Hinchliffe 39; C.Stower 3-32)
Denby Dale 6 pts | Moorlands 2 pts
*Holmfirth 103-9 (B.Thornton 34; B.Oldroyd 3-21)
Clayton West 104-4 (K.Rank 46, T.Radley 27*)
Clayton West 6 pts | Holmfirth 0 pts
*Marsden v Almondbury - No Play (Rain)
Marsden 2 pts | Almondbury 2 pts
Hall Bower 124 (T.Baxter 40, M.Beaumont 33; D.Thaxter 4-16)
*Rastrick 127-5 (M.Essex 32, T.Stead 44*)
Rastrick 6 pts | Hall Bower 0 pts
*Shelley † v Meltham
(† Match Conceded) Meltham 6 pts | Shelley 0 pts

Click here for all Conference Two scorecards
*Birkby Rose Hill 138-9 (I.Farooq 26*, A.Zubair 26*)
Denby 131 (J.Hunter 74; Z.Ahmed 5-11)
Birkby Rose Hill 6 pts | Denby 2 pts
*Emley Clarence 140-8 (A.Taylor 53; M.Parkin 3-24)
Almondbury Wesleyans 141-5 (M.Shaw 44, T.Jackson 36, L.Jackson 39*)
Almondbury Wesleyans 6 pts | Emley Clarence 0 pts
Lepton Highlanders 84-8 (M.Smith 25)
*Linthwaite 85-4
Linthwaite 6 pts | Lepton Highlanders 0 pts
Kirkheaton 153-5 (J.Mir 52*, S.Beaumont 45, A.Morton 31)
*Mirfield 82 (A.Lenk 34; M.Asaf 6-16)
Kirkheaton 6 pts | Mirfield 1 pts
*Thongsbridge 190-9 † (T.Shah 84, S.Ambler 31)
Mirfield Parish Cav 188-6 (B.Tillotson 29, D.Jackson 44, R.Sidwell 29; W.Reeves 3-62)
(† Rev. 185) Mirfield Parish Cav 6 pts | Thongsbridge 1 pt
*Thurstonland v Upperthong - No Play (Rain)
Thurstonland 2 pts | Upperthong 2 pts