Quicklinks
Premiership | Championship | Conference | Premiership Two | Championship Two | Conference Two
Click here to go back to the 2016 results page.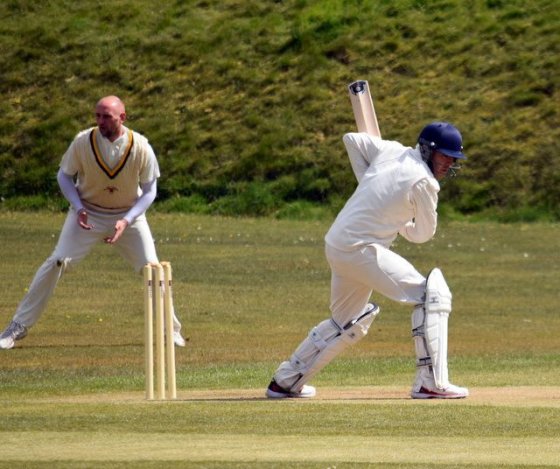 Steve Whitwam's 3-34 and 29 with the bat helped Golcar sneak to a rain-affected win. The Swallow Lane men chased down Elland's revised target of 127 with just 9 balls to spare for their 3rd win on the bounce. Unfortunately many of the days scheduled matches couldn't reach a conclusion in an day where relentless drizzle heavily disrupted the days play.
Saturday 21st May

Click here for all Premiership scorecards
*Armitage Bridge 207-7† (D Steyn 53, J Curtling 39, I Malik 42, B Jenkins 30no)
Shepley 180-8 (D Anderson 38, O Davidson 26, D Glover 36, T Birkinshaw 45no; D Moorbouse 4-62)
Umpires: M.ARMITAGE (4) | R.HARRISON (32)
(† Rev. 188) Armitage Bridge 6 pts | Shepley 2 pts
*Broad Oak v Barkisland - No Play [Rain]
Umpires: B.DYSON (21) | R.PEARCE (40)
Broad Oak 2 pts | Barkisland 2 pts
Kirkburton 18-0 [Abandoned]
*Cawthorne - Did Not Bat
Umpires: R.BISSETT (9) | D.NUNNS (39)
Cawthorne 2 pts | Kirkburton 2 pts
*Elland 136-7† (M Ali 42; S Whitwam 3-34)
Golcar 128-6 (S Whitwam 29, D Woodhead 35no; J Dallimore 3-47)
Umpires: S.BARTHOLOMEW (6) | Z.HASHMAT (25)
(† Rev. 127) Golcar 6 pts | Elland 1 pt
Hoylandswaine v Scholes - No Play [Rain]
Umpires: J.BEAUMONT (7) | J.EATON (22)
Hoylandswaine 2 pts | Scholes 2 pts
Delph & Dobcross 21-0 [Abandoned]
*Shelley - Did Not Bat
Umpires: D.HAIKINGS (26) | L.ASPELING (57)
Shelley 2 pts | Delph & Dobcross 2 pts
Honley 101-3 (D Howard 34no, S Kelly 27) [Abandoned]
*Skelmanthorpe - Did Not Bat
Umpires: I.MELLOR (36) | P.SENIOR (46)
Skelmanthorpe 2 pts | Honley 2 pts

Click here for all Championship scorecards
*Kirkheaton 122 (C French 49no, I Girardi 39; I Hussain 4-44)
Meltham 124-7 (A Hamid 34, H Charlton 4-36)
Umpires: A.CRAWSHAW (19) | A.WRAY (55)
Meltham 6 pts | Kirkheaton 1 pt
Linthwaite v Holmfirth - No Play [Rain]
Umpires: C.DAVIS (20) | S.SYKES (50)
Linthwaite 2 pts | Holmfirth 2 pts
Lascelles Hall 105† (D Sykes 8-60)
*Moorlands 79-0 (A Fortis 40no)
Umpires: R.GARTSIDE (24) | R.HEAP (30)
(† Rev. 77) Moorlands 6 pts | Lascelles Hall 0 pts
Rastrick v Denby - No Play [Rain]
Umpires: K.HALLAM (27) | P.MITTON (37)
Rastrick 2 pts | Denby 2 pts
Slaithwaite v Clayton West - No Play [Rain]
Umpires: T.ROCKETT (44) | J.WOOD (53)
Slaithwaite 2 pts | Clayton West 2 pts
Marsden 111-9 (R Kyle 50no; T Raven-Hill 4-38, B Mavuta 5-20) [Abandoned]
*Thongsbridge - Did Not Bat
Umpires: T.ATKINSON (3) | T.BALL (5)
Thongsbridge 2 pts | Marsden 2 pts

Click here for all Conference scorecards
Birkby Rose Hill 154-5 (A Rehman 93no) [Abandoned]
*Cumberworth United - Did Not Bat
Umpires: D.COLLINS (17) | I.LIVESEY (35)
Cumberworth United 2 pts | Birkby Rose Hill 2 pts
*Denby Dale 100 (K Taylor 4-35, J Lee (4-30)
Emley Clarence 35-3 [Abandoned]
Umpires: M.BROADBENT (14) | B.KETTLEWELL (33)
(† Rev. 73) Denby Dale 2 pts | Emley Clarence 2 pts
Mirfield Parish Cav 307-6† (T Orrell 60, D Bolt 61, N Hussain 88, T James 40, E Hardcastle 42)
*Hall Bower 108-8 (R Evans 40, S Siddiq 44; C Rowlands 5-24, J Hardcastle 3-17)
Umpires: Q.COLES (16) | M.PEARSON (42)
(† Rev. 187) Mirfield Parish Cav 6 pts | Hall Bower 0 pts
*Lepton Highlanders 274-5† (J Greaves 41, J Mulhall 40, C Neal 110no)
Upperthong [Abandoned]
Umpires: N.BROOK (12) | TBA
(† Rev. 147) Lepton Highlanders 2 pts | Upperthong 2 pts
*Mirfield 91† (A Goldthorp 38; S Panday 3-19, J White 4-6)
Almondbury 65-7 (T Hameed 33; M Eastwood 3-11).
Umpires: M.FORTIS (23) | D.SYKES (49)
(† Rev. 64) Almondbury 6 pts | Mirfield 1 pt
*Thurstonland 78† (N Appleyard 36; B Shufflebotham 5-8, M Henshaw 4-28)
Almondbury Wes 52-2 (W Binns 31no) [Abandoned]
Umpires: S.HARTHILL (29) | J.WALKER (52)
(† Rev. 64) Thurstonland 2 pts | Almondbury Wesleyans 2 pts

Click here for all Premiership Two scorecards
Barkisland v Hoylandswaine - No Play [Rain]
Barkisland 2 pts | Hoylandswaine 2 pts
Delph & Dobcross v Slaithwaite - No Play [Rain]
Delph & Dobcross 2 pts | Slaithwaite 2 pts
Golcar v Skelmanthorpe - No Play [Rain]
Golcar 2 pts | Skelmanthorpe 2 pts
Armitage Bridge 127 † (O.Huntington 41; T.Willitts 3-24, R.Morton 5-43)
*Honley 69-3
(† Rev. 67) Honley 6 pts | Armitage Bridge 0 pts
Elland 79 † (A.Wilkens 27; R.Kettlewell 4-18, J.Carrington 5-5)
*Kirkburton 66-3 (R.France 31*)
(† Rev. 63) Kirkburton 6 pts | Elland 0 pts
Cumberworth United 219-4 Abandoned (J.Rayner 107*, M.Dolley 55)
*Scholes - Did Not Bat
Scholes 2 pts | Cumberworth United 2 pts
*Shepley 26-1 [Abandoned]
Broad Oak - Did Not Bat
Shepley 2 pts | Broad Oak 2 pts

Click here for all Championship Two scorecards
Moorlands 186-7 (M.Baldwin 59, G.Payne 38, D.Pauley 30; M.Hussain 4-35)
*Almondbury 185-9 (M.Sarfaraz 30*, G.Thwaite 72*; D.Pauley 3-49)
Moorlands 6 pts | Almondbury 2 pts
Denby Dale 28-2 [Abandoned]
*Clayton West - Did Not Bat
Denby Dale 2 pts | Clayton West 2 pts
*Holmfirth 230-5 (J.Wilson 26, S.Johnstone 65, J.Payne 34, G.Brown 33*) [Abandoned]
Shelley - Did Not Bat
Holmfirth 2 pts | Shelley 2 pts
Lascelles Hall † v Hall Bower
(† Match Conceded) Hall Bower 6 pts | Lascelles Hall 0 pts
Marsden v Cawthorne - No Play [Rain]
Marsden 2 pts | Cawthorne 2 pts
Meltham v Rastrick - No Play [Rain]
Meltham 2 pts | Rastrick 2 pts

Click here for all Conference Two scorecards
*Almondbury Wesleyans 260 † (T.Addy 101, J.Ghee 30, T.Jackson 43, U.Siddiq 41; F.Ahmed 4-54)
Linthwaite 75-9 (R.Ali 27; D.Payne 4-13)
(† Rev. 168) Almondbury Wesleyans 6 pts | Linthwaite 0 pts
*Birkby Rose Hill 132-7 (Z.Ahmed 25, I.Hussain 33; M.Rishton 3-23)
Thurstonland 124-7 (S.Oldham 31, J.Booth 49)
Birkby Rose Hill 6 pts | Thurstonland 2 pts
Lepton Highlanders 66-0 [Abandoned]
*Denby - Did Not Bat
Lepton Highlanders 2 pts | Denby 2 pts
Emley Clarence † v Thongsbridge
(† Match Conceded) Thongsbridge 6 pts | Emley Clarence 0 pts
Mirfield 170-3
*Mirfield Parish Cav 172-8
Mirfield Parish Cav 6 pts | Mirfield 2 pts
Upperthong v Kirkheaton - No Play [Rain]
Upperthong 2 pts | Kirkheaton 2 pts