Quicklinks
Premiership | Championship | Conference | Premiership Two | Championship Two | Conference Two
Click here to go back to the 2016 results page.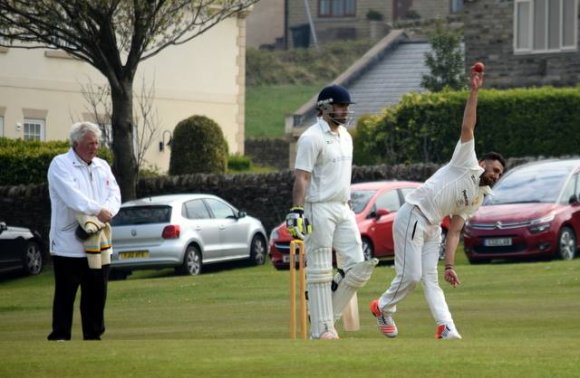 Shakir Muhammed (5-26) was Delph & Dobcross' main strike man as they blew away a Cawthorne team still trying to find their feet in the Premiership. Delph stay joint top of the Premiership after Shepley were victorious in a closer affair at home to Skelmanthorpe, chasing down "Shat"'s modest 137 total with just 9 balls to spare.
Saturday 28th May

Click here for all Premiership scorecards
Armitage Bridge 263 (J Curtling 70, M West 64, D Moorhouse 40; M Steers 5-59)
*Barkisland 181 (D Robinson 40no, G Chirimuuta 41, M Steers 33; J Curtling 5-56)
Umpires: R.BISSETT (9) | D.SYKES (49)
Armitage Bridge 6 pts | Barkisland 0 pts
Cawthorne 70 (S Muhammad 5-26)
*Delph & Dobcross 71-0 (C Laker 41no, S Goswami 30no)
Umpires: M.BOTTOMLEY (10) | P.SENIOR (46)
Delph & Dobcross 6 pts | Cawthorne 0 pts
*Golcar 264 (S Whitwam 91, U Bandara 59, D Woodhead 32; A France 6-77)
Broad Oak 136 (L Baxter 28, T McCreadie 29; U Bandara 3-43, W Hinchliffe 3-46)
Umpires: D.HAIKINGS (26) | R.HEAP (30)
Golcar 6 pts | Broad Oak 0 pts
Hoylandswaine 197-9 (A Morris 92, I Wardlaw 28; T Craddock 4-39)
*Honley 107 (T Craddock 43; M Cranmer 6-15)
Umpires: T.ROCKETT (44) | J.WOOD (53)
Hoylandswaine 6 pts | Honley 0 pts
*Kirkburton 303-4 (A Smith 128, S Evans 27, T Booth 33, J Butterfield 56, S Younes 35no)
Elland 229 (S Matlub 66, M Wadee 38, H Krishness 35; S Sajid 5-54, J Hendy 3-48)
Umpires: K.HALLAM (27) | R.PEARCE (40)
Kirkburton 6 pts | Elland 1 pt
Shelley 144 (J Geldart 37; T Macrury 5-42)
*Scholes 147-6 (J Noble 28, T Macrury 44 M Bhoola 3-47)
Umpires: S.BARTHOLOMEW (6) | P.MITTON (37)
Scholes 6 pts | Shelley 1 pt
Skelmanthorpe 137 (D Morgan 47; D Wood 3-39)
*Shepley 138-7 (S Raheem 54; S Khan 3-35)
Umpires: T.ATKINSON (3) | D.NUNNS (39)
Shepley 6 pts | Skelmanthorpe 1 pt

Click here for all Championship scorecards
Rastrick 315 (B Birkhead 128, F Javed 89; K Hitchman 5-116, S Scott 4-49)
*Clayton West 256 (D Barber 30, J Hawke 96no, J Saunders 31; J Ghani 7-83)
Umpires: T.BALL (5) | D.COLLINS (17)
Rastrick 6 pts | Clayton West 1 pt
*Denby 201-8 (F Hussain 85no; M Nabeel 4-70, R Shah 3-46)
Kirkheaton 104 (P Senior 32; Q Rashid 5-28, B Don 4-29)
Umpires: I.LIVESEY (35) | S.SYKES (50)
Denby 6 pts | Kirkheaton 0 pts
Thongsbridge 221 (B Raven-Hill 67, T Webster 35no; M Gummerson 34-53)
*Holmfirth 84 (S Butterworth 33; Z Iqbal 6-27)
Umpires: S.ADLER (2) | B.HUTTON (60)
Thongsbridge 6 pts | Holmfirth 0 pts
Linthwaite 277-9 (V Ahmed 74, K Ijaz 51; T Walker 3-50)
*Lascelles Hall 212 (S Hussan 90, M Simpsono 37; S Bashir 3-46, S Rehman 3-24)
Umpires: N.BROOK (12) | Z.HASHMAT (25)
Linthwaite 6 pts | Lascelles Hall 1 pt
Slaithwaite 213 (C Kilner 33, A Walker 63; D Clee 4-48)
*Marsden 150 (R Kyle 36, S Robinson 36; A Walker 4-53)
Umpires: M.FORTIS (23) | S.HULMES (28)
Slaithwaite 6 pts | Marsden 0 pts
*Meltham 67 (A Walker 3-7, J Dubbeldam 3-21)
Moorlands 71-2 (C Stott 39no)
Umpires: M.ARMITAGE (4) | B.DYSON (21)
Moorlands 6 pts | Meltham 0 pts

Click here for all Conference scorecards
Hall Bower 97 (A Langton 6-42)
*Almondbury 100-3 (T Hameed 33, A Mehmood 28)
Umpires: M.BROOK (13) | R.HARRISON (32)
Almondbury 6 pts | Hall Bower 0 pts
*Almondbury Wes 217 (A Taylor 32, M Henshaw 35, J Hoyle 40, S Kenworthy 31; M Eastwood 4-43, E Bolt 3-59, A Pearson 3-59)
Mirfield 61 (J Gibson 7-14).
Umpires: D.BEVERLEY (8) | S.ASHWELL (58)
Almondbury Wesleyans 6 pts | Mirifield 0 pts
*Birkby Rose Hill 204-9 (A Rehman 53, R Khan 37; K Ahmed 4-54, M Obori 4-53)
Thurstonland 172 (J Eastwood 48; M Hussain 5-32 W Hussain 3-50).
Umpires: B.KETTLEWELL (33) | I.MELLOR (36)
Birkby Rose Hill 6 pts | Thurstonland 1 pt
Cumberworth 130 (G Parkes 30, A Greaves 41; A Moors 4-35, J Lee 4-48)
*Emley Clarence 91 (A Moors 32; A Littlewood 4-20)
Umpires: A.CRAWSHAW (19) | R.GARTSIDE (24)
Cumberworth United 6 pts | Emley Clarence 0 pts
Lepton Highlanders 203-7 (J.Mulhall 36, C.Neal 69, S.Hashmi 37; D.Hope 3-57)
*Mirfield Parish Cav 164 (D.Bolt 30, N.Hussain 48; S.Hashmi 3-56)
Umpires: J.BEAUMONT (7) | C.DAVIS (20)
Lepton Highlanders 6 pts | Mirifield Parish Cav 1 pt
Denby Dale 138 (S Mullavy 41; S Ramsay 4-41)
*Upperthong 141-2 (C Swanson 60no, T Mighall 39no)
Umpires: J.WALKER (52) | A.WRAY (55)
Upperthong 6 pts | Denby Dale 0 pts

Click here for all Premiership Two scorecards
*Armitage Bridge 229-8 (R.Sugden 33, P.Hamer 53, J.Moorhouse 33, J.Vickerman 29; A.Reza 3-31)
Shepley 65 (D.Lynn 30; R.Lunn 3-12)
Armitage Bridge 6 pts | Shepley 0 pts
Barkisland 79 (N.Howard 4-42)
*Broad Oak 81-6 (S.Mee 27)
Broad Oak 6 pts | Barkisland 1 pt
*Cumberworth United 146 (J.Yates 80; H.Zafar 3-12, R.Hall 4-35)
Golcar 147-6 (C.Chapman 28, T.Willans 28, M.Turner 42*)
Golcar 6 pts | Cumberworth United 1 pt
*Elland 53 (A.Cadd 4-17, J.Fish 3-24)
Delph & Dobcross 55-2
Delph & Dobcross 6 pts | Elland 0 pts
*Hoylandswaine 65 (D.Hoyle 36; R.Kettlewell 3-3, J.Carrington 4-20)
Kirkburton 68-1 (D.Greaves 37)
Kirkburton 6 pts | Hoylandswaine 0 pts
*Skelmanthorpe 129 (C.Auty 40; R.Morton 5-10, O.Kenworthy 3-22)
Honley 132-4 (T.Sykes 38, S.England 36, C.Woodhead 29*)
Honley 6 pts | Skelmanthorpe 0 pts
*Slaithwaite 113 (G.Holroyd 30; J.Langfield 3-26, M.Boorman 5-19)
Scholes 117-6 (J.Saville 39, G.Farma 26)
Scholes 6 pts | Slaithwaite 1 pt

Click here for all Championship Two scorecards
*Cawthorne 100
Holmfirth 101-9
Holmfirth 6 pts | Cawthorne 2 pts
Marsden 145-8 (R.Clarke 33, S.Smith 32*; J.Greig 3-30, S.Geldart 3-25)
*Denby Dale 146-5 (A.Amos 66*, C.Stower 33; G.Ackroyd 3-8)
Marsden 6 pts | Denby Dale 0 pts
*Hall Bower 61
Meltham 62-0 (M.Whitworth 39*)
Meltham 6 pts | Hall Bower 0 pts
Lascelles Hall 94 (A.Ullah 27; R.Firth 3-20, O.Kilburn 3-12)
*Moorlands 97-4 (C.Hinchliffe 25, R.Firth 28)
Moorlands 6 pts | Lascelles Hall 0 pts
Clayton West 158-8 (A.Clegg 28, A.Rank 64, C.Bullock 40; N.Marsden 3-32)
*Rastrick 121 (C.Bullock 4-33, T.Siani 3-15)
Clayton West 6 pts | Rastrick 1 pt
Almondbury 220-5 (F.Hussain 66, C.Harris 53*, D.Russell 41*)
*Shelley 41 (M.Nawaz 3-6)
Almondbury 6 pts | Shelley 0 pts

Click here for all Conference Two scorecards
*Kirkheaton 60 (C.Rowlands 3-3, I.Nowacki 3-14)
Mirfield Parish Cav 61-0 (R.Sidwell 26*)
Mirifield Parish Cav 6 pts | Kirkheaton 0 pts
*Lepton Highlanders 165 (Y.Azam 57, M.Dickenson 28; T.Fleming 4-25)
Upperthong 166-4 (M.Earnshaw 46, L.Bolton 35*; M.Long 3-35)
Upperthong 6 pts | Lepton Highlanders 0 pts
Birkby Rose Hill 114 (A.Afzal 5-26)
*Linthwaite 116-7 (N.Amin 26, M.Bashir 50*; R.Nazar 4-45)
Linthwaite 6 pts | Birkby Rose Hill 1 pts
*Mirfield 84-6
Almondbury Wes 86-2 (T.Addy 39, J.Ghee 34)
Almondbury Wes 6 pts | Mirifield 0 pts
*Thongsbridge 236-8 (S.Butt 71, T.Shah 81)
Denby 139 (H.Greenwood 54; J.Aylward 3-27)
Thongsbridge 6 pts | Denby 0 pts
*Thurstonland 154-8 (S.Malik 54, A.Matthews 34*; G.Ferguson 4-26)
Emley Clarence 100 (G.Ferguson 43; A.Matthews 4-6)
Thurstonland 6 pts | Emley Clarence 0 pts