Quicklinks
Premiership | Premiership Two
Click here to go back to the 2016 results page.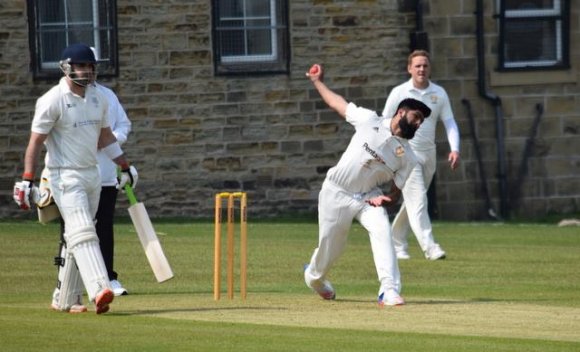 In the Premiership match of the day, 1st (Delph & Dobcross) hosted 2nd (Shepley) and it was the home club who came away worthy winners. Wasim Qasim (3-25) accounted for both Shepley openers before his club knocked off their total for the loss of 5 wickets to go six points clear at the summit.
Monday 30th May

Click here for all Premiership scorecards
*Cawthorne 123 (L Skelly 47; D Moorhouse 4-12, J Hinchliffe 3-31)
Armitage Bridge 126-7 (I Malik 33; N Hussain 4-42)
Umpires: P.MITTON (37) | A.WRAY (55)
Armitage Bridge 6 pts | Cawthorne 1 pt
Shepley 164-9 (G Bradley 31, S Raheem 36, W Qasim 3-25)
*Delph & Dobcross 166-5 (A Gleave 37, G Buckley 62; T Burkinshaw 3-54)
Umpires: C.DAVIS (20) | B.DYSON (21)
Delph & Dobcross 6 pts | Shepley 0 pts
*Elland 136 (J Bower 34no; H Booth 6-33)
Broad Oak 140-1 (D Finn 51no, H Cooper 72no)
Umpires: S.BARTHOLOMEW (6) | I.MELLOR (36)
Broad Oak 6 pts | Elland 0 pts
*Golcar 159 (C Roscoe 32; I Wardlaw 3-53, M Hussain 3-31)
Hoylandswaine 165-2 (M Cranmer 104no)
Umpires: D.NUNNS (39) | R.PEARCE (40)
Hoylandswaine 6 pts | Golcar 0 pts
*Kirkburton 138 (S Sajid 56; M Steers 4-33, R Coetzer 4-41)
Barkisland 141-4 (L Bridges 43, D Chirimuuta 37).
Umpires: M.ARMITAGE (4) | R.BISSETT (9)
Barkisland 6 pts | Kirkburton 0 pts
*Scholes 145 (T Macrury 89, E Pearson 28; A Padbury 4-33, T Craddock 4-39)
Honley 108 (L Brook 3-26, J Brook 3-27).
Umpires: M.BOTTOMLEY (10) | R.HARRISON (32)
Scholes 6 pts | Honley 0 pts
*Shelley 166 (O Hussain 85)
Skelmanthorpe 167-3 (D Morgan 59, A Rashid 56)
Umpires: J.BEAUMONT (7) | A.CRAWSHAW (19)
Skelmanthorpe 6 pts | Shelley 0 pts

Click here for all Championship scorecards
*Armitage Bridge 207-4 (P.Hamer 97*, J.Moorhouse 53, J.Vickerman 30*; T.Jackson 3-19)
Slaithwaite 208-3 (N.Shaw 26, F.Hajarie 75, J.Bradley 62*, L.Bradley 31)
Slaithwaite 6 pts | Armitage Bridge 0 pts
*Barkisland 196 (M.Raven 34, C.Thompson 58; Z.Asmal 3-23, S.Atkinson 4-48)
Kirkburton 142 (Z.Asmal 46*, B.Carrington 31; B.Westbrook 4-26)
Barkisland 6 pts | Kirkburton 0 pts
*Broad Oak 259-5 (S.Peacock 58, S.Burluraux 54, J.Harper 31, D.Baxter 53*)
Elland 114 (J.Tanwir 26, B.Speak 45; J.Wadsworth 7-29)
Broad Oak 6 pts | Elland 0 pts
Scholes 116 (I.Bray 44; B.Lindley 3-15, E.Kaye 3-25)
*Honley 117-3 (S.England 43, C.Woodhead 27*)
Honley 6 pts | Scholes 0 pts
Golcar 107 (M.Smith 28; D.Lockwood 7-18)
*Hoylandswaine 110-1 (J.Ashton 57*, D.Hoyle 37*)
Hoylandswaine 6 pts | Golcar 0 pts
*Shepley 76 (A.Lees 4-17, X.Selby 3-11)
Delph & Dobcross 78-1 (A.Lees 28, X.Selby 33*)
Delph & Dobcross 6 pts | Shepley 0 pts
Cumberworth United 240-7 (J.Rayner 62, J.Senior 69, C.Wilks 29, M.Kilner 26)
*Skelmanthorpe 144 (J.Hart 28, D.Storey 74*; B.Wood 3-31, M.Kilner 4-29)
Cumberworth United 6 pts | Skelmanthorpe 0 pts