Quicklinks
Premiership | Championship | Conference | Premiership Two | Championship Two | Conference Two
Click here to go back to the 2016 results page.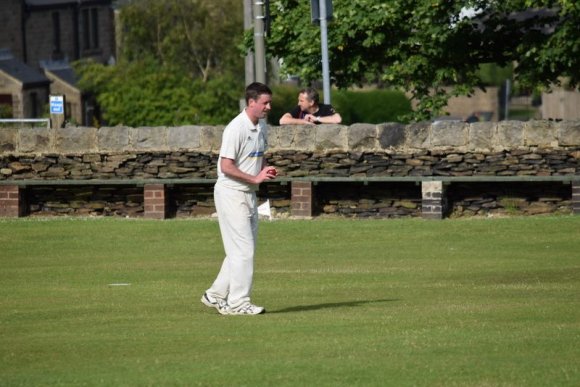 Barkisland's Alex Scholefield (4-65) helped put one over his former team in an exciting Premiership match at Lidgett Lane. Barkisland's 268-7 total was enough to overcome the hosts. moving them up the table to 6th.
Saturday 4th June

Click here for all Premiership scorecards
Golcar 237-9 (J Howson 25, J Lockwood 40, G Crowther 41, M Wilson 28no; J Curtling 3-57)
*Armitage Bridge 121 (D Steyn 41, I Malik 26; U Bandara 6-59, S Whitwam 3-15)
Umpires: B.DYSON (21) | K.HALLAM (27)
Golcar 6 pts | Armitage Bridge 0 pts
*Broad Oak 277-8 (L Baxter 59, H Cooper 72, H Booth 58, J Hargreaves 32; J Hendy 4-61)
Kirkburton 200 (S Evans 33, J Butterfield 31, N Sharp 60; H Cooper 5-65
Umpires: J.BEAUMONT (7) | R.BISSETT (9)
Broad Oak 6 pts | Kirkburton 0 pts
Scholes 215-9 (T Macrury 53, T Chadwick 41; G Steele 4-35, I Khan 3-28)
*Cawthorne 219-5 (I Khan 101, L Wiles 47).
Umpires: T.ATKINSON (3) | M.ARMITAGE (4)
Cawthorne 6 pts | Scholes 0 pts
Delph & Dobcross 270-4 (A Gleave 107, C Laker 47, S Goswami 40no)
*Elland 127 (J Bower 47, M Hinchliffe 29; S Muhammad 5-35; S Goswami 3-14)
Umpires: (name removed) (1) | R.GARTSIDE (24)
Delph & Docbross 6 pts | Elland 0 pts
Shepley 132 (T Burkinshaw 40no; A Padbury 4-40)
*Honley 74 (S Kelly 28; D Glover 4-24, D Wood 3-5).
Umpires: P.MITTON (37) | R.TINDALL (51)
Shepley 6 pts | Honley 0 pts
Shelley 218 (H Yousaf 71)
*Hoylandswaine 219-3 (A Morris 67, M Joice 60no)
Umpires: A.CRAWSHAW (19) | S.SYKES (50)
Hoylandswaine 6 pts | Shelley 0 pts
Barkisland 268-7 (G Chirimuuta 124no, L Bridges 59; J Crossland 3-50)
*Skelmanthorpe 220 (L O'Dea 65, L Webster 63no, M Kitson 38; A Steers 3-39, A Scholefield 4-65).
Umpires: S.BARTHOLOMEW (6) | Z.HASHMAT (25)
Barkisland 6 pts | Skelmanthorpe 1 pt

Click here for all Championship scorecards
*Kirkheaton 179-7 (P Girardi 29, C French 56, P Senior 29; K Hitchman 3-37)
Clayton West 123 (K Hitchman 47, J Hawke 27; C French 3-25).
Umpires: M.BROOK (13) | P.SENIOR (46)
Kirkheaton 6 pts | Clayton West 0 pts
*Lascelles Hall 73 (M Butt 5-29, S Kenworthy 3-15)
Meltham 77-2 (S Clegg 44).
Umpires: T.ROCKETT (44) | D.SYKES (49)
Meltham 6 pts | Lascelles Hall 0 pts
*Linthwaite 183 (A Qayyan 72; Z Iqbal 3-37, B Mavuta 5-33)
Thongsbridge 184-4 (B Raven-Hill 101no).
Umpires: J.WALKER (52) | J.WOOD (53)
Thongsbridge 6 pts | Linthwaite 0 pts
*Moorlands 32 (B Don 7-0)
Denby 33-2.
Umpires: D.HAIKINGS (26) | R.HARRISON (32)
Denby 6 pts | Moorlands 0 pts
Marsden 126 (S Robinson 33no; J Pearson 4-38)
*Rastrick 129-1 (J Waterson 58no, F Javed 31no).
Umpires: A.WRAY (55) | TBA
Rastrick 6 pts | Marsden 0 pts
Holmfirth 233-7 (J Morley 34, S Richardson 108; J Bradley 3-59)
*Slaithwaite 228 (I Hall 33, C Shannon 49, D Rushworth 31; N Hubbard 4-44)
Umpires: I.LIVESEY (35) | M.PEARSON (42)
Holmfirth 6 pts | Slaithwaite 2 pts

Click here for all Conference scorecards
*Denby Dale 242-6 (N Rehman 60, S Tyas 47, S Mullavey 52, M Hale 49)
Cumberworth Utd 246-9 (A Greaves 96, J Bower 34; A Rammell 4-77).
Umpires: N.BROOK (12) | R.PEARCE (40)
Cumberworth 6 pts | Denby Dale 2 pts
*Hall Bower 145 (B Dunn 37, F Siddiq 29, D Moss 25; M Henshaw 5-44)
Almondbury Wes 150-2 (A Taylor 35no, T Binns 30)
Umpires: J.EATON (22) | D.NUNNS (39)
Almondbury Wes 6 pts | Hall Bower 0 pts
*Lepton Highlanders 150 (D Mulhall 53, T Mulhall 28; T Mirza 3-35, A Mehmood 3-15)
Almondbury 144 (T Hameed 42, H Walker 27; I Khan 5-54).
Umpires: D.COLLINS (17) | B.KETTLEWELL (33)
Lepton Highlanders 6 pts | Almondbury 2 pts
*Mirfield 134 (A Pearson 29; K Sajad 3-7)
Birkby Rose Hill 130 (M Kamran 29, A Rehman 31, W Hussain 28; A Pearson 6-56)
Umpires: M.FORTIS (23) | S.HULMES (28)
Mirfield 6 pts | Birkby Rose Hill 2 pts
*Thurstonland 180 (T Broom 64; A Taylor 4-58)
Emley Clarence 76 (M Oberoi 3-23).
Umpires: S.HARTHILL (29) | TBA
Thurstonland 6 pts | Emley Clarence 0 pts
Mirfield Parish Cav 270-7 (D Orrell 117, N Hussain 62no; B Charlesworth 3-42, S Ramsay 4-69)
*Upperthong 192 (C Swanson 84; T Fretwell 5-64).
Umpires: Q.COLES (16) | R.HEAP (30)
Mirfield Parish Cav 6 pts | Upperthong 0 pts

Click here for all Premiership Two scorecards
*Barkisland 253 (M.Bridges 29, B.Westbrook 102; P.Dobson 3-39, J.Barker 3-46)
Armitage Bridge 198 (C.Hinchliffe 37, P.Dobson 26, J.Vickerman 32; C.Thompson 3-40)
Barkisland 6 pts | Armitage Bridge 1 pt
*Cumberworth United 193 (M.Dolley 26, G.Senior 33, J.Yates 43, J.Kilner 28; T.Jackson 4-26)
Slaithwaite 195-7 (A.Turner 59, L.Bradley 100*)
Slaithwaite 6 pts | Cumberworth United 1 pt
*Delph & Dobcross 165 (A.Lees 37, R.Simpson 27; D.Lockwood 5-32)
Hoylandswaine 166-3 (D.Lockwood 52, D.Hoyle 25*, K.Lockwood 48*)
Hoylandswaine 6 pts | Delph & Dobcross 0 pts
*Golcar 151-9 (C.Chapman 27, M.Turner 63*; T.Willitts 3-19)
Honley 154-2 (S.England 49*, R.Moore 38, C.Woodhead 50*)
Honley 6 pts | Golcar 0 pts
*Kirkburton 172 (D.Greaves 47, J.Mellor 38; J.Wadsworth 3-26)
Broad Oak 173-4 (C.Woodruff 34, S.Burluraux 28, H.Franklin 47*)
Broad Oak 6 pts | Kirkburton 0 pts
*Scholes 132 (J.Clayton 30, M.Boorman 28; U.Tariq 3-24, M.Rawson 3-14)
Elland 133-3 (A.Wilkens 34, C.Walker 47*)
Elland 6 pts | Scholes 0 pts
*Shepley 123 (S.Greaves 38*; G.Hurlbatt 3-20, A.Moore 5-20)
Skelmanthorpe 124-3 (W.Mott 38)
Skelmanthorpe 6 pts | Shepley 0 pts

Click here for all Championship Two scorecards
*Almondbury 141 (C.Harris 34; T.Rodgers 3-13, J.Dawson 3-23)
Lascelles Hall 143-6 (R.Shaw 65*)
Lascelles Hall 6 pts | Almondbury 1 pt
*Clayton West 321-4 (A.Clegg 45, H.Senior 110, A.Rank 42, C.Bullock 47*, T.Radley 27*)
Hall Bower 129 (J.Greenway 29, M.Beaumont 53; S.Rank 3-9)
Clayton West 6 pts | Hall Bower 0 pts
*Holmfirth 168-9 (S.Johnstone 75*; C.Stower 3-20, J.Greig 3-32)
Denby Dale 108 (J.Tyas 26, A.Jacques 25*; B.Thornton 5-16)
Holmfirth 6 pts | Denby Dale 0 pts
Rastrick 160 (O.Marsh 68; C.Zaffino 4-39, G.Ackroyd 3-13)
*Marsden 161-6 (G.Ackroyd 47*, N.Taylor 30; M.Ashford 3-26)
Marsden 6 pts | Rastrick 1 pt
Moorlands 271-6 (M.Baldwin 34, M.Beresford 33, J.Galindo 115*, D.Pauley 64*; R.Moulson 3-55)
*Meltham 143 (C.Earnshaw 44; R.Ali 3-15)
Moorlands 6 pts | Meltham 0 pts
*Shelley 39 (G.Kilburn 3-13)
Cawthorne 42-1
Cawthorne 6 pts | Shelley 0 pts

Click here for all Conference Two scorecards
*Almondbury Wes 328-8 (M.Shaw 43, J.Ghee 44, S.Fisher 133*)
Kirkheaton 129 (S.Sarwar 28; U.Siddiq 3-9)
Almondbury Wes 6 pts | Kirkheaton 0 pts
*Birkby Rose Hill 279 (Z.Ahmed 122, I.Hussain 27, W.Javed 26; R.Bird 4-48)
Mirfield 104 (S.Kirkby 35; I.Hussain 6-25)
Birkby Rose Hill 6 pts | Mirfield 0 pts
*Denby 205 (H.Greenwood 61*, J.Hunter 46, A.Hodgson 28; D.Hancock 4-27, A.Morris 4-20)
Upperthong 190-7 (W.Kilner 71, D.Clowes 39)
Denby 6 pts | Upperthong 2 pts
*Emley Clarence 160-3 (S.Sykes 105)
Linthwaite 161-4 (M.Bashir 34, N.Amin 58*, O.Shaffique 26*)
Lintwaite 6 pts | Emley Clarence 0 pts
*Mirfield Parish Cav 291-8 (D.Jackson 101, R.Sidwell 38; Y.Azam 3-34)
Lepton Highlanders 205 (M.Dickenson 74; J.Hellings 3-17, A.Brown 3-41, I.Nowacki 3-40)
Mirfield Parish Cav 6 pts | Lepton Highlanders 0 pts
Thurstonland 138-9 (N.Booth 33, A.Matthews 42*; R.Payne 3-34)
*Thongsbridge 140-3 (T.Kemp 47, R.Payne 50, T.Shah 29*)
Thongsbridge 6 pts | Thurstonland 0 pts