Quicklinks
Premiership | Championship | Conference | Premiership Two | Championship Two | Conference Two
Click here to go back to the 2016 results page.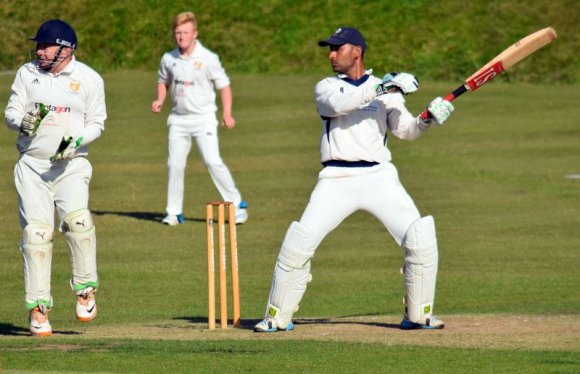 Hoylandswaine were one of the few teams that benefited from the inclement weather that penetrated the Huddersfield area. They were indebted to S.P. Singh shepherding his team to maximum points at in-form Barkisland with an excellent unbeaten 53. Hoylandswaine kept pressure on Premiership leaders Delph & Dobcross who won in a tight match at home to Skelmanthorpe.
Saturday 25th June

Click here for all Premiership scorecards
*Barkisland 234-6 (A Scholfield 98no, S Oddy 38, G Chirimuuta 34, M Steers 26; I Wardlaw 3-60)
Hoylandswaine 235-7 (S P Singh 53no, B Potter 33, G Nawaz 30; R Coetzer 3-73)
Umpires: D.HAIKINGS (26) | P.MITTON (37)
Hoylandswaine 6 pts | Barkisland 1 pt
*Cawthorne 149-1 (I Khan 71no, B Simpson 63) [Abandoned - Rain]
Elland - Did Not Bat
Umpires: T.BALL (5) | C.DAVIS (20)
Cawthorne 2 pts | Elland 2 pts
*Delph & Dobcross 247 (G Buckley 49, S Goswami 32, N Jones 36; S Khan 4-22, A Rashid 3-76)
Skelmanthorpe 222 (A Rashid 53, M Kitson 83; S Mohammad 5-55)
Umpires: D.COLLINS (17) | J.EATON (22)
Delph & Dobcross 6 pts | Skelmanthorpe 1 pt
*Golcar 210-9 (L Aspeling 54, C Ruscoe 62; O Davidson 3-56)
Shepley 181 (T Denton 86, D Wood 27; S Whitwam 5-40)
Umpires: R.BISSETT (9) | R.TINDALL (51)
(† Rev. 186) Golcar 6 pts | Shepley 2 pts
*Kirkburton 138-2 (S Evans 35, T Booth 49no) [Abandoned]
Honley - Did Not Bat
Umpires: S.BARTHOLOMEW (6) | R.GARTSIDE (24)
Kirkburton 2 pts | Honley 2 pts
*Scholes 143-0 (J Noble 57no, T Macrury 78no) [Abandoned - Rain]
Armitage Bridge - Did Not Bat
Umpires: K.HALLAM (27) | R.HARRISON (32)
Scholes 2 pts | Armitage Bridge 2 pts
Broad Oak 235-3 (C.Roebuck 146, H.Cooper 75) [Abandoned - Rain]
*Shelley - Did Not Bat
Umpires: J.WOOD (53) | A.WRAY (55)
Shelley 2 pts | Broad Oak 2 pts

Click here for all Championship scorecards
*Clayton West 129-4 (D Swan 64) [Abandoned - Rain]
Meltham - Did Not Bat
Umpires: M.BROADBENT (14) | A.CRAWSHAW (19)
Clayton West 2 pts | Meltham 2 pts
*Denby 26-7 (S Basil 3-18, G Alexander 4-8) [Abandoned - Rain]
Linthwaite - Did Not Bat
Umpires: M.BROOK (13) | D.NUNNS (39)
Denby 2 pts | Linthwaite 2 pts
*Holmfirth 162 (S Richardson 64; K Walker 3-47) [Abandoned - Rain]
Moorlands - Did Not Bat
Umpires: J.BEAUMONT (7) | M.BOTTOMLEY (10)
Holmfirth 2 pts | Moorlands 2 pts
*Marsden 178 (A Ghafoor 40; S Bissett 4-7, S Hussain 3-21)
Lascelles Hall 180-6 (G Summerville 42; I Bray 5-62)
Umpires: I.LIVESEY (35) | R.PEARCE (40)
Lascelles Hall 6 pts | Marsden 1 pt
*Slaithwaite 141 (D Rushworth 57; O Pearson 3-57, W Javed 3-9, M McCoach 3-32)
Rastrick 142-7 (J Waterson 35; A Walker 3-26, J Bradley 3-38)
Umpires: (name removed) (1) | M.ARMITAGE (4)
Rastrick 6 pts | Slaithwaite 1 pt
Kirkheaton 216-7 (C French 80no, P Hadwin 39, M Senior 28; W Reeves 3-66) [Abandoned - Rain]
*Thongsbridge - Did Not Bat
Umpires: T.ATKINSON (3) | D.BEVERLEY (8)
Kirkheaton 2 pts | Thongsbridge 2 pts

Click here for all Conference scorecards
Denby Dale 117 (M Ramell 29; M Mirza 4-37)
*Almondbury 24-3 (Abandoned - Rain)
Umpires: P.SENIOR (46) | J.WALKER (52)
Almondbury 2 pts | Denby Dale 2 pts
*Almondbury Wes 62-7 (A Taylor 34; N Hussain 4-19) [Abandoned - Rain]
Mirfield Parish Cav - Did Not Bat
Umpires: B.DYSON (21) | TBA
Almondbury Wes 2 pts | Mirfield Parish Cav 2 pts
Upperthong 140 (K Sajjad 3-28, W Hussain 3-26)
*Birkby Rose Hill 136-2 (W Hussain 67, A Rehman 36, R Khan 25no)
Umpires: B.KETTLEWELL (33) | S.HULMES (28)
(† Rev. 132) Birkby Rose Hill 6 pts | Upperthong 0 pts
*Cumberworth Utd 108-8 (G Smith 31; S Sidik 3-28) [Abandoned - Rain]
Hall Bower - Did Not Bat
Umpires: R.HEAP (30) | S,ASHWELL
Cumberworth United 2 pts | Hall Bower 2 pts
*Emley Clarence 119-3 (D Stratford 30, J Lee 39no; I Khan 3-18) [Abandoned - Rain]
Lepton Highlanders - Did Not Bat
Umpires: I.MELLOR (36) | S.SYKES (50)
Emley Clarence 2 pts | Lepton Highlanders 2 pts
Mirfield 38-1 [Abandoned - Rain]
*Thurstonland - Did Not Bat
Umpires: Z.HASHMAT (25) | D.SYKES (49)
Thurstonland 2 pts | Mirfield 2 pts

Click here for all Premiership Two scorecards
Scholes 44-2 [Abandoned - Rain]
*Armitage Bridge - Did Not Bat
Scholes 2 pts | Armitage Bridge 2 pts
Cumberworth United 131 (J.Rayner 29, G.Senior 29, M.Kilner 26; A.France 3-26, J.Wadsworth 3-15, J.Peacock 3-22)
*Broad Oak 133-1 (H.Franklin 61*, B.Burnett 29*)
Broad Oak 6 pts | Cumberworth United 0 pts
*Elland 150 (J.Rawson 59, T.Thornton 26; H.Zafar 4-24, M.Brook 3-30)
Golcar 99 (D.Woodhead 32, H.Gill 29; T.Thornton 5-23, Y.Iqbal 3-22)
Elland 6 pts | Golcar 0 pts
*Honley 193-9 (R.Jakeman 110, R.Moore 31, B.Lindley 27; R.Kettlewell 3-28) [Abandoned - Rain]
Kirkburton - Did Not Bat
Honley 2 pts | Kirkburton 2 pts
Hoylandswaine v Slaithwaite - Late Result
Barkisland 69-2 (P.Dawson 28) [Abandoned - Rain]
*Shepley - Did Not Bat
Barkisland 2 pts | Shepley 2 pts
Delph & Dobcross 109-4 (A.Lees 26, X.Selby 34) [Abandoned - Rain]
*Skelmanthorpe - Did Not Bat
Skelmanthorpe 2 pts | Delph & Dobcross 2 pts

Click here for all Championship Two scorecards
*Denby Dale 92-6 [Abandoned - Rain]
Almondbury - Did Not Bat
Denby Dale 2 pts | Almondbury 2 pts
*Hall Bower 49-7 [Abandoned - Rain]
Shelley - Did Not Bat
Hall Bower 2 pts | Shelley 2 pts
Lascelles Hall v Marsden - Late Result
Clayton West 192 (C.Bullock 32, B.Oldroyd 55, S.Scott 50; J.Sunderland 4-8)
*Meltham 150 (J.Wallis 27, R.Moulson 28, J.Smith 27; C.Bullock 4-32, S.Scott 3-33)
Clayton West 6 pts | Meltham 1 pt
Holmfirth 115-8 (I.Whiteley 25*; O.Kilburn 3-30, S.Ahmed 3-15) [Abandoned - Rain]
*Moorlands - Did Not Bat
Moorlands 2 pts | Holmfirth 2 pts
*Rastrick 219-6 † (L.Risdon 55, T.Owen 82; T.Jenkinson 3-45)
Cawthorne 65-2 (R.Bagshaw 25)
(† Rev. 131) Rastrick 6pts | Cawthorne 0 pts

Click here for all Conference Two scorecards
Thongsbridge 93 † (I.Siddiq 34; T.Atkinson 3-23) [Abandoned - Rain]
*Kirkheaton 48-0 (A.Charlton 31*) [Abandoned - Rain]
(† Rev. 54) Kirkheaton 2 pts | Thongsbridge 2 pts
Emley Clarence 65 (t.clarke(l) 29; Y.Azam 4-22, J.Atkinson 4-11)
*Lepton Highlanders 12-0 [Abandoned - Rain]
Lepton Highlanders 2 pts | Emley Clarence 2 pts
Denby 79 (M.Imran 5-15, M.Shafiq 3-7)
*Linthwaite 80-2 (M.Imran 34*)
Linthwaite 6 pts | Denby 0 pts
Thurstonland 146-6 (S.Malik 45, L.Corley 27) [Abandoned - Rain]
*Mirfield - Did Not Bat
Mirifield 2 pts | Thurstonland 2 pts
Almondbury Wes 187-9 [Abandoned - Rain]
*Mirfield Parish Cav - Did Not Bat
Mirfield Parish Cav 2 pts | Almondbury Wes 2 pts
*Upperthong 202-8 (G.Marah 58, L.Bolton 60)
Birkby Rose Hill 204-9 (Z.Ahmed 71, I.Farooq 45*; G.Marah 3-29)
Birkby Rose Hill 6 pts | Upperthong 2 pts