Quicklinks
Premiership | Championship | Conference | Premiership Two | Championship Two | Conference Two
Click here to go back to the 2016 results page.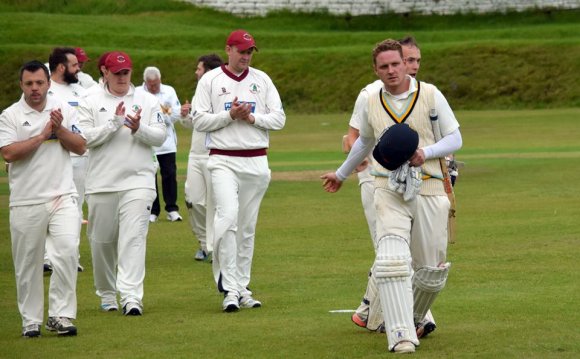 Greg Buckley (60*) and Chris Laker (59*) were the toast of Delph after the Premiership leaders regained a 9 point advantage over second-placed Hoylandswaine. Delph & Dobcross despatched 5th-placed Barkisland in a reduced 25 over match leaving Hoylandswaine frustrated having not been able to get on the field in their match at home to Broad Oak.
Saturday 2nd July

Click here for all Premiership scorecards
Skelmanthorpe 170-3
*Cawthorne 121-7
Umpires: N.BROOK (12) | J.EATON (22)
Skelmanthorpe: 6 pts | *Cawthorne: 0 pts
Barkisland 127-7 (A.Scholefield 48; S.Muhammad 3-31)
*Delph & Dobcross 129-0 (C.Laker 59*, G.Buckley 60*)
Umpires: B.DYSON (21) | R.GARTSIDE (24)
Barkisland: 0 pts | *Delph & Dobcross: 6 pts
Armitage Bridge 198-8 (M.West 35, J.Curtling 33, I.Malik 49; M.Hinchliffe 3-34)
*Elland 179 (L.Fletcher 45, S.Matlub 26, R.Broom 70; D.Moorhouse 6-44)
Umpires: M.ARMITAGE (4) | J.WOOD (53)
Armitage Bridge: 6 pts | *Elland: 2 pts
*Hoylandswaine 0-0 Abandoned
Broad Oak 0-0 Abandoned
Umpires: C.DAVIS (20) | K.HALLAM (27)
*Hoylandswaine: 2 pts | Broad Oak: 2 pts
*Kirkburton 245-6 (A.Smith 36, S.Evans 70, J.Butterfield 35, C.Fletcher 32*; C.Horner 3-52)
Golcar 120 (S.Whitwam 37; N.Sharp 4-46, S.Sajid 4-24)
Umpires: J.BEAUMONT (7) | D.HAIKINGS (26)
*Kirkburton: 6 pts | Golcar: 0 pts
*Scholes 145-8 (T.Brook 41, C.Hill 53; T.Burkinshaw 3-46, N.Jamal 3-18)
Shepley 127-6 (D.Anderson 45; J.Brook 4-40)
Umpires: S.BARTHOLOMEW (6) | Z.HASHMAT (25)
*Scholes: 6 pts | Shepley: 1 pt
*Shelley 103 (O.Hussain 35; T.Craddock 4-26, T.Woodhead 3-13)
Honley 98-9 (S.Kelly 26; M.Bhoola 4-29)
Umpires: P.MITTON (37) | R.TINDALL (51)
*Shelley: 6 pts | Honley: 2 pts

Click here for all Championship scorecards
Denby 143-7 (F.Hussain 69*; C.Glover 4-12)
*Clayton West 107 (D.Swan 27, J.Hawke 26; A.Ghani 4-28)
Umpires: D.COLLINS (17) | S.SYKES (50)
Denby: 6 pts | *Clayton West: 0 pts
*Holmfirth 119-9 (S.Richardson 34, M.Morley 27; T.Walker 3-42, S.Hassan 3-23)
Lascelles Hall 120-3 (M.Simpson 57, G.Somerville 26)
Umpires: R.HEAP (30) | A.WRAY (55)
*Holmfirth: 0 pts | Lascelles Hall: 6 pts
Rastrick 203-4 (J.Waterson 111*, O.Pearson 26)
*Linthwaite 172 (A.Hussain 30, A.Qayyum 72; O.Pearson 3-37, J.Pearson 3-39)
Umpires: R.HARRISON (32) | I.MELLOR (36)
Rastrick: 6 pts | *Linthwaite: 1 pt
*Marsden 0-0 Abandoned
Meltham 0-0 Abandoned
Umpires: A.CRAWSHAW (19) | B.KETTLEWELL (33)
*Marsden: 2 pts | Meltham: 2 pts
Kirkheaton 105-5 (B.Ahmed 27, C.French 27)
*Slaithwaite 103 (A.Morton 6-23)
Umpires: M.FORTIS (23) | S.HULMES (28)
Kirkheaton: 6 pts | *Slaithwaite: 2 pts
*Thongsbridge 116-9 (J.Dubbeldam 3-23, D.Sykes 3-31)
Moorlands 117-8 (D.Winn 25; B.Mavuta 4-43)
Umpires: P.SENIOR (46) | TBA
*Thongsbridge: 2 pts | Moorlands: 6 pts

Click here for all Conference scorecards
*Almondbury Wes 222-6 (A.Taylor 57, M.Henshaw 65, C.Sykes 27*; A.Malik 4-60)
Almondbury 73 (M.Tehseen 25; M.Henshaw 3-32, B.Shufflebotham 5-25)
Umpires: (name removed) (1) | D.SYKES (49)
*Almondbury Wes: 6 pts | Almondbury: 0 pts
*Birkby Rose Hill 88 (B.Rehman 36; D.Padgett 3-45, C.Rowlands 6-19)
Mirfield Parish Cav 92-2 (D.Blakeley 25, T.James 25*)
Umpires: S.ADLER (2) | R.PEARCE (40)
*Birkby Rose Hill: 0 pts | Mirfield Parish Cav: 6 pts
*Cumberworth United 181-7 (A.Littlewood 54*)
Lepton Highlanders 97 (S.Hashmi 34*; A.Smith 3-39, B.Wood 4-23)
Umpires: T.ATKINSON (3) | I.LIVESEY (35)
*Cumberworth United: 6 pts | Lepton Highlanders: 0 pts
Mirfield 116-9 (P.Scouller 27)
*Denby Dale 119-3 (N.Rehman 66, S.Mullavey 39)
Umpires: M.BROOK (13) | J.WALKER (52)
Mirfield: 0 pts | *Denby Dale: 6 pts
Upperthong 249-8
*Emley Clarence 164
Umpires: T.BALL (5) | N.BLACKBURN (11)
Upperthong: 6 pts | *Emley Clarence: 0 pts
*Thurstonland 0-0 Abandoned
Hall Bower 0-0 Abandoned
Umpires: D.NUNNS (39) | M.PEARSON (42)
*Thurstonland: 2 pts | Hall Bower: 2 pts

Click here for all Premiership Two scorecards
Elland 46 (J.Harrison 3-8, J.Vickerman 3-10)
*Armitage Bridge 48-0 (P.Hamer 26*)
Elland: 0 pts | *Armitage Bridge: 6 pts
*Barkisland 0-0 Abandoned
Delph & Dobcross 0-0 Abandoned
*Barkisland: 2 pts | Delph & Dobcross: 2 pts
*Broad Oak
Hoylandswaine
*Broad Oak : | Hoylandswaine :
*Golcar 0-0 Abandoned
Kirkburton 0-0 Abandoned
*Golcar: 2 pts | Kirkburton: 2 pts
Cumberworth United 138-5 (J.Kilner 52, J.Yates 31; T.Willitts 3-21)
*Honley 139-4 (S.England 62, T.Willitts 33*)
Cumberworth United: 0 pts | *Honley: 6 pts
Scholes 205-7 (J.Saville 69, J.Clayton 56, G.Farma 37)
*Shepley 203 (A.Reza 79, J.Lynn 46, D.Lynn 34*; J.Saville 3-46)
Scholes: 6 pts | *Shepley: 2 pts
Slaithwaite 121 (F.Hajarie 36, F.Brook 53; A.Dollive 5-12)
*Skelmanthorpe 76 (A.Steers 27; J.Newman 3-11)
Slaithwaite: 6 pts | *Skelmanthorpe: 0 pts

Click here for all Championship Two scorecards
*Almondbury 126-8 (F.Hussain 70*; S.Scott 3-22)
Clayton West 147-7 (A.Thompson 26, C.Bullock 47*, R.Dennis 34)
*Almondbury: 1 pt | Clayton West: 6 pts
*Hall Bower 140-6 (M.Crane 47, M.Beaumont 51, M.Balicki 29; R.Bagshaw 3-10)
Cawthorne 141-7 (P.Osborne 67)
*Hall Bower: 1 pt | Cawthorne: 6 pts
*Lascelles Hall 215 (R.Shaw 49, B.Robshaw 40, J.Dawson 71, J.Robshaw 25; G.Brown 3-7)
Holmfirth 216-8 (J.Sedgwick 72, G.Myers 73)
*Lascelles Hall: 2 pts | Holmfirth: 6 pts
*Meltham 0-0 Abandoned
Marsden 0-0 Abandoned
*Meltham: 2 pts | Marsden: 2 pts
Shelley 92 (G.Barden 30; O.Myzak 3-17, D.Pauley 3-10)
*Moorlands 93-2 (J.Galindo 26)
Shelley: 0 pts | *Moorlands: 6 pts
Denby Dale 149-9 (G.Shuttleworth 29, R.Lammyman 42, J.Dyson 32; S.Farlow 3-29, D.Thaxter 3-22)
*Rastrick 150-4 (M.Clark 43, L.Risdon 48, T.Owen 41*)
Denby Dale: 0 pts | *Rastrick: 6 pts

Click here for all Conference Two scorecards
*Denby 179-6 (C.Auckland 48, J.Jones 89; J.Ghee 3-27)
Almondbury Wes 183-4 (M.Parkin 64, J.Ghee 57)
*Denby: 0 pts | Almondbury Wes: 6 pts
*Kirkheaton 102 (A.Charlton 27; D.Rishton 3-9, A.Matthews 3-37)
Thurstonland 103-3 (J.Booth 38, S.Malik 26*)
*Kirkheaton: 0 pts | Thurstonland: 6 pts
*Lepton Highlanders - Abandoned
Thongsbridge -0 Abandoned
*Lepton Highlanders: 2 pts | Thongsbridge: 2 pts
Linthwaite 147 (M.Shafiq 29, A.Afzal 35; T.Edwards 3-12)
*Mirfield 123 (G.Whitworth 53, M.Haigh 25; N.Ali 4-30, M.Shafiq 3-15)
Linthwaite: 6 pts | *Mirfield: 1 pt
*Mirfield Parish Cav 142 (J.Hellings 50; Z.Ahmed 4-13, T.Iqbal 3-27)
Birkby Rose Hill 116 (A.Sharif 26, Z.Ayub 33*; T.Heaton 3-33)
*Mirfield Parish Cav: 6 pts | Birkby Rose Hill: 1 pt
*Upperthong 149-8 (R.Parr 29, W.Oakley 60; G.Ferguson 3-28)
Emley Clarence 75 (L.Taylor 28)
*Upperthong: 6 pts | Emley Clarence: 0 pts