Quicklinks
Premiership | Championship | Conference | Premiership Two | Championship Two | Conference Two
Click here to go back to the 2016 results page.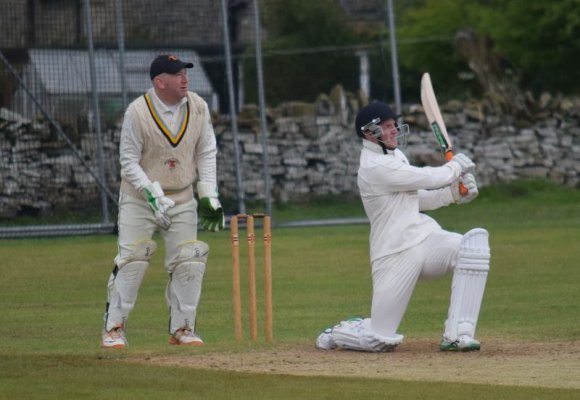 The chasing pack on Premiership leader's Delph & Dobcross's tail got an opportunity to close the gap once Delph's match at Golcar was called off without a ball being bowled. One of the grateful participants were Shepley who moved above Armitage Bridge into 3rd place thanks to a gritty all-round performance by Oliver Davidson (34no and 3-18). Hoylandswaine in 2nd place meanwhile claimed 6 points away to Kirkburton.
Saturday 9th July

Click here for all Premiership scorecards
*Armitage Bridge 139-4 [†116 ) (M.West 28, J.Curtling 65)
Broad Oak 118-3 (H.Cooper 34, J.Hargreaves 56*)
Umpires: T.BALL (5) | P.MITTON (37)
*Armitage Bridge: 0 pts | Broad Oak: 6 pts
*Barkisland 0-0 Abandoned
Scholes 0-0 Abandoned
Umpires: M.ARMITAGE (4) | R.TINDALL (51)
*Barkisland: 2 pts | Scholes: 2 pts
*Golcar - Abandoned
Delph & Dobcross -0 Abandoned
Umpires: A.CRAWSHAW (19) | R.PEARCE (40)
*Golcar: 2 pts | Delph & Dobcross: 2 pts
*Honley 136-4 (S.Kelly 38, T.Sykes 52)
Cawthorne 128-6 (C.Matthewman 46*; S.Denton 3-27, T.Woodhead 3-29)
Umpires: D.NUNNS (39) | T.ROCKETT (44)
*Honley: 6 pts | Cawthorne: 2 pts
*Kirkburton 169-7 (A.Smith 51, S.Sajid 28, N.Sharp 33*; M.Hussain 3-36)
Hoylandswaine 170-3 (G.Nawaz 69, S.Singh 43, M.Cranmer 42*)
Umpires: R.HARRISON (32) | I.MELLOR (36)
*Kirkburton: 0 pts | Hoylandswaine: 6 pts
Shelley 103-8 (O.Davidson 3-18)
*Shepley 107-3 (S.Raheem 35*, O.Davidson 34*)
Umpires: (name removed) (1) | A.WRAY (55)
Shelley: 0 pts | *Shepley: 6 pts
*Skelmanthorpe 179 (D.Morgan 37, L.O'dea 34; C.Walker 4-41, J.Dallimore 3-39)
Elland 123 (M.Ali 25, R.Broom 30; A.Rashid 5-20)
Umpires: B.DYSON (21) | R.HEAP (30)
*Skelmanthorpe: 6 pts | Elland: 0 pts

Click here for all Championship scorecards
Linthwaite 227 (S.Bashir 86, G.Alexander 28, A.Qayyum 48; T.Gibson 6-60)
*Clayton West 187 (D.Swan 29, R.Kaskiewicz 47, K.Hitchman 32; B.Ounees 5-41)
Umpires: J.BEAUMONT (7) | M.BROOK (13)
Linthwaite: 6 pts | *Clayton West: 1 pt
*Denby 142 (S.Ahmed 53, B.Don 31; S.Bissett 4-29, S.Robinson 3-29, I.Bray 3-32)
Marsden 146-5 (S.Bissett 25, R.Kyle 58*; A.Ghani 4-34)
Umpires: M.BROADBENT (14) | J.EATON (22)
*Denby: 0 pts | Marsden: 6 pts
Rastrick 154-6
*Kirkheaton 129-8
Umpires: R.BISSETT (9) | TBA
Rastrick: 6 pts | *Kirkheaton: 1 pt
*Lascelles Hall 181-9 (M.Simpson 48, P.Bocock 53; B.Mavuta 7-54)
Thongsbridge 169-8 (R.Marshall 51, A.Kemp 31, T.Raven-hill 38*; S.Hassan 3-60)
Umpires: Q.COLES (16) | D.COLLINS (17)
*Lascelles Hall: 6 pts | Thongsbridge: 2 pts
*Meltham 79-7 Abandoned (A.Afzal 25; M.Morley 4-19)
Holmfirth 0-0 Abandoned
Umpires: T.ATKINSON (3) | C.DAVIS (20)
*Meltham: 2 pts | Holmfirth: 2 pts
*Moorlands 155 (M.Rounding 25; D.Rushworth 5-32, A.Walker 4-38)
Slaithwaite 54 (D.Rushworth 29; N.Zamurad 6-26)
Umpires: S.BARTHOLOMEW (6) | B.HUTTON (60)
*Moorlands: 6 pts | Slaithwaite: 0 pts

Click here for all Conference scorecards
*Almondbury 129-8 (M.Mobeen 58, A.Hussain 41; W.Hussain 4-33)
Birkby Rose Hill 132-7 (M.Kamran 52*; M.Tehseen 3-45, A.Langton 3-33)
Umpires: D.BEVERLEY (8) | Z.HASHMAT (25)
*Almondbury: 1 pt | Birkby Rose Hill: 6 pts
*Almondbury Wes 0-0 Abandoned
Denby Dale 0-0 Abandoned
Umpires: M.FORTIS (23) | S.HULMES (28)
*Almondbury Wes: 2 pts | Denby Dale: 2 pts
*Hall Bower 0-0 Abandoned
Mirfield 0-0 Abandoned
Umpires: N.BROOK (12) | D.HAIKINGS (26)
*Hall Bower: 2 pts | Mirfield: 2 pts
*Lepton Highlanders 116-6 (J.Mulhall 28, D.Mulhall 31*)
Thurstonland 120-0 (T.Sykes 53*, T.Broom 55*)
Umpires: G.RANK (41) | P.SENIOR (46)
*Lepton Highlanders: 0 pts | Thurstonland: 6 pts
*Mirfield Parish Cav 144 [†123 ) (D.Hope 52*; J.Lee 4-44, K.Taylor 4-13)
Emley Clarence 95-5 (J.Lee 25; D.Padgett 4-43)
Umpires: K.HALLAM (27) | J.WOOD (53)
*Mirfield Parish Cav: 6 pts | Emley Clarence: 1 pt
*Upperthong 134-6 (C.Swanson 34; B.Wood 3-27)
Cumberworth United 131 (C.Kilner 25; C.Swanson 4-27, S.Ramsay 3-20)
Umpires: S.ADLER (2) | D.SYKES (49)
*Upperthong: 6 pts | Cumberworth United: 2 pts

Click here for all Premiership Two scorecards
*Broad Oak 0-0 Abandoned
Golcar 0-0 Abandoned
*Broad Oak: 2 pts | Golcar: 2 pts
Shepley 51 (M.Kilner 4-18, R.Greaves 3-14)
*Cumberworth United 53-1
Shepley: 0 pts | *Cumberworth United: 6 pts
*Delph & Dobcross 0-0 Abandoned
Kirkburton 0-0 Abandoned
*Delph & Dobcross: 2 pts | Kirkburton: 2 pts
*Elland 142-6 [†128 ) (H.Everett 35, B.Speak 53*, J.Evans 30)
Skelmanthorpe 97-6 (J.Megson 41; L.Senior 3-11)
*Elland: 6 pts | Skelmanthorpe: 1 pt
Armitage Bridge 174 (R.Sugden 34, W.Swift 42; M.Marsh 3-30)
*Hoylandswaine 175-0 (D.Lockwood 101*, J.Ashton 61*)
Armitage Bridge: 0 pts | *Hoylandswaine: 6 pts
Barkisland 113 (B.Jobson 45; J.Cooper 3-14, M.Boorman 3-14)
*Scholes 112-7 (R.Holmes 27*)
Barkisland: 6 pts | *Scholes: 2 pts
*Slaithwaite 0-0 Abandoned
Honley 0-0 Abandoned
*Slaithwaite: 2 pts | Honley: 2 pts

Click here for all Championship Two scorecards
Moorlands 111 (M.Baldwin 35)
*Cawthorne 113-3 (P.Osborne 45*)
Moorlands: 0 pts | *Cawthorne: 6 pts
*Denby Dale 185 (R.Lammyman 43, L.Greig 31, D.Firth 45; N.Hellawell 3-24)
Hall Bower 175 (T.Baxter 25, M.Beaumont 58, D.Harding 33; S.Glover 3-28)
*Denby Dale: 6 pts | Hall Bower: 2 pts
Meltham 151-7 [†130 ) (D.Dyson 47, R.Moulson 27*)
*Holmfirth 134-1 (J.Sedgwick 62, O.Moorhouse 50*)
Meltham: 0 pts | *Holmfirth: 6 pts
*Marsden 0-0 Abandoned
Clayton West 0-0 Abandoned
*Marsden: 2 pts | Clayton West: 2 pts
Almondbury 176-7 [†172 ) (A.Malik 91, M.Sarfaraz 31)
*Rastrick 178-9 (M.Clark 38, T.Owen 49*; A.Malik 3-40)
Almondbury: 2 pts | *Rastrick: 6 pts
*Shelley 104 (A.Kilner 33; J.Dawson 3-15, M.Walker 4-32)
Lascelles Hall 106-2 (B.Robshaw 37*, D.Wood 37*)
*Shelley: 0 pts | Lascelles Hall: 6 pts

Click here for all Conference Two scorecards
*Birkby Rose Hill 198-5 (S.Mohammad 59, Z.Ahmed 41)
Almondbury Wes 128 (T.Jackson 31, M.Parkin 27; I.Farooq 3-21, W.Javed 3-28)
*Birkby Rose Hill: 6 pts | Almondbury Wes: 0 pts
Mirfield Parish Cav 242-5 (L.Harrington 26, J.Hellings 42, D.Jackson 62, A.Brown 67*, I.Nowacki 26*)
*Emley Clarence 145 (S.Whittaker 36, G.Ferguson 33, R.Whetham 27; I.Nowacki 5-23)
Mirfield Parish Cav: 6 pts | *Emley Clarence: 0 pts
*Linthwaite 0-0 Abandoned
Kirkheaton 0-0 Abandoned
*Linthwaite: 2 pts | Kirkheaton: 2 pts
Denby 145-7 (J.Gumpert 40)
*Mirfield 140-9 (N.Phayer 34, G.Whitworth 54)
Denby: 6 pts | *Mirfield: 2 pts
*Thongsbridge 0-0 Abandoned
Upperthong 0-0 Abandoned
*Thongsbridge: 2 pts | Upperthong: 2 pts
Lepton Highlanders 71 (N.Amin 28; P.O'leary 4-13)
*Thurstonland 74-2 (J.Booth 27)
Lepton Highlanders: 0 pts | *Thurstonland: 6 pts