Quicklinks
Premiership | Championship | Conference | Premiership Two | Championship Two | Conference Two
Click here to go back to the 2016 results page.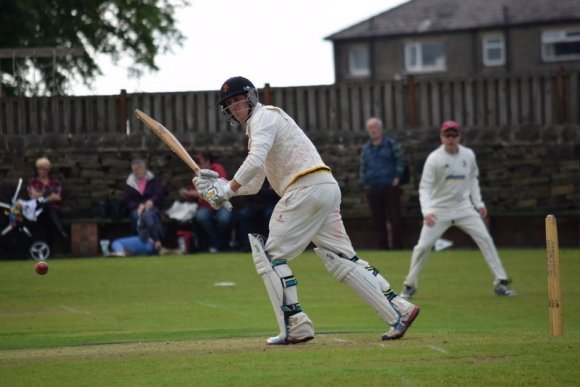 Delph & Dobcross were the close victors as 1st met 2nd in the Premiership. The leaders increased the gap over Hoylandswaine to 9 points in a thrilling match that saw a total of 723 runs scored in a simply breathtaking show of batting power by both teams. Three centuries were scored, the biggest by Delph's Greg Buckley (131 - pictured). Delph's Arron Lilley (122) and Hoylandswaine's Gharib Nawaz (116) also registered tons.
Saturday 23rd July

Click here for all Premiership scorecards
*Barkisland 224-8 (L.Bridges 32, D.Robinson 50, J.Finch 46)
Cawthorne 98 (D.Robinson 3-8, M.Steers 4-28)
Umpires: P.MITTON (37) | A.WRAY (55)
*Barkisland: 6 pts | Cawthorne: 0 pts
*Delph & Dobcross 367-8 (C.Laker 43, G.Buckley 131, A.Lilley 122, S.Muhammad 37*; M.Cranmer 4-64)
Hoylandswaine 356-8 (G.Nawaz 116, S.Singh 36, M.Cranmer 70, R.Robinson 50; A.Lilley 5-108, S.Muhammad 3-87)
Umpires: R.HARRISON (32) | R.TINDALL (51)
*Delph & Dobcross: 6 pts | Hoylandswaine: 2 pts
Shelley 204-6 (J.Sykes 68*, M.Bhoola 42)
*Golcar 118 (U.Bandara 38, T.Willans 43; B.Cant 4-28, J.Geldart 4-62)
Umpires: T.BALL (5) | K.HALLAM (27)
Shelley: 6 pts | *Golcar: 0 pts
*Honley 146 (S.Denton 41, T.Craddock 25; J.Keeling 3-17)
Broad Oak 159-2 (H.Cooper 57*, C.Roebuck 92*)
Umpires: M.ARMITAGE (4) | R.HEAP (30)
*Honley: 0 pts | Broad Oak: 6 pts
Scholes 358-2 (T.Macrury 226*, A.Clegg 85, T.Chadwick 26)
*Kirkburton 230-9 (J.Butterfield 28, S.Sajid 58*, J.Hendy 59; T.Macrury 3-48, T.Chadwick 3-35)
Umpires: D.NUNNS (39) | J.WOOD (53)
Scholes: 6 pts | *Kirkburton: 0 pts
*Shepley 261-8 (D.Wood 58, D.Anderson 119*; R.Broom 3-56, C.Walker 3-59)
Elland 188-9 (L.Fletcher 63, M.Wadee 29, A.Finn 30*; O.Davidson 3-50)
Umpires: R.PEARCE (40) | J.WALKER (52)
*Shepley: 6 pts | Elland: 0 pts
*Skelmanthorpe 298-8 (A.Greenwood 30, A.Rashid 65, M.Kitson 81, R.Wimpenny 25)
Armitage Bridge 136 (D.Steyn 27, D.Moorhouse 44; M.Kitson 3-57, S.Khan 3-43)
Umpires: R.GARTSIDE (24) | Z.HASHMAT (25)
*Skelmanthorpe: 6 pts | Armitage Bridge: 0 pts

Click here for all Championship scorecards
Holmfirth 230-9 (S.Richardson 25, C.Cowell 61, S.Allen 38; K.Hitchman 4-54)
*Clayton West 234-7 (D.Swan 72, K.Hitchman 82*; M.Morley 4-37)
Umpires: R.BISSETT (9) | Q.COLES (16)
Holmfirth: 1 pt | *Clayton West: 6 pts
*Denby 145 (A.Ahmed 33, B.Don 29; B.Mavuta 4-56, B.Howitt 4-30)
Thongsbridge 147-3 (B.Raven-hill 64*, T.Kemp 50*; A.Hussain 3-24)
Umpires: T.ATKINSON (3) | B.HUTTON (60)
*Denby: 0 pts | Thongsbridge: 6 pts
Rastrick 132 (M.Mccoach 58, M.Lambert 28; M.Simpson 5-10, T.Walker 3-33)
*Lascelles Hall 133-3 (M.Simpson 31, P.Bocock 65*)
Umpires: S.ADLER (2) | A.CRAWSHAW (19)
Rastrick: 0 pts | *Lascelles Hall: 6 pts
*Marsden 263-5 (S.Butters 31, R.Kyle 132, M.Kyle 54; A.Hussain 5-60)
Linthwaite 221 (A.Hussain 132; S.Robinson 3-61, I.Bray 3-34)
Umpires: N.BLACKBURN (11) | C.DAVIS (20)
*Marsden: 6 pts | Linthwaite: 1 pt
*Meltham 208 (M.Butt 57, S.Kenworthy 25)
Slaithwaite 143 (C.Coleman 29, S.Butt 46; M.Butt 3-40, M.Kashif 5-37)
Umpires: D.BEVERLEY (8) | S.SYKES (50)
*Meltham: 6 pts | Slaithwaite: 0 pts
Kirkheaton 188 (C.French 61; N.Zamurad 3-38, J.Dubbeldam 4-28)
*Moorlands 191-5 (A.Fortis 109*, N.Zamurad 28; P.Girardi 3-35)
Umpires: D.COLLINS (17) | S.HARTHILL (29)
Kirkheaton: 0 pts | *Moorlands: 6 pts

Click here for all Conference scorecards
Cumberworth United 287 (G.Parkes 98, A.Greaves 28, G.Smith 79; M.Mobeen 7-80, C.Harris 3-74)
*Almondbury 108 (G.Smith 6-35, A.Littlewood 3-27)
Umpires: M.BROADBENT (14) | B.DYSON (21)
Cumberworth United: 6 pts | *Almondbury: 0 pts
*Almondbury Wes 314-9 (A.Taylor 80, T.Binns 81, S.Fisher 28, J.Atkinson 43*; P.Moors 4-81)
Emley Clarence 194 (P.Moors 65, B.Shah 29*; M.Henshaw 4-60, B.Shufflebotham 3-50)
Umpires: P.SENIOR (46) | S.ASHWELL (58)
*Almondbury Wes: 6 pts | Emley Clarence: 0 pts
*Birkby Rose Hill 122 (S.Hussain 38; A.Rammell 3-17)
Denby Dale 123-6 (S.Tyas 52*, S.Mullavey 40; M.Hussain 4-20)
Umpires: (name removed) (1) | M.PEARSON (42)
*Birkby Rose Hill: 1 pt | Denby Dale: 6 pts
*Lepton Highlanders 261-4 (J.Mulhall 43, J.Waring 25, C.Neal 125*, D.Mulhall 26)
Hall Bower 177 (S.Dyson 40; J.Mulhall 3-32)
Umpires: G.RANK (41) | D.SYKES (49)
*Lepton Highlanders: 6 pts | Hall Bower: 0 pts
Thurstonland 99 (M.Oberoi 33; J.Hardcastle 5-26, D.Padgett 4-20)
*Mirfield Parish Cav 101-2 (T.James 45*, N.Hussain 26*)
Umpires: M.FORTIS (23) | S.HULMES (28)
Thurstonland: 0 pts | *Mirfield Parish Cav: 6 pts
Mirfield 100 (P.Scouller 33; H.Frankland 3-35)
*Upperthong 103-2 (T.Charlesworth 34, C.Swanson 44*)
Umpires: B.KETTLEWELL (33) | I.MELLOR (36)
Mirfield: 0 pts | *Upperthong: 6 pts

Click here for all Premiership Two scorecards
*Armitage Bridge 259-8 (G.Peck 32, P.Hamer 36, W.Swift 102*, J.Moorhouse 42; H.Zafar 3-65, M.Brook 4-52)
Golcar 105 (R.Lunn 4-41, P.Dobson 3-7)
*Armitage Bridge: 6 pts | Golcar: 0 pts
Skelmanthorpe 136 (O.Bottomley 62; S.Burluraux 3-33, J.Peacock 3-11)
*Broad Oak 140-2 (H.Franklin 61*, S.Burluraux 37*)
Skelmanthorpe: 0 pts | *Broad Oak: 6 pts
Kirkburton 283-6 (Z.Asmal 47, S.Atkinson 80, G.Smith 70*; C.Wilks 3-38)
*Cumberworth United 138 (J.Rayner 31, J.Haigh 31; B.Carrington 6-38, R.Kettlewell 3-23)
Kirkburton: 6 pts | *Cumberworth United: 0 pts
*Elland 168 (J.Rawson 31, J.Spencer 28; S.Greaves 3-34)
Shepley 139-8 (P.Marsh 60)
*Elland: 6 pts | Shepley: 1 pt
Honley 86 (J.Lockwood 4-12)
*Hoylandswaine 88-4 (D.Lockwood 43*)
Honley: 0 pts | *Hoylandswaine: 6 pts
Delph & Dobcross 243-6 (X.Selby 111*, S.Broadbent 40)
*Scholes 244-5 (M.Floyd 61, J.Bryson 83*, R.Holmes 42)
Delph & Dobcross: 0 pts | *Scholes: 6 pts
Barkisland 266-3 (M.Bridges 47, H.Finch 34, B.Jobson 31, B.Westbrook 103*, M.Raven 32*)
*Slaithwaite 80 (C.Thompson 4-36)
Barkisland: 6 pts | *Slaithwaite: 0 pts

Click here for all Championship Two scorecards
*Cawthorne 161-8 (P.Osborne 53; C.Mcgrath 5-9)
Meltham 130 (A.Knight 44; G.Kilburn 3-32)
*Cawthorne: 6 pts | Meltham: 1 pt
*Denby Dale 193 (G.Shuttleworth 29, A.Amos 32, R.Lammyman 34, H.Rose 29; R.Shaw 3-39, D.Keen 4-28)
Lascelles Hall 186 (M.Calvert 65, J.Dawson 31, D.Taylor 50; L.Greig 5-34)
*Denby Dale: 6 pts | Lascelles Hall: 2 pts
*Hall Bower 289-9 (J.Greenway 43, M.Beaumont 109, M.Balicki 28, A.Peaker 38; M.Hussain 3-58)
Almondbury 229 (D.Russell 81, N.Hussain 34; M.Beaumont 3-36)
*Hall Bower: 6 pts | Almondbury: 1 pt
Marsden 236-8 (R.Clarke 105, G.Ackroyd 48; L.Watmough 4-38)
*Holmfirth 238-8 (J.Sedgwick 52, G.Myers 69, T.Wilkinson 69*; C.Zaffino 3-35)
Marsden: 2 pts | *Holmfirth: 6 pts
Moorlands 154 (L.Naylor 28, O.Kilburn 40; M.Ashford 3-8)
*Rastrick 124 (T.Owen 46, J.Anderson 39; D.Pauley 3-33, O.Kilburn 6-32)
Moorlands: 6 pts | *Rastrick: 1 pt
*Shelley 140-7 (M.Bhoola 27, A.Kilner 25*; K.Rank 3-38)
Clayton West 143-9 (B.Oldroyd 49; M.Khan 3-36)
*Shelley: 2 pts | Clayton West: 6 pts

Click here for all Conference Two scorecards
*Emley Clarence 0
Birkby Rose Hill 1-0
*Emley Clarence: 0 pts | Birkby Rose Hill: 6 pts
*Kirkheaton 127 (N.Akram 28, T.Atkinson 40*; A.Hodgson 4-8, J.Pease 3-29)
Denby 102 (J.Gumpert 48, B.Atkinson 35; N.Akram 3-18, S.Grey 5-16)
*Kirkheaton: 6 pts | Denby: 1 pt
Upperthong 184-9 (R.Parr 29, W.Oakley 26, D.Parr 30*)
*Linthwaite 187-5 (V.Badhan 45, S.Rashid 52, M.Bashir 46*)
Upperthong: 0 pts | *Linthwaite: 6 pts
Lepton Highlanders 152 (C.Gillespie 32, N.Amin 65; H.Chamberlain 4-39)
*Mirfield 142 (A.Lenk 38; J.Atkinson 3-21)
Lepton Highlanders: 6 pts | *Mirfield: 2 pts
*Thongsbridge 179-7 (T.Webster 27, I.Siddiq 44, A.James 25)
Almondbury Wes 116 (T.Addy 27, O.Ghee 25)
*Thongsbridge: 6 pts | Almondbury Wes: 0 pts
*Thurstonland 178-7 (G.Holmes 32, S.Malik 55, W.Postlethwaite 40; J.Austin 3-54)
Mirfield Parish Cav 179-4 (E.Hardcastle 29, R.Ward 30, T.Heaton 33*, B.Tillotson 31*; G.Holmes 3-33)
*Thurstonland: 0 pts | Mirfield Parish Cav: 6 pts