Quicklinks
Premiership | Championship | Conference | Premiership Two | Championship Two | Conference Two
Click here to go back to the 2016 results page.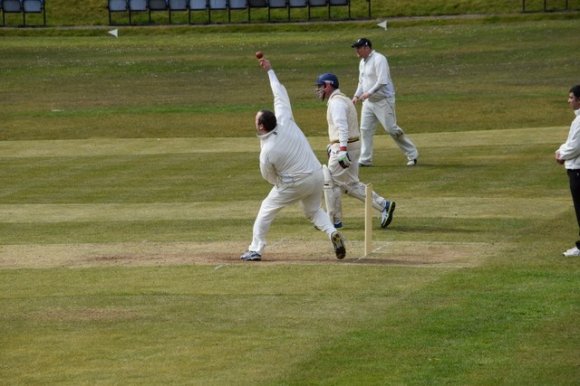 Simon Kelly of Honley put in a textbook captain's performance as his side claimed yet another important win in their battle from the Premiership drop-zone. Honley took 6 points from their visit to Armitage Bridge thanks to the Honley captain's 3-10 with the ball and an unbeaten 39no. Armitage Bridge meanwhile have all-in-all enjoyed their first season back in the top flight and are more-or-less safe now.
Saturday 30th July

Click here for all Premiership scorecards
*Armitage Bridge 63 (S.Kelly 3-10, A.Padbury 5-27)
Honley 64-5 (S.Kelly 39*)
Umpires: B.DYSON (21) | P.SENIOR (46)
*Armitage Bridge: 0 pts | Honley: 6 pts
*Broad Oak 239-8 (H.Booth 61, H.Cooper 30, C.Roebuck 46, D.Finn 41*; D.Glover 3-78, T.Burkinshaw 3-53)
Shepley 189 (D.Anderson 79, D.Glover 28, N.Jamal 25; H.Cooper 3-47, A.Slack 3-45)
Umpires: S.BARTHOLOMEW (6) | D.COLLINS (17)
*Broad Oak: 6 pts | Shepley: 1 pt
*Cawthorne 215-8 (I.Latif 55, L.Wiles 27, C.Walmsley 55; U.Bandara 4-28)
Golcar 218-9 (S.Whitwam 44, J.Howson 32, C.Ruscoe 35; C.Walmsley 3-74)
Umpires: R.GARTSIDE (24) | I.LIVESEY (35)
*Cawthorne: 2 pts | Golcar: 6 pts
*Elland 179-8 (M.Ali 25, R.Broom 83*; A.Scholefield 4-28)
Barkisland 180-5 (A.Kaye 68, J.Finch 47)
Umpires: R.BISSETT (9) | M.BROOK (13)
*Elland: 0 pts | Barkisland: 6 pts
*Hoylandswaine 390-5 (M.Cramner 125, A.Morris 61, G.Nawaz 49, S.Singh 44, R.Robinson 44*; S.Khan 3-83)
Skelmanthorpe 141 (S.Singh 5-34, M.Hussain 4-41)
Umpires: T.BALL (5) | J.EATON (22)
*Hoylandswaine: 6 pts | Skelmanthorpe: 0 pts
*Scholes 161-8 (T.Brook 29, J.Greaves 30*; S.Muhammad 4-47)
Delph & Dobcross 162-4 (S.Goswami 41, G.Simpson 48*)
Umpires: J.BEAUMONT (7) | D.HAIKINGS (26)
*Scholes: 0 pts | Delph & Dobcross: 6 pts
Kirkburton 297 (A.Smith 126, T.Booth 49, C.Younes 28; J.Geldart 3-101, M.Sykes 5-110)
*Shelley 201 (O.Hussain 89; J.Hendy 3-30)
Umpires: P.MITTON (37) | S.SYKES (50)
Kirkburton: 6 pts | *Shelley: 0 pts

Click here for all Championship scorecards
Marsden 143 (S.Bissett 34, H.Bissett 29; N.Hubbard 4-29)
*Holmfirth 147-9 (S.Johnstone 62, B.Thornton 41; R.Kyle 6-35)
Umpires: M.FORTIS (23) | S.HULMES (28)
Marsden: 2 pts | *Holmfirth: 6 pts
*Kirkheaton 274-7 (B.Ahmed 27, C.French 119*, N.Swift 64)
Lascelles Hall 153 (T.Walker 54, F.Ahmed 39; P.Girardi 3-46, H.Charlton 3-28, M.Nabeel 3-30)
Umpires: B,HUTTON (60) | TBA
*Kirkheaton: 6 pts | Lascelles Hall: 0 pts
Moorlands 305-2 (A.Fortis 69, N.Zamurad 70, M.Rounding 109*, J.Maxwell 43*)
*Linthwaite 299-7 (S.Bashir 91, G.Alexander 91, A.Hussain 56, A.Qayyum 26; J.Dubbeldam 3-60)
Umpires: R.HARRISON (32) | A.WRAY (55)
Moorlands: 6 pts | *Linthwaite: 2 pts
*Rastrick 108 (M.Mccoach 50; I.Hussain 5-22, M.Kashif 3-39)
Meltham 110-5 (D.Hinchliffe 29, S.Clegg 39; O.Pearson 3-13)
Umpires: (name removed) (1) | M.ARMITAGE (4)
*Rastrick: 0 pts | Meltham: 6 pts
*Slaithwaite 85 (A.Hussain 4-19)
Denby 86-8 (S.Ahmed 26; D.Hales 4-33)
Umpires: J.WOOD (53) | S.ASHWELL (58)
*Slaithwaite: 2 pts | Denby: 6 pts
Clayton West 242-8 (D.Swan 49, R.Kaskiewicz 32, K.Hitchman 41; R.Randhawa 3-33)
*Thongsbridge 184 (R.Marshall 41, A.Kemp 34, T.Raven-hill 42*, B.Howitt 30; K.Hitchman 4-54, T.Gibson 3-32)
Umpires: K.HALLAM (27) | R.HEAP (30)
Clayton West: 6 pts | *Thongsbridge: 1 pt

Click here for all Conference scorecards
Almondbury Wes 151 (T.Binns 30, M.Henshaw 36; G.Smith 4-33)
*Cumberworth United 104 (A.Littlewood 51; J.Gibson 3-22, B.Shufflebotham 3-30)
Umpires: D.NUNNS (39) | R.PEARCE (40)
Almondbury Wes: 6 pts | *Cumberworth United: 0 pts
Lepton Highlanders 163-9 (D.Mulhall 25, T.Mulhall 39, J.Mulhall 38; S.Tyas 4-42, M.Hale 4-59)
*Denby Dale 165-8 (S.Tyas 28, M.Rammell 37*; J.Waring 5-50, I.Khan 3-41)
Umpires: M.BROADBENT (14) | Q.COLES (16)
Lepton Highlanders: 2 pts | *Denby Dale: 6 pts
Birkby Rose Hill 259 (R.Nazar 57, M.Kamran 107; K.Taylor 5-71, B.Shah 3-56)
*Emley Clarence 81 (N.Awan 5-39)
Umpires: B.KETTLEWELL (33) | G.RANK (41)
Birkby Rose Hill: 6 pts | *Emley Clarence: 0 pts
*Hall Bower 263-5 (R.Evans 62, F.Siddiq 74, M.Ahmed 41*, S.Baxter 32*)
Upperthong 176 (C.Swanson 42, G.Oakley 30; M.Ahmed 4-50)
Umpires: T.ATKINSON (3) | TBA
*Hall Bower: 6 pts | Upperthong: 0 pts
Mirfield Parish Cav 195 (L.Harrington 26, N.Hussain 56, W.Smeaton 26)
*Mirfield 22 (N.Hussain 8-4)
Umpires: D.SYKES (49) | J.WALKER (52)
Mirfield Parish Cav: 6 pts | *Mirfield: 0 pts
*Thurstonland 223-6 (T.Sykes 52, M.Askham 80; A.Langton 3-66, C.Harris 3-54)
Almondbury 114 (D.Lucid 29; M.Oberoi 3-21, J.England 5-33)
Umpires: T.ROCKETT (44) | TBA
*Thurstonland: 6 pts | Almondbury: 0 pts

Click here for all Premiership Two scorecards
*Barkisland 213-8 (M.Weston 44, D.Weston 74, S.Senior 31; R.Palmer 3-43)
Elland 215-5 (L.Senior 76, B.Speak 60, T.Thornton 28)
*Barkisland: 0 pts | Elland: 6 pts
Cumberworth United 213-8 (J.Rayner 106, R.Smith 50)
*Delph & Dobcross 132 (A.Lees 36)
Cumberworth United: 6 pts | *Delph & Dobcross: 0 pts
*Golcar 219-5 (P.Rothery 33, U.Ali 42, J.Woodhead 29, H.Gill 62*, H.Zafar 36; K.Power 3-13)
Scholes 224-3 (J.Saville 80, J.Wharton 60*, J.Clayton 43)
*Golcar: 0 pts | Scholes: 6 pts
Broad Oak 198 (S.Peacock 52, H.Franklin 46, J.Wadsworth 33; B.Lindley 3-43)
*Honley 154 (J.Mcnamara 52, R.Moore 34, T.Willitts 26; C.Woodruff 7-23)
Broad Oak: 6 pts | *Honley: 1 pt
*Kirkburton 156-9 (B.Carrington 41, J.Carrington 31*; T.Payne 4-16)
Slaithwaite 158-6 (F.Hajarie 47, G.Holroyd 32*, H.Garside 38; J.Carrington 3-33)
*Kirkburton: 1 pt | Slaithwaite: 6 pts
*Shepley 184 (J.Ward 26, D.Lynn 87, C.James 26; D.Lockwood 3-39, I.Younas 3-17)
Hoylandswaine 188-3 (D.Lockwood 105*, J.Lockwood 29, C.Lee 45*)
*Shepley: 0 pts | Hoylandswaine: 6 pts
*Skelmanthorpe 210-6 (J.Dollive 49, F.Khan 42, A.Steers 37, G.Hurlbatt 60)
Armitage Bridge 212-9 (W.Swift 46, C.Hinchliffe 63; K.Whittaker 3-46)
*Skelmanthorpe: 2 pts | Armitage Bridge: 6 pts

Click here for all Championship Two scorecards
Holmfirth 194 (J.Sedgwick 85, G.Thornton 27; F.Hussain 4-13)
*Almondbury 100 (A.Malik 53; O.Moorhouse 5-6, J.Payne 3-52)
Holmfirth: 6 pts | *Almondbury: 0 pts
*Clayton West 256 (S.Thornhill 71, C.Bullock 59, K.Rank 40, J.Young 36; P.Youel 5-28)
Cawthorne 230 (P.Osborne 79, S.Roebuck 25, G.Charnock 34; C.Bullock 3-36, K.Rank 3-59)
*Clayton West: 6 pts | Cawthorne: 1 pt
Rastrick 206-8 (O.Marsh 79, D.Thaxter 45*; R.Shaw 4-34)
*Lascelles Hall 132 (R.Shaw 25, M.Calvert 31, J.Dawson 27; A.Singh 5-38)
Rastrick: 6 pts | *Lascelles Hall: 0 pts
*Marsden 127 (R.Clarke 30; R.Murfin 3-18, W.Higham 3-33)
Shelley 104 (K.Green 28; G.Ackroyd 3-17, T.Staite 3-6)
*Marsden: 6 pts | Shelley: 1 pt
*Meltham 168-7 (C.Earnshaw 70)
Denby Dale 171-3 (R.Lammyman 50*, L.Greig 33, H.Rose 37*)
*Meltham: 0 pts | Denby Dale: 6 pts
Hall Bower 138 (D.Baxter 70*; S.Ahmed 3-28)
*Moorlands 109 (B.Lumb 40; N.Hellawell 4-8)
Hall Bower: 6 pts | *Moorlands: 1 pt

Click here for all Conference Two scorecards
*Almondbury Wes
Thurstonland
*Almondbury Wes : | Thurstonland :
Thongsbridge 151-9 (T.Shah 25, A.James 49; T.Iqbal 5-29)
*Birkby Rose Hill 153-4 (I.Hussain 28, Z.Ahmed 68)
Thongsbridge: 0 pts | *Birkby Rose Hill: 6 pts
*Denby 99 (H.Greenwood 30; G.Ferguson 4-7)
Emley Clarence 103-4 (j.kilner(l) 42*, G.Ferguson 28)
*Denby: 0 pts | Emley Clarence: 6 pts
*Lepton Highlanders
Kirkheaton
*Lepton Highlanders : | Kirkheaton :
Linthwaite 262 (V.Badhan 44, M.Shafiq 37, A.Afzal 50; A.Brown 3-54)
*Mirfield Parish Cav 125 (D.Poutney 48, R.Sidwell 27; N.Ali 5-12, M.Imran 3-32)
Linthwaite: 6 pts | *Mirfield Parish Cav: 0 pts
Mirfield 123 (G.Whitworth 25, T.Edwards 25; A.Morris 4-23)
*Upperthong 126-0 (W.Kilner 61*, G.Marah 44*)
Mirfield: 0 pts | *Upperthong: 6 pts