Quicklinks
Premiership | Championship | Conference | Premiership Two | Championship Two | Conference Two
Click here to go back to the 2016 results page.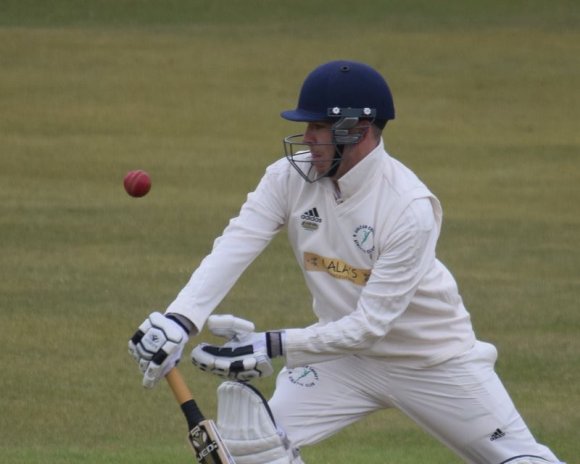 Steve Whitwam (Golcar) showed exactly why he's often been awarded all-rounder of the year putting in an impeccable performance with both bat and ball to see off local rivals Broad Oak. The Golcar captain and left-hand batsman blasted 124 then followed it up with 3-14 as Broad Oak finished 109 runs short. Elsewhere in the Premiership, Delph & Dobcross extended their lead to 14 points over Hoylandswaine after a close win at Cawthorne as the 2014 champions stuttered at home to resurgent Honley.
Saturday 13th August

Click here for all Premiership scorecards
Barkisland 163 (J.Finch 32, J.Summerscales 55; D.Moorhouse 3-47, J.Harrison 4-62)
*Armitage Bridge 151 (A.Gledhill 29, J.Curtling 39; L.Bridges 4-25, M.Steers 5-43)
Umpires: I.MELLOR (36) | J.WOOD (53)
Barkisland: 6 pts | *Armitage Bridge: 2 pts
Golcar 278-8 (S.Whitwam 124, J.Howson 30, C.Ruscoe 28, D.Woodhead 60)
*Broad Oak 169 (H.Booth 45, H.Cooper 28, D.Finn 31; S.Whitwam 3-15, U.Bandara 3-63)
Umpires: P.SENIOR (46) | A.WRAY (55)
Golcar: 6 pts | *Broad Oak: 0 pts
*Cawthorne 227-7 (I.Latif 35, L.Wiles 31, M.Burgess 52, C.Walmsley 35*)
Delph & Dobcross 230-8 (A.Gleave 29, G.Buckley 44, S.Goswami 100; M.Hussain 3-55)
Umpires: D.NUNNS (39) | R.TINDALL (51)
*Cawthorne: 2 pts | Delph & Dobcross: 6 pts
Kirkburton 199 (A.Smith 25, C.Younes 34, J.Ahmad 31; A.Finn 4-36)
*Elland 66 (A.Smith 3-18, J.Ahmad 3-3, J.Hendy 3-26)
Umpires: (name removed) (1) | Z.HASHMAT (25)
Kirkburton: 6 pts | *Elland: 0 pts
Honley 227 (L.Kenworthy 56, M.Green 49, A.Padbury 47*; M.Hussain 3-56)
*Hoylandswaine 178 (G.Nawaz 34, M.Joice 39, R.Robinson 35; S.Kelly 4-12, A.Padbury 4-45)
Umpires: P.MITTON (37) | T.ROCKETT (44)
Honley: 6 pts | *Hoylandswaine: 1 pt
*Shelley 208
Scholes 209-7
Umpires: R.HARRISON (32) | R.PEARCE (40)
*Shelley: 1 pt | Scholes: 6 pts
Shepley 181 (G.Bradley 29, D.Anderson 37, S.Raheem 42; A.Rashid 4-68, J.Crossland 3-16, S.Khan 3-38)
*Skelmanthorpe 184-4 (Z.Khan 82, M.Kitson 61*)
Umpires: C.DAVIS (20) | I.LIVESEY (35)
Shepley: 0 pts | *Skelmanthorpe: 6 pts

Click here for all Championship scorecards
*Kirkheaton 240-7 (T.Gledhill 72, M.Senior 53, M.Nabeel 36*; B.Don 5-44)
Denby 147 (A.Ahmed 46, J.Jones 27; P.Girardi 5-41)
Umpires: T.BALL (5) | S.SYKES (50)
*Kirkheaton: 6 pts | Denby: 0 pts
*Linthwaite 245-5 (A.Hussain 72, Z.Ahmed 27, A.Qayyum 56*, K.Ijaz 40*)
Lascelles Hall 176-8 (J.Booth 35, A.Westerby 55*, B.Ellam 29; Z.Ahmed 3-35)
Umpires: T.ATKINSON (3) | M.PEARSON (42)
*Linthwaite: 6 pts | Lascelles Hall: 0 pts
*Moorlands 180-6 (M.Rounding 50, J.Maxwell 40*; M.Kashif 4-50)
Meltham 182-9 (D.Hinchliffe 27, M.Butt 69*)
Umpires: M.ARMITAGE (4) | J.BEAUMONT (7)
*Moorlands: 2 pts | Meltham: 6 pts
Clayton West 196-9 (D.Swan 28, D.Barber 31, A.Clegg 42; W.Javed 4-74, J.Pearson 3-60)
*Rastrick 126 (F.Javed 41; B.Oldroyd 7-25)
Umpires: S.BARTHOLOMEW (6) | B.KETTLEWELL (33)
Clayton West: 6 pts | *Rastrick: 0 pts
*Slaithwaite 187-7 (C.Shannon 74; S.Bissett 3-20)
Marsden 142 (R.Kyle 35, C.Kilner 31; C.Shannon 3-24)
Umpires: S.ADLER (2) | D.HAIKINGS (26)
*Slaithwaite: 6 pts | Marsden: 1 pt
Holmfirth 207 (C.Cowell 51, A.Jakeman 34; B.Howitt 4-29)
*Thongsbridge 209-8 (B.Mavuta 33, B.Howitt 76*, R.Wagstaff 34*; M.Gummerson 4-37, M.Morley 3-42)
Umpires: G.RANK (41) | TBA
Holmfirth: 2 pts | *Thongsbridge: 6 pts

Click here for all Conference scorecards
Emley Clarence 164-9 (K.Taylor 26, S.Whittaker 30, B.Shah 66; A.Smith 4-42)
*Cumberworth United 165-4 (G.Parkes 42, A.Littlewood 26*)
Umpires: M.FORTIS (23) | S.HULMES (28)
Emley Clarence: 0 pts | *Cumberworth United: 6 pts
Upperthong 242-9 (W.Oakley 48, E.Clowes 28, R.Briggs 40, S.Briggs 44; S.Tyas 4-45)
*Denby Dale 228 (M.Rammell 73, P.Hale 62; T.Mighall 3-43)
Umpires: TBA | S.ASHWELL (58)
Upperthong: 6 pts | *Denby Dale: 2 pts
Almondbury 292-9 (S.Panday 69, T.Hameed 34, I.Hussain 99)
*Hall Bower 214-8 (B.Dunne 56, M.Ahmed 95; M.Mobeen 3-26, M.Tehseen 4-74)
Umpires: A.CRAWSHAW (19) | D.SYKES (49)
Almondbury: 6 pts | *Hall Bower: 0 pts
*Lepton Highlanders 108 (C.Neal 56; D.Hope 5-22, C.Rowlands 3-26)
Mirfield Parish Cav 110-7 (N.Hussain 40*; I.Khan 5-47)
Umpires: B.DYSON (21) | R.GARTSIDE (24)
*Lepton Highlanders: 1 pt | Mirfield Parish Cav: 6 pts
Almondbury Wes 173 (T.Binns 25, T.Hinks 56; A.Pearson 4-45)
*Mirfield 90 (B.Mcguinness 28*; M.Henshaw 3-17, J.Atkinson 3-34)
Umpires: R.BISSETT (9) | M.BROADBENT (14)
Almondbury Wes: 6 pts | *Mirfield: 0 pts
*Thurstonland 112 (J.Askham 27, K.Ahmed 25)
Birkby Rose Hill 114-2 (A.Rehman 42*, R.Khan 29)
Umpires: N.BROOK (12) | D.COLLINS (17)
*Thurstonland: 0 pts | Birkby Rose Hill: 6 pts

Click here for all Premiership Two scorecards
*Barkisland 196-9 (M.Bridges 77, B.Westbrook 43; C.Woodruff 7-20)
Broad Oak 125 (S.Peacock 35; C.Cocking 4-17, C.Friend 3-13)
*Barkisland: 6 pts | Broad Oak: 0 pts
*Delph & Dobcross 227-8 (A.Lees 62, X.Selby 33, C.Mott 35, B.Cruse 65*; R.Beeforth 3-48)
Elland 200 (H.Everett 29, B.Speak 34, J.Spencer 46; D.Jones 3-29)
*Delph & Dobcross: 6 pts | Elland: 1 pt
Cumberworth United 222-7 (J.Senior 43, J.Haigh 67, M.Kilner 53*)
*Golcar 189 (A.Iqbal 45, C.Chapman 36; G.Senior 3-45)
Cumberworth United: 6 pts | *Golcar: 1 pt
Skelmanthorpe 194 (J.Megson 40, W.Mott 34, D.Storey 78)
*Honley 195-1 (R.Jakeman 31, S.England 104*, R.Moore 49*)
Skelmanthorpe: 0 pts | *Honley: 6 pts
Hoylandswaine 191 (D.Lockwood 41, M.Ihsan 30, K.Lockwood 29; R.Kettlewell 6-50)
*Kirkburton 73 (I.Younas 3-15)
Hoylandswaine: 6 pts | *Kirkburton: 0 pts
*Scholes 66 (M.Boorman 25; C.Payne 3-28, T.Jackson 3-14, N.Cyrus 3-3)
Slaithwaite 67-1 (E.Garside 32*)
*Scholes: 0 pts | Slaithwaite: 6 pts
*Shepley 287-3 (P.Marsh 148*, N.Hoyle 25, H.Ellis 58, J.Dearnley 36*)
Armitage Bridge 251-8 (R.Sugden 39, J.Moorhouse 53, P.Dobson 39, B.Roberts 33, S.Harrison 33*)
*Shepley: 6 pts | Armitage Bridge: 1 pt

Click here for all Championship Two scorecards
*Almondbury 363-5 (S.Hussain 36, A.Malik 205*, D.Russell 80*)
Shelley 145-4 (L.Brothers 39, J.Barden 38*, A.Kilner 43*)
*Almondbury: 6 pts | Shelley: 0 pts
*Clayton West 401-2 (T.Barber 91, A.Rank 157*, C.Bullock 125)
Rastrick 170 (C.Jowett 30, J.Anderson 37, C.Smith 29, A.Shaw 27*; T.Barber 3-43, J.Saunders 3-28)
*Clayton West: 6 pts | Rastrick: 0 pts
*Holmfirth 179 (O.Moorhouse 75, T.Wilkinson 34; J.Bennett 4-18)
Cawthorne 140 (M.Smith 30, C.Thompson 26, R.Hirst 30; T.Garrety 3-17)
*Holmfirth: 6 pts | Cawthorne: 1 pt
*Lascelles Hall 201 (B.Robshaw 59, D.Taylor 39; R.Firth 3-45, D.Pauley 3-57)
Moorlands 205-2 (R.Firth 70*, J.Galindo 98*)
*Lascelles Hall: 0 pts | Moorlands: 6 pts
Denby Dale 161-5 (A.Amos 59*, R.Lammyman 30, D.Firth 29; I.Ahmed 3-30)
*Marsden 127-6 (R.Clarke 36, C.Zaffino 62*)
Denby Dale: 6 pts | *Marsden: 1 pt
*Meltham 84 (C.Earnshaw 52; M.Balicki 3-37, M.Allison 4-2)
Hall Bower 88-4 (A.Booth 37*, M.Beaumont 29)
*Meltham: 0 pts | Hall Bower: 6 pts

Click here for all Conference Two scorecards
Mirfield 216-9 (G.Whitworth 74, M.Haigh 39, A.Lenk 28*; M.Winterbottom 3-44)
*Almondbury Wes 218-7 (M.Shaw 66, J.Tintor 40, S.Kenworthy 27*)
Mirfield: 1 pt | *Almondbury Wes: 6 pts
*Birkby Rose Hill 215-8 (A.Rehman 30, A.Sharif 54, Z.Ayub 67, Q.Amir 25)
Linthwaite 176 (M.Imran 48, M.Slahuddin 25; A.Sharif 3-23, Q.Amir 5-33)
*Birkby Rose Hill: 6 pts | Linthwaite: 1 pt
*Denby 152-8 (J.Gumpert 57; A.James 3-22)
Thongsbridge 112 (T.Shah 32, J.Aylward 32; A.Hodgson 4-16, J.Hunter 4-26)
*Denby: 6 pts | Thongsbridge: 0 pts
*Emley Clarence 131 (j.kilner(l) 53)
Thurstonland 135-6 (G.Holmes 48*)
*Emley Clarence: 1 pt | Thurstonland: 6 pts
Kirkheaton 163 (A.Charlton 37, T.Atkinson 42; T.Heaton 3-46)
*Mirfield Parish Cav 164-9 (J.Hellings 40; S.Grey 3-32)
Kirkheaton: 2 pts | *Mirfield Parish Cav: 6 pts
Lepton Highlanders 0
*Upperthong 1-0
Lepton Highlanders: 0 pts | *Upperthong: 6 pts