Quicklinks
Premiership | Championship | Conference | Premiership Two | Championship Two | Conference Two
Click here to go back to the 2016 results page.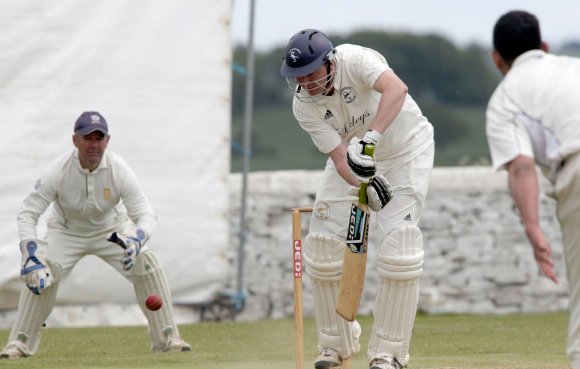 A fine innings of 137 from Clayton West's Shaun Alderson was ultimately in vain as relegation-threatened Kirkheaton were the only Championship team to beat the weather as they registered a four wicket victory after being set an adjusted 191 target to win on a rainy afternoon in Huddersfield. Picture courtesy of The Huddersfield Examiner.
Saturday 20th August

Click here for all Premiership scorecards
*Barkisland 0-0 Abandoned
Skelmanthorpe 0-0 Abandoned
Umpires: S.BARTHOLOMEW (6) | R.HEAP (30)
*Barkisland: 2 pts | Skelmanthorpe: 2 pts
*Delph & Dobcross 0-0 Abandoned
Elland 134-7 Abandoned (S.Matlub 50; G.Buckley 3-40)
Umpires: B.DYSON (21) | R.GARTSIDE (24)
*Delph & Dobcross: 2 pts | Elland: 2 pts
*Golcar 162-6 Abandoned (J.Lockwood 57*)
Armitage Bridge 0-0 Abandoned
Umpires: C.DAVIS (20) | I.MELLOR (36)
*Golcar: 2 pts | Armitage Bridge: 2 pts
*Kirkburton 0-0 Abandoned
Broad Oak 35-2 Abandoned
Umpires: M.ARMITAGE (4) | D.NUNNS (39)
*Kirkburton: 2 pts | Broad Oak: 2 pts
*Scholes 0-0 Abandoned
Cawthorne 0-0 Abandoned
Umpires: R.BISSETT (9) | I.LIVESEY (35)
*Scholes: 2 pts | Cawthorne: 2 pts
*Shelley 0-0 Abandoned
Hoylandswaine 18-0 Abandoned
Umpires: A.CRAWSHAW (19) | J.BEAUMONT (7)
*Shelley: 2 pts | Hoylandswaine: 2 pts
*Shepley - Abandoned
Honley -0 Abandoned
Umpires: R.TINDALL (51) | D.HAIKINGS (26)
*Shepley: 2 pts | Honley: 2 pts

Click here for all Championship scorecards
*Clayton West 238-9 [†191 ) (S.Alderson 137, A.Rank 26; K.Saleem 5-31)
Kirkheaton 193-6 (C.French 68, P.Girardi 40)
Umpires: Z.HASHMAT (25) | S.ASHWELL (58)
*Clayton West: 1 pt | Kirkheaton: 6 pts
*Denby 0-0 Abandoned
Moorlands 171-3 Abandoned (M.Rounding 66*, D.Winn 55*)
Umpires: D.COLLINS (17) | P.SENIOR (46)
*Denby: 2 pts | Moorlands: 2 pts
*Holmfirth 1-0 Abandoned
Slaithwaite 0-0 Abandoned
Umpires: N.BROOK (12) | K.HALLAM (27)
*Holmfirth: 2 pts | Slaithwaite: 2 pts
*Marsden 0-0 Abandoned
Rastrick 0-0 Abandoned
Umpires: R.HARRISON (32) | D.SYKES (49)
*Marsden: 2 pts | Rastrick: 2 pts
*Meltham 0-0 Abandoned
Lascelles Hall 71-3 Abandoned
Umpires: T.ROCKETT (44) | J.WALKER (52)
*Meltham: 2 pts | Lascelles Hall: 2 pts
*Thongsbridge - Abandoned
Linthwaite 55-4 Abandoned
Umpires: (name removed) (1) | J.WOOD (53)
*Thongsbridge: 2 pts | Linthwaite: 2 pts

Click here for all Conference scorecards
*Almondbury 210-9 Abandoned (M.Mobeen 31, A.Langton 59*; J.Mulhall 3-61)
Lepton Highlanders 0-0 Abandoned
Umpires: M.FORTIS (23) | S.HULMES (28)
*Almondbury: 2 pts | Lepton Highlanders: 2 pts
Hall Bower 131 [†103 ) (T.Collier 33*; B.Shufflebotham 3-22, C.Shipman 3-33)
*Almondbury Wes 104-2 (W.Binns 32, J.Gibson 33*)
Umpires: M.BROADBENT (14) | B.KETTLEWELL (33)
Hall Bower: 0 pts | *Almondbury Wes: 6 pts
*Birkby Rose Hill 195-5 Abandoned
Mirfield -0 Abandoned
Umpires: T.BALL (5) | D.BEVERLEY (8)
*Birkby Rose Hill: 2 pts | Mirfield: 2 pts
*Cumberworth United 0-0 Abandoned
Denby Dale 198-4 Abandoned (S.Mullavey 67, S.Tyas 51, P.Hale 27*; G.Parkes 3-62)
Umpires: G.RANK (41) | R.PEARCE (40)
*Cumberworth United: 2 pts | Denby Dale: 2 pts
*Emley Clarence 141 Abandoned (K.Taylor 29, D.Stratford 27; M.Askham 3-0, L.Booth 5-67)
Thurstonland 36-0 Abandoned
Umpires: Q.COLES (16) | S.HARTHILL (29)
*Emley Clarence: 2 pts | Thurstonland: 2 pts
Upperthong 72
*Mirfield Parish Cav 78-0
Umpires: T.ATKINSON (3) | A.WRAY (55)
Upperthong: 0 pts | *Mirfield Parish Cav: 6 pts

Click here for all Premiership Two scorecards
*Armitage Bridge 0-0 Abandoned
Barkisland 159-8 Abandoned (C.Friend 35, B.Westbrook 27; M.Williamson 3-25)
*Armitage Bridge: 2 pts | Barkisland: 2 pts
*Broad Oak v Kirkburton - Late Result
*Broad Oak : | Kirkburton :
*Elland 0-0 Abandoned
Scholes 0-0 Abandoned
*Elland: 2 pts | Scholes: 2 pts
*Honley v Golcar - Late Result
*Honley : | Golcar :
*Hoylandswaine 0-0 Abandoned
Delph & Dobcross 20-3 Abandoned (I.Younas 3-10)
*Hoylandswaine: 2 pts | Delph & Dobcross: 2 pts
*Skelmanthorpe 210-4 Abandoned (C.Auty 35*, W.Mott 53, G.Hurlbatt 69)
Shepley 0-0 Abandoned
*Skelmanthorpe: 2 pts | Shepley: 2 pts
*Slaithwaite 0-0 Abandoned
Cumberworth United 0-0 Abandoned
*Slaithwaite: 2 pts | Cumberworth United: 2 pts

Click here for all Championship Two scorecards
Shelley 102-8 [†80 ) (J.Barden 26*, R.Murfin 29; P.Youel 3-13)
*Cawthorne 83-1 (P.Osborne 46*, C.Thompson 30*)
Shelley: 0 pts | *Cawthorne: 6 pts
*Denby Dale 99 [†90 ) (L.Greig 39, G.Shuttleworth 25; O.Moorhouse 3-27, T.Wilkinson 4-18)
Holmfirth 91-7
*Denby Dale: 1 pt | Holmfirth: 6 pts
*Hall Bower 0-0 Abandoned
Clayton West 16-1 Abandoned
*Hall Bower: 2 pts | Clayton West: 2 pts
*Lascelles Hall v Almondbury - Late Result
*Lascelles Hall : | Almondbury :
*Moorlands 275-5 (R.Firth 101*, R.Ali 76, B.Lumb 51*)
Meltham 132 (H.Edmonds 63, B.Boothroyd 31; D.Pauley 3-49, O.Kilburn 3-16)
*Moorlands: 6 pts | Meltham: 0 pts
*Rastrick 9-0 Abandoned
Marsden 264-3 Abandoned (R.Clarke 52, C.Zaffino 104*, N.Taylor 87)
*Rastrick: 2 pts | Marsden: 2 pts

Click here for all Conference Two scorecards
*Kirkheaton 34-0 Abandoned
Almondbury Wes 138-9 Abandoned (T.Jackson 26, S.Kenworthy 30*; T.Atkinson 3-19, C.Swift 3-34)
*Kirkheaton: 2 pts | Almondbury Wes: 2 pts
*Lepton Highlanders 153 [†113 ) (Y.Azam 28, D.Walker 45, T.Robshaw 29; I.Nowacki 3-24)
Mirfield Parish Cav 115-1 (L.Harrington 31*, J.Hellings 53*)
*Lepton Highlanders: 0 pts | Mirfield Parish Cav: 6 pts
Emley Clarence 0
*Linthwaite 1-0
Emley Clarence: 0 pts | *Linthwaite: 6 pts
*Mirfield 84
Birkby Rose Hill 87-2
*Mirfield: 0 pts | Birkby Rose Hill: 6 pts
*Thurstonland 0-0 Abandoned
Thongsbridge 210-4 Abandoned (T.Shah 79, S.Ambler 50, C.Dimbylow 31*)
*Thurstonland: 2 pts | Thongsbridge: 2 pts
*Upperthong 0-0 Abandoned
Denby 6-2 Abandoned
*Upperthong: 2 pts | Denby: 2 pts