Quicklinks
Sykes Cup | Paddock Shield

Click here to go back to the 2016 results page.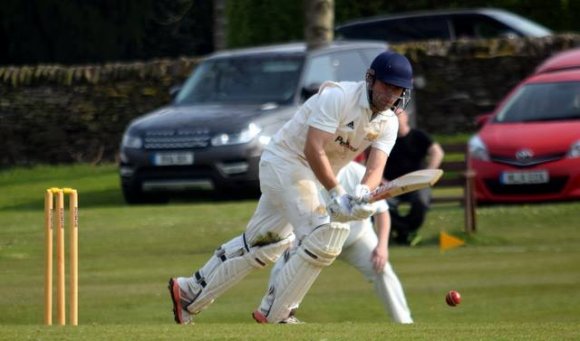 Delph & Dobcross' opening batsman Chris Laker was the top scorer of the round after his stunning, faultless knock of 149* helped book his side's passage to the Sykes Cup semi-final at the expense of fellow Premiership team Armitage Bridge. Delph successfully overhauled the visitors challenging total of 274ao with 13 overs to spare.
Sunday 19th June - Third Round


Click here for all Sykes Cup scorecards
Played Sun 19th & Tue 21st June
Armitage Bridge 274 (M.West 30, J.Hinchliffe 25, J.Curtling 56, R.Wadsworth 35, A.Gledhill 43; C.Laker 3-65)
*Delph & Dobcross 275-3 (C.Laker 149*, S.Goswami 46)
Delph & Dobcross Win
Played Sun 19th & Tue 21st June
Shepley 236-6 (T.Denton 82, D.Glover 77; D.Hales 4-41)
*Slaithwaite 139 (I.Holt 28; D.Anderson 3-39, D.Wood 4-26)
Shepley Win
Played Sun 19th & Tue 21st June
Broad Oak 220-6 (L.Baxter 46, H.Cooper 82, J.Hargreaves 41; M.Butt 3-47)
*Meltham 224-7 (D.Hinchliffe 64, S.Clegg 34, M.Kashif 53*)
Meltham Win
Played Sun 19th & Mon 20th June
*Scholes 148 (C.Hill 74; M.Cranmer 3-19, M.Hussain 3-28)
Hoylandswaine 152-6 (G.Nawaz 55, S.Singh 48)
Hoylandswaine Win

Click here for all Paddock Shield scorecards
Played Sun 19th & Tue 21st June
*Barkisland 307-4
Hoylandswaine 64
Barkisland Win
Played Sun 19th & Mon 20th June
*Clayton West 270 (K.Rank 143, S.Rank 59; C.Woodruff 3-50)
Broad Oak 163 (C.Woodruff 31, S.Peacock 41, P.Rigby 30*)
Clayton West Win
Scholes 36-1
* Moorlands †
(† Match Conceded) Scholes Win
Played Sun 19th & Mon 20th June
*Kirkburton 265-6 (D.Greaves 60, M.Garrety 131*; R.Thornton 3-35)
Slaithwaite 89 (M.Lees 29*; M.Garrety 4-9, R.Kettlewell 3-33)
Kirkburton Win