News Archive - June / September 2011


---

Submitting League Averages News

13th September 2011
An important message from the Match secretary as follows:
It has been decided that the match secretary will process the League Prize Winners from the details she has received on the weekly result sheets. There is thus no requirement for clubs to submit League only details. The Averages that are shown in the Yearly Handbook which are for League and Cup (Sykes Cup/Paddock Shield) matches are to be sent in by the clubs. Blank Average sheets for both 1st and 2nd XI averages are now available to download on the Downloadable Forms page in both PDF and spreadsheet formats. The forms for each clubs 1st and 2nd XIs must be returned to the Match Secretary by Saturday 24th September 2011 otherwise the club will be subject to a £50 fine (according to Rule L7 h)
Downloads

Click below to download the relevent form:


Sending Your Completed Forms

You may send your completed forms to the Match Secretary by any of the following methods:
---
Honley Are League Champions

11th September 2011
Honley secured their sixth Byrom Shield championship in seven years yesterday with a hard-earned victory at Slaithwaite in one of the most thrilling final days of a season for a few years. Delph & Dobcross, third before the start of play ensured Honley had to win at Hill Top by taking maximum points at home to Broad Oak, relegating the Linthwaite-based club after three seasons in the top flight. Byrom Shield contenders Kirkburton fell at the final hurdle, although it was academic in the end, by losing at home to Scholes who finished the season with a flourish. There was also high drama at the foot of the table with Marsden, who faced a stern test at Heavy Woollen and Sykes Cup winners Shepley. In a match that went all the distance, Marsden edged home securing five vital points to pull them out of the relegation zone, although Shepley secured a point to give them a treble adding the Hopkinson trophy to their seasons haul. Broad Oak will possibly rue their one run defeat at Scholes the week before as they ended the season level on points with Slaithwaite, but below them by virtue of less six point victories.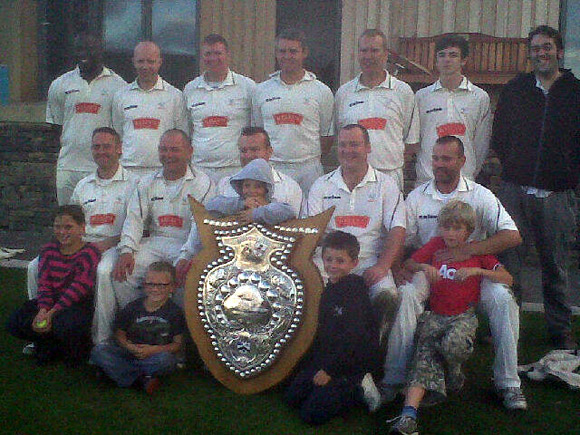 Honley CC with the Byrom Shield (Photo Courtesy of Slaithwaite CC - www.twitter.com/slaithwaitecc)

In the Frank Platt Championship there was also an exciting conclusion to the season as Meltham, who were second at the start of play, missed out on promotion falling to a 3 run defeat at Emley Clarence. This allowed Hall Bower to leapfrog Meltham with a win at already-relegated Paddock into the all-important 2nd place and promotion to the Premiership joining champions Clayton West who fell to defeat at Holmfirth. This win for Holmfirth secured them safety rendering Almondbury's emphatic victory over Lepton Highlanders in vain as they failed to avoid relegation.


---
Headingley CC Looking For A Friendly

7th September 2011
Nick Saunders, the secretary of Headingley Cricket Club has enquired about playing an away friendly fixture with any available Huddersfield League club's 2nd XI. Nick has kindly asked if anyone interested could email him on uknsaunders@gmail.com.


---

Hall Bower Win the Earnshaw Cup

5th September
Hall Bower 2nd X1 beat Linthwaite 2nd X1 on Sunday (4th September) to take the Earnshaw Cup.
Scores:
Hall Bower 249-7
(J Greenway 73, D Moss 63, S Hellawell 56)
Linthwaite 150
(L Renwick 36; M Beaumont 3-38, J Hunter 3-36).
---
Clayton West Win the Oddfellows Cup

29th August 2011
Clayton West beat Thongsbridge on Sunday (28 August) to take the Oddfellows Cup.
Clayton West 165 for 9 (T Barber, 75no, Gibson 29, Iqbal 3 for 13)
Thongsbridge 138 all out (Wagstaff 47, T Raven-Hill 31, Del Prete 3 for 38, T Barber 3 for 15)

---
Shepley win the Sykes Cup

21th August 2011
Shepley beat Skelmanthorpe today (Sunday) at a sunny Elland CC to add the Sykes Cup to the Heavy Woollen Cup they recently won. It was not all plain sailing, however, as, after winning the toss and batting, Shepley found scoring not easy. At 99 for 8 after 38 overs Skelmanthorpe must have thought they were going to retain the cup. However, Danny and Craig Glover managed to take the total up to 145 before they were both dismissed in the last over. Danny made 45 and Craig 12 to post a competetive target in what turned out to be a low scoring final. Skelmanthorpe's innings never got going and they were blown away by Craig Glover, who finished with figures of 8 for 26 off12.5 overs. Skelmanthorpe were all out for just 53 off 26 overs.
Unsurprisingly, man of the match adjudicator Craig Macreadie, chairman of Broad Oak CC, named Craig Glover as his man of the match.

---
Scoles win the Paddock Shield

16th August 2011
Scholes beat Slaithwaite last Sunday (14 August) to lift the Paddock Shield. Batting first Scholes scored 286 for 7 with Adam Steers hitting 107, Lewis Sykes 58 and Chris Lawson 42. H Garside took 5 for 32 for Slaithwaite.
In reply Slaithwaite were dismissed for 166, Jack Bryson top scoring with 53. Chris Lawson took 3 for 30.

Adam Steers was named Man Of The Match

---
White Rose Trophy Final Victory

15th August 2011
The Drakes Huddersfield League won the White Rose Trophy yesterday (Sun 14 August) with a 54 run victory over the North Yorkshire & South Durham League at Honley CC. Huddersfield League batted first and posted a total of 225 for 8. The innings was built around a superb knock of 130 not out by wicketkeeper Chris Gill (Broad Oak). His innings took 142 balls and contained 17 4's and a six. The next highest scorer was Liam Wiles (Shepley) with 32. The North Yorkshire & South Durham League were dismissed for 171 off 45.4 overs with skipper Arron Lilley (Delph & Dobcross) taking 3 for 19 off 10 overs and Sam Scott (Shelley) 3 for 26 off his 10 overs.
Not surprisingly Chris Gill was named Man Of The Match for his 130 not out, which followed his unbeaten 143 in the semi final.

---
White Rose Trophy Final this Sunday at Honley
Team News

10th August 2011
The final of the White Rose Trophy between the Drakes Huddersfield League and the North Yorkshire & South Durham League is be played this Sunday (14 August) at Honley CC with a 1.30pm start. Team Manager Norman Clee has named the following team:

Arron Lilley(c) Delph & Dobcross
Chris Gill (wkpr) Broad Oak
Jonathan Butterfield Kirkburton
Liam Wiles Shepley
Sam Scott Shelley
Jack Hargreaves Broad Oak
Zahid Ahmed Paddock
Tom Brook Scholes
Ben Potter Hoylandswaine
Stephen Brown Lepton Highlanders
Danny Clee Marsden

12th Man Oliver Davidson Kirkburton

---
Earnshaw Cup Final Re-arranged

10th August 2011
The Earnshaw Cup for 2nd teams between Hall Bower and Linthwaite has been re-arranged for Sunday September 4th, commencing at 12 00
---
White Rose Trophy Final this Sunday at Honley

9th August 2011
The final of the White Rose Trophy between the Drakes Huddersfield League and the North Yorkshire & South Durham League is be played this Sunday (14 August) at Honley CC with a 1.30pm start. Team Manager Norman Clee has not yet finalised the team, but it will be posted on this site as soon as it is known.
---
Sykes Cup Final to be re-played

7th August 2011
The final of the Sykes Cup between Shepley and Skelmanthorpe, which was due to be played today (Sunday) at Elland CC, was called off without a ball being bowled. Heavy rain made the outfield too wet for the match to be played. The match will be played on Sunday 21 August, again at Elland CC with a 12.00pm start.
---
Oddfellows/Earnshaw Cup Finals

3rd August 2011
The venues of the Oddfellows and Earnshaw Cup Finals was decided at the Council Meeting held on 3rd August. The Oddfellows Cup Final (1st Teams) will be held at Clayton West where the hosts entertain Thongsbridge. The Earnshaw Cup for 2nd teams will be staged at Hall Bower, who play Linthwaite. The matches will be played on Sunday 21 August with a 12.00pm start.
---
Twenty 20 Trophy Final Result

2nd August 2011
Kirkburton were the winners of the Romida Twenty20 Trophy at Golcar on Sunday. Kirkburton, after being put into bat scored 217 in their 20 overs with Greg Buckley top scoring with 72. Golcar were dismissed for 177 with Buckley taking 4 for 27 to take the man of the match award.
---

Twenty 20 Trophy Final
30th July 2011
The final of the Romida sponsored Twenty20 Trophy takes place tomorrow (Sun 31 July) at Golcar CC. The match features host club Golcar and Kirkburton and starts at 2.00pm.
---
Twenty 20 Trophy Semi Final Result
26th July 2011
Golcar reached the final of the Twenty 20 Trophy with victory at Delph on Monday evening (25th July). After being put into bat Delph subsided to 24 for 4 after 5 overs. Grant Jones then lead a recovery with 75 not out to help post a target of 153. Will Hinchliffe took 4 for 20. Golcar reached that target with only 2 balls to spare with skipper Steve Whitwam hitting a six to finish on 45 not out.
Golcar now host the final against Kirkbuton to be played next Sunday 31 August (2.00pm start)

---
Twenty 20 Trophy Semi Final News
24th July 2011
On Friday evening the semi finals were played with Kirkburton reaching the final beating Honley by 7 wickets. Despite reaching 100 for 0 off 10 overs, Honley subsided to 158 all out. Kirkburton knocked the runs off in 14 overs.

The other semi final was unfortunately un-completed, after rain swept in at Delph during the 2nd innings. Delph had posted 176 all out, and with the tie interestingly poised with Golcar on 51 for 4 off 5 overs, the umpires had no alternative but to take the players off, as the rain, which started falling at the start of the innings, increased in severity.
The match will be re-played on Monday evening (25th July), with a 6.30pm start. The final will be played next Sunday at either Delph or Golcar, depending on the result.

---
Paddock Shield Final
14th July 2011
Also drawn this evening was the right to host this season's Paddock Shield final pairing Premiership 2 champions and current leaders Slaithwaite and Holme Valley challengers Scholes. It was Scholes who came out of the hat with the tie taking place at their Chapelgate ground on Sunday August 14th. 1.00pm start.
Paddock Shield Final
Scholes vs Slaithwaite

---
Twenty 20 Trophy Semi Final Draw
14th July 2011
The top four teams as it stands in the Huddersfield League will do battle for the Twenty20 Trophy after the draw for the semi-final was made tonight. Honley will be entertaining in-form Kirkburton in a mouth-watering prospect at Far End Lane while Golcar and their followers will make the trip over the tops to current league leaders Delph & Dobcross in another which is set up to be a great game. Both matches are on Friday 23rd July with a 6.30pm start.
Romida Twenty20 Trophy Semi-Final
Honley vs Kirkburton
Delph & Dobcross v Golcar
---
Urgent Message From the Registration Secretary

10th July 2011
Would all clubs please be aware that any player over the age of 13yo, who has not been registered, correctly, on the relevant RTDF form will be ineligible to play in any matches after the amnesty announced at the council meeting of the 6th July 2011.
Should any club play such a player they will be fined & have points deducted for each occurrence.
If there is any doubt as to whether a player has been registered then please call me for clarification.

Stephen Sykes, Registration Secretary.
---
Oddfellows/EarnshawCup Semi Final Final Draw
9th July 2011
Oddfellows Cup
Clayton West v Linthwaite
Holmfirth v Thongsbridge

Earnshaw Cup
Hall Bower v Clayton West
Linthwaite v Hoylandswaine

All games to be played on Sunday 24th July. 1.00pm start.

---
Romida Twenty20 Quarter Final Draw
6th July 2011
The draw for the quarter final of the Twenty20 Trophy was made tonight at the monthly league meeting. The round, all consisting of Premiership teams sees Golcar with a local derby against Broad Oak while in-form Sykes Cup semi-finalists Skelmanthorpe entertain another side bang in form; Kirkburton. Elsewhere, Barkisland who are currently experiencing a tough season so far face a difficult encounter with Honley and finally 2008 winners Delph & Dobcross are at home to current holders Elland. The full draw is as follows:
Golcar v Broad Oak
Skelmanthorpe v Kirkburton
Barkisland v Honley
Delph & Dobcross v Elland
All matches to be played on Tuesday 12th July. 6.30pm start.
---
Sykes Cup Semi Final Teams
1st July 2011
The teams for the Sykes Cup semi-final on Sunday (3 July) are as follows:
Shepley
Danny Glover (Captain)
Tom Sykes (Wicketkeeper)
S.P. Singh
Tom Denton
Tim Rees
Liam Wiles
Amar Rashid
Huw Ellis
Nigel Hoyle
Sam Haigh
Craig Glover

12th Man: Ali Reza

Scorer: Joe Lee
Golcar
Steven Whitwam (Captain)
Mark Wilson (Wicketkeeper)
Lee Baxter
Michael Illingworth
Jack McNamara
James Sykes
Craig Horner
Craig Ruscoe
Christopher Fawcett
William Hinchliffe
Michael Smith

12th man: A. N. Other

Scorer: Josh Woodhead
Umpires - To be confirmed
---
Sykes Cup / Paddock Shield Semi Final Draw
22nd June 2011
The draw was made tonight at Golcar Cricket Club for the semi-final of the Huddersfield League's premium cup competions. In the Sykes Cup, Shepley, who despatched Hoylandswaine out at the quarter final stage have been rewarded with a home tie against Golcar who overcame Delph & Dobcross in what is sure to be the tie of the round. Meanwhile, Cawthorne who earned a terrific victory against Premiership Marsden in their first season since switching from the Huddersfield Central League will entertain Sykes Cup holders Skelmanthorpe. The full draw for both competitions is below:
Sykes Cup Semi Final
Shepley v Golcar (July 3rd)
Cawthorne v Skelmanthorpe (July 10th)
Paddock Shield Semi-Final
Scholes or Hall Bower (to be played July 3rd) v Kirkburton (July 10th)
Golcar v Slaithwaite (July 10th)
---
Urgent Action Required

20th June 2011
ALL CLUBS should check that any 13-15 year olds playing in their sides are fully registered.
Following recent revelations it would appear that there is some confusion around the Registering of Players 13yo to 15yo. As in previous season any player 16 & 17yo had to be registered if they were to play in the Leagues 1st or 2nd xi matches.
At the AGM in January it was passed by the Council that all players 13years and over had to be registered if they intended to play in 1st or 2nd XI matches. Those players involved could not simply be added to the list of retained players from season 2010, unless they were already registered for that season. All those players now being registered should be submitting a RTDF form as if they were new players for this season. They will then be placed on the Clubs List of registered players with a (j) notation indicating they are an under 17yo.
I, therefore, would ask all clubs to check their registered players list and if necessary submit an RTDF form immediately in order to address this apparent widespread anomaly.
Stephen R Sykes, Registration Secretary
---
Sykes Cup / Paddock Shield Quarter Final Ties
13th June 2011
As you may know, inclement weather the country over put paid to any cricket action in yesterdays Sykes Cup and Paddock Shield ties. All scheduled matches have now been rearranged for the carry-over date of Sunday June 19th with the exception of Slathwaite vs Honley (Paddock Shield) which takes place starting tonight (13th June) until a finish.

---
Heavy Woollen / Crowther Cup Semi-Final Draw
6th June 2011
An all Huddersfield League semi-final looks to be a distinct possibility following the draw tonight. Shepley, following Sunday's fine victory over Bradford League heavyweights Woodlands were rewarded with a home tie against either fellow Premiership outfit Slaithwaite or Bradford 2nd division side Yeadon depending on the winner of their yet-to-be arranged 3rd round tie. In the Crowther Cup for 2nd XI sides, Kirkburton's reward for knocking out an ever-strong Wrenthorpe side in the 3rd round will entertain Yeadon. The full draws are as follows:

Heavy Woollen Cup Semi Final
Crowther Cup Semi Final
Gomersal v Hanging Heaton


Shepley

v Slaithwaite or Yeadon
Methley v Ossett


Kirkburton

v Yeadon
Providing there are no fixture clashes with the Sykes Cup or Paddock Shield, these ties will be played on Sunday July 3rd. 1.00pm start.
---
Oddfellows & Earnshaw Cups - 2nd Round Draw

2nd June 2011
The draw for both the Oddfellows and Earnshaw were made at the monthly League meeting last night and are as follows:

Oddfellows Cup 2nd Round
Earnshaw Cup 2nd Round
Kirkheaton v Holmfirth
Micklehurst v Linthwaite
Armitage Bridge or Thongsbridge v Emley Clarence
Clayton West v Rastrick
Cawthorne v Clayton West
Shelley v Hoylandswaine or Lascelles Hall
Hall Bower v Kirkheaton
Linthwaite v Thongsbridge or Paddock
Ties to be played Sunday 26th June at 1.00pm